My Love My Life My Everything twinj ff part 23

Warning: A non-numeric value encountered in /home/ftpusers/tellyu/public_html/wp-content/themes/publisher/includes/func-review-rating.php on line 212

Warning: A non-numeric value encountered in /home/ftpusers/tellyu/public_html/wp-content/themes/publisher/includes/func-review-rating.php on line 213

My love my life my everything twinj ff part 23
@kunj room
Kunj sleeping now days he hardly gets sleep he will be always sad thinking about twinkle and only her words echoing in his ears . In his dream to he gave rose to twinkle Twinkle looked at it angrily and throwed it and said "Go… Go away from me… I hate you.. I hate you" and she ran away from there kunj woke up with jerk and screams her name
Kunj- twinkle…. Twinkle please dont leave me I cant live without you…I love you please come back to me
Yuvi comes in his room listening to his screaming
Yuvi- bro bro what happened?
Kunj- yuvi twinkle see she is running away from me she said she hates me how she can go away from me haan ill stop her he gets up from bed
Yuvi- kunj calm down no one is here see only you and me are here then nobone else may be its your dream kunj calm down please
Kunj- dream!!! What kind of dream is it haan she cant leave me in my dreams too
Yuvi- calm down give her some time now she is hurt so doing all this .
Kunj- Iam so bad na i hurted her I am so bad and he started to slap and hit himself yuvi looked at him being worried
Yuvi- kunj stop dont do this no you are not bad you are very good its just situation made you like that and its fack that you did mistake you have to control your anger bro because of that only this all happened and I am also shocked by looking at your behaviours towards twinkle from many days before you reacted too much i think you were not like this before twinkle was your first priority every time you made her feel so special and always with her no matter what and its not like you both didn't have fight that time there were small fight on cute matters not like this..sorry if i hurt you kunj but you did mistake by giving more important to other girl than twinkle you know how she is she is very possessive about you like you are possessive about her so she fight with you , you would have convinced her or made her understand but you only scolded her
Kunj- yes I know I did very big mistake dont know why i behaved like that with her i just want her forgivness now and he cries yuvi shocked to look at him like that he console him
Yuvi- your tears telling me how much you love her bro I am sure you will get your love back now dont cry .yuvi mobile started to ring yuvi saw caller id
Yuvi- twinki calling
Kunj- what siyappa queen he snatched mobile from his hand
Twinkle- oye yuvi you monkey where the hell were you haan I am calling you since from 15 min huh Ananya sign her not to scold him much twinkle node in no and scold him more while Ananya makes puppy face and looks at twinkle.  Twinkle does pout and keeps mobile bit away so yuvi cant hear and slowly says to ananya aww you are so cute ok ill not scold your yuvi ok
Yuvi confused looking at kunj who is smiling with teary eyed listening to twinkle voice she is scolding and kunj is smiling this made him more confused but he smiles looking at kunj
Twinkle- will you speak up now yuvi trying to take his phone but kunj not leaving he is just happy in hearing twinkle voice she didnt talked to him from many days whenever he calls she disconnected it now he got chance to hear her voice atleast he is happy with that twinkle not getting any reply she gets to know kunj took call and not yuvi she too becomes silent automatically tears filled in her eyes
Twinkle- k..kunj…. she said and kunj felt so happy to hear his name from her mouth so many days
Twinkle- so you received my call and not yuvi so you were not speaking huh bye
Kunj-twinkle please dont cut the call you talk na twinkle I am feeling good
Twinkle- why kunj why you feeling it good haan before somedays you said I am irritating and i speak too much now what happened haan?
Kunj- twinkle yar sorry
Twinkle- shut up give phone to yuvi now …ok you wont give i think ill disconnect call
Kunj-twinkle please please…hello..hello..hello..twinkle speak to me please atleast scold me yar please ??
Yuvi- shh kunj calm down you go and get fresh up now ill get breakfast for you here only ok
Kunj – just get me drop of poision thats enough
Yuvi- before i kick you go to washroom huh poision poison kunj looks at him
Yuvi – then what kunj.. you can't speak like this man you are strong why you speak about death haan if another time if you talk like this ill die
Kunj- yuvi no
Yuhi- same to you then now go be prepared for mission get back Twinkle love ok
Yuvi goes from there
Yuvi calls twinkle
Yuvi- gey twinkle
Twinkle- oye you are in kunj room still or what? Morning morning what you doing in his room haan???
Yuvi- no i am not in his room and now you are not with him na so morning morning iam in his room to take your place Twinkle meri southan bahar gayi hey ye chance mey muss kaishe karu yar I and kunj chi…muje sharam aa rahi hey ae were romancing yar you called and disturb us
Twinkle- hahaha good joke and leave in his heart there is no place for me he given that to someone may be so he made me to go out from there
Yuvi- twinki yar dont speak like tht place was yours and us yours and always yours only he will not let anyone to come there you know how much he love you snd i know how much you both love each other then why this all yar end this fight dear cant see you both like this
Twinkle- I cant help now he started it now he has to face it leave it now if yoi speak about him ill cut call
Yuvi- ok ok calm down now tell me ?
Twinkle- will you do favour?
Yuvi- order me yar what you want?
Twinkle- my friend needs job I am sending her to you today you were telling you need PA so you can take her
Yuvi- ok her name?
Twinkle- Ananya verma
Yuvi- Ananya smiles?? nice name hmm ok ill send you timing details in message ok.and think about kunj too I am not taking anyone side you both are important for me and i know your both happiness resides in each other so ..
Twinkle- bye.she cut the call
Twinkle- today you can join office
Ananya- thank you dear. And are you ok if you are missing him go  and talk to him i can see that you are not happy without him
Twinkle- yes he is my everything but i cant forgive him easily and i cant see hin sad too uffff I am confused
Ananya- oh ho dont be confused you decide and tell me what you want to do ill help you
Twinkle- ok in office you keep eye on that b*t*h rashmi ok and that plan i told you its ok right
Ananya- double ok and dont worry about that rashmi ill take her good care and also mahi's and they both laugh on that
Twinanya gets ready Twinkle leaves for aman office and Ananya for sarna's office Ananya leaves from there Twinkle opens her car door kunj see her and stops his car in middle and comes to her to speak with her Twinkle ignores him she sits in car and drove off kunj feels bad he also leaves for office .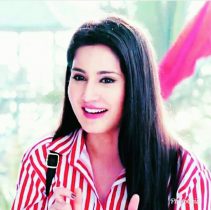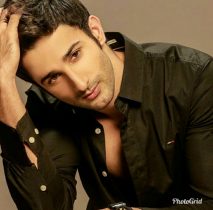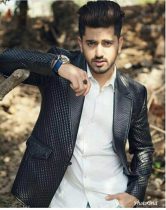 Aman treating twinkle specially in office than other employee Twinkle doesn't feel good when he comes near her everytime she just concentrate on work to show kunj she can also do work properly
Ananya parks her car and coming while she slips and close eyes in fear but she couldn't fall down as someone held her its none other than yuvi he got mesmerised looking at her some gair strands covered her face making her look more beautiful yuvi wanted to side it so he can look into her face clearly ananya open eyes slowly and finds yuvi infront of her eyes she too lost in looking at his eyes both looking at each other lovingly mahi who came there now shocked to look at them that too in that position.
Mahi – yuvi…??
Yuvnya comes into sences yuvi made her to stand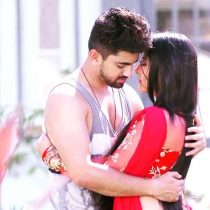 Ananya- thank you
Yuvi- welcome and I am yuvraj yuvraj sarna forwarding hands he dont know why he is doing that why he introducing himself to stranger and he is looking at her hand like when she will give her hand to him Ananya look at mahi face smirks then held yuvi hands
Ananya- I am Ananya.  Ananya verma
Yuvi- oh twinkle friend right you are on time I am impressed come lets go to my cabin we will talk there and mahi send juice for us to cabin
Mahi- what?
Yuvi- didn't you heard get juice for us and miss come smiling at Ananya
Yuvi pov ( why I am feeling strange with this girl and her magical voice felt like i heard it somewhere and when she was in my arms i didnt felt like leaving her for second too i didn't felt this with mahi then i dont love her? Oh god help me)
Ananya- sir where you lost?
Yuvi- oh sorry and call me yuvraj or yuvi only
Ananya- ok
Yuvi- say my name one time
Ananya- yuvraj shying
Yuvi- beautiful
Ananya- what?
Yuvi- m..my name
Ananya- hein? Ok they started to talk about work and yuvi felt like he knows her from many time her each look and stare telling him different stories
Mahi tells rashmi how yuvi held Ananya in his arms rashmi dream like kunj holding her in his arms she looks at kunj coming near them so she pretends like going by that way and falls hoping kunj will hold her but our kunj in his own world he didn't looked at her too he simply made his way to go to his cabin and rashmi falls miserablly kunj didn't turned also
Rashmi- ahha ahha he didn't looked at me also
Mahi- get up mahi goes to help her ananya keep her leg in middle due to this mahi falls on rashmi both screams
Both struggling to get up holding each other it looked in different way to yuvi he opened his mouth in O in shock
Yuvi- ewww this girls are that kind romancing each other chi i have to be away from mahi
They both get up yuvi leaves with ananya for canteen
Rashmi goes to kunj cabin without knocking door
Kunj checking some files
Rashmi- kunj…
Kunj looks at her angrily
Kunj- did you took my permission before entering my cabin what you think about yourself huh
Rashmi- kunj vo…
Kunj- I am your boss do you remember that and i told you only outside you can call me as kunj but not in office
Rashmi- sir…
Kunj – first go get out from my cabin is it your home or what when youbwant you come in haan go and knock if i agree then come nonsense
Rashmi was shocked she went there and knock the door kunj said her to get in
Kunj – why are you here?
Rashmi- oh i have doubt in…
Kunj – half of your life went in asking doubt only cant you do any work without having any doubt and there many others go and ask them about it why only me got it now you desperately doing this right.
Rashmi- sir…????? crying drama what i did now
Kunj- nerthing much wasting my time tell me what you want ? She keeps quite
Kunj- huh go and get that file which you working on since many days rashmi goes out and bring that file to him
Kunj checks it and throw on her face
Kunj- is it joke huh what you did haan its full of mistakes what happened to you? Initially you were not like this see i appreciated you when you did good work and now when you did worst work i also have right to scold you so please stop drama of crying if I am not wrong this is same file on which you asked many doubts some days before and till now you didnt complete that and you came here to ask new doubts ???
Rashmi- sorry sir oh i was asking about this only
Kunj- hey if you dont know about work then why you joined here haan just get lost because of you everything happening now dont look at me do that work here only start now itself
Rashmi above to sit
Kunj- did i gave you permission to sit no right
Rashmi- may i
Kunj- no stand and do it go and stand on any side there rashmi doing work she was like what is happening here
Kunj- rashmi …
Rashmi- yes sir???
Kunj- you are not sad??
Rashmi- hein? Why ill be? oh because you scold me no sir you are doing for my good innocently
Kunj- i asked because your engagement broken and next day i saw you chilling outside so asked haan why you will be sad may be your love not true then if our loved on angry on us or upset with us that makes us feel bad and sad not feel like sleeping always disturbed this all happens if some small fight happens too but you are strange or strong haan you didnt felt anything and wait what you said i scold you so felt bad? If you feel bad also i dont care and for your good no for my company good i can do anything you are just employee to me not more than that keep it in mind huh now go to your cabin and work in half an hour i want it to be corrected otherwise be ready to go out of office forever now you can leave .
Rashmi was shocked by his behaviour
Kunj opened mobile and looking at twinkle pics and remembering there moments how happy they were and now this happened his doll angry with him and went away from him he found one photo where twinj pic with tara (virika daughter ) he went to flashback
Flashback
Twinkle likes babies lot and now tara in sarna mansion she loves her lot tara is like twinkle only very naughty and attension seeker som of her behaviour she got too twinkle always playing with her Twinkle is tara's behind and kunj is twinkle's behind.
Kunj- twinkle stop
Twinkle- what Kunj? Let me catch her kunj pulled twinkle close by waist
Twinkle- auch kunj leave me
Kunj- i wont leave you huh you will always play with her what about me
Twinkle- do you want me to play with you?
Kunj- yes
Twinkle- aww kunj my cute jealous baby you are jealous on that tara too
Kunj- hmm
Tara – maasi maasi
Kunj- call her chachi
Tara- oh ok chachi twinki chachi come we will play and why chachu holding you like this oye chachu leave my chachi
Kunj- nahi chodtha hun jaavo yaha sey chachi ki chamchi
Twinkle- kunj…she push him side
Tara- chachu see my doll
Kunj- oh very good
Tara – do you also have doll?
Twinkle- no he dont have
Kunj- who told baba i have doll with me
Tara – acha show me
Twinkle- you didnt told me you buyed doll
Kunj- its there with me from long back and its very cute barbie doll
Tara – i want it
Kunj- no its only mine
Tara- show me oh you not showing you are telling lie
Kunj- huh see its my doll showing twinkle . Twinkle shies …
Tara – oh ho flirting with my chachi haha
Kunj- its my cute barbie doll and he kiss her on forehead
Tara- awww you kissed her ???
Kunj- no no i was just
Twinkle- kunj…?
Tara – suniye sablog suniye kunj chachu ne kunj chachi ko kiss kiya loudly standing on table everyone came there
Yuvi- what happened?
Tara – kunj chachu ney twinkle chachi ko kiss kiya bhabha??? i saw from my own eyes and he is saying twinkle chachi is his doll baba anyone tell him something she is not doll
Jeevika- ?????
Yuvi- hahaha right tara only for his eyes she looks like doll for me it looks like cat wild cat
Tara – leave that he kissed her
Kunj- chup meri maa
Tara – your maa what yiu think she will be proud of younfor kissing my chachi wait dadi dadi come here usha comes
Yuvi- bro now she is going to tell it usha maa
Tara told it to usha while usha looked at twinj and controlling laugh twinj standing in side as said by tara like they did big crime
Jeevika- tara get down of table now
Tara – mumma how can you keep calm yar he kissed your sister huh why you will be today papa kissed you thinking i was sleeping you didnt said anything while jeevika close her eyes and slowly murmurs viren ji ? nahi chodungi aapko
Tara- this is very big mistake very big so I am standing in high position…she saw manohar coming dadu…
Yuvi – kunj now you gon
Twinkle- I am going home
Kunj- ill come with you
Tara- shameless now you to her home only to kiss her dadu aayiye idhar
Twinkle already ran from there kunj closed tara mouth and ran with her to his room where twinkle present already he close room door place her on bed both twinj start to tickle her she laughs loudly
Kunj- will you do it again haan
Tara- no no leave me she ran out of room Twinkle going kunj pulls her and pins to wall
Twinkle- leave me
Kunj- no because of you i got embraced
Twinkle- aww you kissed me in front of her so that happened mistake is yours
Kunj- but punishment is yours because your cuteness made me to kiss you now punishment time he looked at her lips twinkle closed her eyes there lips meet they kissed widely after sometime they broke kiss .
Twinkle- kunj..
Kunj- hmm
Twinkle- after marriage how you take care of me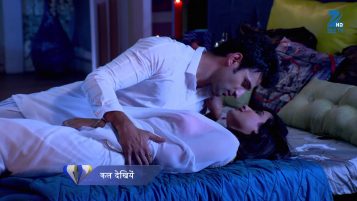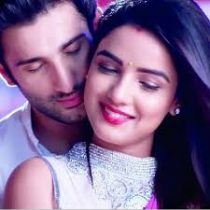 Kunj-hmm ill lift you like this he lifted her in bridal style while twinkle confused
Twinkle- put me down .
Kunj- no let me show you demo he place her on bed and came on top of her and covered them with blanket
Twinkle- aww not this demo now is it care?
Kunj- haan he kissed on her cheeks then bites her neck and his leg rubbed against her as twinkle wearing short skirt he have full access over everywhere after some romance he opened blanket and he sat on bed thinking twinkle is all shy now but twinkle pulled him and came on top of him
Kunj- oye..
Twinkle- what oyee hottie she moved her fingers sensually on his face then bites his cheek
Kunj- you got so much dare baby till yesterday you were running
Twinkle- shh..dont speak hottie i want to taste you …
Kunj- ??? Twinkle what happened?
Twinkle- i want you now youbcant stop in middle like this do na
Kunj- what to do?
Twinkle- after marriage everyone do na we will do it now kunj please kunj eat me remove your dress come ill help you removing his shirt buttons kunj was shocked he got up snd drink water .
Twinkle- oh baby mey bhi pyasi hun in s*xy way
Kunj- you have gon mad stay away from me
Twinkle- baby le lo na apni baahon mey aajavo na bed pey ….hahaha silently she is laughing kunj saw her
Kunj- ok then lets do it
Twinkle- what? You are not scared?
Kunj removes his shirt and throw it aside twinkle gets nervous
Kunj- when you are not scared why ill be baby come on darling lets do it aaj tho mey tuje dhikaunga
Twinkle- no..no dont
Kunj- twinkle come on i remove my shirt you remove your top thrn ill remove my pant and you …
Twinkle wrapped in blanket
Twinkle- no ill not remove anything and you too please kunj comes to her throwed blanket aside ….kunj…no…kunjjjj…
Kunj- so you will act smart infront of me
Twinkle node in no .
Kunj – get my shirt help me in wearing
Twinkle gets his shirt while kunj sitting on bed looking damn hot… ?? Twinkle look at his bare chest …and gets shy
Twinkle – hmm kunj can i touch…….
Kunj- your wish mh command baby I am all yours he pulls her twinkle land on his lap her hands on his chest they spends romantic monents
Kunj- ill keep you like queen after marriage too i love you this much only
Twinkle- promise you will never hurt me
Kunj- promise..
Fb end
Kunj- see twinkle i promised you ill not hurt you but i did I am sorry please come to me
Someone knocks at door and tells aman company coming for project meeting
Kunj- ok tell everyone be ready with there presentation i dont want any mustake from any one get it .
Aman company members comes there Twinkle too kunj dont know this twinkle working with him.
Kunj saw her in conference hall
Kunj- twinkle ?????? you cane i know you will forgive me thank you twinkle
Twinkle- excuse me mr.sarma maintain some distance dont you have manners be professional got it .
Everyone comes there
Kunj- will cancel meeting ok Twinkle you come with me holding her hand aman came there
Aman – oh nice you introduced your self to him Twinkle good officially ill introduce kunj she is my employee a very good employee of my company is twinkle she is best
Kunj- what ?
Twinkle- yes mr.kunj now i think we have to start meeting i have other works to do also cant waist much time here i hate this placei feel suffocated here
Aman – oh come twinkle sit with me
Kunj- sit with me come
Aman – she is my team man sit with me
Twinkle- ok aman come we will discuss about project two of them sit together and talking kunj gets angry on aman control his anger first twinkle gave presentation very nicely without any mistake its perfect everyone claps for her
Aman- very good twinkle wonderful work
Twinkle- yes only some people can see hard work thank you everyone
Ananya shows thumbs up to twinkle yuvi saw this and kept quite
Rashmi- i can do better presentation than anyone here let me show you my performance you all like it
Kunj- idiot first start
Rashmi- yes sir
Presentation starts
"Main Nagin Nagin, Nagin Nagin
Nagin dance nachna
Main Nagin Nagin, Nagin Nagin
Nagin dance nachna
Main Nagin Nagin, Nagin Nagin
Nagin dance nachna"
Ananya twinkle- hahaha what a performance
There is video someone dancing in funny way for that song and face is of rashmi only everyone laughing madly kuvi gets hell angry on rashmi
Kunj- meeting is over and you come and meet me in cabin
Mahi- its not her fault may be someone did it
Yuvi- shut up
Kunj sitting on his chair angrily and rashmi standing in side being scared yuvi also sitting there scolding her left and right
Kunj already angry on aman too he stood up and gave tight slap to rashmi making rashmi and yuvi shocked
Kunj- get out dont show me your face
Rashmi- really i dont know sir..i..
Kunj- shut up rule is same for everyone he scold her so much in front of all employees and drag her outside cabin and push her in angry he dont have control on him yuvi took him other side
Kunj- yuvi see that aman how dare he is ill kill him .
Yuvi- stop it kunj .
Kunj- he looks at my twinkle in bad way yuvi . Yuvi gets call he left from there while twinkle goes to washroom kunj saw her and goes to her he waits her to come outside Twinkle looks at him and ignored him and was going kunj pulls her .
Twinkle- what the hell ?? mr.sarna leave me
Kunj- kunj to you
Twinkle- mr.sarna
Kunj- no da kunj he pins her to wall
Kunj touch her face sensually Twinkle push him
Kunj- why twinkle its your favourite move right baby
Twinkle- you are not my favourite now so not anything of your move or whatever i dont like i irritates me
Kunj- my touch irritated you haan he pinned her to wall
Kunj- the way that aman looking at yiu i didnt liked
Twinkle- not my problem innocently
Kunj- i dont like him
Twinkle- ignore him then no one forcing you to talk to him
Kunj- you…why you joined there haan you know i hate him right
Twinkle- if i join there whats your problem kunj be professional I am working there he is my boss got it.
Kunj- why not picking up calls why didnt came to meet me.
Twinkle- dont have much time was busy in work and i dont want o disturn bus persons like you may you have sudden meeting sudden doubts cearing session anything who I am to disturb you
Kunj- you are my girlfriend
Twinkle- remembered now sorry correction i was your girlfriend now I am your ex girlfriend
Kunj- no you are mine only only mine haan
Twinkle- huh no kunj its wrong to think like that whenever we think someone is ours snd say something they take in wrong way and blame us for not trusting them
Kunj- twinkle i am sorry
Twinkle- hogaya leave me
Kunj- twinkle Twinkle she ignored him and went from there yuvi convinced kunj and they went to home yuvi said bye only to ananya and not to mahi .twinkle hide there kunj saw rashmi still there removed his all frustration on her again and left from there.
Rashmi crying
Ananya and twinkle come there
Twinkle- do you know that saying
Ananya- which one?
Twinkle- jaise karni waise bharni they both laugh on her ananya go to mahi who standing in side
Ananya- abh tera kya hoga
Mahi- m..means
Ananya- innocent twinkle can do this much then think what Ananya verma can do you tried to steal my boy friend
Rashmi- thum dono mile huvey ho app dono kiya ye sab
Ananya and twinkle- ham sath sath hey abh bath karne ki waqth nahi hey and goes from there
Days going like this daily kunj asking forgiveness twinkle showing some nakhara she too love him but want him to butter her more aman thinks twinkle really hating kunj so he should use this chance
Aman proposed twinkle one day
Twinkle- what the hell you know i and kunj love each other
Aman – twinkle he dont deserve you and tells bad about him Twinkle gets angry
Twinkle- just shut you blo*dy how dare you to speak ill about my kunj haan if he hurt me  its not your problem and how you know all this haan
Aman- sorry sorry calm down please
Twinkle- ok but remember dont talk about him like that i love him and always do no matter what i dont give his place to anyone got it you said you will help me but you proposed me huh whatever kubj did he did to me i know how to handle it you no need to get worry for me and she goes from there
In home usha request her to say yes for marriage and give one more chance to kunj . Twinj decide to meet up
To be continued…
Precap – rape part and long back ananya sent gift to yuvi hr didnt saw correctly that time now saw it it has photo of ananya yuvi shocked
(Uffff….finished tell me how is it guys ..any suggestions welcome…sorry if any error no proof reading …and its up-to your expectations or no i don't know if not forgive…thank you for comments likes or dislikes ….share your views via comments tell me how is it…OK or not OK…don't forget to comment share your views so i can get what you want and you liked it or no )
Keep reading ….love you all?

Warning: A non-numeric value encountered in /home/ftpusers/tellyu/public_html/wp-content/themes/publisher/includes/func-review-rating.php on line 212

Warning: A non-numeric value encountered in /home/ftpusers/tellyu/public_html/wp-content/themes/publisher/includes/func-review-rating.php on line 213