My Life From Another One – SwaSan FF – Episode 5

Warning: A non-numeric value encountered in /home/ftpusers/tellyu/public_html/wp-content/themes/publisher/includes/func-review-rating.php on line 212

Warning: A non-numeric value encountered in /home/ftpusers/tellyu/public_html/wp-content/themes/publisher/includes/func-review-rating.php on line 213

Link for the previous episode ????
Thank you Fariha, Sandhiyaswasaniyan, Sus, Tani, Safa, Hemi dear , Anju, Amala, Milestone, Kumu, Anu, Minnie08, Mannu and Nabamita for commenting. Links for the previous episodes are mentioned at the end of this episode. Let's start today's episode.
---
The episode starts with Swara sitting on her bed in her room. She sees Sanskar standing out of the window. She thinks of going out of home and meeting Sanskar. She gets up from the bed and goes out to meet him.
Sanskar is seen standing in the garden in front of his car. He looks at Swara's home.
Swara comes towards Sanskar. He gets happy to see her.
"I knew you'll come Swara. I knew you will. I have faith on you "
Swara smiles.
" Me too. I didn't want to leave you but it was you who made me do so "
Sanskar gets upset.
" Do you believe me? "
Swara says, " yes sorry. I shouldn't have reminded our past "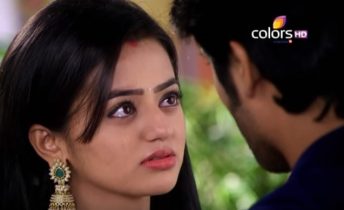 Both gets happy and smiles with each other. Sanskar says ,
" You made me wait for so long "
Swara looks at him happily.
Swara:- But what should I do ha? You were on your friend's side. I was on my friend's side.
Sanskar:- But Swara what shall I do? I had nothing else to do other than helping him. He is my friend.
Swara:- ok then. Do everything for your friend. Even destroy my friends life for your friends.?? (She gets angry)
Sanskar:- Ok ok Sweetie. My fault. Here I apologise.
He holds his ears and looks at Swara in a childish way.
Swara looks at him in a quite angry mood.
Swara:- You should have at least thought about me. What would happen to me if something happens to my friend? ?
Sanskar:- I'm sorry Swara . I promise I won't do that again.
Swara:- Nothing happens if you say sorry. And ha you won't get my forgiveness so easily. I won't give.
Sanskar:- Swara please please. Forgive me na. It's been so many years right. And you didn't even look at me. Today too you left without talking to me. If I didn't meet you today by mistake, I would never have met you in my whole life. You don't know how much I suffered without you.
Swara:- enough of sentimental talks Mr. Try to make me happy. I'll forgive you only after that . ? Don't think it will be easy ,?
Sanskar:- Aha that's such an easy task for a boy like me.
He goes near a flower bushes, picks up a rose flower and comes near Swara.
He sits in front of Swara and gives the rose to her saying, "For you my lady."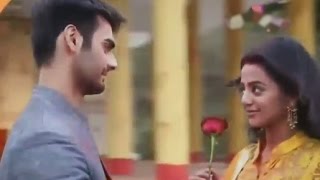 Swara:- How could you pick up my flowers!!!!!!!?????? Don't you know how much I tried hard to grow them. How much mornings I spent to water them. How bad and insensitive. ?
Sanskar feels little nervous. "Then what would you prefer, My lady?"
Swara:- First of all I'm not your lady. I'm not anyone of you until I forgive you. Do you get that Mr.?
Sanskar :- ????? Oops
Swara :- ? now go and water my flower bush everyday until it blossoms a new rose flower just like the one you picked.
Sanskar:-?What!
Swara:- Ok fine . If you don't do , then I won't forgive you. ?
Sanskar:- no no problem Swara. I will do it. Surely. (He thinks a bit and says in a loud voice) This is a great chance for me to see you everyday in morning. Such a nice task. Everyday of mine will blossom like those flowers.
He smiles in a childish way.
Swara:- how could you turn my order into your benefit! I will not come out of house until you leave ?
Sanskar:- but Swara….,
Swara's mom comes there.
" Who is this boy Swara ? Won't you tell me? "
Swara:- mom you know him ! Don't you remember?
Swara's mom:- i don't remember?
Swara:- Mom he is the son of my boss. He has come here to help me in my new project.
Swara's mom:- Then why are you two standing outside? Come in both of you.
Swara:- Actually mom, he told that he likes to water those flower bushes. He was asking me permission. Isn't it Mr.?
Sanskar:- What? Me?
Swara frowns at him.
Sanskar:- A ha aunty . They look so beautiful so I thought of taking care. Shall I come and water those every morning? Actually i love taking care of flowers.
Swara couldn't control her laugh.
Sanskar looks at her and murmurs to her..,(in a low voice)
" Why didn't you tell your mom about me ? "
Swara says , " Until I forgive you , I will not"
Sanskar nods his face and looks at Swara's mom. She says "Of course you can beta. But I don't think it will be necessary for a boy to do such things?"
Sanska:- ha but..
Swara:- Ha mom. But if he's asking so kindly, why should we refuse?"
Swara's mom smiles.
Sanskar:- Ok then I'll come from tomorrow morning. I'll leave now aunty.
Swara:- why tomorrow morning? If you really love those bushes you should have watered them today itself. Right mom?
Swara's mom:- Ha beta but if he says…
Swara:- it's ok mom. After all he is a nature lover. Right?
Sanskar smiles innocently.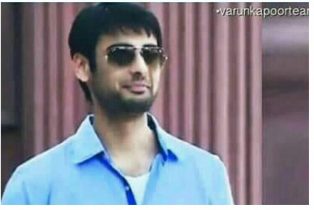 ---
Thank you so much for reading ?

Warning: A non-numeric value encountered in /home/ftpusers/tellyu/public_html/wp-content/themes/publisher/includes/func-review-rating.php on line 212

Warning: A non-numeric value encountered in /home/ftpusers/tellyu/public_html/wp-content/themes/publisher/includes/func-review-rating.php on line 213