Siddhi was reading a book .
Siddhi : My crazy heart goes on…..What  kind of story is this one ? How could it be when you find a stranger in your room and then you will fall for him ? It's not possible .
Suddenly she hears some foot steps and some sounds at her room. Siddhi got scared.
Siddhi : Who is there ? I am asking who are you ?
Siddhi walked forward and suddenly lights went off. Suddenly some one pushed Siddhi to the bed and lights were on. At that light Siddhi saw a man's face who was helding her hand . He was very close towards her body .Her sight went towards his sharp eyes and his curved moustache and thick beard . He looked her in a glance .
Siddhi kept her other hand on his shoulder to resist him so that he couldn't fell at her body,but her eyes were seeing that man only.
[Kabhi Daaman Hain Kaato Ka
Kabhi Baag Gulaabo Kaa
Kabhi Khud Pe Hoti… Hairaniyaan
Kaise Aani Lagi Hain pasand
Ishq Ki Gustakhiyaan
Ishq Ki Gustakhiyaan
Ishq Ki Gustakhiyaan
Ishq Ki Gustakhiyaan
Chadhe Ishq Mein Dil Ko
Khumar Hain
Pat-Jhal Bhi Lagte Bahar Hain
Kabhi Dil Kash Intejaar Hain
Kabhi Jeet Bhi Lage Haar Hain
Aaa….Aaa….aaaa…. plays]
Sh!!!! He slightly put his index finger on her lips she wasn't able to tell anything to that man . His eyes were roaming here and there as if he was in search of something. After a while he slowly took his finger and his hand from her. Siddhi raised from bed. Both of them looked again each other.
"Thanks for saving me "
Siddhi : I didn't get you. Who are you and what are you doing in my room ? Are you a thief ?
" Too many questions, I will give one answer , I am Shiva . Bye "
Siddhi : But why you came here ? What you want ?
Shiva : I am sorry I would not have done this. I am leaving right now and you can sleep peacefully. Good night.
He was about to leave but suddenly some one knocked the door. Siddhi got scared.
Siddhi : That might be my Mumma only. Please hide somewhere . Please
Shiva ran into bathroom and closed the bathroom door. Siddhi felt a kind of relief. She opened the door
Mumma : Yeh kya abhi tak tumne kapde nahi badli ? Raat ko puja hein , bhul gayi ? Tumhein nahana hoga
Siddhi : Raat ko kaun -see pooja , Mumma ?
Mumma : Siddhi , Today is the 9th day of navratri . Pandit ji is going to do hawan at our home ,it's Sudarshana homa. Through this all evil eye sights, negative energy will be vanished. For that hawan all has to take bath and wear new clothes.
Siddhi : Mumma, just half an hour. I wil l be coming down.
Mumma : Siddhi just go and take bath
Siddhi : I will do it Mumma
Mumma : You won't listen me. Come
Mumma held Siddhi's hand and took her to bathroom. She pressed the nobe of shower . Siddhi was scared is Mumma will see Shiva what will happen . But to her surprise Shiva was not there  .
Siddhi : Yeh kya kiya ?
Mumma : Ekdum chup, I have kept new dress on your bed. Take bath fast and get ready soon.
Mumma shut the door immediately and went away. Siddhi was thinking where Shiva went away. Looking here and there when she moved forward suddenly her leg slipped and an unknown hand saved her from felling down. Siddhi was surprised to see Shiva under the shower. Water was felling down at  them,Shiva touched her shoulder and looked her. He asked her Are you okay ?
Siddhi nodded her head and again looked him.
Siddhi : My Crazy Heart goes on
Shiva : What ?
Siddhi : The same was happening in that book. In that one also hero was a stranger who entered heroine's room at night. They both was also caught in a bathroom under shower. What happened then was ….
Siddhi's heart was beating faster. She rolled her eye pupils. Shiva gently took his hand from her and closed the nobe. He smiled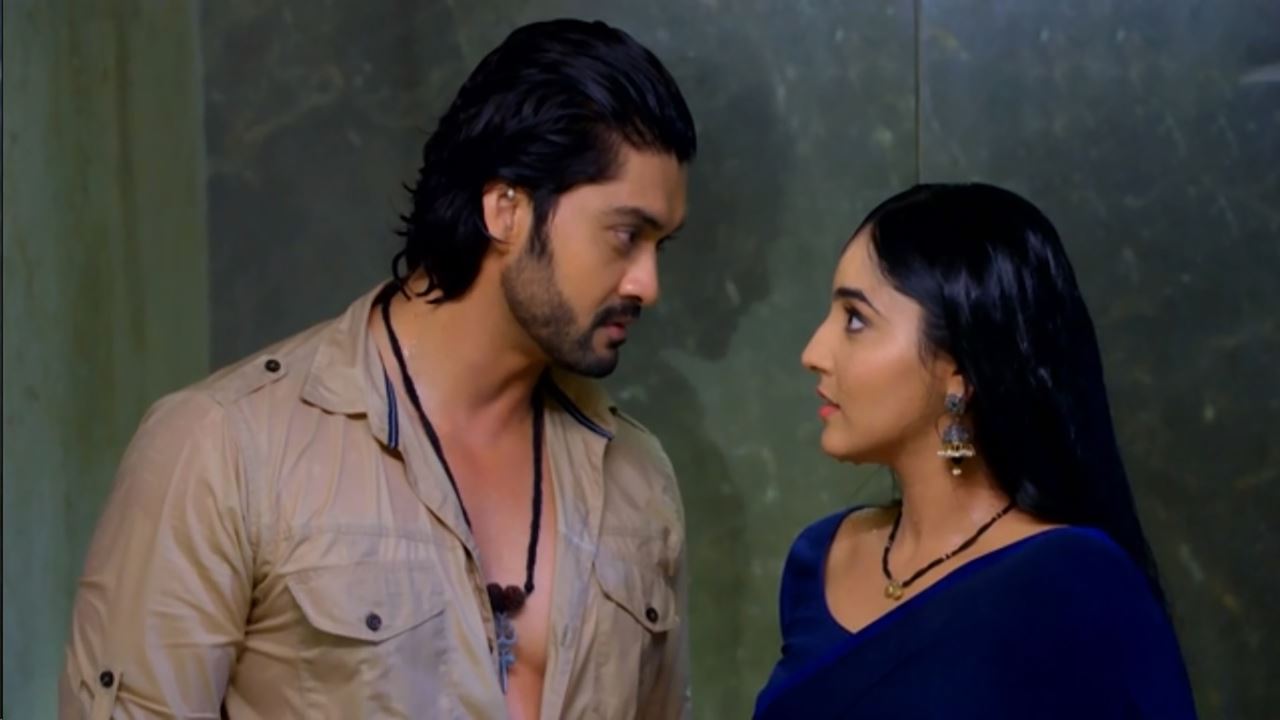 Siddhi : You are smiling !! I am telling the truth. That book is kept on table.
Shiva : Is it ? Can I take that book with me ?
Siddhi : Why should I gave that book to you ? And who are you ?
Shiva : Bataya toh thaa, Shiva
Siddhi : Woh toh theek hein. But why are you here ? What's your purpose ?
Shiva : See I can't tell it now. But trust me I won't trouble you anymore. I am leaving, bye.
Shiva walks from there , Siddhi comes out and finds Shiva jumping through the window and running some where. She looked the table and find that the book was missing.
Siddhi : That means he has taken my book. Oh My God !!! I haven't read it fully , what I read was happening with me . What's it ?