Miracle of Love Part -5 (Ragsan) (Swalak)

Warning: A non-numeric value encountered in /home/ftpusers/tellyu/public_html/wp-content/themes/publisher/includes/func-review-rating.php on line 212

Warning: A non-numeric value encountered in /home/ftpusers/tellyu/public_html/wp-content/themes/publisher/includes/func-review-rating.php on line 213

Hello guys, thank you everyone who read and like this FF. Thank you Jasmine, Moni, Tanvi, Chandana, Geet, Ragsanian, Ragsan, Vani, Aditi, Pinky,Rehna, Shalini, Keerthi, Ria, Vini and Sug.
---
CONTINUATION:
Saturday night, Sanskar went to Laksh room.
Sanskar: hey Laksh, shall we go outing tomorrow?
Laksh: Why all of sudden?
Sanskar: Ragini wish to buy something, she don't know any place here, so she asked me.
Laksh: it's wonderful opportunity Sanskar, you can propose her na.
Sanskar: what? Propose?
Laksh: yeah.
Sanskar: just 1 week only passed. What she will think about me? Also ,
Laksh: also?
Sanskar: one side love is more beautiful.
Laksh: so you are not going to propose her at all.
Sanskar: no, i will propose her. But not now. I wish to admire her without her knowledge. That is beautiful feel. Also,i have fear if she didn't accept my proposal means. So i should give her belief that i will take care of her and
Laksh cuts inbetween.
Laksh: okay ok, but tomorrow you can spend time with her na.
Sanskar: how she will come alone with me?
Laksh: Means Swara won't come.
Sanskar: don't know. But maximum chance she won't come.
Laksh: then i will come.
Sanskar: why laksh? Whether you didn't like her?
Laksh: she is like Grumpy, not like, she is grumpy only.
Sanskar(smiles): why yaar?
Laksh: on that day i take her to library na, she not even thank me. Leave it, she not even asked me where, which book will be? She thinks herself as know it all. Not even speak single word to me. If she comes, how i will put up with that Grumpy.
Sanskar: she is a girl, how she will voluntarily speak with you?
Laksh: if she comes, i won't come. That's it.
---
SWARAGINI'S ROOM:
Swara is sleeping. Ragini is trying to wake her.
Ragini(pat on her shoulder): swara…swara.
She didn't respond. Ragini take pitcher full of water and pour it in Swara's face. Swara wake with jerk.
Swara: Raginiii.
Ragini ran out of the room.
Swara: i won't leave you, whenever you should come inside only na.
She is drying her face and hair. Ragini open the door and step into room like cat.
Ragini(wonders): where this Swara went?
Swara: behind you only.
Ragini turned with shock. Swara pour water on her face. Ragini screamed no.
Ragini: idiot.
Swara: you are the one first did it, then you only idiot.
Ragini: you slept like buffalow, that's why i did it to wake you.
Swara turns her face against her. Ragini too. After a while both turns.
Swara: why you wake me?
Ragini: tomorrow we will go outing.
Swara: nooo.
Ragini: how i will go alone with Sanlak?
Swara: if Laksh comes definitely, i won't come. He is a grump. Not even spoke a single word with me. He left me alone in that library. You will romance with Sanskar, i can't put up with him alone.
Ragini: swara, hereafter if you take Sanskar's name with me, i will kill you.
Swara: ok, but i won't come.
Ragini: for your sister, whether  you won't do this much also?
Swara: ok i will come, if you buy new dress for me.
Ragini: ok.
Swara: that's all na, good night sweet dreams.
---
Morning, Sanlak wait infront of Swaragini's hostel. Both came outside. Laksh frowns at Sanskar.
Sanskar: please adjust for me.
Sanlak take them to Forum mall, which is near to their college.
Sanskar: it's walkable distance only. Whatever you need  you can buy it here.
Swaragini nods.
Swara: first we will purchase dress.
Ragini: we will purchase it later, Swara.
Swara is adamant like kid. Sanskar use this opportunity.
Sanskar: then Laksh will take Swara to textile shop, we will do your shopping. Whoever finish first will wait in that ice cream parlour for others.
Swalak look at Sanskar with burning eyes. But they realise that he wish to spend time with Ragini alone. Then they agreed. They part their ways.
---
Sanskar: what do you want to buy?
Ragini: nothing just Photo frames to fix our Parents photo and keep it in our room.
Sanskar take her to gift shop. There was numerous photo frames Ragini is confused to select.
Ragini: i am confused, will you help me?
Sanskar choose frames which has that 3 magical words.


Ragini look at him with widened eyes.
Sanskar: what? Don't you like it?
Ragini: i like it. But it has
Sanskar(feel fully): i love you.
Ragini: what?
Sanskar: means when you fix your parents Photo, these words will give meaning that you love your Parents.
Ragini: silent.
Sanskar: if you don't like these, you yourself choose anything. I won't mind.
Ragini: no, it's ok. I will buy these.
Sanskar turns and smiles.
---
Laksh: why don't we use lift?
Swara: if we use lift, how i will take a look at other shops.
Laksh: you want dresses only na.
Swara: yeah, don't you know window shopping.
Laksh(get irritated): then you go alone.


Swara(gets hurt): you no need to come, i can go alone.
By saying that she left, without any option Laksh follows her by cursing his destiny.
---
Ragsan where sitting in that ice cream parlour. They wait for some time but Swalak is not yet come. So Sanskar ordered ice creams for them. Sanskar taste a butter scotch.
Ragini(out of eager): butter scotch, my favourite.
She snatches it from Sanskar and starts eating it. She lost herself in eating it. Sanskar admires her without taking his eyes off. Suddenly Ragini realised what she did and close her eyes with another hand in shy.
Ragini(shyly): sorry i love butter scotch. So
Sanskar(smiles): it's ok, you have it. I will have yours.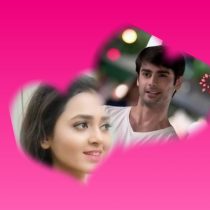 Ragini tries hard to hide her shy.
– to be continued.

Warning: A non-numeric value encountered in /home/ftpusers/tellyu/public_html/wp-content/themes/publisher/includes/func-review-rating.php on line 212

Warning: A non-numeric value encountered in /home/ftpusers/tellyu/public_html/wp-content/themes/publisher/includes/func-review-rating.php on line 213