Hey Jasmine So happy that you liked the previous episode🥰. Hope you like this too
Hello Shreya Thank you so much dear ❤️

Recap: Naksh and Keerthi get to know each other. Kartik convinces the Kapoors. Naira and Kartik bond with each other during late night office work. Rohit saves Sonakshi from falling and scolds her for being irresponsible. Sonakshi's hatred for Rohit Vanishes. Viren and Jeevika receive  their anniversary surprise in the midnight 
Episode 10 
Vadhera House
 After the cake cutting Viren and Jeevika are left alone. Viren locks the door and walks inside to find a grumpy Jeevika
Viren: Arrey what happened to you?
Jeevika: Everyone remembered our anniversary and gave us a surprise but one who has to remember has forgotten it. Saara pyar sirf shaadi tak tha ab toh kuch bhi nahi
Viren: Arrey itna bada inzaam?
Jeevika: Haan..usually you make people stand in the court and accuse them right, now get ready to deal with this accusation and here Im the Judge so you can't escape 
Viren: But my lord I have something to say in my defence
Jeevika: Whats that?
Viren walks to the cupboard and takes an envelope and comes to Jeevika
Viren: Happy Anniversary to my dear wifey…
She gets the envelope and : What's in this?
Viren: Open and see
Jeevika opens it to see two tickets to the concert of her favourite artist
Jeevika: Virenji yeh toh…
Viren: Its my gift for our anniversary my dear Jeevika
Jeevika: But it's difficult to get these passes right?
Viren raises his collar and : What did you think of your husband huh
Jeevika hugs him
Viren: So my Lord I have proved that the accusations against me are false, what will I get in return
Jeevika breaks the hug and walks to her cupboard and comes with a box
Viren: Whats this?
Jeevika: Patience sir patience
She slowly opens the box and Viren's eyes bulge in happiness 
Viren: Jeevika…this …..you remember it?
Jeevika: Of course 
Viren takes the guitar in his hands
Viren: You still remember that I played guitar in the school band?
Jeevika: Why wont I? When I was confused on what to give as a gift..my eyes fell on this. Do you like it?
Viren: I love it. And yeah..tomorrow full day is ours, Im not going for any meetings or to the court. Its fully for my wife
Jeevika gets excited to hear it. She gives a kiss on Viren's cheek.
He grabs her closer by her waist and they tumble and fall on the bed, the scene freezes 
Singhania Diamonds, midnight past 1 am
Kartik shuts his laptop and leaves a long yawn. His eyes fall on Naira who is asleep in her chair.
He smiles to himself and slowly gets up to push her hair strand which has fallen on her forehead when she suddenly wakes up with a shout jerking Kartik
Kartik: Kya hua?
Naira breathes heavily and : I wont let this company fall…I will prove that a beti is nothing less than a beta….Ill not let papa down…..dont focus the camera on my face…the lights are too bright…move aside…please
Kartik is stunned to see her blabbering. He holds her shoulder and jerks her to reality 
Kartik: Naira…naira…there are no lights here…no cameras ….shaant hojao….shshh…
Slowly Naira gets normal
Naira: What happened?
Kartik: Nothing..maybe this over exhaustion is tiring you
Naira laughs
Kartik: Why are you laughing?
Naira: This has been my routine Kartik
Kartik: What does that mean? You dont sleep enough regularly?
Naira : After Papa's accident…I didn't have much choice…I could not let my bhai sacrifice his dreams…business was my dream…but you know right…without anyone to guide…everyone judging me based on my gender I had to prove myself so I just had to work late nights
Kartik: You have proved enough at least now…
Naira: What? Did you not hear what the Kapoors told…this is my big project Kartik…this project sums up my one year's hardwork…how can I rest now?
Kartik : Okay okay fine…but hereafter Ill accompany you 
Naira: But…
Kartik: See its first project here as the project manager…Ill also prove myself 
Naira: Lets see..now is your work done? Sorry I dozed off
Kartik: Im done..finally 
Naira: Even I completed my part…thats why I thought of resting for few seconds but sorry I dozed off
Kartik: Arrey dont feel guilty for that…now how are we going home..its past 1
Naira: Ill drive and you have your bike I guess…
Kartik: What? You will drive? At this time? That too alone..now way Ill drive you
Naira: What about you then?
Kartik: Ill drop you leave your car at home, come back and get my bike
Naira: Are you nuts? How will you come from home to office without any vehicle? 
Kartik: I have taken the responsibility of your safety..I cant let you alone
Naira: Then fine Ill come in your bike, let the car be here
Kartik in mind: Waah Krishna ji second time Im getting this opportunity 
Naira: Hello…
Kartik: Will madam be comfortable in my bike?
Naira: You talk like its the first time..that day too I rode with you…now come lets go
Kartik and Naira walk outside. Kartik brings his bike and Naira hops behind him and their journey starts
Kartik remembers Naira's hallucinations of lights and cameras and her struggle in the company…his heart goes to Manish and the Goenka business…..
Kartik in mind: Naira is struggling hard to prove herself..so am I….my dad sent me out as he doesn't think that Im fit for the CEO post…..our destinies are so similar…but dont worry Naira we will prove ourselves to those who don't believe us
His eyes fall on Naira's image on the rear view mirror..he blushes without his knowledge while Naira is lost in her own world,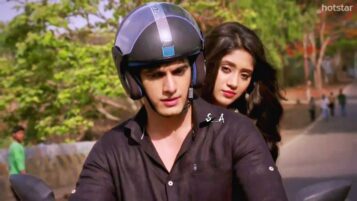 the scene freezes 
Next Morning, Gym
Virat and Zoya are working out while Aditya enters the gym with his gym bag. Virat smiles on seeing him
Virat: Arrey yaar tum yahan?
Adi: Woh Virat..my usual gym is locked as I got late due to BCCI meeting of yesterday night
Zoya: How did it go?
Adi: As expected….the announcement of the squad will come tomorrow for Ranji trophy and BCCI are impressed with my performance but the performance in Ranji is essential to maintain that impression which will lead to the recommendation for the International cricket team 
Virat: You will ace it
Zoya: Adi why are you dull?
Virat gets up and is about to leave
Adi: Arrey Virat
Virat: Im your friend thats true but this is the time for both of you..Ill make sure no one comes here 
He walks out
Zoya: Adi tell me what happened 
Adi: Zoya…I went home after the meet….Naira..Naira
Zoya: Naira?
Adi: Naira came home at 2 am from the office..she is working so hard for the Kapoor project….she has been working hard since one year as she didn't want me to sacrifice my dreams for the family business…Im guilty….my little sister was carrying heavy burdens…I know Naksh bhai is here now…but last one year the company was held together only by Naira…and bhai said that she struggled a lot as people underestimated her as she was a girl..she never shared it with me or muma…she was a father figure handling everything..and me being her brother couldn't do anything…if I had taken a break for this one year and joined office with her..I could have
Zoya: By saying so you insult Naira's sacrifices Adi. Naira has taken all this pain and the only way to repay her is by becoming a star cricketer in the Indian team…its not only your dream its all of our dream, especially Naira's
Adi: But she hid her pain..only through bhai I knew..why did she hide?
Zoya: Cant you understand why? Naira knows you idiot…she knows that if you learn her struggles  you will throw your kit bag away and jump into business to make things easier for her..she didn't want it….so better concentrate on cricket now. You should fulfil this dream if you really love Naira
Adi hugs Zoya
Adi: Im happy that I shared this with you. 
Zoya: Ab bas emotional hone ka time katam…go and workout
She pushes him away. The scene freezes 
Sippy Hospital 
Kartik and Swarna discharge Sonakshi.
Rohit: Ms. Sonakshi please take rest at home. No shooting for atleast 6 weeks, Im discharging you because I cant take risk..if what happened yesterday repeats then gosh no…so atleast in your home Take Rest
Sona smiles and nods
Kartik in a whisper: Finally you scared him to discharge you na
Sona stares at a giggling Kartik and her gaze shifts to Rohit as she is taken to the car her eyes get fixed on him. Rohit on the other hand walks to the reception 
Receptionist: Sir you got a parcel
Rohit gets it and walks to his cabin and opens it. He is shocked to see it
Rohit: Yeh…..who did this bullshit?
He throws away the photo frame with a pic of Rohit carrying Sonakshi. He gets angry and agitated. The scene freezes 
Viren's office
Virat walks in and goes to the reception 
Virat: Im Virat..Im here to meet Mr.Viren Vadhera
Receptionist: Sir is not available today, Manvi mam is handling all his meetings today. Please go to the room on the left side sir
Virat walks in. Manvi who was near her cupboard searching for a file turns to see Virat entering the room, in excitement she drops the file making the papers fly. Virat rushes forward and helps her
Virat: Paper girl?
Manvi: What?
Virat: Every time I see you, you keep dropping papers
Manvi gets awkward and stuffs the papers in a hurry, gets up and walks to the table. Her heart beat is rising in excitement 
Manvi: Pplllease sit
Virat: Thank you. Woh I have a case…that Viren sir was supposed to handle
Manvi in mind: Manvi..he is here as a client…dont let the fan girl spoil the image of this lawyer..professional behaviour…come on
Manvi: Jiju is not available today..Ill help you
They start discussing the case but the fan girl inside Manvi keeps peeping out and she controls that with great effort. She finds it difficult to not admire Virat who is so close to her.
Suddenly a knock is heard on the door and there stands someone to add fuel to Manvi's awkwardness.
Precap:
Who is it? Will be revealed in the next episode

 
Naira's anger
Naksh and Keerthi's not so official meeting

 
Rohit visits Sonakshi
Virika's romance
Aditya's departure