They go out and holds umbrella together and suddenly naira looks kartik as he is close and kartik notices it and sees her and both meets with an intense eyelock..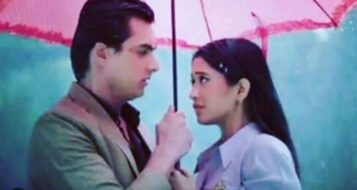 Suddenly her moments with kartik flashes her mind..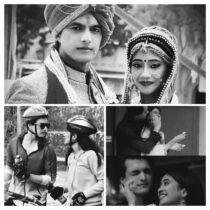 Naira gets uncomfortable and in mind: what's happening? Again I am getting imagination of kartik and me.. I don't understand why.
She feels restless and suddenly she feels dizzy and was about to fall but kartik holds her immediately leaving umbrella and they look each other and kartik slowly makes her stand up..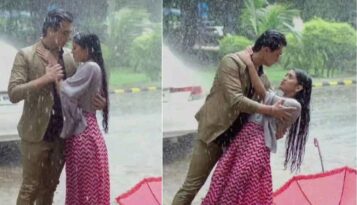 Kartik:are you fine? Shall i get you to hospital if you are sick?
Naira:no..no..iam fine. I just slipped as floor was slippery..that's it
Naira in mind: i can't tell you what iam going through as i need to find myself about our relationship and myself.
Suddenly kartik sneezes.
Kartik:achoo..achoo.
Naira:ohh no..i guess you are the one who is sick. Come here with me to the corridor.
Naira takes him to the covered area and wipes his face with her towel.
Naira:you are sneezing immediately after getting drenched in rain..let me wipe you..so that you won't get affected more with cold
Kartik gets immersed in her care and he looks her lovingly..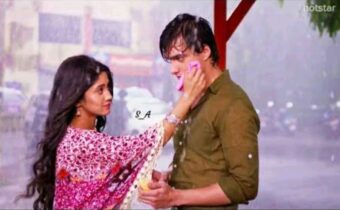 Kartik in mind:you may have forgotten me but your love for me haven't vanished yet. I can see how you care for me..hope you get your memories back soon..i really miss you naira
Naira catches his glare and.
Naira: what happened
Kartik smiles:nothing..i just looked you as you are so caring person
Naira smiles: we are friends.. so i should care for you right
Kartik:yeah.
Then they both holds umbrella again and they reach car parking and goes..
GOENKA HOUSE, UDAIPUR:-
At night Abir was sleeping peacefully suddenly he dreams of romancing and dancing with mishti..
Aaj zid kar raha hai Dil
Aaj zid kar raha hai Dil
Karna hai bas tujhe haasil
Aaj Zid kar raha hai Dil
Ho mujhme tu ho bhi ja shaamil
Aaj zid kar raha hai Dil
Ho… Ho…
Kahi khud ko mujhme tu
chhor ja.. chhor ja..
Tere saath mujhko tu
jodd jaa.. Jod jaa..
Tere Saath mujhko tu
Jodd jaa.. Jodd jaa..
Ye jo kaanch ke jaisi
Ek deewar hai
Meri bahon mein usse
Todd jaa.. Todd jaa..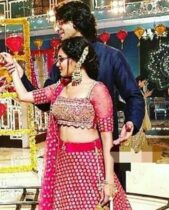 Ye jo ek adhurapan hai
Ek dusre se bhar de
Tujhe umrr bhar naa bhule
wo lamhein mil jaaye
Maan le mujhe tere kaabil
Aaj zid kar raha hai Dil
Ho mujhme tu ho bhi ja shaamil
Aaj zid kar raha hai Dil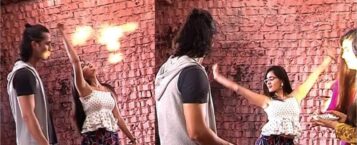 Bepanah tujhpe fida hu
Bepanah tujhe chahta hu
Bepanah tujhe maanta hu
Bepanah… Bepanah…
Tu nasha tu khumaari
Tera junoon sir pe sawar
Aaj tu khud ko mere yaar
De pila.. De pila..
Mujhe sirf teri lagan hai
Usse milke poori kar de
Meri itni si hai khwaish
Tera pyaar mil jaaye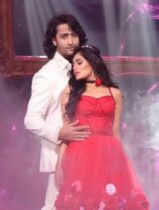 Ban bhi ja tu meri manzil
Aaj Zid kar raha hai Dil
Mujhme tu ho bhi ja shaamil
Aaj zid kar raha hai Dil
Ho… Ho…
Aaj zid kar raha hai Dil (x2)
At morning surekha splashes water on him while Abir wakes up in jerk.
Abir:maa..why did you cut my romantic story
Surekha gets stunned.
Surekha:cut your romantic story? What romantic story?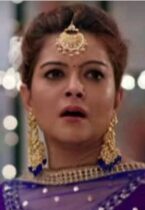 Abir realises the dream and gets confused.
Abir in mind:why did suddenly got dream like that? Did i started to feel for mishti in such a way? Is Kunal right about my feelings for mishti? But she is my chudail bff..how can I have such feelings?
Surekha:Abir.. don't act like devdas at morning. Go and get ready and come.. today you told you have to compose a song for producer prabhu's movie right?
Abir:yeah..i have to go to nearby town where his production house is located
Surekha:then why are you sleeping as if you are in heaven? Get ready and come for breakfast and go for your work sooner.
Surekha was about to go but Abir stops her.
Abir:maa..i need your help. Can you tell how you identified you love for dad before marriage as i know you and father had love story.
Surekha gets stunned.
Surekha: what? Why do you want to know about it suddenly?
Abir in mind:i can't say to mom that iam confused about feelings for mishti because if i say she will fix the marriage atself directly in over excitement..
Abir: i thought of directing a romantic movie..so i dint know how someone understands the feeling of love..that's why I asked you mom
Surekha laughs.
Surekha:why are making fun at early morning? You and your direction!! First of all you never took photo properly..then how come you thought of directing a movie? What a joke.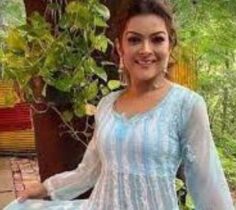 Abir gets embarassed.
Abir in mind:what an ugly lie i told? Iam so stupid.
Surekha smiles: anyways..I'll tell you. If you love a person..then your heart will beat for her every second
Abir:but mom for every humans..heart is beating every seconds.
Surekha:shut up nd listen without joking around. Then you will dream her in her absence..and you will be happy whenever she is there with you. Your heart gets pierced if she lands in any problem and so on.
Abir gets happy hearing it.
Abir in mind: that means my feelings for mishti is love..wow..it's so amazing. Kunal is right..thank god i asked mom.. orelse i would have been devdas in love
Abir:thank you mom..i will decide the story
Surekha frowns: without even knowing the story..you asked such a weird question.. what a genius son I have!
Abir:mom..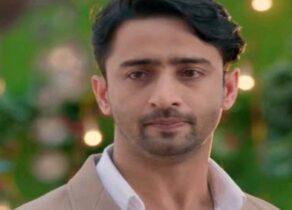 Surekha giggles and goes while Abir frowns.
Surekha in mind:i know what you told is a lie..i guess you are in love…that's why you asked such question to solve your confusion. I can easily read your heart Abir..
Surekha goes while Abir gets ready jumping in joy.
Abir:now..I'll go and tell Mishti that i love her. Iam so excited..i think mishti too loves me.
He calls mishti.
Abir:hello mishti.
Mishti:hey Abir.. what's up
Abir:can you please come now to a squiden park..i want to tell you something urgent
Mishti:sure I'll come.
They cut the call and mishti gets ready to meet Abir in confused state.
Mishti in mind:what's so urgent matter that Abir wants to tell me? Hope he tells something good other than his jokes.
After sometime mishti was waiting for Abir in park and soon Abir came in opposite direction and was about to cross the road while mishti sees him and smiles.
Mishti in mind:it will be nice if he proposes me..but i can just dream it as Abir seems to be friendly only
Before crossing the road some drunk guy hits Abir in his bike nd goes and Abir falls on road bleeding on his head shocking mishti and mishti screams.
Mishti:abirrrrrrr.
She runs to him and makes him lie on her lap and cries.
Mishti:Abir.. nothing will happen to you. I will soon take you to hospital.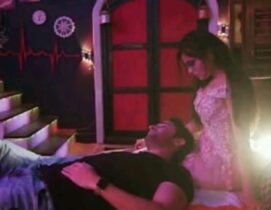 Abir smiles:mishti..iam fine. It's not a big accident. Iam just having a small cut in my head.. that's it. So don't cry.
Mishti:but I can't see you hurt..if you are hurt them iam hurt
Abir and mishti looks each other emotionally.
Mishti then takes Abir to hospital in rickshaw and admits him and the nurses bandages his wound on the head and suddenly Abir opens eyes and sees mishti as doctor wounding him and smiles..
Abir in mind: my wound doesnt hurts me..i will be hurt only if i dint share my feelings for you. Now I'll propose you..
Abir:you are so cute even when you are bandaging me..i love you my chudail bff.
Suddenly the nurse gets stunned as Abir was hallucinating her as mishti and she moves away in awkward moment.
Nurse:excuse me sir.. what are you telling? Iam a married women and i have two kids.
Abir gets stunned hearing other voice and he realises he was imagining the nurse as mishti and gets embarassed.
Abir in mind:ohh..no.. what did I do
Abir:iam …iam really sorry..i..i thought you as..as my friend mishti
Nurse:it's okay..i understand that you love your friend. But still I feel embarassed.. anyways i cleaned and bandaged your wound. Now you can discharge after paying the amount in reception
Abir goes out and sees mishti while mishti comes to him.
Mishti:Abir.. are you ok now
Abir in mind: is she really mishti or am I dreaming mishti in someone else?
Abir:are you mishti?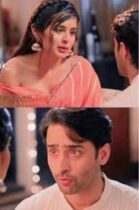 Mishti gets shocked and makes weird faces..
Mishti:are you out of your senses? You are asking me atself are you mishti.. Did you got hurt in brain or what
Abir gets embarassed and holds his ears.
Continued on next page…