hello friends… Here is the next episode. Hope you all like it..
MUMBAI, KARTIK HOUSE:-
The next day..
Keerthi got ready beautifully and naksh who passed Keerthi's room gets mesmerized seeing her through mirror view..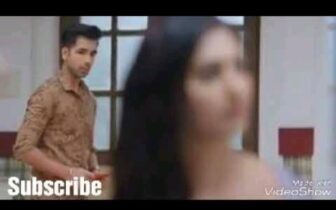 Suddenly Keerthi notices naksh through mirror and blushes.
Suddenly something falls distracting them.
Keerthi:h..ohh..naksh..you..you are here
Naksh: actually you was telling about your delivery right? Thought to help you  by giving company.
Keerthi gets suprised.
Keerthi: but you have to monitor your restaurant through live camera right
Naksh: keerthi..my mind is in verge of bursting out. If I keep on monitoring more then i will lose my brain for sure..so i decided to off my work and get peaceful of mind for sometime
Keerthi laughs hearing it while naksh smiles seeing her laughter.
Keerthi:so you decided to come along with me
Naksh:ofcourse.
They both go out and they get suprised seeing kartik in good mood..
Naksh:kartik..why are you getting ready like girls suddenly? Are you going to any function
Kartik gets embarassed..
Kartik in mind:i wish to tell you that I am getting ready in handsome way to impress my sherni naira..but i can't as i should first make her naira. And then reveal the truth..so that everything will be back normal
Kartik: nothing..today..i..iam going out with.. with my colleague after college gets over..that's why
Keerthi smiles.
Keerthi:that's good.. finally you are going out..iam happy
Kartik:Haan..ok..did you prepare breakfast? Iam hungry today.
Keerthi gets suprised and gets more happier.
Keerthi:is there to ask like this bhai? Even if i dint prepare you have rights to ask me to prepare for you..and iam always ready to prepare for you. Give me sometime..I'll prepare breakfast and come.
Keerthi prepares breakfast and kartik eats it nicely.
Kartik: after a long time..iam eating such a tasty breakfast!! Today i will surely be afresh for whole day because of this tasty food.
Naksh and keerthi smiles.
Keerthi: you never leave without commenting on my food..and iam happy hear the comment after a long time
Kartik smiles and then he eats quickly and bids bye to both of the and goes to his college while keethi and naksh expresses happiness as kartik is becoming normal.
Naksh:i never expected this sudden change in kartik..iam so happy for him
Keerthi:even me too..i always wished bhai to be happy and finally it happened..iam so excited. I don't know what made change in him but let him be like this always.
Naksh:yes.
Then they both eat breakfast and goes for Keerthi's clothes delivery.
IMPERIAL COLLEGE, MUMBAI:-
Kartik reaches his college and he entered the class and got happy seeing naira..
Kartik in mind: had tasty food and now saw my lovely wife..iam sure today i will be in heaven.. who else will get this amazing fate?
Once they saw kartik students gets up and wishes him.
Students:good morning sir.
Kartik: good morning..sit down please.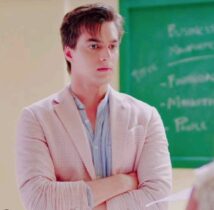 Suddenly a student named astha rushes to the class late and she gets scared seeing kartik.
Astha in mind:now I am gone..kartik sir will surely send me back to home.. what a bad fate today!
Kartik: Astha..why are you just standing there without calling me? Will you stare me like that for whole class?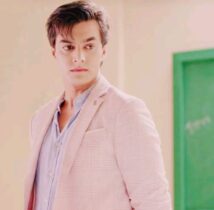 Astha shakes in fear.
Astha:no sir..sc.. actually..iam iam late due..due to my mother's medical delay in hospital..so.
Kartik:it's okay..no problem. Get in.
Astha gets hell suprised while the whole students gets shocked as first time they saw kartik polite and happy and dint punish a student.
Astha in mind:am i dreaming? I couldn't believe that kartik sir allowed inside class..what a miracle!
Astha goes in and soon kartik starts taking class..
He finished his lecture and turns towards students.
Kartik:so now let's begin question session. Let me test you all how well you are thorough with my subject.
Everyone gets tensed while naira smiles.
Naira in mind: kartik won't ask me any questions as we had a deal..iam escaped..iam so lucky person!
Kartik in mind :i know what you are thinking naira…but what will be fun without breaking promise in friendship?? Now see what il do.
The students prays that they shouldn't be called by kartik and kartik suddenly calls..
Kartik: miss. Tina shekhawat.. please get and answer to my question.
Naira gets stunned and she gets up and stares kartik angry while kartik gives a naughty smile and they talk through their mind..
Naira: i thought you are a good friend kartik..but you are too bad. You broke the promise.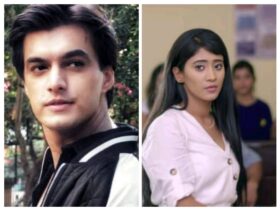 Kartik: what's the fun in friendship without breaking promise Tina?
Naira: wait..I'll break your head for breaking promise
Kartik:haha..lets see.
They come out of their mind talk and.
Kartik:miss.tina..as you just joined before 2 days..I'll ask you very simple question and you answer it
Kartik asks question and naira answers it correctly while everyone gets suprised and kartik smiles.
Kartik in mind: my naira is always smart..I knew it and that's why I called her confidently
Later after college gets over.
Priya: Tina.. today you told that you will come with me right..are you coming
Naira:no..i need something to discuss with kartik sir. I'll go myself..you go.
Priya:ok..bye
Priya goes and naira goes to kartik's cabin and bangs in angrily while kartik gets shocked.
Kartik:Tina..you scared me to death. Why did you enter like a sherni??
Naira: iam sherni..then i will enter like that only. I want paw you like sherni..wait.
Kartik smiles.
Kartik in mind: my naira is always sherni..even as Tina she is my sherni. Always in fierce form..
Naira:why are you smiling after breaking promise
Kartik:Tina..i just did for fun..i know you will answer that's why i called you for fun.
Naira: even i know i will answer even if you ask world's toughest question but you broke the promise..so i will break friendship with you.
She turns to go angrily but kartik immediately gets and does sit ups before her.
Kartik:acha..meri pyaari dosti..iam really sorry..i will never do such horrible fun hereafter.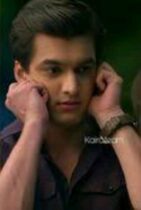 Naira laughs seeing him..
Naira:acha..sorry accepted as a strict professor had done sit ups for a friendship with me.
Kartik gets up and presses her nose.
Kartik:you naughty sherni..even i dint punish any students with sit ups but you made me do it.
Naira giggles and suddenly they hear a rain sound and they see our and gets shocked.
Naira:ohh noo..it's raining..i don't have umbrella too..how will I go home
Kartik: don't worry..i have umbrella..i will drop you home.
Naira:no..no..it's okay..I'll call ranveer jeeju
Kartik:arrey..he should come leaving his duty. Why to disturb him? Iam your friend..so come with me..i won't eat you
Naira laughs:ok.
Continued on next page…