hello friends..here is the next episode. Sometimes I'll be late in posting as i have designing works..iam sorry for it. Please do support me..
Kartik breaks down falling on the floor..
Kartik:why..why di..did you go..go away from me naira? Di.. dint i g..give you enough love? Or..or did you get upset with me for..for being upset with you? Why..naira why?
He sees their pictures hung everywhere and cries touching naira's pictures..

Kartik: i..i thought i..i will touch your beautiful smiling face everyday..but now..now i can just touch your memories. Why..why did this happen with me?
He cries more and he recalls her hand slipping from his hold and gets angry on himself..
Kartik angrily:it's all because of me. I couldn't even hold to save you from falling. If i holded you properly then you wouldn't have died naira..it's all because of my stupid hand.
Kartik throws and breaks things in anger..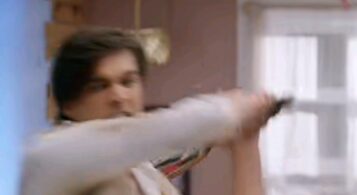 Kartik:if..if this stupid hand can't hold his wife then why should it hold other things..let everything break like you..
Abir and Keerthi hears the sound and gets shocked and they immediately runs to his room and taps the door..
Abir:kartik.. what are you doing? Stop it..

Kartik shouts: i don't want anything when I don't even have my naira..let everything go away from me like my naira..
He breaks things while Abir and Keerthi gets tensed more and they bang the door and breaks it and they hold kartik while Keerthi hugs kartik crying..
Keerthi: don't go mad kartik..by breaking things will you get your naira back?no..right..then why are you doing this? Just calm down first..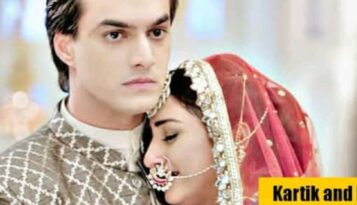 Kartik calms down and thinks..
Kartik:you are right Keerthi..iam doing useless things now. I..i will better do the thing which benefits me and naira..
Keerthi: what do you mean??
Kartik: i will go to my naira..
Abir and Keerthi gets shocked and kartik runs out of home while Abir and Keerthi chases him tensed..
Abir: don't become mad kartik… just stop there.
Kartik: if i can't get naira..then naira can get me right? Atleast in that way we can unite. And please don't try to stop me..i can't live in this world without naira..so please..
Kartik runs towards the Jubilee hills while Keerthi and Abir and follows him crying..
Keerthi: krishnaji…you can't give injustice towards us continuously.. please don't snatch away our kartik too.. please save him before he does something wrong.

Kartik runs towards the hill and he stands near the edge while Abir and Keerthi stands little far away from him tensed..
OTHERS:-
Manish, naksh, bani , dadi, akhilesh, surekha and swarna reaches kartik's house and they get shocked seeing the door open..
Swarna:why is kartik and naira keeping door open?
Manish: don't know..but let's not enter just like that. We will ring the bell so that they will come out..
They ring Bell but no one comes out and they ring many times and they get tired..
Surekha:i think we should go in and see them what they are doing..why can't they hear the bell ring?
Manish:come lets go..
Everyone goes in and sees the house empty and they all gets shocked seeing kartik's room..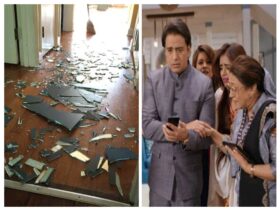 Dadi:arrey bhagwan..why is their room like this? Every things are broken..and their photos are thrown here and there..
Manish:wait..did they fight for Chopra's matter?
Dadi:no..it's not possible. Kartik..he himself told that he is not angry but he is just upset with naira.
Naksh: what's the matter Manish uncle? Why kartik have to be upset with naira in Chopra's matter?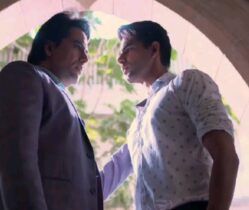 Manish tells everything about Chopra's matter while everyone gets shocked except dadi and swarna as they knew the matter already..
Naksh: i accept it's naira's mistake and kartik have rights to be upset with her. But i don't think they fighted like this..lets call kartik and naira and see..
Akhilesh:yes..naksh is right..
They call kartik and naira and gets worried..
Akhilesh: kartik's phone is unreachable.
Naksh: naira's phone is coming as wrong number..
Manish: i don't know where they have went leaving the doors open and also iam worried about them seeing this room..lets trace kartik.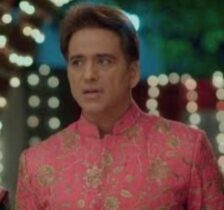 Naksh:ok.. I'll trace kartik's number.
Naksh traces kartik's number and finds his location..
Naksh:i traced kartik's number. He is near the temple in Jubilee hills..
Swarna:then come lets go there..
Everyone again goes towards Jubilee hills..
JUBILEE HILLS:-
Kartik falls on his feet and cries near the edge looking at the sky..
Kartik:naira..iam sorry..i couldn't save you. I know you can hear me wherever you are..iam really sorry.
Abir and Keerthi too cries seeing it..
Keerthi: kartik's pain is larger than us..hope God gives him strength.
Kartik: naira..you can see me and hear me but i can't. And our love in this world is an incomplete story..i don't want to live like this too. I want our story to complete..if we can't complete it in this world then let's complete it together in death atleast..

Kartik stands and goes to jump but Abir and Keerthi runs and holds him tight..
Abir:kartik.. no..calm down..
The Goenkas reaches there and they gets shocked seeing Keerthi and Abir holding kartik..
Surekha:when did Abir and Keerthi came to Mumbai? Abir never told me anything about returning from Paris..
Swarna: even Keerthi never told us that she is in Mumbai..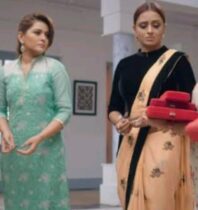 Manish:we will know it when we ask them. But now let's go and see what they are doing..
They all go near them and see..
Kartik screams: I hate krishnaji and don't make me hate you two..just two of you leave me. I want to go to naira.. don't dare to separate me like what krishnaji did.
Keerthi: don't lose your sense kartik..
Kartik screams:if i had lost sense then i would have roamed lonely on road by now but as iam in my senses..i want to get United with naira instead of roaming alone for whole life.
Kartik pushes them while Abir and Keerthi falls down and kartik was about to jump again but Manish and Akhilesh holds him shocking kartik Abir and Keerthi..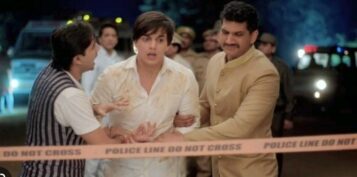 Abir:papa..Manish chachu..
Manish: what happened to you kartik? Why are you trying to kill yourself? And what were you telling about separating with naira..
Kartik cries and hugs Manish tightly..
Kartik:iam sorry papa..you know my happiness and my life depends only on naira. I can't live without naira..
Naksh:what do you mean kartik? What happened between you and naira?
Keerthi cries: naksh..naira..naira is..is not in this world..she..she died.
Everyone gets hell shocked while swarna drops her bags in shock..
Swarna: what are you telling Keerthi?
Abir tells everything of whatever happened while everyone gets hell shocked and naksh falls on feet due to the shock and they all cry..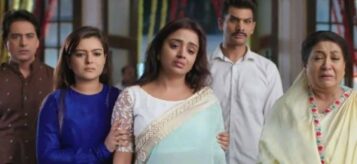 Naksh:no..how can my sister leave me? I don't want to believe this..
Dadi holds her mouth in shock and cries..
Dadi:naira was my like granddaughter..and she is so good..then..then why did bhagwan did this with her? If..if he wants a life..he should have taken mine instead of naira..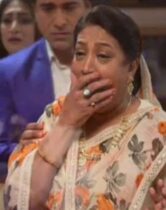 Swarna and surekha cries badly..
Surekha: i..i always see naira as my daughter since her childhood..why did god snatched my daughter?
Bani doesn't believe whatever happened and she runs to krishnaji idol and cries expressing her love for naira..
Bani: what did my sister do that you separated her from us? Is this how you help innocent peoples? We prayed for veer.. but you snatched naira away..why?
Kartik cries and pushes away Manish and runs to jump down the cliff but Manish and Akhilesh holds him again..
Manish:kartik.. don't go mad..
Kartik:I'll go mad if i live without naira..it's better if i die along with her.. please leave me..
Kartik tries to push them away but they hold tight and suddenly kartik feels breathless and he falls unconscious..
Everyone gets panic and they try to wake kartik but it goes in vain and they immediately rush kartik to SS hospital and they admit him..

Doctor: His state is in shock and his body is too tired..so lost consciousness. We gave him IV injection now..so don't worry..he will wake up soon. And don't wake him up now..let him sleep peacefully till tomorrow morning.
Doctor goes while everyone cries sitting near kartik and they all fall asleep due to tiredness of excess of crying.
EMERGENCY WARD OT, SS HOSPITAL:-
Naira is taken to operation theatre and ranveer and his staff gets ready to do surgery..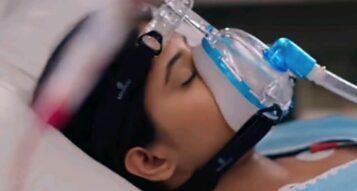 Ranveer in mind:krishnaji..make my wish come true. There are only less chance for this success surgery but if you help me then i can save this girl's life..so please help me.
Sirat stands outside OT and closes her eyes and prays..
Sirat in mind: i don't know what relation i have with her..maybe i feel sisterhood as she looks like me. So please save her..i will be so happy if i see her alive. And make Ranveer's hope come true..it will be a difficult time for him.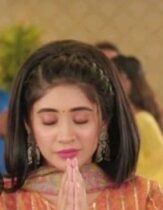 Then Ranveer does her surgery and after an hour he comes out of OT removing the gloves while sirat runs to him..
Sirat:Ranveer..Ranveer.. what's the result?
Ranveer hugs her emotionally..
Ranveer: i never knew that i can successfully complete the risky surgery. Our prayers got answered..her surgery is successful.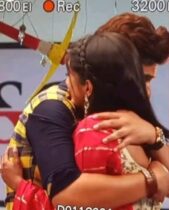 Sirat smiles..
Sirat:i know you are very best doctor in this world.
Ranveer:but there is one problem. She can't remember anything as we had done surgery in the memory channel..but it's just temporary.
Sirat gets shocked..
Sirat:that means..sh doesn't even recognise herself?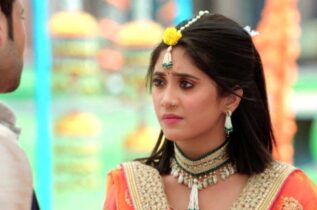 Ranveer:yes. It may take some months or years to regain her memory until that we can just create her new memories.
Sirat:then how will we find her family?
Ranveer:i don't know. But as of now..we can't bring her family immediately so we should act as her family because we can't give her stress to her brain by revealing the real incident.
Sirat:ok..then I'll take care of her like my sister.
Ranveer:that's good..now go to her as she may regain her consciousness in sometime.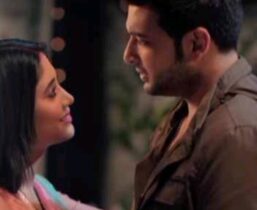 Sirat:ok..
Sirat goes and sits near naira staring her and after sometime naira opens her eyes slowly and sees sirat..
Naira:wh..who ar..are you? Ar..are you my..my twin sister?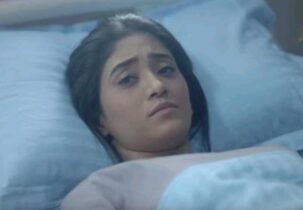 Sirat recalls Ranveer's words and smiles holding naira's hands..
Sirat:yes..iam your twin sister sirat.
Naira:then what's my name? And why don't i remember anything?
Sirat:your name is…Tina. You..you just had small injury on head..so you couldn't remember anything but don't worry.. you will remember everything soon. Iam there with you..
Naira: ok..and who are our parents and where are they?
Sirat gets tensed and sad and she holds naira's hands and..
Sirat: Tina..we don't have parents. We just live with our grandmother maudi.. and i have boyfriend Ranveer.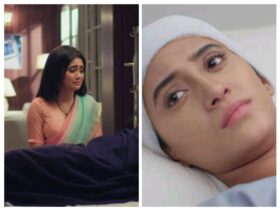 Naira:ohh..iam sorry..i don't remember anything.
Sirat:it's okay..it's not your mistake. And ranveer is the one who aided your injury as he is doctor here.
Naira: i have to be thankful for both of you for taking care of me..
Sirat:iam your sister.. so ofcourse i care for you.
Naira smiles..
Naira:then can you feed me food now as iam hungry?
Sirat:i will feed you for sure..
Sirat feeds naira and they both enjoy talking with each other while eating..
Ranveer sees them by standing near the door and smiles..
Ranveer in mind: thank god sirat managed well. and it's good that sirat looks like her which made that girl believe it easily orelse memory loss patients doesn't trust anyone..and i hope she regains her memory soon and unite with her real family.
ORDINARY WARD, SS HOSPITAL:-
Kartik regains consciousness and gets shocked seeing himself on hospital and he also sees everyone sleeping on floor..
Kartik in mind:how did i come here? Why did… why did they save me? Why dint they allowed me to unite with naira? No..i can't live without her. I will just go to my naira..
Kartik gets to go but naksh and Akhilesh wakes up hearing the sound and they hold kartik..
Naksh:kartik..you are not fine.. don't go anywhere.
Kartik screams: i can't be fine without my naira forever..it will be better if i die with her. So just leave me..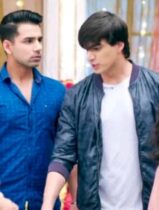 Akhilesh: why are you adamant kartik? Will naira be happy to see you like this?
Kartik: but she will be happy if i be with her..so i will go to her.
He pushes both of them and was about to run but doctor comes and puts an injection and make him sleep..
Doctor:i saw from cctv of what he was doing. I guess he is in some traumatic situation so he needs to calm his mind first. So don't make noise and wake him up orelse he will do same thing again..
Akhilesh:thank you doctor for coming on time..orelse he would have done a big mistake..
Doctor:it's our duty to see our patients. Anyways..take care.
Doctor goes while Akhilesh and naksh sees kartik's condition and they too cry..
Akhilesh in mind: why did you snatch away our daughter krishnaji? Because of that.. everyone are affected especially kartik. Why did you do this?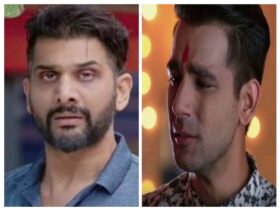 Naksh in mind: you are so unfair krishnaji. I thanked you when you gave me a sister but..but you snatched away her soon..you are so ungrateful. I will never look at you hereafter..
ORDINARY WARD OT,SS HOSPITAL:-
Veer is made to lie on stretcher while Andy and Sumitra eagerly waits for others to come..
Andy:why dint anyone come yet? It's time for veer for his surgery..
Sumitra:i called swarna and surekha..but they dint pick calls.

Andy:even Manish bhai and Akhilesh bhai dint pick calls.
Veer:it's okay..they may stuck somewhere. I will meet them after surgery..i have a hope that i will remember everything.
Andy and Sumitra agrees and then veer is taken inside OT while they both cry praying..
Sumitra: please return my son back completely fine. I just have one son..so you can't do injustice with me krishnaji.
Then Andy and Sumitra waits outside till the surgery gets over..
Sumitra and Andy goes near Ot and soon the surgery gets over and they go inside and wait for veer to open eyes..
Sumitra:i hope he remember us..
Veer opens eyes and sees them and smiles..
Veer:maa..papa..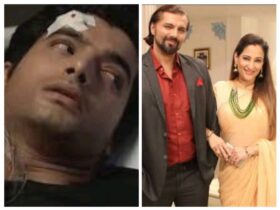 Sumitra and Andy gets emotional and hugs him..
Andy:we were scared whether you will forget us..thank god you remember us.
Veer: will god let me forget my family? No..he is always there with me. I have to thank him for saving my memory..
Doctor comes there and..
Dr.rudra: clot has been removed from mr.veer successfully and also it's good that his memory is not affected.
Andy:thank you doctor for saving my son..
Dr. Rudra: it's our duty to protect people and it's god's duty to save people. So you have to thank your lord first for saving me.veer..but still he haven't completely recovered yet. So please take care..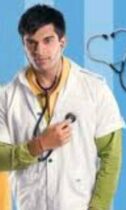 Rudra leaves while Andy and Sumitra feeds him food while veer misses bani..
Veer:dint others come yet maa?
Sumitra:no..i don't know why they dint come still..
Veer daydreams about bani and smiles ..
Veer:now finally every breaker got over..
Bani:breaker?
Veer:yes..our marriage breakers..
Bani laughs and pulls his cheeks cutely..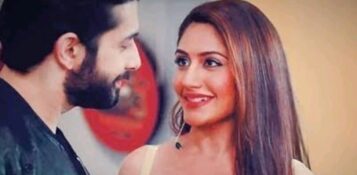 Bani:you are too funny.. anyways iam happy that you dint forget me..now i can love you peacefully.
Veer:i can forget anyone but not you because you are stored deep inside my heart and brain. But what would you have done if i have forgetten you by mistake?
Bani: I would have forcibly made you fall in love with me again by mistake..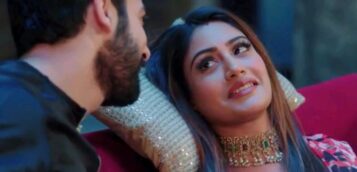 Both laughs…
Suddenly sumitra shakes veer who was daydreaming happily..
Veer:huh..maa..
Sumitra: what happened to you? Why were you laughing yourself?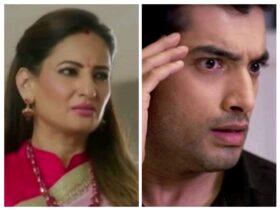 Veer:no.. nothing..
Sumitra:fine..now just sleep for sometime.
Veer:ok…
Veer sleeps while Sumitra sits near him,.
SINGHANIA HOUSE, UDAIPUR:-
Singhania's were praying to God and suddenly Diya gets off shocking everyone..
Badimaa:it's a bad omen if Diya gets off..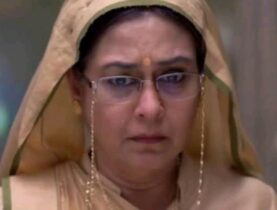 Naman:i hope veer's surgery went well..
Akshara feels some unknown bad feeling..
Akshara:i don't know why..but i feel that something wrong is happening..i..i feel as if ia losing something..
Mishti holds akshara and..
Mishti: aunt..it's just a thought so don't think much about it. God knows about us..so he won't do wrong with us..so be strong.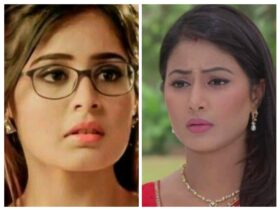 Naitik:ok..now let's phone naksh and ask about veer's surgery..
Naitik calls naksh and naksh answers..
Naitik:hello..naksh beta..how is veer doing? Did his surgery went well?
Naksh cries shocking naitik..
Naitik:beta..what happened? Why are you crying?

Hearing this the whole singhanias gets tensed..
Karishma:did veer forget everything?
Suddenly naitik drops phone in shock and he collapses shocking everyone after hearing something from naksh..
PRECAP:- Kartik refuses to do naira's final rites. Rohit helps Mishti. Naira aka Tina lives with sirat. Aditya hurts Keerthi..