hello readers..here is the next episode.
GOENKA HOUSE:-
Everyone gets shocked seeing veer fainted and they take him to room..
Sumitra:why did he faint suddenly?
Bani recalls his proposal and how he danced crazily and gets upset..
Bani:aunty..i..i guess he drank some wine..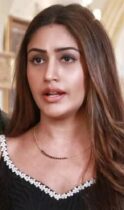 Andy:but how is it possible? We never ordered any drinks here..we just kept juices on the table at backyard.
Manish: Andy..leave that..we will see that later. Now we will wake up veer..
Andy and sumitra wakes veer using water and he opens eyes and sees everyone standing near him and he sees bani upset too..
Veer:maa..papa.. what happened?
Sumitra:we should ask you what happened..why did you faint suddenly?
Veer in mind:i dont remember anything what happened after i drank that juice..did i faint due to this disease? Iam really confused..
Veer:i don't know exactly maa..i drank juice then i don't remember anything what happened to me.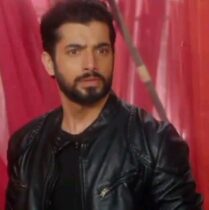 Bani runs to backyard and checks every juices and gets shocked and comes back..
Bani:aunty..uncle..there are 4 wine bottles mixed with juice bottles. Now only i went and checked..
Everyone gets shocked..
Veer:so i have drunk wine instead of juice..i guess..
Kartik: papa.. i will call the hotel who sent these juices and enquire them..you all dont worry about it. And by the way..veer you take rest..
Manish:yes..kartik is right. Let him enquire and we shall leave now as veer needs rest.
Everyone leaves while bani comes back and shuts the door angrily while veer gets shocked..
Veer:bani?
Bani:what the hell with you veer? Why did you propose me when you were in baang's effect..do you have such kind of thoughts about me huh?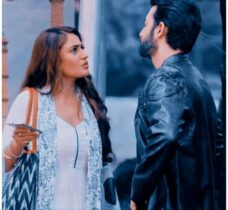 Veer gets shocked again..
Veer in mind:did i blurted everything to her..ohh godd..
Veer:did i really propose you?
Bani:yes..and also you was about to tell something but before that you fainted. I guess you was about to tell that secret..
Veer gets shocked again but he gets relieved..
Veer in mind:thank god..i dint blurted the truth about my disease.. orelse everything would have been ruined.
Bani:ok..common tell me why did you propose me? Is that what you think about me in heart?
Veer in mind: she is behaving as if she doesn't even have a slight feelings for me..that's why she is confronting for my proposal orelse she would have asked softly. Now..now i should work hard for making her fall for me..but as of now i should just consentrate on curing my disease..now what will i tell her?
Bani:hello..mister..iam asking you only..where are you lost?
Veer:miss.angry lady..iam sorry for proposal but i never thought about you in that way. Actually i was dreaming about my princess yesterday night..so when i got into baang's effect i would have thought you as princess i guess.. that's why i would have proposed you.
Bani gets relaxed..
Bani:thank god..i got scared.
Veer:why? If not me..if someone loves you and proposes you..will you do same thing?
Bani:yes..i don't want to love as i never thought to marry.
Veer: what? Iam sure you are not a girl..you are some different creature.
Bani:hey..shut up. How dare you call me a creature?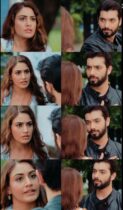 Veer:then what? Every girls dreams about her prince but you..
Bani:but there is no logic that every girls should have same thoughts mr.veer Goenka.
Veer gets upset..
Veer in mind: she is so timid in her decision. How will i make this stone hearted girl to love me?it's so difficult job..but i will try once my disease gets cured.
Suddenly veer feels dizzy again..
Veer in mind:i guess..i should eat tablets now. I will first send bani away..
Veer:ok..now iam going to rest..so go and enjoy with family.
Bani laughs..
Bani:i know you want to chase me due to some secret. I will go now..but i will find your secret soon..mr.goenka..wait and watch.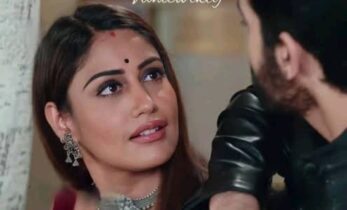 Bani in mind:if he had not fell unconscious..he would have revealed the secret..shit. but i will find it anyway..
Bani goes while veer eats tablets and sleeps..
2 days later..
Abir carries luggages and he gets blessings from his family..
Abir: maa..papa..take care of Mansi well as iam going.
Surekha:we will. But all of a sudden you left your music career and joined the company in Paris.. that too so far out of the Country.
Dadi:yes.. atleast kartik just gone to Mumbai but you are going to Paris. Did you think well..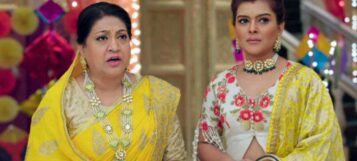 Abir:i thought well dadi.. don't worry about me. How much ever far the place maybe..i will never forget to spend time with you all. I will videocall everyone daily.
Akhilesh: Abir..are you willingly going or is there any reason that you took this decision?
Abir in mind:iam going there to forget my past..iam getting more affected staying here but i dont want anyone to know this as they will get worried. Once i get completely fine..i will return back.
Abir:no dad..iam willingly going. Ok bye..it's time up for me to leave.
Dadi:bye beta..take care of yourself.
Everyone bids goodbye while Mansi hugs Abir and cries..
Mansi:bhai..i will miss you so much. Please return back soon..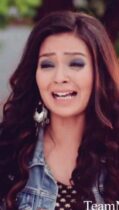 Abir:i will return surely but if you cry like this then how will i plan to return to see my cheerful sister?
Mansi smiles..
Abir:good..ok bye.
Abir leaves from Goenka house while the whole young gang leaves Abir in airport..
Kartik: though you hid the reason from family..we all know the reason for what you are going away from here as Mishti told us.
Naksh:yes..if you had shared your problem with us..we would have planned for something but you took decision yourself..it's okay..but try to forget everything and become normal and return soon..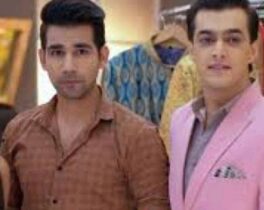 Abir:yes..i will try my best. And thank you all of you for supporting me..i will miss you all.
Mishti feels heartbroken and tears fill up her eyes remembering her cute and funny moments with abir..
Mishti:mr.abir Goenka.. everyone supports you but i will not support as you are leaving very far..i will never speak to you till you come.
Abir comes to her and holds her by shoulders and..
Abir:iam really sorry Mishti..but i will return soon. I thought this will help me to become normal forgetting my past..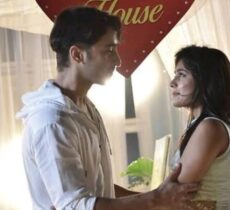 Mishti: then why are we here for you? If you had shared problems with us..we would have helped you to recover but you never thought of this as you thought we are useless..
Abir:Mishti..it's not like that..
Mishti:it's like that only.. don't pacify me..i will miss my irritating Goenka. You just go now..i will talk nicely only when you return here permanently.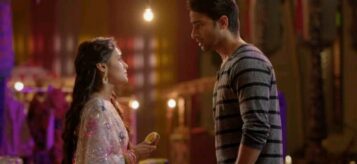 Mishti walks away out of airport while Abir gets broken..
Bani:Abir..she likes spending time with you as you always make fun with her. She enjoys a lot with you..so she is heartbroken. But don't worry..we are there with her..we will make her understand. You go peacefully and return happily.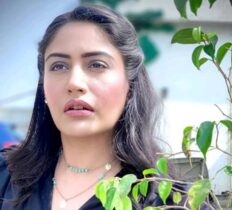 Abir:thanks bani for understanding..ok bye guys..iam leaving now.
Veer:Abir.. whatever you forget but don't forget to video call us..
Abir:never even single day.
They all bid goodbye and abir leaves..
3 months later..
Veer is recovering well and kartik naira returned to Mumbai and everything was going smooth while one day naksh Mishti bani veer and Mansi met on a park..
Naksh :my head!!! Naira is killing my brain..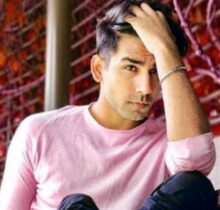 Veer and Mansi: even kartik bhai is doing same with us..
Bani:they both love each other but they are feeling so shy to express their feelings..so uselss.
Naksh:iam telling each and every day to propose him but naira never does due to shyness and trouble me for her proposal failure. If she asks for idea again..I'll better tell her not to propose because that's the best idea suitable for her.
Mansi:even for kartik bhai too..
Suddenly veer's phone rings and display shows it as kartik and he leaves a deep sigh..
Veer:now..he is calling to trouble me. I will tell my idea now..
He picks the call..
Kartik:hello..veer..
Veer:kartik..stop it. I can't bear your torture anymore..the best idea is don't propose naira at all.
Kartik: idiot and stupid veer.. without knowing what iam going to tell..you just blabbering..
Veer: i know what you will tell..you will that " veer..i thought to propose naira today but i got nervous..so i left it..so give me any idea to propose her confidently"..this is what you say daily.
Kartik:i was telling that daily but not today. I have got courage somehow and decided to propose naira tomorrow..i even thought to decorate the backyard.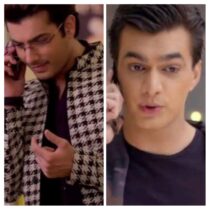 Veer: actually..i want to be happy hearing this but i can't as i can't trust you till you propose naira. You tell me this tomorrow after proposing her then i will keep party for you..
Kartik:idiot..are you kidding me? Wait..i will propose her and show..
Veer:do that work first..as we all are expecting that only.
Kartik cuts the call and veer tells everyone what kartik told..
Mishti:i hope jiju proposes this time..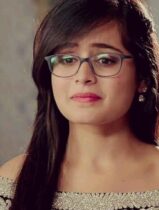 Naksh:if not..i will wash him away..
Everyone giggles..
MUMBAI:-
Kartik turns to go but suddenly hits naira who was coming towards him and she was about to fall but he holds her and both meets with an eyelock and they smile..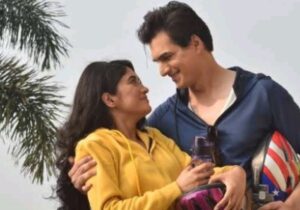 Kartik in mind:i wish i hold you like this forever..
Naira in mind:i wish i being in your arms like this forever..
They look each other mesmerized and suddenly something falls which breaks their eyelock and their mind and they move immediately..
Kartik in mind:what the hell..it was so nice to hold my naira..is it necessary for God to make the thing fall now?
Naira in mind:it was nice being in kartik's arms..why did the thing fall now distracting us?
They both stare each other..
Kartik:what are you thinking?
Naira:no.. nothing..you?
Kartik:me too.. nothing.
Kartik in mind: sorry for lying..but i will express my feelings tomorrow my dear sherni..
Naira:ok.. anyways..i have prepared dinner..so come and eat..
Telling this she was about to go out of the room to dining hall but kartik holds her hand and stops her..
Naira:kartik?

Kartik:you know what..iam so happy today..
Naira:why?
Kartik: because tomorrow is very special day..
Naira gives a confused look..
Naira: what special day? There is no birthday..any festivals or even functions..then what?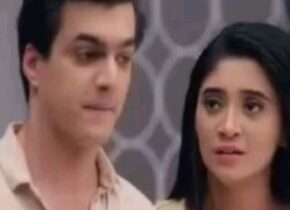 Kartik smiles and..
Kartik: because tomorrow a prince is going to propose princess..
Naira gets suprised and also gets confused..
Naira:who..who is that prince and princess??
Kartik: they are from serial..i saw in promo that they are going to propose and that's why iam happy today.
Naira gives a confused look again..
Naira:you don't watch serials and all..then from when did you start to watch serials??
Kartik in mind: my life is my serial.. and iam the prince going to propose you the princess. I just gave you a hint..
Kartik: long back..but i dint tell you about it. It will be nice day for me tomorrow as it's proposal day .
Naira gets sad..
Naira in mind:he is enjoying serial's proposal but not bothered to propose me or love me.. idiot. I want to propose him and express my feelings but iam nervous..it will be nice if he proposes me.
Kartik notices her reaction and smiles..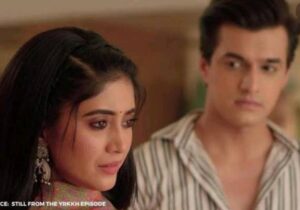 Kartik:why did you get upset?
Naira : iam not upset you.. idiot mendak. You are just wasting my time.. come and eat fast.
Naira goes angrily while kartik smiles..
Kartik in mind: now i understood seeing your reaction..then iam sure tomorrow will the best day in my life.
Kartik smiles and goes to eat…
PRECAP:- Bani feels jealous seeing veer with a girl. Kuhu pacifies a dull Mishti. Kartik proposes naira..