Mehrya My version Part 82

Warning: A non-numeric value encountered in /home/ftpusers/tellyu/public_html/wp-content/themes/publisher/includes/func-review-rating.php on line 212

Warning: A non-numeric value encountered in /home/ftpusers/tellyu/public_html/wp-content/themes/publisher/includes/func-review-rating.php on line 213

Part 82 28/05/2018
Shaurya and Mehak reached Udaipur airport. Their transfer car to airport waiting for them. Both admires the city from the car and Mehak rest her cheek on his shoulder. Admiring the heritage palaces and havelis. Shaurya explained that Udaipur is also knows as Venice of the East by the westerner for its beautiful and serenity. After 45minutes from the airport they reached The Leela Udaipur. Located at Lake Pichola with unique royal resort set in a breathtaking oasis of beautiful landscaped gardens, filled with beautiful trees and exotic birdlife. They relive the era of emperors and princely kingdoms in hotel grounds adorned with ornate fountains, reflection pools, Mughal style minarets and charming pavilions. Built around an 18th century Shiva temple where guests can experience chanting with a Hindu priest as a haven of mystical peace and natural serenity. The structure of the hotel built in traditional techniques using famous pink lime plaster walls of the historic city. Also adorned with Mughal arches, gold leaf frescoes, high domed ceilings and magnificent crystal chandeliers, epitomizes traditional Rajasthan charm and five star luxury. It was a royal welcome as they greeted and welcomed in to the lobby. Both heads to the concierge counter Shaurya gets their room key and they were guided to their room. As they stroll towards their room Mehak astounded seeing the palace hotel's beauty as it has an intricate layout of interconnecting domes and corridors that reflects the layout of Udaipur itself; whose seven lakes are linked by canals. These domes and walkways are flooded with sunlight, caressed by balmy breezes and offer magnificent views of the lake and gardens. She squeezed Shaurya's arm in excitement, he kissed on her head and place his hand on her hold in his arm. They reached their lake view room. Their butler welcomed them into the room Mehak was taken aback seeing the royal bedroom. The butler walks around and show them the bathroom and other room facilities including the Espresso machine and inform them to ring any time as they will be on their service and he took a bow and leave the room.
Shaurya locked the door and saw Mehak already lying on the bed with her eyes closed. He put his shades on the table and join her on the bed. She didn't open her eyes so he trace from her hairline, to her eyebrow then to her nose and touching her lips as his finger hit on her lips she kissed on it. He smiled as she opens her eyes and move next to him closer lying on his meaty arm he wrapped her to his side. He asked how's the place you like it? She rejoined as its so beautiful thank you for bringing me here, he kissed on her forehead and ask her freshen up so they can go and see what's around the city. Mehak gets going to freshen up and both meet with Rahul at the function area. He welcomed them and introduce Shaurya and Mehak to his family and his fiancé. She is Sakshi. She welcomed them and thank them for coming to Udaipur for their wedding. Sakshi is an accountant background, Rahul and she met through common friend in a meeting. From there their relationship took over. As Rahul brings them to the private party area Shaurya were greeted by many of his college mates. He introduced Mehak to them she greeted them. They enjoyed live traditional folk music to accompany the dining experience on the open space. After the dinner over Rahul brief them that since the wedding is after 2 days and the rituals like Mehndi, Sangeet will be held at evening so morning it's free and easy also they have some games organized so they can join them as well. Shaurya and Mehak decided to go for the sunset boat cruise on Lake Pichola to watch gorgeous sunset and admire grandiose palaces on the lakeside. As Shaurya helped Mehak to get into the boat they sat on the comfortable seat, their boat man greeted them and explained about the palaces and tiny islands and shares details about the culture, history and sites of this ancient city. Both enjoy the picturesque views from the placid waters of Lake Pichola on sunset. They took many photos together. Mehak mesmerized by the shimmering lake as the sun comes to rest on the horizon and as they float on the river she rest her feet on the seat as she lean on Shaurya and took his hand to envelope her, he was kind of surprise by her act. He tightened his hold she looked up and smiled he inhaled her scent as they enjoyed the lake ride. The next morning after enjoying a hearty breakfast both went to site seeing the 200 year old hunting grounds of the Maharana of Mewar and is spread over fifty acres, which includes a twenty-acre wildlife sanctuary with deer and other animals. Then proceeded to other places like popular temples and heritage palaces and few other havelis. They discovered authentic local street foods, interactive Rajasthani art, culture in the criss cross lanes and shops selling leather and other artifacts. Mehak saw ladies dressed in traditional Rajasthani attire dancing Chirmi and Ghoomer dance the dancing ladies bring Mehak to join them and she dance together with them following their steps as she twirl her long maroon skirt. Shaurya shakes his head as he chuckled seeing her dancing for the folk dance. He took picture and video of her dancing. She thanked them and both went to the oxidize jewelry shop and she picks a few for herself also for Nehal and Sonal.
It was indeed tired for both as they did so much in one day, as soon they reached their room they fell on the bed and slept for a while as at evening they will have Mehndi. Both in the evening get ready for the Mehndi, they adorned in yellow. Mehak wore yellow long anarkali with green and pink flowers, Shaurya wore a yellow kurta with a matching west on top.
They reached the private area with bright lightings and songs were being played. Sakshi assigned her friend to get Mehak as well to apply henna. Shaurya asked her to go and get Mehndi. She followed them and get mehndi on her hands. The girls there singing and teasing the bride, Mehak sees and smiles along with them. Sakshi asked Mehak to join them the girl's spa party tomorrow afternoon. She reluctant but Sakshi convinced her as she specially inviting her. It will be only girls party as the boys will be having their own agenda tomorrow, then Mehak agreed. As all singing and dancing enjoying the function Mehak startled when Shaurya hugged her from back holding on her waist. She smiled happily seeing him. He whispered did you miss me? She responded not really, I was just enjoying the function, oh really he replied. Later Rahul signed at both of them to dance together and both went to the dance floor dance with all. They danced happily as some Bollywood songs being played.
Before they retire to the room Shaurya and Mehak sat near the bench facing the Lake Pichola admiring the night view and the lights. They hear the chants from the nearby temples. Mehak said, Shaurya seeing all these beautiful natures it become even beautiful with your presence. He replied hmm. She kissed on his neck, he smiled and he nuzzled her temple.
Next morning after breakfast Mehak told him that the girls invited her for spa themed party and Shaurya asked her to enjoy herself as he will spend times with his friends. She walked to the spa and greeted by Sakshi and ask her to enjoy the treat they can choose either traditional Ayurveda massage to manicure pedicure or facials. Mehak opted for facials and manicure pedicure. As she rested on the reclining seat with her face mask on another room. A few girls giggling and chatting among themselves. One girl said did you saw Rahul's friend the tall macho guy he looked like a model, another one asked which guy, she replied Shaurya. It seems he is one of the most eligible bachelor and hot stud guy of Delhi. But he married a very normal plain girl from slum. Really asked another girl, she replied yeah that's what I know. My cousin brother also here he also from same batch as Shaurya and Rahul in college. It seems in college many girls will drool over him but he have attitude as well, short temper and very competitive. He have long list of girlfriends and he even dated hot models but he ended up with a girl from slum who is fat and not fashionable too. I wonder how the poor guy handle her it must be embarrassing for him but why did he married her first of all. Another girl added maybe Shaurya kind of guy would have slept with many girls and this girl is one of his girl in the list and she threaten him so as no choice he married her. Could be those middle class girls are like that they are good in trapping rich guys. I hope that guy will divorce her soon so we can try with him. Hearing all these Mehak was sad and her eyes welled too as people regard their relationship based on money, social status or even talking about physical touch. She tried to control herself but she can't as the tears stream down. The spa assistant cleaned her mask and asked if she is alright why she is crying, Mehak replied nothing as her eyes irritated. Once she is done she thanked her and left the spa abruptly.
Mehak controlled her tears and walked quickly to a quiet place to calm herself. She can't let Shaurya knows or else he will be so upset and lash out at the girls for saying such thing. Sakshi came to Mehak's place at spa and found she is not there, she asked the spa assistant where is she? The assistant told her that she left a moment ago, Sakshi telling herself that's very weird why she left without saying anything, she asked did she said anything , the assistance replied nothing but she was kind of upset when she was leaving. Sakshi got worried because something happen and Mehak left from there without informing and wonders what happen and walks out to look for her. As she walks around the swimming pool area looking for Mehak. She notice Mehak sitting at the garden. She walks towards her and sat next to Mehak which startled her, Mehak wiped her face and looked at Sakshi asking what is she doing her, she must be at spa now enjoying the treatment as it's her wedding. Sakshi placed her palm on Mehak's hand and asked her if she is alright why she is here, did anyone said anything hurt her feelings or something. Mehak shakes her and said why anyone would want to say something no is just that I am done with the treatment and came to walk around here and seeing this beautiful garden and all. Nothing as you said. Sakshi asked her pakka there is nothing right, Mehak giggled and said pakka nothing. Sakshi asked her to join her at the café for some snacks and drinks. Mehak followed her. They chatted and Sakshi said to Mehak that she is kind of nervous as tomorrow evening is the wedding do you think all will be good, Mehak assured her everything will be fine as per Matarani's wish. Sakshi asked tell me about your wedding day and experience and some tips. Mehak smiles and scroll her mobile and show her wedding picture to Sakshi, she wowed at her and complimented at her. Mehak asked where are the boys went didn't see any of them, Sakshi replied they are out for boys day out as they have organized some games among boys and tonight is their bachelor party and we girl's will have hen's party also please come to the party, Mehak thanked her for inviting and will attend the party and both went to do manicure pedicure before going back to their respective suite.
Mehak gets into their suite and found Shaurya is not back yet. She was smiling and talking to herself looks like Janab is having fun time with friends I won't call and disturb him, she switched on the large LED TV mounted on wall and watched some programs randomly to pass her time. She fell asleep on the comfy bed waiting for him. After 40minutes she woke up from her nap and saw a whatSapp from him saying they went for some boating island tour and will be late. She send a smiley and gets up to check the wardrobe for what to wear for tonight and she had kurtis and other dresses. She don't know what is hen's party at first place, she decided either call Nehal and she will tell he what is that, she called Nehal and there were no reply from her so she decided to Google it and find out. Her jaw dropped seeing what hen's party is and self-talking to herself does people do party for all these reason, she nauseated seeing all the dirty things they do usually in the party and she don't have any modern gown or dress suitable for the party, she told herself I will just wear one of my simple long dress that's it. She get into shower and gets ready. She applied minimal makeup just eyeliner and some matte lip color wearing her long dress. She heard the room door open sound from the walk-in wardrobe. She heard Shaurya's voice calling her name, she replied yeah Shaurya, in bathroom now. He smiled and lie down on the bed. She came out of the bathroom as she was brushing her wet hair. He gets up and rest his head on his arm and looked at her. She sat on her bedside facing him she asked him how was his day, he just replied I missed you. Mehak blushed hearing his words. He asked where you are going now, she told him about the party Sakshi invited so she is going there. Shaurya took a deep breath and said yeah I need to go for the party too. Mehak teased him looks like Janab having fun with friends because no need to accompany his middle class wife. He rolled to pull her to him but she manage to get away from the bed on time and stick her tongue out. She asked whtr he wants coffee and he nodded yes and she gets him coffee and hot chocolate for herself. There were packets of snacks on the table she opened and tasted them and she feed some for Shaurya. Shaurya showed her some of the photos he taken during the day trip and explain them. After having his coffee he heads to bathroom to shower. Mehak relaxed as she watch TV. Shaurya walks out from the bathroom in his towel. He caged Mehak with his meaty arms standing in front of her blocking the TV. Mehak was surprised with his act and tried to push him with all her forces but he didn't move, he hoarsely said you can push me with all your forces just lovingly give something and I will move, she asked what do you want, and move his face closer to her lip and she knows what his needs, she smiled and cupped his cheek and move to the side and planted a kiss with her lip stays there for few seconds. He kissed on her hair and nuzzled them before go into the walk-in wardrobe to change before they leave to the evening party.
As they both walked to the party gazebo, Shaurya holds Mehak waist saying baby you have become so s*xy these few days, Mehak nudged him with her elbow and before they parted he kissed on her cheek and wished her to have fun. Mehak walked into the gazebo with the banner hanging Sakshi's Hen' night out. She saw Frangipani trees and recessed sofa seating and sun loungers with a private pool area. She was welcomed in by Sakshi and Sakshi introduced her as Rahul's friend Shaurya Khanna's wife. She went too sat on the one of the seater as a waiter came to offer her some drinks. She asked him what is this and he explain these are wines and liquor. Mehak instantly said sorry is there juice I don't drink alcohol. The girls who were talking bad about Mehak was eyeing her. They came to sit opposite her and scanned her from top to bottom seeing her dressing and all. The waiter comeback with a fruit juice. She thanked him and had a sip. Mehak notice all the girls were wearing short dresses with heels. The DJ announced its dance time and all the girls proceeded to the dance floor. All girls started to dance for the songs like Bom Diggy Diggy and few more fast tracks. Sakshi wave at Mehak asking her to join them at dance floor Mehak being shy wave at her said she is okay. The girls were screaming and having fun Mehak just sat and looked as she never been to this type of parties before. Later DJ announced for a break and all proceeded to have their dinner, Mehak gets going to the buffet spread, Since she is pure vegetarian she checked the menu listings and found there were limited choice of vegetarian dishes she just picked some salads and fries. Sakshi and her bridesmaids attend to all guest and Sakshi came to see Mehak and saw her plate only have salads and fries she asked why you are not eating dear, Mehak replied it's okay I am vegetarian and I see only these are vegetarian dishes, Sakshi apologized and asked what she would like to have she can get the waiters to get her some food, Mehak thanked her and replied she is fine. As Sakshi left her at the table, the girls who were talking ill about her at the spa joined the table as well. Mehak smiled at them. They started a conversation so Mehak how long you know Shaurya. Mehak replied 1 year plus, the truth is that she didn't keep track how long she knows him from the moment their meeting at Delhi Haat, ISC and many more incidents. How long you are married she replied almost 1 year, wow the girls exclaimed Shaurya Khanna married a girl he knows less than a year. Well you must thank your lucky star that you got a guy like him. Or else girl like you simple and lesser how to attached with him. Mehak felt a thud in her heart. These are the same girls who were talking ill about their relationship at the spa and now she is meeting them face to face. The waiter came and asked them what drinks would they like to have the girls ordered some cocktails and Mehak ordered apple juice only. The girls asked you don't drink cocktail, Mehak replied she don't drink alcohol they all laughed mockingly at her and said behenji this is alcohol its cocktail well you should try, they ask the waiter to serve her cocktail but Mehak quickly refuse them. Waiter left from there. Than the girls continue are you on diet Mehak you are only eating salads, another girl replied yeah she must be on diet as she is plump and husband like Shaurya Khanna obviously like thin girls who look super-hot models. Mehak started to feel uncomfortable sitting with these girls. Waiter serve their drinks and Mehak had her juice and almost gets up to leave another girl on purpose cause her to trip and Mehak was about to fall over but Sakshi was right on time got her. She asked if she is okay, Mehak straightened herself and said she is fine. Sakshi asked are you alright you seems to be off color. Mehak assured she is okay just feeling slight headache. Sakshi ask her to have a rest as tomorrow she should look good for wedding. Mehak hugged and wished her all the best and thanked her for the invitation to party. She left from there.
After Mehak left from there, Sakshi got to know Mehak is upset is because her friends been cunningly teasing Mehak for being middle class, for her appearance and she her lifestyle. Her cousin informed her as she overhead their conversation and bring her to the spot on time. Sakshi went to confront the girls, girls what's happening here, the girls looked at her in puzzled as they don't understand. I want to know why you all behave such way to Mehak. One of them in annoyed tone asked oh that behenji complain to you about us is it Sakshi. Sakshi retorted Mehak didn't say anything about it. I got to know from others and came here, I also saw that you purposely tripped her so she will fall down luckily I came and hold her. Why you guys thinking and behavior are so low and pathetic. I thought you all are highly educated, sophisticated and well-mannered but where are your manners. Another girl get up from her seat and asked wow Sakshi you are defending for a girl you barely know for few days but you are grumping about us. Sakshi replied I am not defending I am telling the truth how can you define a person from her dressing and appearance she is some gold digger or say about her character. I had a chit chat with her and I got to know she is very simple and not the show off type. She is Shaurya Khanna's wife, big Delhi business tycoon's wife she can be as show off to all of us and opted to be stylish with latest trend and all but she remain to be simple. You know what girls I am really ashamed to call you all as my friends and I am leaving this party, saying that Sakshi returned to her room as well.
Mehak who controlled her anger and tears came out flowing. She wiped her face as she heard a walking sound at the back and saw Shaurya walking to her. He asked what are you doing here, and not at the party now. She replied I am going to the room Shaurya very tired and having slight headache. He wants to come with her but she stops him saying you should go and enjoy the party with your friends or else what they will think. I am okay, I will go sleep early and will feel better. He cupped her cheeks and asked are you sure, she holds his hands said yes baba I am fine, now go and enjoy the party. I will freshen up and sleep. He kissed on her head and ask her to go and rest.
Mehak reached her suite, she change her clothes and lie down on the bed. She can't sleep thinking about the incident few hours passed and she heard their suite door being opened. She realized Shaurya is back and pretended to be sleeping. He changed his clothes and join her in the bed. He kissed her hair and said I miss you baby. Mehak was sleeping facing the other side, hearing his voice she turned slowly turn to curl at his side hugging him. He secured her to his side and took her fingers to his lip as he kissed them and slept. Mehak slept as well.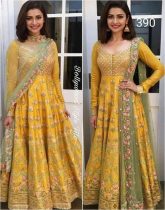 Warning: A non-numeric value encountered in /home/ftpusers/tellyu/public_html/wp-content/themes/publisher/includes/func-review-rating.php on line 212

Warning: A non-numeric value encountered in /home/ftpusers/tellyu/public_html/wp-content/themes/publisher/includes/func-review-rating.php on line 213