MEETING YOU AGAIN- SHIVIKA OS
(A/N: This idea came to my mind while watching the old gold episodes of first marriage drama when Annika and Shivay cascades down the stairs together wearing the wedding dress with Hamari Adhuri Kahani playing at the background [EPISODE- 141], do give a try to this one shot and I hope you will like it.)
–———————————————–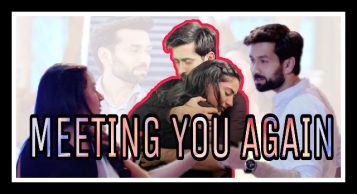 The tiring day took a pause for Mr. Shivay Singh Oberoi as he leaned over his office chair after instructing everyone not to disturb him. These days still brought back her memories from past two years and all he could do was smile remembering them.
The wind peeped in freely and touched his face. His pink lips curved up and he breathed deep to feel the aroma nature itself brought inside his office cabin. Important part of this scenario was that, that air conditioner is not needed for him now-a-days as the romantic feeling of the cool breeze made him warm. The azure eyes opened to see a working girl, fixing the lights with tired face in the photo frame kept over his table.
He can't be less thankful to his P.S. Mr. Khanna for capturing this picture when Ms. Annika was busy fixing the lights to decorate his shaadi mandap. She is looking extremely beautiful with the glow of lights but those twinkling tear marks under her eyes made him sad every time whenever he tried to find solace looking at that picture.
"Where is she now? How is she now?"
His heart always asked questions which he had no answer. Closing his eyes he went back to the memory lane of her weird words and her laughter. How he wishes now that he should have stopped her that day when she went away with tears in her eyes. It pained him, yes her tears did create a tsunami of pain inside his heart but nothing worked because it was his marriage day and he can't allow anyone to bad mouth about his family so he went with the flow of the marriage.
She requested, the strong khidkitod Annika requested him to confess his feelings with tears in her eyes but all he did was to say a NO, a big fat no which made them move apart forever.
"Sir may I come in?" Khanna's voice broke his thought chain and he looked up to see Khanna peeping through the entrance and waiting for his reply.
"Leave me alone Khanna" so unusual of Mr. Shivay Singh Oberoi, but being the most loyal employee Khanna left from there sighing loudly.
He leaned back again, this time the white ceiling caught his attention. Her last glance wearing  the bridal dress and standing in front of him always had a different kind of special impact over him but this particular day from last two years haunts him. He wishes to touch her in his dreams but she slips away every time he extends his hand to touch her.
It is getting difficult for him to forget her as he is stepping towards his old age. But accepting everything he held back the tear drop and stood up to go at some unknown corner of Mumbai where he has never visited. Khanna walked in with one single call and locked his fingers at his back.
"I want to go at a place where I have not visited yet" his voice was shaky and he was afraid to let go of that one tear droplet which he held back still.
"But sir, you know today your family is ready to celebrate the marriage anniversary party and here you want to…" he feared his boss but more than that he cared for his family.
"I will return back before the party starts, please inform OmRu" he wanted to escape everything for a while.
He is actually not interested to attend the party but his promise to his Daadi matters the most and he will attend the party if for none then for his Daadi only.
"Right sir" Khanna took the car keys and eyed the man who was dying every moment from inside.
Khanna drove the car to an isolated side of Mumbai with few tall buildings. Shivay chose not to ask the name because he just wants to be Shivay here, he left entire Mr. Shivay Singh Oberoi inside his exotic car and stepped out. He kept the coat and the waist coat inside the car.
At some distance five-six children were playing football and that caught his keen attention. He remembered the time when he used to be the heartthrob of his elite school girls for his excellent football skill. Shivay Singh Oberoi was a grand name in his school, not only because of his surname or lineage but because of his hardwork.
He stepped towards those children and stood at one side to have a better view of the children playing. Minutes passed and his urge to kick the ball and score a goal took him towards those children.
"Can I play too with you all?" his voice made everyone to look at him. The children looked at him and nodded yes but a boy kept on staring him with a different kind of emotion in his eyes.
"SSO" the boy very calmly smiled while repeating the three letters with increasing excitement every time until he neared the man, Shivay.
"How are you?" the excited boy jumped in joy and explained something to his friends.
"Come… let's go inside" the excited boy held Shivay's hand and marched excitedly inside one building.
Shivay was in a trance while all these happened and when he fell back to reality and realised that the elevator is going in the opposite direction of the gravity and the boy is excitedly asking him questions. Faint memory of Annika's brother knocked the door of his brain and he tried to remember the name of her little brother.
"Sahil… are you Sahil?" hope sparked inside him and it changed to fire the moment Sahil nodded a big yes with a bigger smile.
"Here we reach to our floor" Sahil firmly held Shivay's hand again and rang the bell of one flat.
"Di open the door, see who has come… di"  Sahil rang the bell for few more times and rested back as the click sound of opening the door stopped him.
"Why are you…" there she stood, hairs all messy tied in a bun. Eyes lose it's spark and lips didn't seem like smiling willingly.
Her words died looking at the man Sahil has brought with him, she was confused to react, she was happy and emotional. She wanted to call him Billu and tease him but feared remembering his coldness towards her on the day they separated.
"Ann..nnika" the depth in his voice made eruption of goosebumps over her skin and a pleasurable shiver ran in the speed of electron throughout her veins and arteries.
"Sahil… your football match is not over yet right? Then go and play na… SSO and I will talk for sometime" she don't know why she said so but she could feel his hungry gaze over her and her old feeling returning back.
Sahil nodded happily and went down to continue his play. The money Ms. Annika has got for being the wedding planner of Mr. Shivay Singh Oberoi has helped her a lot in treatment of Sahil and now, Sahil can walk and run and play with the help of artificial leg. He has become a normal child and mixes up with every normal crowd.
Shivay went in and hugged his diamond and placed back the fast beats inside his injured heart. The tear cascaded down his eye which he held back until.
"I missed you" he sniffed "I missed you a lot, why did you go away suddenly like that from my life, don't you know I will die without you, don't you know what place you had in my heart for you, don't you know?" his questions broke the boundaries she created around her heart.
"You were getting married Shivay" she tried to explain but he left her and held her face roughly.
"Tia left me and ran away, my family broke down at that news but I broke down after I heard from Khanna that you are also not there and you too left" she had no answer to this, because the pain inside her heart listened to nothing that day and she shifted to this isolated corner of Mumbai suddenly without letting anyone know about her whereabouts.
After that Oberoi family as usual paid press and media and did not allow them to publish the news of sudden marriage break of Shivay Singh Oberoi, he didn't appear in front of media ever after that incident and the matters of Oberoi Family has become a hidden mystery. As a result Annika knew nothing and she started to create boundaries around her heart which had pure feelings of love for the man named Shivay thinking that he is someone else's husband.
"I missed you too" this time she stepped forward to heal the wound of his heart for loving her.
"Will you marry me Ms. Annika? I have already wasted two long years for just one mistake of not confessing my feelings two years back thinking about my family but now I can't held myself back from loving you and getting you as mine. Will you marry me?" he was straight forward to her this time.
No more game of hiding feelings, no more game of showing tadi, it's just the starting of the game of love.
"I will marry you Mr. Shivay Singh Oberoi" she was elated to get the man back in her life whom she loved with all her heart, she is afraid to loose him now.
Both tightened the grip of holding each other forever through every thick and thins.
"I LOVE YOU" both mumbled together, remember… as Daadi always said that they are equal in everything. So they had to be equal in confessing too.
The smile of peace and contentment past through their lips and they pulled apart to look into each other. She brushed her finger over his stubble while he did the same with her lips. The new sensation made her to close the eyes.
Next moment all she could feel was his hand holding her tightly and possessively and her lips being under his mercy. The feeling of equal ISHQBAAAZI aroused her and she soon captured his un-savoured lip and started to savour it.
"Let's go to the marriage anniversary party of Om and Gauri now" Shivay suggested and now he was very much interested to attend the party and announce the great news of his marriage with Annika.
She nodded and tried to separate herself from him while the naughty self in him pulled her close and eyed her lips. His breath fanned over her lips making her hormones go insane once again.
"Annika di…" ooppss Sahil had other plans as he called out his di to open the door.
Recently created love birds moved apart with smile and Annika went to open the door for her little brother to share the greatest news of her life.
—————————–
I hope you all liked this small surprise gift from my side. Please do hit the like button and leave your comments down. I would be waiting for all your response.
THANK YOU SO MUCH FOR READING
-NILANJANA