Marriage By Curse- 7. PHOTOSHOOT
PHOTOSHOOT
11:00 pm
Kabir was pacing the length of his office in his house. He was waiting for the mail that would consist of the list of suspected people that could have tipped the media about their location. He was sure that this was the work of someone from his Pune office as these were the only people who knew about his engagement. A notification alert pulled him out of his thoughts. He saw that Jenny, his secretary, had sent him a list that contained seven names. He had his personal investigation team set up to get the records of these seven people from the last week before the reunion. He would make sure that the traitor paid a heavy price for the damage.
He also contacted his sources and deleted all the visible and clear pictures of Sanchi, Isha and Pragya. He would not risk their reputation and safety because of someone's selfish motives. After making sure that everything was under control for tomorrow's Photoshoot, he went to sleep, exhausted from today's occurrings.
*****
The three couples arrived in separate cars at the venue of the Photoshoot. It was a large studio that was exclusively booked for them for their Photoshoot today. Vikram Bhatt, a renowned fashion photographer was going to click them. The girls were excited and not a single ounce of nervousness was visible on their faces. They were rushed into the changing rooms as soon as they arrived at the studio. The couple photograph was taken first. These photos would be released in the newspaper tomorrow. After several clicks and the finalization, three photos were selected for their press release.
Pragya and Veer's photo:
Veer was staring at Pragya as she emerged from the changing room with the weirdly designed outfit. Whatever it was, he was sure that she was looking like a real star in that outfit. The earrings matched with the dress were just amazing as they enhanced her appearance. They clicked photos in many poses but he liked the one in which she was sitting on a stool and he was kneeling quiet close to her. His one hand was on her waist and the other on her left thigh. Her left hand was on his shoulder and her right elbow was on his other shoulder and her right hand held her hairs behind. This close to her, he could feel Pragya's heart beats and they faced the camera with an attitude which yield them a perfect shot.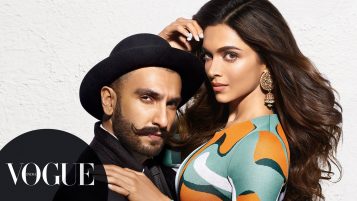 Isha and Karan's photo:
Karan could not keep his eyes off Isha as she was clad in an Indo-western outfit. She wore a pant and a blouse with the same pale pink silk material. She also had a necklace that was formed with many bead lines and a pale green jewel in the middle. The necklace gave her an ethnic view. The blouse had a V shaped cut which went down till her bosom. Her hairs were tied at the back in a ponytail with brief plaits at the top of her head. They clicked many poses but the finalized one was his favorite. He was sitting on a stool and she was sitting on his lap. He had his left hand above her abdomen from behind and she had her right hand around his neck for support. Her left hand was resting on her left thigh and his right arm was draped loosely around her waist. Her side face was touching his forehead and they both looked towards the camera to get their perfect shot.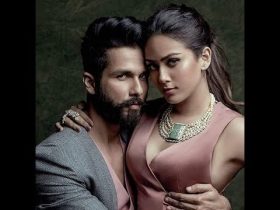 Sanchi and Kabir's photo:
Kabir was watching as the crew started changing the background after Karan and Isha's Photoshoot was over. He liked the chosen pictures of his friends. Now only Sanchi and Kabir were left. He saw that the crew put up a background of a sea shore which was partly covered with what looked like a wall of tied sticks. The mirrors were being set up to reflect the light properly. Through the mirror he saw Sanchi approaching him from behind. She was wearing a white laced knee length dress which was hugging her figure in the right places. It was then that he noticed the perfect figure of Sanchi. He also saw that her hairs were straightened unlike her natural curls and she had a smokey eye shadow which made her look s*xy. After seeing her in this outfit, he was physically attracted to her for the first time since he had met her. They tried all the poses on the sand that was scattered for giving their background a realistic view. Most of their poses were a standing one and some involved them to be laid down on the sand. The chosen picture was his most enjoyed picture. Kabir was partially lying on the sand with his one leg folded and the other outstretched and his upper body was supported on his elbows. Sanchi was also lying in front of him with her back resting on his chest. The top buttons of his shirt were open giving an improper view of his muscled chest. Her hairs were on her right shoulder hence giving Kabir the view of her milky skin of her neck. Her legs were stretched with her right leg folded slightly on the back. Her dress had pooled up a bit till the extent that it reached her mid thigh. Her upper body was supported by her elbow and her other hand was resting on her now bare thigh. Kabir was holding her elbow with his left hand and his right hand was on his folded leg. They were both looking towards the mirror and to complete the look, an empty bottle was placed near Sanchi's leg. A beautiful candid of the couple on the sand was clicked.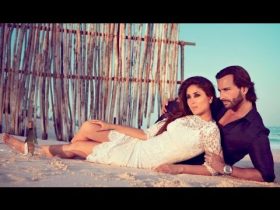 Once the couple photos were over, the individual photos of the girls were started. They took some bold photos and also some innocent ones. On the girls' request, Vikram also took many photos of the trio besties. He was quiet impressed with how the girls would listen to his instructions carefully and give him a perfect shot in not more than two trials. They were not professional models but they were definitely promising ones if they ever wished to join the model industry.
Meanwhile, the men were in the changing room reviewing the tabs that said about 'their other rumored affair'.
THE BUSINESS TRIO GETTING HITCHED?
The above photographs are of the famous Business Trio: Kabir Kapoor, Karan Oberoi and Veer Malhotra. They have been spotted differently with yet another ladies but for your information there are signs that wedding bells are going to ring soon! They have been spotted in front of the famous jewelry stores and apparently they were buying engagement rings! The way that they have protected the ladies from the papz proves their dedication towards their partners or is this just a hype to cover their playboy images? For more information stay tuned to our channel.
Kabir sighed and turned down the volume of the news. To their relief all the images of the ladies were unclear and covered. His phone started ringing and he looked down to see Mr. Lee, his Japanese partner, was calling him.
K: Yes Mr. Lee.
L: Kabir, what am I hearing from the news? Are you engaged or is this a trap to erase your 'playboy image hype'?
K: Of course not Mr. Lee. I am seriously engaged and to make it official to all of my partners I am organizing a cruise party soon. The invitations will be sent out shortly. You do not worry.
L: I won't worry but you better do. If I get any wrong idea about the marriage then we might have to reconsider your hotel construction in Tokyo.
K: Mr. Lee I personally assure you of the marriage and I would rather count upon your blessings on our reception.
L: Okay then I will look forward for your party invitation.
K: Sure.
Kabir let out an exasperated breath as he cut the phone call. This was the twentieth person from the morning. All of them asking for assurance and threatening with one or the other business projects that were on hold currently. At least this would go on until they would have released the pictures along with the official statement. He leant back on the couch and relaxed as the door slammed open to reveal the entrance of an equally annoyed Veer.
VM: What is their problem? They were threatening me with the pending cases!
KO: Same here.
They turned to see Karan walking into the room with three cups of coffee. He handed Kabir and Veer one and sat down on the other couch with his own. They were drinking in silence as they tried to relax and there was knock which disturbed them. They saw Vikram walking inside with his laptop looking very pleased.
V: I must say that you lads have picked up wonderful women as your fiancés. I mean just look at their photos. They are so stunning as though prepared to be on the cover pages. I mean they are bold, hot, s*xy, innocent, lively and gentle at the same time. Superb, just excellent! If they would have met me earlier I would have not let them get married when they can do wonders with a little bit of training.
KO: Too bad, they are already ours.
Karan winked and Veer and Vikram laughed whereas Kabir rolled his eyes. Vikram was a man in his mid fifties. He was the one who did all the shooting for their ads. He also did the shoot of the Business Trio when they had an exclusive interview with an international magazine. They were well acquainted over the time.
V: Would you all like to have a look at the photos of the girls?
KK: Girls? They had a different Photoshoot?
VM: Yes. We were only aware about the individual ones.
V: They requested me to take some of them three for some album and I must say it was splendid. They seem to be quiet close.
KO: They have been best friends since school.
V: Oh this is great. Friends marry friends! Now let us have a look at the pictures.
He said and connected his laptop with the screen and started to display their pictures.
V: Look at this one. Candid and ready for the cover page. I did a bit of editing and made it look as a cover page Photoshoot.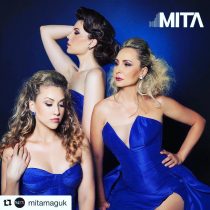 V: These are all their innocent ones. They are looking just like an angel, pure and beautiful.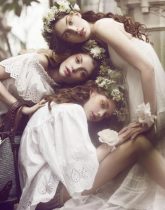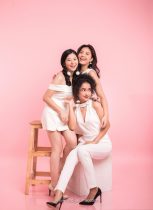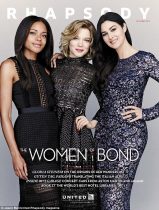 V: Just look at the attitude in these photos. Commendable.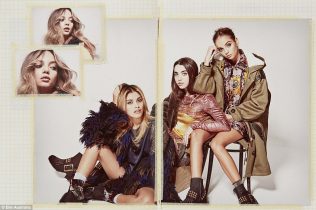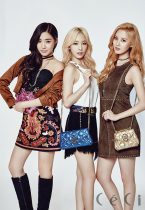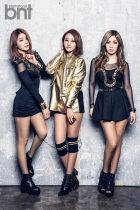 V: Their wildness in this one.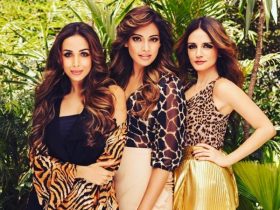 V: Not only group even the individual photos are awesome.
Here we go by Pragya first.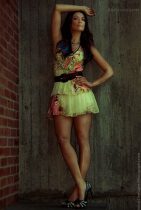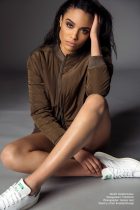 V: This one is Isha.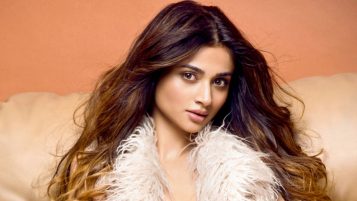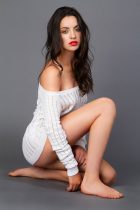 V: Here comes Sanchi.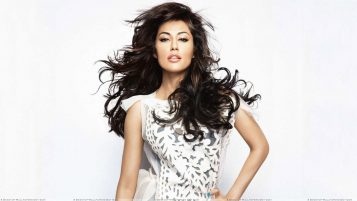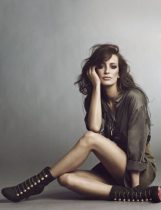 V: So what do you young gentlemen think?
KK: We are not releasing the bold ones.
Karan and Veer made a sound of approval. Their bold photos were no doubt s*xy but they could not afford for someone else to see their fiancés in this photos. Vikram chuckled at their declaration.
V: Possessive enough?
He quietened when he saw the three of them glare at him. He sobered up and mumbled about some more editing left and exited the room with his laptop.
All the images of Sanchi were imprinted in Kabir's mind. Her smile, her attitude and her boldness shocked him. He could not help but feel more physically attracted towards her which was starting to cause a problem. How was he supposed to control when Sanchi and Kabir would be living the night on the cruise in the same room? This thought reminded him about talking to her about the cruise party and he also suddenly remembered that their engagement was tomorrow! He got up after finishing his cup of coffee and went into the girls' changing room. There he knocked and went inside. He gestured Sanchi to meet him near his car and she nodded in positive. He left from there and Sanchi came shortly after him.
S: Yes.
She asked tiredly as she yawned by covering her mouth with her hand.
K: Sanchi tomorrow after engagement we will leave for the cruise party.
S: We are having party tomorrow?
K: Yes. One of my partners, Mr. Lee, is leaving day after tomorrow so we have to keep the party tomorrow.
S: He is Japanese?
K: Yes. Pack some clothes for the overnight stay on the cruise as the party will be on for late.
S: Wait but I don't have any high class party dress.
K: I will arrange for the designer to be on the cruise for the three of you. Now listen to me quietly. We will have to share the bedroom for the night because all my partners think that we have been in a relation for over four years and so they will suspect our sleeping in different rooms.
S: Why will they think that we have been in relation for FOUR YEARS?
She said giving more stress on 'FOUR YEARS'.
K: Because I will tell them so.
S: Why would you tell them so?
K: Sanchi I cannot tell them the reality of our marriage. It's a secret the school has asked us to keep and I cannot tell them that we have an arranged marriage because
S: Because you want to use this to cover up your playboy image.
Sanchi completed for him. She raised her eyebrows as though asking him if she is correct.
K: Yes.
S: So all the news was true?
K: Yes.
S: Okay.
She said as she was at a loss of words. It was not because of the truth but it was because he had so willingly accepted everything. She was testing him to see if he could really be his honest self with her and she had succeeded in it. She gave him a smile and went away. He was confused as he was expecting her to be upset or angry but she was normal. Once again Sanchi did not fail to surprise him.
——————————————-
Hello everyone,
I hope that you all are enjoying the story.
Please do tell me how you feel about it through your comments.
Thank you for reading and the next part will be up soon.