Marriage By Curse- 10. THE WEDDING
THE WEDDING
Finally the day had arrived. There was a lot that had happened since the last few weeks. Everyone was rushing around for the wedding preparations and Sanchi's house was in a mess. She sighed as she looked around her house and thought that how her mother was going to clean up the entire house by herself? She called her employees from the company and instructed them to help her mother clean the house even though Jaya would complain and find ways to get rid of them. After instructing them about the time and the address, she cut the phone and stood in the middle of the living room. Her thoughts traced back to the memories that she had created in this house and that she was to cherish for the rest of her life. She thought about her childhood where she was so carefree. She could live her life the way she wanted to without any restrictions. Her hero was her father at that time. She was so oblivious to his nature and at times she thinks that her childhood was the perfect time that she ever had in her life. Her thoughts then drifted off to the time when she was mature enough to understand her father's nature. She began to dislike him but more than that she began to feel envious of her friends who had normal fathers. Then she smiled as she remembered the time her mother had spent to remove all the negativities from her and made her look at the positive side of the situation. Her thoughts were then pivoted around her mother. She could still feel the struggle her mother had faced and how she had fought with a smile always adoring her face. Her eyes welled up as she thought about the things that her mother had taught her. She had imbibed everything to the core and also practiced it when the time had demanded.
Her reverie was broken when she heard a gasp come from the entrance of the hall. She turned around to see her mother standing at the door and looking at her with teary eyes. Jaya made her way towards Sanchi and cupped her face. She kissed Sanchi's forehead and looked her up and down with admiration, love and relief.
J: You look so beautiful darling!
Jaya exclaimed as she saw her daughter standing right in front of her, wearing the wedding dress and looking like an angel. She had always dreamt of her daughter's wedding but now that she saw Sanchi in the dress, she just realized that her daughter was about to get married and that she would no longer stay with her. This thought alone left Jaya overwhelmed and make her cry. Sanchi wiped her mother tears with her thumbs as she blinked profusely to keep her tears at bay. She knew that realization had just struck upon her mother who was too busy with the wedding preparations to analyze over things properly. She hugged her mother lightly and Jaya tugged at Sanchi's hand to lead her to the mirror. Sanchi was yet to veil and Jaya was the one who wanted to do it. She was rushed into a room nearly three hours by a makeup team. Jaya had not interfered with them but she had expressed her desire to veil Sanchi and had gone to look after the last minute preparations.
Sanchi sat down on the stool near the mirror and Jaya put the veil on her head. Sanchi smiled through the tears at Jaya who herself had a sad smile on her face. Jaya leaned next to Sanchi and whispered in her ears.
J: One last advice before you get married. Just let go and accept and also adjust.
Sanchi knew the meaning behind each word of her mother and she nodded her head with a reassuring smile.
J: The time has come. We must leave.
Jaya said while straightening up. Their marriage was being held in the hall and they were to leave now.
*****
Sanchi, Isha and Pragya sat nervously in the room that was designated for the bride. The ceremony was taking place in the Mandap and they were to be called at any time now. The three of them were looking ethereal in the dress and with all the jewelry adding to their appearance, words fell short to describe them.
Sanchi's Dress: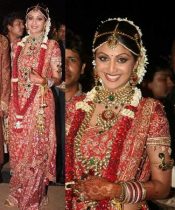 Isha's Dress: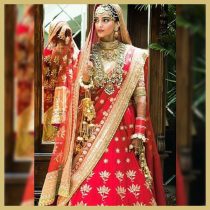 Pragya's Dress: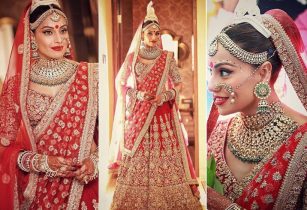 They were called down soon and the wedding ceremony started. Kabir saw his bride and all her he could think was of her beauty. It would not be wrong to say that he was enchanted by her beauty. He leisurely took his time to devour her with his eyes as she slowly walked towards the Mandap. He noticed that she kept her eyes down the whole time through the ceremony, not even once making eye contact with him. The dress and the jewelry had overpowered her small stature. He wondered about her strength as the dress looked quiet heavy. The ceremony ended and they took blessings from all the elders.
J: Take care of her.
Jaya said when she blessed both of them. Sanchi hugged her mother and Jaya held onto Kabir's extended arm. Kabir covered her hand with his and gave them a light squeeze.
K: I will.
He said in a no nonsense tone and Jaya knew that he meant his words at the same instant. She let go of Sanchi and wiped away the tears from her daughter's face. She cupped her face and kissed her forehead. Sanchi closed her eyes as she felt her mother's presence for the last time before she took her leave.
The car ride was silent except from the hiccups that Sanchi was taking after all the crying that she had done. She still did not meet Kabir's eyes and she knew very well that his had been on hers since the time she had stepped in his line of view. Kabir stared intensely at her for a few minutes and he concluded that Sanchi was not shy. She was not meeting his gaze because she was nervous and he could see that due to all the wrinkles that had formed on her dress as her hands had fidgeted with them over and over again. He sighed and spoke in a calm voice.
K: What is it Sanchi?
Sanchi felt like she had lost her voice as she had not spoken for the last six hours. She tried to speak but only half words left her mouth.
S: Huh?
She asked after much time.
K: I know that you are nervous about something. What is it Sanchi.
He said in a calm voice again but more firm this time. Sanchi shook her head and cleared her throat.
S: Nothing.
She said and could hear another sigh that escaped Kabir's lips.
K: Look at me.
He said in a simple voice but she kept her head down. She felt Kabir shift beside her and after a few seconds her eyes directly connected to his. She tried to move her face away but Kabir's firm hold was keeping her in place. Her eyes were very expressive and she about it. She did not wish for Kabir to see the insecurity in her eyes. She tried to fight off all the negative thoughts but they were still lingering there in a dark corner of her mind.
K: Are you insecure?
He asked as he read her thoughts from her expressive eyes. Sanchi shook her head looked away.
S: No just the nervousness for the reception party.
She mumbled and Kabir let her go. She averted her face and Kabir knew that there was more to what she had said but he decided to drop the topic. There was a lifetime left to know her thoroughly. He also thought that maybe she was insecure by thinking about the night that was to come ahead. He sat quietly next to her and they travelled in silence for the rest of the ride. They reached a gate which opened to reveal a small but divinely designed villa. Due to the house being in Mumbai, the area around the house was smaller as compared to the one in Pune but it was absolutely beautiful and Sanchi was fascinated about it.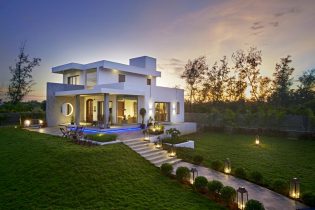 She roamed her eyes everywhere when she stepped inside the house. She felt connected with the house and wanted to explore it but she knew that she had to get ready for the reception that was going to start in three hours. Marc's team was ready in one of the rooms and they rushed Sanchi to get her ready for the reception. She was tired with all makeup and changes and just wanted to rest but she knew that her wish was far from coming true. She was again made to sit in one place for what seemed like two hours. After her makeup and hairs were done, some of the female staff helped her to get in the dress. She was ready after they had pinned her dress from behind and had put high heels on her delicate feet to match Kabir's height and also to prevent the gown from making her trip. Sanchi really liked Marc's work. She had just given him the details about her taste and the result was what she was wearing now. She looked at herself and she had to agree that she looked wonderful. The team left shortly after winding things up and wishing her congratulations for the marriage. Sanchi took deep breathes and calmed her nerves before gently opening the door and stepping out of it. She came face to face with Kabir who was clad in a three piece designer white colored suit which matched her gown. His hairs were gelled back and his face was also trimmed. Sanchi took hold of the door as she feared that she would fall partly because of the high heels and partly because of the man that was standing in front of her.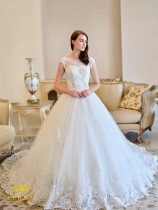 Kabir's breath got hitched when he laid his eyes upon his wife. She was wearing a white gown as he had figured out because white was her favorite color. She was looking so innocent and beautiful at the same time that it made him think about cancelling the reception and ravishing her the way he wanted to since the time he had seen her at the Photoshoot. Kabir stared at her for some time and she reciprocated his stare.
K: We must go.
He said as he saw her nod her head and purse her slightly parted lips. He badly wanted to kiss her but he knew that doing it right now would lead to activities that were supposed to happen later. He stretched his arm and Sanchi put her hand in the burrow of his elbow and he led her to the car that was waiting for them. When they reached the venue, Sanchi was mesmerized by the view of it. There were three small stages and on them were three couches and the stages were beautifully decorated.

Sanchi saw that Isha and Pragya were already on the two other stages with Karan and Veer. They were both looking beautiful.
Pragya's Dress: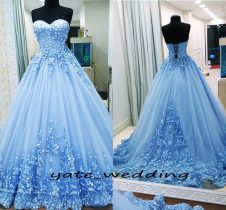 Isha's Dress: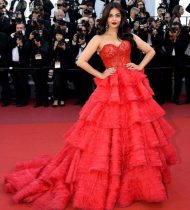 Kabir led Sanchi on the stage from where she could get the whole view of the reception venue and she gasped when she saw three big pictures that were hanging on the wall. They were their wedding photos.
Isha and Karan's photo: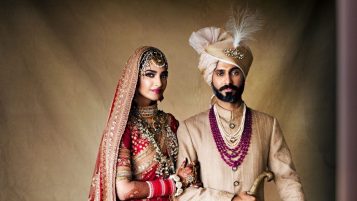 Pragya and Veer's photo: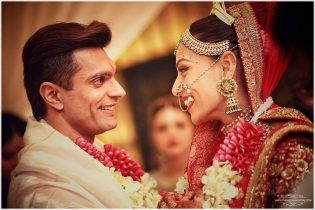 Sanchi and Kabir's photo: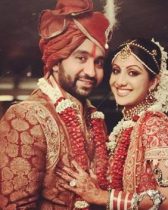 S: When did you get those framed?
She asked quietly to Kabir as they were alone on the stage.
K: We talked to the photographer to get them printed. This photo will be placed in the living room of the house after the reception. I have made arrangements for it.
Kabir said while looking at Sanchi and she nodded and turned to look at their photo again. Soon the guests started to come up on the stage and greet them. Sanchi recognized some of the people from the cruise party but she was introduced to many new people and she lost count of them eventually. She was glad to see Mrs. Lee again who smiled warmly at Sanchi.
L: You look beautiful dear.
She exclaimed and Sanchi blushed a bit.
S: Thank you.
She replied weakly and they clicked a photo together and then the next couple came up. It was almost two hours since the guests had started to come up and greet them. All of them had brought along some very expensive gifts with them. She was tired with all the fake smiling and her feet were also killing her. They took some rest for the next five minutes and sat on the couch. Sanchi sighed softly and Kabir turned towards her.
S: Don't you get tired?
She asked quietly so only he can hear.
K: I am used to it.
Kabir shrugged casually.
S: Great stamina.
Sanchi murmured under her breath so that Kabir could not hear but to her misfortune, he had heard her clearly. Kabir smirked as he leaned near her ears and whispered huskily.
K: You will know that tonight.
Sanchi could not register his words but when she did understand the meaning of his words, she gasped and before she could react, the next round of guests approached them. She blushed a deep shade of red when Kabir casually kept his hand around her waist while they were clicking the photo. Before this, Sanchi would hold his arm in each photo but Kabir tried something different. She felt his hand linger on her waist for a good ten seconds before he let her go and Sanchi was not able to meet his eyes.
She was now worrying a new. She had totally forgotten that she was to get physically engaged with him today. All her thoughts about the marriage were replaced with the ones about the night of marriage. She did not know what to do and she was very scared. He was experienced and what if she could not live up to his expectations?
———————————————
Hello everyone,
I am sorry for being late but I was caught up. I may not be able to update regularly as my exams are going to start from 2nd of January.
I would like to warn you about the next chapter. It will contain mature contents so please do read on your own risk.
Thank you for reading.