Manzil GoHem GoGi RicIta SS Part 1
Manzil (Destination)Part 1
A middle aged paralyzed man was lying on the bed.
He tried to move his hand to reach the water jug which was kept near by.A young man entered there.He smirked seeing his inability to take water on his own.
He asked in a sarcastic tone:What happened Mr.Ahem Modi?You are thirsty,but you are not getting water?I am not a normal son who will feed water to his sick father.There may be children who look after their sick parents.But I am Ricky.I won't do such good things.Because you don't deserve it.
Ahem's tears rolled down his cheeks.
Ricky:You remember how you made my mother starve?The same way you also starve.
Flash back…
Ahem came back home late.
Ahem:Serve dinner for me Gopi.
Gopi:Yes Ahemji.
Gopi served him dinner.
After having dinner Ahem told him:Now you can dinner.
Gopi:I already had it Ahemji.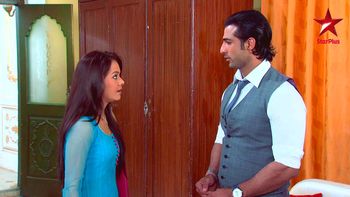 Ahem was shocked.
Ahem:What?You had dinner before me?
Gopi was startled by his loud voice.
Gopi:You became very late.So I thought….
Ahem pulled her closer harshly scaring Gopi.
Ahem:Don't you know that a wife should eat food only after her husband eats it?
Gopi's lips shivered:I..I…sorry Ahemji.
Ahem:I will give you a punishment which you will never forget in your life.
Gopi got nervous.
Ahem grabbed her hand and pushed her into the store room.
Ahem:Be here.Tomorrow also you will stay here without any food.You will starve for the whole day.Then only you will remember that you made a big mistake by having food before me.
Gopi wept:Ahemji…please don't do this to me.
Ahem ignored her and went out.The little Ricky wept seeing his mother's condition.
Ricky wiped her tears.
Ricky:Maa…don't cry.
Gopi could'nt stop her tears.
Ricky:If I was there before you got married to papa I would not have allowed him to marry you.I myself would have married you instead of papa.Because I love you that much.
Gopi:Badmash!Will anyone marry their mother?
Ricky:Why not?I pray that in the next birth I can marry you and not let any wretched man near you.
Gopi:Even when you were a baby you did'nt want your father to be near me.You used to push him when he came closer to me.You wanted to lie down closer to me.So possessive since babyhood.
Gopi pulled his cheeks cutely.He smiled.
Ricky:Yes,I don't like anyone else near you.You are only mine Maa.


Gopi hugged him.
The next morning Ricky got into the store room secretly with break fast.
Ricky:Maa…you eat it.
Gopi:No Ricky.Papa will get angry.


Ricky:No Maa.He won't know it.I came here without his knowledge.
Ricky tried to feed her with his hands.Suddenly the plate was thrown away with somebody's legs.
They were shocked to see Ahem burning with anger.
Ahem:How dare both of you cheat me?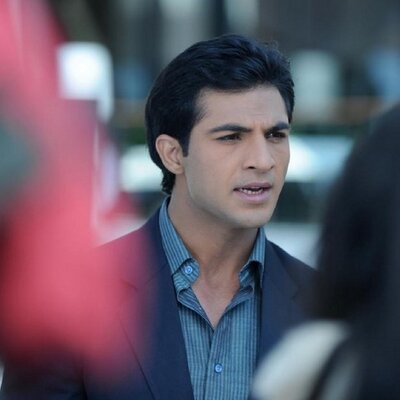 Ahem hit both of them cruelly.
Gopi cried:Ahemji..beat me.But please don't beat our son.
Ahem beat her again.Ricky cried.
Present….
Ricky brought hot water to massage Ahem.He massaged his body roughly.
Ahem:Ah…
Ricky:What happened dad?Is it too hot?But as far as I know you prefer the water to be really hot.Right?That day you did that to my mother.Right?


Flash back…
Gopi gave warm water to Ahem to bath.Ahem poured water upon him to bath.
Ahem got irritated:This water is just warm.Not hot.Don't you know that i want the water to be more hotter?
Gopi:Sorry.I will heat it now.
Gopi heated the water again.
Gopi:Ahemji..is this fine?
Ahem:I think this is more than enough Gopi.
Gopi smiled.
Ahem took a mug of water and poured it on her face.
She was shocked.
She screamed feeling the burning sensation on her skin.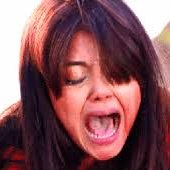 Ahem:Now you will never forget to give me hot water.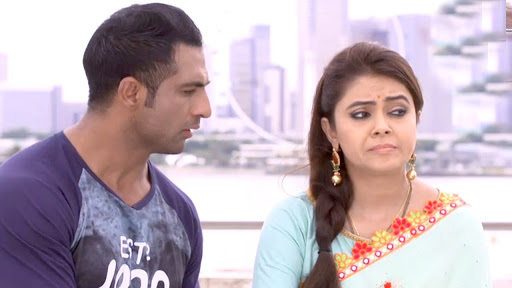 Gopi looked at him painfully.
Ahem walked off smirking while Gopi burst into tears.
Ricky who watched it helplessly cried.
Ricky put ointment on Gopi's face.
Ricky:Maa…don't worry.Your face will be beautiful like before.
Gopi cried hugging him.
Gopi:You are my only relief Ricky.
Ricky:I will be always there with you Maa.
Gopi smiled tearfully.
Present…
Ahem struggled hard to suppress his pain.Ricky smirked seeing it.
Ricky was sitting in a restaurant.
A cute beauty embraced him from behind.
Ricky smiled:Sita…
Sita came in front of him.
Sita:You identified me immediately.
Ricky:Yes.Who else will hug an unromantic boring person like me?How could you love me Sita?
Sita:Because though you are rough in behaviour I know that you are a sweet boy.
Ricky:I could'nt never imagine falling in love.I had no faith in love.But your sweet nature made me fall for you.
Sita smiled.
Sita:By the way why did you call me?You said we will have celebration.
Ricky:Yes Sita.I want to celebrate my life with you.
Sita smiled.
Ricky led her to the table.
They cut red velvet cake and fed each other.
They started sipping red wine together.
Sita:You did'nt tell what celebration is this?
Ricky:I am very happy Sita..
very happy to see my father's health getting deteriorated.Like I wished his last days are going to be very tough.I am happy to torture him like hell.So I decided to have a celebration.
Sita's face became dull.