Main Suneyaa~ Riansh FS 1.'Award Function'
Main suneya mere naam nu sunke roya ae
Mere haal nu sunke yaara ve daas ki karenga
Vansh left Riddhima because of a mere Misunderstanding unknown to the fact the she was pregnant with his child that time.
after 20 years Riansh's Daughter Riva (Jannat Zubair)  joined the same college where Vansh is a professor. What will happen when Vansh will get to know that he has a daughter who is craving for her father's love…
Four shot story!!
Based on song MAIN SUNEYAA BY AMMY VIRK🥀
---
Hi guys, here's the first part hope you'll will like it and I'm changing the storyline so to know more read further!
In huge auditorium decoration was beautifully done with chairs settled nicely and a huge stage was there too.
And on a big board it was written in bold letters BUSINESS AWARD FUNCTION 2021-22.
All the business men including Vansh and women from across the whole India came there one by one settling themselves on their respective seats. After sometime the host of the award function cam on the stage with mic in his hand.
Host: Good evening ladies and gentlemen, I Ayush Khurana your today's host of this award function welcome you'll here. So as we all know why we are gathered here so let's start with it. So would like to introduce you'll from youngest No. 1 business woman of whole India Riva so it obvious that she is the winner of India's No. 1 business woman 2021-22. So Ms. Riva please come on the stage and take this award.
And here comes the most beautiful girl Riva wearing a beautiful grayish dress walking towards the stage.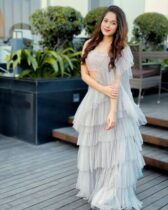 She went to the stage and took her award and gave her speech on the mic making every one teary.
Riva: Good Evening ladies and gentlemen, myself Riva, Riva Riddhima, a single daughter of my single mother. I know you'll must be thinking where's my surname so I don't have it because my mom's name after my name is enough for me and my identity. I don't know who's my father, I don't know what's his name, I don't now what he do, I don't even know why he left my mom when she needed him the most. But the thing I know is that my mom is not less then my father. She is my mother and my father too. For me she fought from the whole world, to keep me safe and happy she spent numerous days without eating and numerous nights without sleeping. She became my support system, she made me stand on my feet, she made me educated to make my future, people used to call me a illegitimate child but my mom fought with them for me like a father does for his daughter. I have seen her crying for my father so many nights but for me she always keep a smile on her face and never showed me that she is broken, broken from inside. For me she earned in her most difficult time too her pregnancy to give me a better future. Where I'm standing today is just because of my mother so before me she deserves this award. And today in front of everyone I thank my mom for standing for me every time without thinking for yourself. Thank you mumma from being my everything, I love you.
Saying so she descended from the stage and ran towards her mom Riddhima who was sitting at first seat shedding happy tears and Riva hugged her. Taking her hand in her she took Riddhima towards the stage.
Riva: Meet my idol my mom Riddhima Raichand.
Vansh looked at them shocked as tear rolled down from his eyes.
Flashback:
Riddhima and vansh were seen laying on bed cuddling each other close to their hearts with riddhima keeping her head on  his chest listening to his heartbeat.
Riddhima: Vansh.
Vansh: Hmm..
He said with eyes closed!.
Riddhima: Vansh What we will name our first baby!
Vansh: If she will be girl then Riva, daddy's princess!
Riddhima: And if he will be a boy then Rivan, mummy's boy❤
She said and they both smiled at each other. They came closer and claimed each other's lips kissing each other passionately. Making their night more blissful.
And that night moon peeping from the window witnessed two souls becoming one and smiled blessing them.
Flashback ends.
Precap: Truth, Riva's outburst on Vansh.
So how was the first part hope you'll liked it, do leave your reviews in the comment section and your theories too.
Your Author
Tanya🥀