MAGIC & LOVE | IB-FF | CH-11 : DOUBT
Ch-11 : Doubt
---
Hi Cuties, Thanxalot for your likes and comments on previous episodes…So lets begin this episode..Enjoy…
---
---
Shivika in a liplock ?
Anika is interested in this naughtiness, Shivaay's too enjoying this !!..And yah its not a dream at all !! ??
They are lost in kissing each other passionately…Anika is on the other hand now feeling safe with shivaay…❤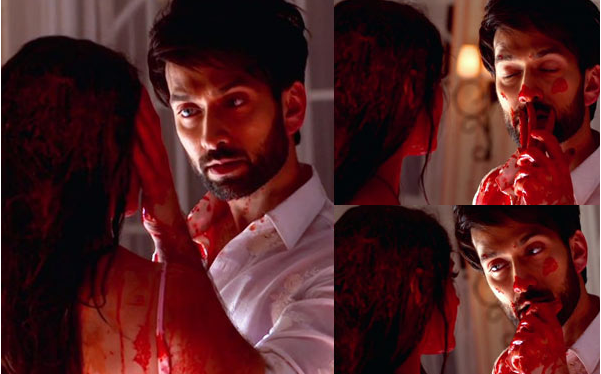 "Thock…thock…thockk" someone knocks on washroom door…
"Who came at this moment ???" Anika irks and hides with shivaay towards the pillar side…
Shivaay "You hide for a wall, once i signify you will just run okay !! Done !!"
Anika "Yah but"…
Shivaay "Nooo pls no dont say anything now"…
Anika nods okay…
Just then anika hides properly and shivaay opens the washroom door…OmRu are standing there !!!…
Om "Kya chal kya raha hain andar"…??
(Whats going on in ?)
Shivaay "No…None…nothingg !!"…
Rudra "And why are you bhai why are you panicking"…
Anika sneases suddenly "Haacchhiii" !!! ??
OmRu quickly gets in ??
Shivaay "Ohh…Noo nothing is there i think its a cat"…
Anika "Mewww"…
Shivaay "See"..
Om "College washroom mein billi…oh shi shi shi" ?
Rudra "Om…i know you have allergy with cats but"…
Shivaay "But what are you doing here together??"…
Rudra "Actually we came here for an amazing nighout !!" ?
Shivaay "Whhhatt !? ??"…
Rudra "Seriously…arey washroom mein aur kya hota hain ??" ??
Om "Point"…
Rudra "Toh…" ?
Rudra behaves like he is filled with intelligence…??
Anika "Mewww…meww"…?
Shivaay "Billi ko gussa araaha hain…chalo niklo idhar se"…?
Rudra "Hum kyun nikle ??"
Om "First let us finish our work"…
Shivaay "Tum dono saath mein toilet jaoge" ??
OmRu "Nooooo"…??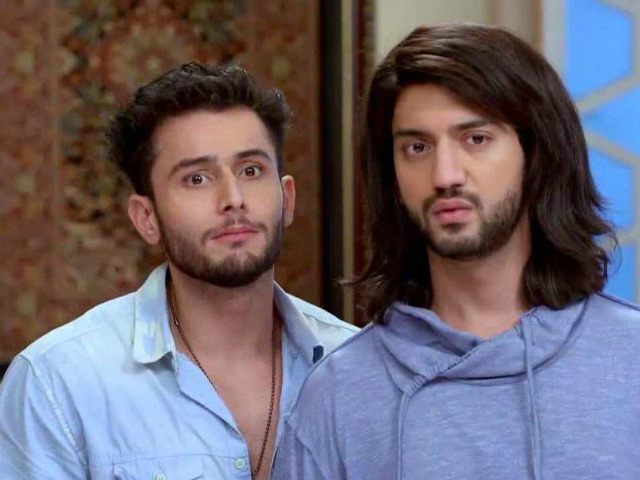 Just anika gets a chance and she flees from the washroom…
Shivaay "Gayi"…
(Left)
OmRu "Kaun"…
(Who)
Shivaay blushes "Billi"…☺
(Cat)
OmRu looks on at his blushing face weirdly…??
@COLLEGE CANTEEN
Anika, Gauri & Soumya are munching burger…
"I didnt understood how can a cat come into washroom…explain"…
"Cat is a domestic animal, he/she has four legs, two eyes" soumya explains…??
"Ohhh animal encyclopedia…pls stop" gauri ??
Anika in her mind "Why these guyz are always talking about that cat incident…Omg i will die !!…Murgi Murgi !…
[MORCELLIS- (MURGI- DIE/DEATH)]
"See i think"soumya was about to say but anika "Mmm the burger is so tasty naa"…
Soumya "Yah"
Gauri "Who said this burger is tasty ?? Its tastes so local ? You guyz should try out Kfc & McDonald's burgs"..?
"Phir se shuru hogayi ye" soumya miffs…?
(She started again)
"Kufsi & Molds" anika repeats wrongly..??
"Nooo noo" soumya & gauri bursts out into laughter..??
Somu "Anika…sometimes you behave like you are an alien"…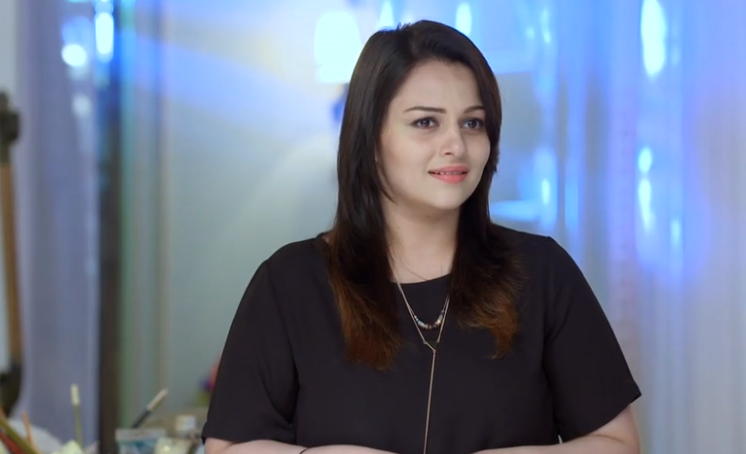 Anika shivers hearing that…She gets stunned…
Suddenly anika's phone rings…
She brings out her phone attends the call…
Soumya notices her phone and stuns like the hell !!!…??
Sounya shouts "Ye kya hainnn" ??
Gauri "Such a huge phone ani"…?
Anika's smartphone is actually from morcellis…?
Anika "mmm…ohh"…
Gauri "Anika…which company's phone is this ??"…
Anika "This phone from Greenapple company"…????
Gauri "Is it iphone"…
Anika "Noo no its MYFONE" ??
GauMya looks at each other in shock !!!…???
She cuts the call but dont understand that gaumya is suspecting her now !!…
Anika "What happend ??"…
Gauri "Anika…Our phones are so stylish and cool…but yours one looks like those power ranger series morpher"…
Anika "Huh"…
Soumya "There is weird show which people like gauri watches name Power Rangers…and there also kind of phones are shown…
Anika in her mind "Did i did mistake…ohh noppe…if they catches me then it will revealed that i am a magus not a human…fsshhh"…
Gauri "Does it mean that ?"…
Anika shouts "TIME PAUSEEE" !!…
Suddenly a light flares comes out and stops the time…GauMya gets freezed !!!…
Anika calls pegu and asks her to come quickly !!…
Pegu arrives within some minutes…
Anika "Peguuu" ??
Pegu smirks "I know you did a big stupidity…what can i expect from you ??" ??
Anika "Shutupp !! ?…And tell me how can i rectify this"…
Pegu "Anika…you can use your MEMORY LOSS FLARE only for one time…you cant do it twice else you will be sent to Taoshikala Prison" !!…
Anika shouts "Nooo…i dont want to go there its very dark place…and i heard the jailors do not serve food to the inmates"…?
Pegu "Thats why i am saying you"…
Anika "So whats your opinion ??…"
Pegu "In my opinion…you should replace your phone with earth's any smartphone !!"…
Anika "Can i do this now ??"…
Pegu "Yes but after 48 hrs…you have to buy a new phone bcoz magic spell is end after 48 hrs and your phone will come into its original state"…
Anika "Thankyouuuu peguuu…you are looking very beautiful today ??"…??
Pegu "stop flattering ?…maybe bcoz i used a new shampoo today ??" ?
Anika "Okay bye"…
Pegu leaves and anika replace her smartphone with an iphone through magic !!…
Anika "Yesssss…Okay TIME RESUME" ???
Everything resumes back…
Soumya "wait i felt like i was paused" ?
Anika "No actually"…
Gauri "Anika…your phone" ??
Soumya "Ohh its changed" ??
Anika "I think you guyz are day dreaming…dont watch carts all the time"…??
Soumya "You mean cartoons ??"…
Anika "Yah"…?
GauMya munches burger…?
---
PRECAP- CAMPING
---
DOUBTS CLEARED OR NOT ??? ????
OKAY SO NEXT CHAPTER IS COMING VERY SOON…
❤LOVESSS❤
❤RiANA❤