Love You Forever Mehrya FF Part 2
Next day Mehak woke up late. She was not able to find Smriti and Swati. She thought that they must be woke up early. She removed the duvet and stood up. She found a gift box placed on table. She took the box. There was a note on that box.
'My love…I know you will be worried about Smriti di and Swati di…lemme tell you there is no one in house…don't be shocked…they are here in KM as maa want us to get married soon so she want to throw a party for introducing you to our relatives and also for our mehndi but you were sleeping like a baby so I refused them to woke you up and they get ready and came here with me and di…here is a dress for you…get ready in this only…you will look very nice this…'
Mehak smiled after reading his note. She put that aside and went to have a shower. She got ready in navy blue off shoulder gown with peach colour dupatta that was having beautiful lace on borders.


She was adoring herself standing before mirror and blushed recalling his proposal. She was recalling her moments with Shaurya. From childhood to the college days both fought with each other a lot of times. Shaurya was kind hearted but she was never being kind to him as she consider him to be like his selfish father. She get up and left for the party. As she reached KM she was in awe to see all the decorations but there was only dark and no one was there.
"Shaurya…maa…Shaurya…where are you all??"
She felt two strong hands on her waist. She felt him near and smiled. He pecked her cheek and she smiled.
"I am here only my love…"
She turned and encircled his nape. He was smirking that didn't took even a second for Mehak to guess that it was all his plan so that they could get some time privately. He pecked her cheek and she chuckled as his bearded cheek rubbed her soft cheek.
"You should shave a bit Shaurya…"
"Well my girl friend loves my bearded cheeks…so I can't shave them…"
"Oh really…and who is your girl friend??"
"You want to meet her??"
Mehak nodded in yes. He could sense the jealous feeling in her on the mention of his girl friend. He turned her and pointed in a direction. She looked in the direction. A beautiful girl was standing before her eyes. She smiled and looked at him. He winked at her. He pointed towards a large mirror.
"How is my girl friend??"
"She is a akdoo, chubby and stupid girl…"
"How could you say that about MY MEHAK?? She is world's best girl and I love her the most…"
"Really??"
He looked deep into her eyes. She was looking more beautiful. He didn't replied to her question. He bent to taste her rose petal lips but she moved away and patted on his cheek.
"Last night you get your sweet by froad but not now Mr. Ahlawat…you have to work hard for it…"
"I am ready for that my love…"
Mehak ran out of his hands and he followed her to catch her. She was running here and there in the whole house and showing him tongue when he was not able to catch her. She went upstairs and he too followed her. As she hid in the balcony he saw her hiding there but left. She sighed and came in the room.
"Not so easily Mr. Ahlawat…I will give you a tough time to catch me…"
"I know baby…"
She shocked to hear his husky voice just behind her. She gulped her saliva and turned closing her eyes. He pulled her by waist still her eyes were closed. He studied her for almost 15 minutes and she was expecting him to kiss her but he was busy in studing his beauty. She slowly opened her eyes and his grip on her waist tighten. She again closed her eyes. He ran his finger over her forehead coming to lips. He ran his thumb over her lower lip and palmed her cheek. He pulled her more close to him and pecked her cheek.
"Look like my dhakad boxer is scared of her husband to be…"
"I…I am not…I am not scared Shaurya…"
"Then why are your eyes still closed??"
She bite her lower lip. He ran his finger over her hand and her shoulder touched her cheek.
"Why you lift you shoulder on my touch??"
She was so nervous and butterflies were in her stomach. His proximity was making her weak and go on her knees. He turned her around and hugged her from behide.
"Shaurya…please…what if someone come…"
"Then let him come…I am your husband to be and have rights on you…"
"But…it's not right before marrige…"
He smiled and showered her with kisses all over her collorbone. She felt as if this had happened before and before she could do something he sat on bed and made her sit on her lap.
"Shaurya…"
He put his finger on her lips and took out a pendant in heart shape with diamond embededded in it. Her eyes widen on seeing the expensive pendant. He made her wear the pendant.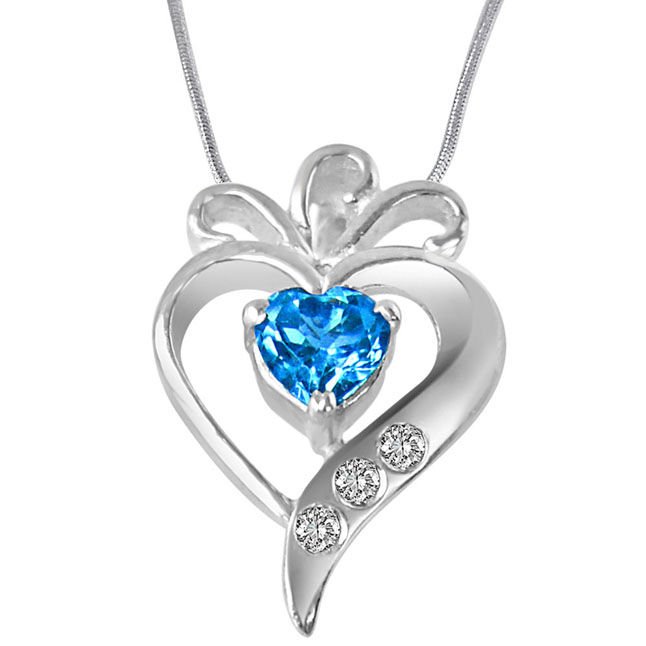 "Shaurya…are they real diamond??"
"Nhi toh kya made in China hai (No no they are made in China)…obviously they are real diamonds for my diamond…"
"Have you said that before too??"
"I am saying that for first time…why??"
"Actually I am feeling as if you had said these words before too…" (getting up from his lap)
"Last night when you proposed me then also I felt as if we had done that before too…as if you had proposed me before too but don't know when…and now also…"
"Mehak…I too felt like that but we never done that before…you remember how we both used to fight with each other on every single thing then how come we both could be so loving to each other??"
"Whatever Shaurya but I am felling weird…"
He turned her and palmed her cheek with one hand while another on her waist. He was looking at her with love filled eyes.
"You don't take much stress…today is our mehndi so don't be sad…"
"I am not sad Shaurya but try to understand Shaurya…I am having a bad feeling about that…and after Shwetlana auntie came I am getting dreams again that I used to have in childhood…there are so many things Shaurya that I want to tell you…"
"I know Mehak…but it's not right time to discuss them…"
He was signalling her something with eyes but she was not getting what he is saying. At last he hugged her and whispered in her ear.
"Shwetlana is here and listening to us…act as if you are satisfied now…"
"Hmm…you are right Shaurya…I should not take stress…may be it's hangover of my past life when everyone was against us…"
"Good…now don't talk about those dreams again…maa would be back from temple so let's go…"
As they came out Shwetlana hide behind the curtains and they left.
'Thank god that this Shaurya is not like SK otherwise he won't take a minute to recognise my real face…'
She too went downstairs to enjoy the function. Smriti and Mehak sat on aternative sofas and artists applied henna on their hands. Mehak was continuously looking at her henna. Seeing her like that he went and sat beside her.


"What heppened Mehak??"
"See this…"
She saw him his name written on her hand beautifully.
"Your name is on my hand because I am yours but are yo…you too mine??"
He smiled and get up holding her arm. He went upstairs in his room.
"Shaurya…what you doing??"
"Just wait my jaan…"
He closed the door and asked her to be quiet and don't shout on his next step. She nodded her head unknown to what he is upto. He started opening his shirt buttons to which her eyes popped out.
"I asked you not to shout…I am not doing anything wrong…"
She gulped her saliva to wet her throat that dried due to his act. He showed her the name Mehak written on his chest near his heart. Her eyes widden on seeing her name that seemed to be natural not dugged by someone. She was about to touch there but he stepped back.
"What are you doing…you henna would be spoilt…"
"Oh…but how this name…"
"My name on your hand is written now but your name was written on my heart when I was born because god want me to be yours…"
She hugged him taking care of her henna that she don't want to be spoilt. He too hugged her back kissing on her hairs. Both went downstairs. Smriti went to Shaurya.
"Bhai…what is this?? Today is mine and Mehak's mehndi and there is no music, dance and all…"
"Don't worry didi…I arranged that too…"
"But you don't know how to dance…am I right Smriti Di…"
"Yeah Mehak he don't know how to dance…"
"Then I will teace him…I can do just this that I could teach my saale sahab how to dance…"
"That would be better…otherwise everyone would make fun that Ahlawat's younger DIL knows how to dance but their son don't know abcd of dance…"
Smriti and Aarush supressed their smile while Shaurya gave a death glare to Mehak.
"Make my fun…I will see you tomorrow night…when you have to bear my wild side…"
Mehak's eyes widen as he whispered this in her ear. She quickly ran from there blushing hard. After some time music system was arranged and Mehak and Smriti performed on Rocket Hamere Saiyan. Then Shaurya and Aarush performed on Shaam Shandaar.
"Swati di…you too go na…please…"
"But how could I dance…"
"Oh ho Swati…just go na…I know you could dance…"
"But Smriti Di…"
"Go…"
Swati went to perform on London Thumakdaa. Everyone clapped for her. Sarita aksed the grooms and brides to perform on any song. All four went on floor and performed on Palloo Latke. In the whole function Shwetlana was missing that seemed suspicious for everyone.
"Aarush…where is mom??"
"I am worring about that only Smriti…wait I have to go and talk to Shaurya…"
Aarush left with Shaurya and both went in garden. Shaurya was worried why Shwetlana was missing after hearing their convo.
"Aarush where is she??"
"She must have gone to fulfill her pending work…"
"Whaaat?? Where is Mehak??"
Both get worried for Mehak and went in the house to check Mehak but she was no where to seen. Shaurya grew worried for her.
"Aarush are you sure about her plan??"
"I am 100% sure Shaurya…"
"Let me ask Swati di about her…"
Shaurya went to Swati and took her with him. Swati was confused on his this act.
"What happened Shaurya??"
"Di where is Mehak??"
"Oh ho…can't you stay without her for some time??"
"Di am serious…"
"Okay okay…she went to house as maa forgotten some things of Shagun so she went there fo…"
Before she could complete he left and went to Aarush. Both hurriedly left for Sharma House. Shaurya was hell worried for her and all her words that she was saying him were echoing in his ears.
"Don't worry Shaurya she would be fine…"
Aarush tried to console him. As they reached PWG the whole neighborhood had gathered in front of the lane. They somehow managed to go and were shocked to see the scenario in front of their eyes. The house was burning and people were trying to control the fire. Shaurya went into the house without wasting a single second. Aarush tried to stop him but he asked him to search for Shwetlana and went in. With much difficulties he found Mehak in semi conscious state. He rushed to her and patted on her cheek. She feebly opened her eyes and smiled at him.
"I know you would come to save me…"
He hugged her and carried in his arms. She again get flashbacks of Shaurya carrying him in his arms and bringing him out from fire. This time they were clear not blur. She tried to recall more but everything went blur and she fainted. Here Aarush missed Shwetlana and she ran. Shaurya took her in hospital and doctors examined her. He didn't informed anyone except Aarush who went to baba's cave behind Shwetlana about Mehak. While doctors were examining her he went to small temple in the hosppital. He was praying for her safety when an old man came and put his hand on his shoulder.
"Shaurya…"
Shaurya stood up and looked at him. He was none other than Khurrana Sahab. Shaurya was confused and get some flashbacks that were blur.
"Kanta Ji was right…you came back…but where is Mehak?? She came back na??"
Shaurya was not able to understand what he was saying and how he knows him.
"Uncle Ji who are you?? And how you know me and Mehak??"
"Shaurya I am Khurrana Sahab…wait how could you remember me as it's your 2nd birth but come with me I will show you somthing…"
"See uncle ji my fiancee is here whose condition is not good…I can come with you…"
"Mehak…is she your fiacee??"
"Yes…but…"
"Come with me…"
He hold his hand and took him in front of a glass door. An old and ill lady was lying on bed.
"You remember her??"
"No…"
Just then doctor came and ask Shaurya to come with him. Shaurya went with him while Khurrana went in.
"Kanta Ji…Kanta ji…"
Kanta feebly opened her eyes and looked at him.
"They came Kanta Ji…Mehak Shaurya came back…"
"I know they would come back…where are they??"
"They are here but Shaurya denied to recognise me and you too…"
"They would soon recall their past birth…"
Here doctor told him about Mehak's condition and asked him to don't let her go near anything that's temperature is high and asked him not to worry. Mehak gained consciousness and asked about Shaurya. Shaurya went to her.
"Shaurya…when you saved me from fire then I get flashback in which you were carring me and the whole house was burning just like today it was burning…it was clear not blur one…"
"You both were madly in love in your last birth…"
Both looked at the owner of voice. Kanta and Khurrana were standing on the door. Mehak and Shaurya both were confused and gave them a questionable look. Kanta came and sat beside Mehak.
"I know you both would come back…mata rani heard my prayers…"
"Chachi…"
Mehak said unknowingly why she called her chachi only. Kanta smiled and caressed her hairs.
"You both were in love and now also you both are in love…this is called true love…"
"Who are you and what are saying??"
"Mehak I am your Kanta Chachi…come with us…"
Shaurya decided to go with them. Khurrana drove to PWG with them. As the house was burnt and fire was no more Kanta cried seeing the state of their house. Mehak and Shaurya were confused. All went upstairs and luckily the room in which their photo were kept was not burnt. Kanta went in and took some photos. Mehak and Shaurya were shocked to see those photo that they never had.
"Shaurya we never click these photo…"
"These are your last birth's photographs…"
Khurrana took some photos of their families and showed then to Mehak and Shaurya. Both were confused of whatever was happing. They were having some blur flashback of someone getting married, a girl was sitting in altar and crying, someone was dancing, etc. They were feeling suffocated.
"There was a girl who was so sweet and have magic in her hands then she met a boy who was so rude…both used to fight a lot but they both fell in love and their families decide them to get married but on the wedding day the boy ran from the altar because he was not in love but want only the recipy book for his new restaurant…but the girl went to his house and lived there…but when she realized that the boy is heartless she left him but the boy fell in love with her and fought with the whole world for getting married to her…her family don't trust him but he made them trust him and at last both get married then the girl get to know that the boy killed her parents in childhood…she was so broken when her family get to know this they want to punish the boy but the girl stopped them and forgiven him…then the boy's friend snatched all the property of the boy but still the girl didn't left the boy's hand when everyone left his hand and they both crossed that hurdle too…then someone took the girl away from the boy because she lost her memory and for one year the boy lived as a dead body but their love unite them again…then terrorists made them separate but their love was so strong that they passed from that phase of life too…when they were feeling that everything is sorted out then a new problem came and tried to separate them but their love didn't allowed them to get separate…they came to know that they are going to be parents…they were so happy but the boy's mami killed their families and them too but she was not able to kill their love and due to their love they reborn…they were Mehak and Shaurya…"
Now both were in tears as they recalled everything. They hugged each other. Kanta and Khurrana were happy that finally they recalled everything. Kanta hugged both of them and they decided to take revenge from Shwetlana.


Finally able to write this…forgive me if I failed in connecting their present to their past through flashbacks aur haa agar pictures jyada ho gyi ho to bhi…one part is still left n epilogue too that would be with 3rd one…hit like silent readers…it would motivate me to write more…