hi friends!!! Nowadays iam getting busy in more projects so iam getting late to upload..iam really sorry for it 🙁. Here is the next episode..
Kartik goes and brings Keerthi down while Keerthi murmers in Kartik's ears..
Keerthi murmers:bhai.. thank you so much.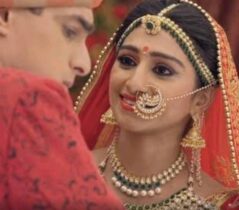 Kartik gets suprised..
Kartik:for what?
Keerthi:for planning to stop my marriage..hope your plan works well.
Kartik: don't worry about that..when iam there nothing wrong will happen.
Keerthi smiles..
Kartik takes her to stage and makes her stand near aditya..
PARALLEL SCENE:
Tina is seen standing before Raghav in kuldevi temple..
Raghav: finally our day of union have come..now we are going to become mr and mrs..
Tina notices his lips and understands it and gets angry..
Tina:that will never happen even in your dreams..
Raghav laughs..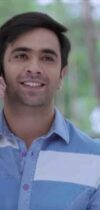 Raghav:what joke is this?
Tina notices his lips and understands it and takes the hidden mosquito spray and she sprays it on raghav's face and raghav's eyes gets affected and he screams..
Raghav screams:aaahhhhhhh…
Raghav drops everything from his hands and tina sees his phone on his pocket and grabs it immediately..
Tina:now you can't do anything.. always evil loses before good. So you also  lost..
Tina immediately deletes that cryptic image and throws the phone on raghav's face who is screaming in pain..
Tina angrily:you deserve this pain Raghav.. atleast now you change for yourself or suffer with god's punishment. I deleted this photo..so you can't do anything now.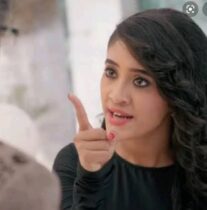 Raghav in pain shouts:how dare you tina?i was polite with you but you misbehaved with me..i wont spare you.
Tina notices his lips and understands it and laughs..
Tina:wow.. amazing joke mr.raghav..if you was polite then why were you blackmailing me?
Raghav:you don't know about my love for you tina..iam doing this everything for getting you. I cant live without you.. that's why.
Tina notices his lips and smirks..
Tina:then die without me..you did wrong things for getting me. So you should know the pain of those results..
Tina hits his head with a wood angrily and he faints..
Tina:i dint hit you to death..it's just your punishment. Now i will go from here and will make you soon arrested..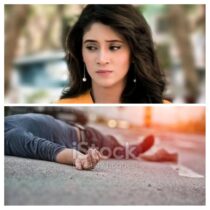 Tina goes from there with full anger..
PARALLEL SCENE:
Aditya looks keerthi and murmers..
Aditya:you look like fairy miss.keerthi..
Keerthi gets irritated but controls..
Keerthi:thank you mr.aditya..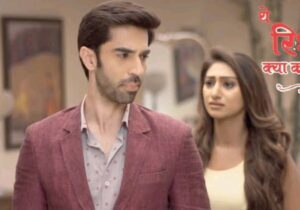 Kartik notices them and he goes to suwarna and..
Kartik:maa.. iam getting angry seeing this aditya face. I would have banged him if it was some other place..
Suwarna:cool down kartik. He will get nice bangings soon..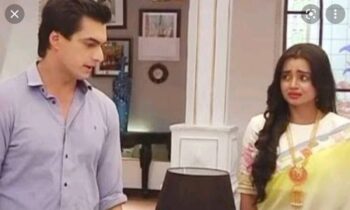 Kartik:yes..i should be calm till i expose him in front of everyone..
PARALLEL SCENE:
Tina is walking from kuldevi temple while Raghav opens his eyes nd lustfully sees tina going and gets angry..
Raghav angrily:if you don't belong to me then you should not belong to anyone even for earth…you spoiled everything so you should face it's complications now.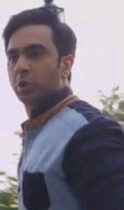 He gets up and goes behind her without her knowledge…
Tina walks further near a tank and suddenly raghav throws a rope on her neck and pulls her back shocking Tina..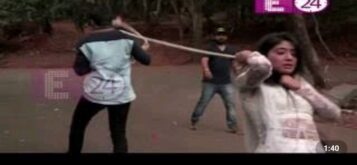 Tina shouts:ouchhhh.. please leave me..
Raghav comes in front of tina shocking her..
Tina shockingly:Raghav?? How can you be here?
Raghav:do you think that iam a fool? I just acted to be unconscious to punish you..if you don't belong to me then you should not belong to this earth also..
Tina notices his lips and understands it and gets shocked..
Tina fearfully:no..no..Raghav..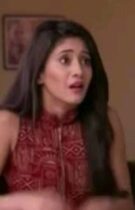 Raghav laughs evilly..
Raghav:i can be happy only if you marry me or if you die..so I'll better kill you which is convenient for both of us.
Tina notices his lips and understands it and gets scared while Raghav pushes her in the tank and closes the tank with a stone and smiles..
Raghav in mind: if you are not in my fate then your fate is not to be in this earth too..that's all.
A man sees this scene from hiding behind a tree and gets shocked..
Man in mind:iam an old man and that's why i couldn't save that innocent girl. How dare this stupid to hurt a girl..i should somehow save her once he leaves from here and should complain him to police..
PARALLEL SCENE:
Kaertik's heart starts beating more faster shocking him..
Kartik in mind:why my heart beat is so fast as if something wrong is happening..i hope everything is fine.
Ranveer notices him and comes..
Ranveer:what happened kartik? Why are you tensed?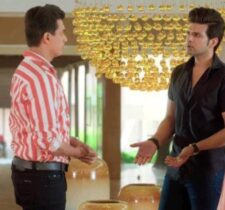 Kartik: actually..i feel something wrong that's why.
Ranveer: don't worry.. nothing wrong will happen as krishnaji is there with us everytime.
Kartik nods his head while manish comes and blesses Keerthi and aditya in stage..
Manish:may you both live together forever..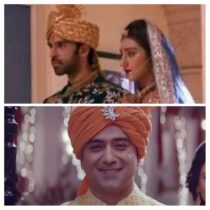 Aditya smirks..
Aditya in mind:poor Manish..he is giving wrong blessings. Once i get property Keerthi will come back to you.
Keerthi feels bad on Manish's wrong blessings..
Keerthi in mind:  dad..you are blessing with wrong person. Soon you will understand this..
Suwarna watches this from far and gets upset..
Suwarna in mind: Manish is giving wrong blessings..hope he understands it when we expose aditya.
Later Manish urges to exchange rings and both aditya and keerthi exchange rings and gets engaged..
Everyone claps while kartik and Ranveer sees this and fumes..
Kartik:Ranveer..when we expose him we should slap him nicely for trying to use our sister.
Ranveer:yes..i will kick him nicely..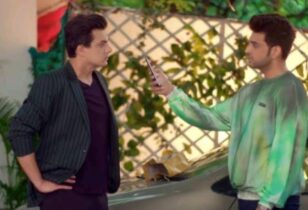 PARALLEL SCENE:
Raghav goes away while that man comes and tries to open the tank but he couldn't as he is old..
Old man:ohh no..now how will i save her?
Suddenly the man sees tina phone lying and he picks it and..
Old man in mind:i think this is her phone..i will call someone and inform so that he/she can come and save her.
Old man sees kartik's number in front and he dials…
PARALLEL SCENE:
Kartik recieve's a call from Tina and he gets shocked..
Kartik in mind:Tina can't able to hear..then how can she call me? Anyways I'll pick it..
Kartik goes to a corner and he picks the call and the old man tells something and kartik gets shocked and drops his phone..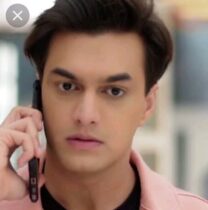 Kartik in mind:Tina..ohh noo..i should save her somehow. That's why i felt a bad feeling today as she got into a problem..
Kartik gets angry suddenly and..
Kartik in mind:i will blast that guy..how dare he to try killing my Tina..i will never leave him.
Kartik immediately runs from his house and he takes his car and reaches the spot told by the old man..
Kartik:Tina..Tina…Tina..
Kartik goes more further and he sees the old man and he goes to him..
Kartik: excuse me..did you see a girl falling in tank?
Old man: yes.?i only called you..this is the tank (points towards the tank).
Kartik:thank you so much uncle..
Kartik immediately opens the tank and sees tina drowning and shouts..
Kartik:tinaaaa..
He jumps into the tank and he carries unconscious Tina to the ground..

He brings her out of tank and makes her lie down and he repeatedly wakes her up but she doesn't wakes up and kartik starts to cry..
Kartik cries:Tina.. please wake up..please..i can't live without you.. please wake up.
Kartik sees tina's breath stopped and gets shocked and shouts..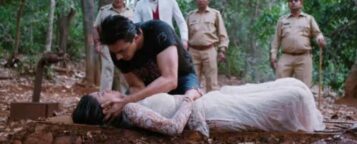 Kartik shouts:wake up Tina..i cant live without you. You should atleast breathe for me..so wake up..i love you Tina..i love you.. please wake up..
His heart beats increases due to fear and he shakes her nicely and hugs her and cries..
Kartik:please wake up Tina…
Suddenly kartik gets an idea and he makes Tina lie and he presses her stomach to make the water come out and slowly Tina coughs and water comes out from her mouth…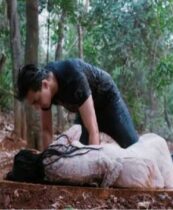 Kartik gets some relief seeing tina normal..
Kartik in mind:thank god..i saved her somehow. I won't let anything happened to my tina..
Tina slowly opens her eyes and sees kartik and murmers..
Tina murmers:kartikkk..
Kartik gets emotional seeing her and he immediately hugs her tightly..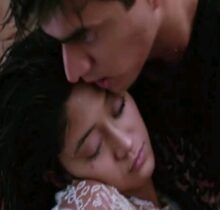 Then he moves and caresses her face..
Kartik:Tina..Tina you are fine right?
Tina notices his lips and understands it and cries seeing his care..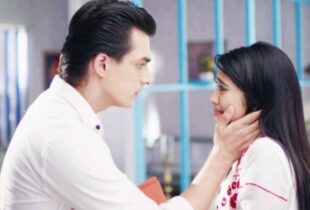 Tina crying:ia..iam fine kartik..thanks for saving me..
Kartik wipes her tears and joins his forehead with hers and..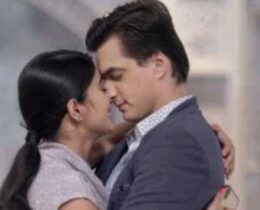 Kartik:i was scared that i will lose you..i can go any extent to save you and protect you tina.
Tina notices his lips and understands it and gets shocked..
Tina:why?
Kartik pulls her hand and keeps her hand on his chest and..
Kartik:can you feel my speed heartbeat?
Tina notices his lips and understands it and nods her head..
Kartik:you know why?
Tina notices his lips and understands it and..
Tina:no..
Kartik: because i love you Tina..i love you more than anything. I don't know how..but i have fallen head over heals with you. Whenever you are in problem..my heart is beating faster and i was not able to find why i get like that..but after realising my love i found that it's god's sign of connection between you and me…
Tina notices his lips and understands it and gets shocked..
Tina shockingly:kartikkk..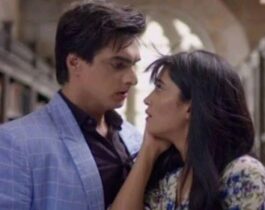 Kartik:you can take time to answer whether you love me or not but i love you Tina..i will always protect you from every dangers.
Tina notices his lips and understands it and she gets sad..
Tina in mind:even i feel connected with you kartikk..but iam deaf..you can't handle me easily and moreover no family will accept their bahu as deaf. And also i don't want you to get into problem with Raghav..if he knows that you love me then he will kill you..i don't want you to suffer because of me..
Tina:kartik..my answer is no. I consider you only as friend so let us be friends forever.
Kartik feels heartbroken while Tina too feels heartbroken but they hide their pain and look each other sadly..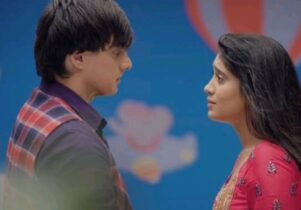 Kartik:it's okay..no problem. We will be friends..
Tina notices his lips and understands it and painfully smiles…
Kartik:but tell me who have tried to kill you..i wont leave that person.
Tina notices his lips and understands it and reminds of Raghav..
Tina in mind:i cant see kartik getting into trouble..so i should hide from him.
Tina:kartik..it's my personal issue..so i will handle it.
Kartik holds her shoulder and..
Kartik: is someone trying to kill you a personal issue? If he tries to kill next time in secret place then who can save you? If you tell the person then i can make him arrested before he does more crimes..
Tina notices his lips and gets sad..
Tina:no kartik..my brother is police so i will handle him with my bhai.
Kartik:why are you trying to hide from me? Is it very personal that you are hiding from your friend?
Tina notices his lips and understands it and..
Tina:yes kartik..iam sorry but this is very personal.
Kartik angrily:fine..i won't ask about this from now.
Tina notices his lips and understands it and she notices his anger too..
Tina: please don't be angry kartik..iam really sorry..
Kartik angrily:it's okay..you can go now. We will meet tomorrow..
Kartik goes from there angrily while Tina understands his anger..
Tina in mind:iam sorry kartik..iam hurting your feelings but iam doing this only for your safety. I cant tolerate if Raghav harms you..
Tina goes in opposite direction and suddenly kartik turns and follows Tina..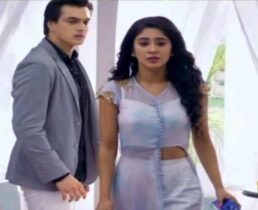 Kartik in mind:iam doing this only to find about the killer. If i had not acted to be angry on you then i can't find that person so iam following you secretly to find that person.. whatever it is i wont leave him for hurting you. Even though you don't have feelings but i have..so i will do anything for you.
PARALLEL SCENE:
Suwarna comes to Ranveer..
Suwarna:hey Ranveer..did you see kartik?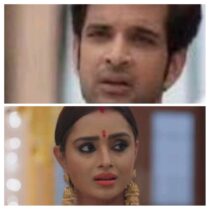 Ranveer:no..but before some time he was there with me only but i don't know where he disappeared suddenly.
Suwarna:this Kittu wont inform anything..
Ranveer:aunty don't get tensed..maybe he would have got some urgent call and iam sure he will return soon.
Suwarna:ok..
THE SCENE FREEZES.
Everyone in singhania's are waiting outside Operation theatre tensedly..
Akshara:hope the surgery went well..krishnaji please make sirat fine.
Naksh: don't worry maa..sirat would have got fine. And i hope surgery too would have went well.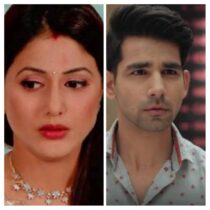 Akshara:i too hope so..
Suddenly Abir comes there and everyone gets confused about his identity while Mishti gets shocked..
Mishti in mind:ohh godd.. again this troubling guy came to trouble me.
Naksh:hello..who are you?
Abir sees irritated Mishti and..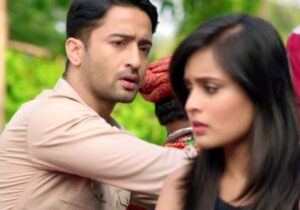 Abir in mind:i know you are irritated but i wont irritate you hereafter as the fault is mine for your anger towards me..
Abir:iam sirat's friend..she asked me to help her to run away as she told that everyone are insisting her to do surgery but i refused as i found that she is having some problem so i came to meet her now. I think surgery would have finished right?
Naksh hugs Abir..
Naksh:nice to meet you mister. The surgery would have been finished but the doctor's haven't came yet from operation theatre so we are eagerly waiting for it.
Abir:ohh..i hope everything went well. Shall i wait here or shall i come later?
Naksh:no problem mister..you can wait here as you are her friend.
Mishti gets irritated..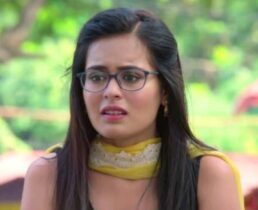 Mishti in mind:i don't know why this man is always rotating in my fate..shit.
Naksh:by the way whats your name?
Abir:iam Abir Rajvansh..
Naksh:ohh..great.
Mishti slowly moves away from there and suddenly kuhu notices her going away and Stops her..
Kuhu:where are you going Mishti?since this man came your face is showing some reactions why?
Mishti gets angry and shouts..
Mishti:it's my wish to keep my face in whatever reaction understood? And i can go anywhere whenever i want so don't ask silly questions like this.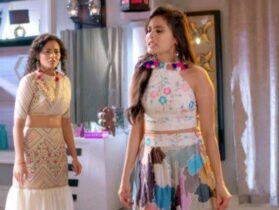 Mishti goes away angrily while kuhu gets confused..
Kuhu in mind:what happened to Mishti? Why is she so angry now?and where is she going now? i will better follow her..
Kuhu follows mishti while Mishti goes towards cafeteria in rooftop of hospital and suddenly someone pulls kuhu..
Kuhu:ouchhh..who is this?
Kuhu sees Kunal and smiles suprisingly..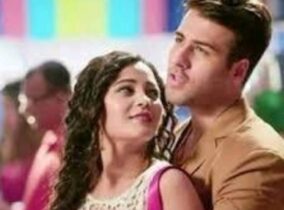 Kuhu:you here?
Kunal:yes..i came with my bhai.iam waiting for my bhai to return.
Kuhu: ohh..did you talk about our relation with your parents?
Kunal: not yet..iam little nervous and scared as my parents can oppose now because still my bhai is not married..if he gets married soon then i can tell about our relation.
Kuhu:tell your bhai to fall in love soon..
Kunal:he dint meet his girl yet i think..if he meets her then he will surely fall in love. So be patience till my brother gets married..
Kuhu pinches Kunal and..
Kuhu: don't point me..even iam in your situation only. I have elder sister so even i cant tell about our love. I hope our both siblings gets married soon to clear our way..
Kunal:yes..
While Mishti goes to cafeteria and sits in the table angrily..

Mishti in mind:why this man always coming behind me..what a bad fate iam always facing??
Suddenly a group of boys comes there and surrounds mishti's table shocking her and Mishti gets shocked seeing their faces..
Mishti shockingly: Arun?
Arun:yes..our gang only. We returned to India and suddenly i got shocked seeing you here..how are you miss. Bade glass Mishti?
Mishti angrily:shut up.. don't try to irritate me..just go away from here.
Arun:we would have obeyed you If you are a child of good father but your father is a big criminal so i want to make fun..
Arun's friend rehaan:you always get good marks but what is your father doing? Everyone of their group laughs while Mishti gets sad hearing it..
Mishti: don't try to interfere in my family's matters..just get lost all of you.
Arun:we are not interfering in your family matters but your father is only coming in London's headlines..that's why we are joking about him with his good daughter.
Mishti gets more angry and shouts..

Mishti angrily: before i kick you all.. better get lost from here.
Arun:why are you getting angry? Is it because of us or your father's shameless acts?
Mishti slaps arun and..
Mishti: whoever my father is..you don't have rights to make fun with me understood? If you do again then i will complain to police.
Arun and his gang laughs..
Arun:wow..you are looking like dinosaur when you are angry..
PARALLEL SCENE:
Naksh:maa..where is Mishti and kuhu?
Akshara: don't know..
Karishma gets scared..
Karishma:ohh my godd.. where did they go without telling anyone?
Akshara:calm down karishma. I will tell naksh to bring them both..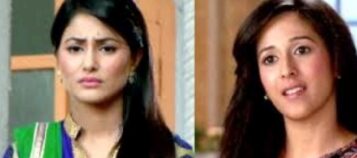 Karishma:ok..
Akshara:naksh.. please go and search Mishti and kuhu and bring them here.
Naksh:sure maa..
Naksh was about to go but Abir holds him and..
Abir:i will also come and search..so that we can find them easily.
Naksh:but do you know them?
Abir:yes..Mishti got selected in my company only.
Naksh gets shocked and suprised..
Naksh: really?
Abir:yes..iam sorry that i dint tell you this.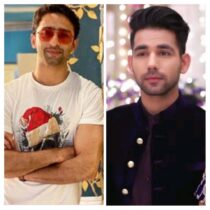 Naksh:it's okay..fine we will search them in separate ways..
Abir:ok..i will go and search above floors..
Naksh:then i will search down floors..
Abir:ok..
They both go towards each of their sides..
PARALLEL SCENE:
Mishti gets angry and goes away from them to ignore them but they tease her by following but suddenly Abir comes and punches arun and his gang..
Abir angrily:how dare you all make fun with a girl? Don't you have shame you mindless creatures?
Mishti gets suprised seeing him..
Mishti in mind:thank god this mr.trouble maker came and save me orelse these stupids would have made my mind blast.
Abir chases those guys all and turns towards Mishti and..
Abir:why did you come here alone?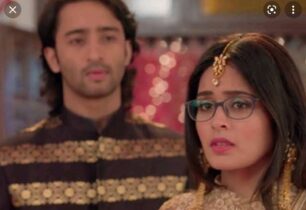 Mishti: first of all thanks for saving me and i came here because…
Abir:to get rid of me right?
Mishti looks Abir shockingly as he found the truth..
Abir:i know you get irritated seeing me..but iam sorry for all my actions. Iam sorry for snoring that day and for asking useless questions..
Mishti stands shocked seeing his sudden change..
Abir: please tell me whether you forgave me or not..but don't stand like this.even if you don't forgive me it's okay but don't stand like a statue..
Mishti in mind:how will i react now? I always considered him as trouble maker but he suddenly changed.. what shall i do?
Mishti thinks for a while and..
Mishti:fine..i forgave you.
Abir smiles..
Abir: thanks for forgiving me..
Mishti:ok..I'll go now.
Mishti was about to go but she slips and falls on Abir and Abir too loses his balances and falls on the ground and abir falls above her…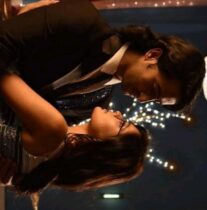 Both looks each other..
PARALLEL SCENE:
kuhu:now i will go before anyone sees me..we will meet on this Sunday on park lane okay?
Kunal:sure..
They part ways bidding goodbye and soon kuhu hits naksh..
Kuhu:ouch..
Naksh gets shocked seeing kuhu..
Naksh:kuhu..what are you doing here?
Kuhu:hmm.. actually..Mishti was going somewhere so i came here following her.
Naksh:then where is Mishti?
Kuhu in mind:i should hide my love matter..
Kuhu: suddenly i got confused in crowd so i missed her in half way..
Naksh:you pasta..
Kuhu:bhai.. please don't tease me. We will go and find her now..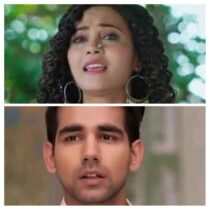 Naksh:ok.. already Abir is searching her now we will also search her.
Kuhu gets confused..
Kuhu:who is Abir?
Naksh:now a guy came before sometime right? He is only Abir..
Kuhu:ohh..ok.
They both go and search..
THE SCENE FREEZES.
Niel and Avni get down the bus and they walk on the road..
Avni:now i should go fast to my house..
Niel:wait..I'll come along with you to drop you.
Avni makes a face..
Avni:you don't have any vehicles to drop me then how will you drop me?
Niel:my home is nearby only..so i will take my bike and come because this is night so i can't allow a women to go alone at night.
Avni:ok..then I'll wait here. But come soon because i should atleast go before the function ends..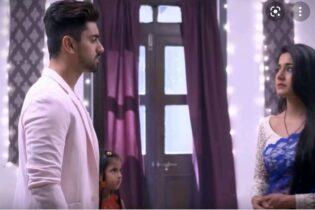 Niel:sure ..
Niel goes to take bike while Avni waits there and suddenly a gang of boys comes there surrounding Avni..
1 boy:hey beautiful queen..want to drink with us?
He shows the in front of her eyes and they laugh while Avni gets angry..
Avni angrily:you fools get lost before you go to jail..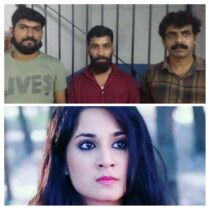 Those men's gets angry and they pull her hand and..
2 boy: do you think yourself as police or are you a fake police huh?we are not scared even for inspector's.. better dance with us or we will make you dance..
Avni gets more angry and she slaps the guy..
Avni: you shameless creatures..how dare you to misbehave with a women?I'll thrash you all if you all try again..
Those men's gets angry and..
2nd boy:how dare you slap me? Do you know who we are? And we just asked you for a dance but you disobeyed us so you'll see the worst punishment of it..
Boy 3:hey Akash take that knife out..
Avni gets shocked hearing it..
Avni:hey what are you upto?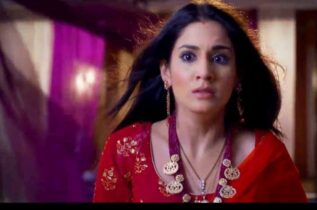 Akash:we won't leave anyone who insults and disobeys us..so we are going to kill you brutally..
Avni gets shocked and shouts..
Avni:nooo.. please don't do anything.
Akash brings the knife closer to stab her but she gets scared and runs while the other men tries to catch her but he misses..
3rd man:shit..
Akash:hey stupid manav.. can't you catch a single girl?you are a big dumbo..
Manav:iam sorry..
1st man:both fools..just go and catch her before she escapes. If she escapes then she will surely complain to police so we should kill her before she escapes..
Akash and manav:okay..
Akash and manav chases Avni and Avni looks back and gets scared..
Avni in mind:ohh nooo..they are chasing me..i should escape somehow.
Suddenly she sees a door opened inside a building and she runs there and locks the door while those two mens chase and suddenly they stop on finding Avni missing..
Akash:hey..where did she disappeared suddenly?
Manav: don't know..she was running here only then how come she disappear suddenly.
Akash:then we will search her everywhere. We should not leave her..
Manav:yes..
They both go and search her while Avni turns and sees the room is filled with ice and gets shocked..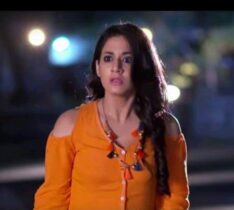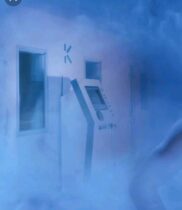 THE SCENE FREEZES.
Twinkle gets tired on walking everywhere..

Twinkle in mind:where did that guy went? I searched in his house and even in police station but he is not there them where would he went?
She walks further and suddenly her leg slips and she was about to fall but Aly who was back of her holds her..
Both looks each other shockingly..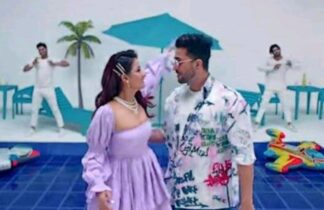 THE SCENE FREEZES.
precap: kartik and tina confess their love. Naksh confuses aditya. Niel tries to save Avni. Ranveer gets jealous seeing Abir and sirat. Twinkle And Aly spend some time together..