Hai friends Very happy that you all enjoyed the previous episode. Why did Samarth do like this❓What happened to Anupre and their baby❓ Keep reading to know further.
Episode starts
Anurag successfully takes Prerna out of the car.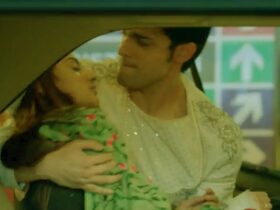 She is unconscious with bleeding in her. He makes her lie .
And dials Kartik's number
Meanwhile at Goenka house. Kartik is asleep in his bed when Naira brings him coffee
Naira: Kartik…Kartik..uto
Kartik slowly wakes up rubbing his eyes
Kartik: Good morning Jaaneman
He pulls Naira on the bed. She falls on him
Naira: Careful..
She sits near him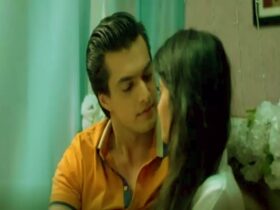 Kartik: Naira just pinch me
Naira: Why
Kartik: Pinch Naa…
Naira pinches him
Kartik: Ouch…..
Naira: Haha
Kartik: Woh..I have dreamt of this moment many times..and when it's real I couldn't believe it
He bends down to kiss her when his phone rings
Kartik leaves a deep sigh and picks the call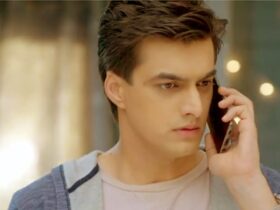 Kartik: Hello bhai
He is shocked and drops the mobile
Naira: Kartik..what happened…
Kartik: …
Naira shakes him
Kartik: Accciiiideennntttt….
Naira: What
Kartik tells her the details
Kartik and Naira jump out of the bed and leave downstairs.
Scene shifts to the accident
Kartik and Naira reach there. At the same time Ambulance too comes there
Prerna is taken inside the ambulance. Only the ward boys are there along with a duty nurse
Naira: Where is the doctor
Guy: Mam its early hours doctor isn't here yet..the hospital is nearby only
Kartik: Naira you go with bhabhi. I'll take bhai with me in the car and first give a complain
Anurag: No need of that Kartik I have already called Akash..he will be at the hospital
Naira: Kartik and Jiju you both come in the car. I'll go with didi
The scene shifts to the hospital
At the reception
Naira shows her ID from her purse
Naira: I'm Dr.Naira Sin..Kartik Goenka. It's an emergency accident case. She is pregnant too
Receptionist: We will take care mam.
Prerna is taken inside the Emergency ward and treatment starts
Anurag and Kartik reach there.
Naira: Kartik..didi is inside
Kartik: Akash bhai is already in spot with Naina bhabhi. They are investigating. Luckily CCTV footage is there so we will nab the vehicle who hit them
Time goes by. It's almost an hour
Doctor comes out
Doctor: Mr.Goenka..your wife is alright but the baby….
GUYS ..GUYS DONT WORRY NOTHING BAD IS GONNA HAPPEN
Anurag: Doctor…tell me
Doctor: Baby's head has turned Mr.Goenka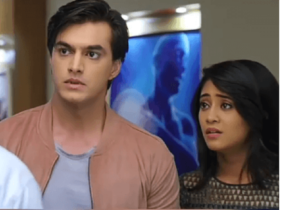 Kartik: But it's just the 7 th month
Naira: What Kartik you are talking like don't you know the reason
Doctor: Mr.Goenka it's a premature stage but the parturition reflex has already started. If we delay normal delivery will happen but we can't assure that baby will be safe as Mrs.Goenka is still unconscious due to head injury. It's better to operate and take the baby out..you understand right
Naira: Yes doctor..you carry on with the procedures..Jiju…
Anurag: As you say…you know better than us and you will never choose wrong for Prerna
Just then Akash Naina along with all the families come there
Akash: Kartik..we have found who caused the accident and we have brought him too
Anurag: Who is it
AKASH's assistant brings Samarth inside
Kartik runs to him and holds him by his collar
Kartik: What wrong did we do..why are you behind our lives
Akash: Kartik cool down…please…
Kartik: Leave me bhai
Akash: Samarth did this to save Anurag and Prerna
Kartik: What…
Samarth: Kartik…Mr.Bajaj had already planned this murder…he had sent people to fail the breaks of Anurag's car yesterday night..and he had set a truck to crash them…to save them only I hit them with my car so that the car stops
Kartik: Couldn't you inform this instead of this
Samarth: Will you believe me
Abir: How do you think we will believe you now
Samarth: I have proof
The guy who was in the car with Samarth earlier comes there and shows a video clipping of Mr.Bajaj sharing his plan with Samarth and him
Samarth: I did lot of wrong things to you people..thought you are my family..but when I heard that he planning to kill my son..I mean..I'm a chachu…you are all like my sons only. If I had revealed the plan Mr.Bajaj would have planned something else more worser..I could not afford it. Sorry
Akash: Samarth is going to be arrested if you complain
Abir: That depends on the next few hours..if…if..my bhabhi….and the baby aren't..safe..your reasons won't help you Samarth Chachu…don't worry my parents have taught me enough manners to respect elders
Anurag: What wrong did we do to that blo*dy Mr.Bajaj..why is he behind our lives
Nurse brings certain papers for his signature . Anurag signs it. Scene freezes.
Jeevika is sobbing in a corner. Viren consoles her
Anurag remembers his promise that he will accompany Prerna for her labour rings in his mind as he is sitting out.
Naira being a gynaecology student is all set to accompany Prerna for her delivery
Kartik and Abir console Dadi and Maa. The scene freezes
Naira comes out with the baby in her arms and gives the baby to Anurag
Naira: It's a baby boy
All get happy
Anurag is literally in tears and he plays with his son.
Anurag: How is Prerna
Naira: She is in post operative care jiju..nothing to worry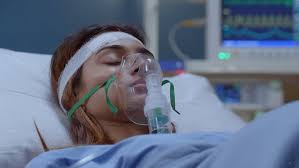 All feel happy and hold the baby in their arms.
PRECAP: ITS A HAPPY TIME FOR ANUPRE. NIKKA….NIKKAAA…….KAIRA REACH GOA. VIRAT AND MISHTI's CONFRONTATION.