Hey buddies…hope you guys enjoyed the Sangeet. Let's now go to this episode.
The families are enjoying to the core. They rejoice every moment. Just then Kartik's friend Vikram comes there. He is hurt and his face has bruises. Kartik sees this and rushes to him
Kartik: Vikram …what happened…
Vikram looks pale and doesn't say anything
Naira: Vikram bro..tell na..what happened to you
Vikram: Kartik…Naira…he…he…tried to sabotage the function by turning the power off..I….tried ….to stop him…he bet me
Kartik: Who is he
Vikram: He was covering his face with a mask and was wearing a hoodie so..
Akash: Did you notice anything strange
Vikram: He wore a tattoo on his wrist…that's what I noticed
Akash: I'll try to trace him…
Vikram: He ran away …I guess I was unconscious as he knocked me out…I woke up just now and came here
Kartik: Bring the first aid kit please…I should have doubted your absence
Vikram: Didnt Vikrant and Tara come today
Naira: Nope..Tara and Vikrant are going to his  house it seems..tomorrow is Karwa Chauth na
Keerthi: Arrey Haan…tomorrow is Karwa Chauth
Anurag: Who might be that guy
Akash: Don't worry I'll take care
Everyone is tired tensed etc so they all leave to their respective houses. The scene freezes.
Its next day. Naira and Mishti are fasting too like the past 5 yrs.
Naira gets a call from Kartik
Naira: Kartik…
Kartik: Jaaneman Whats up
Naira: Did you call to ask this
Kartik: Haan
Naira: Don't irritate me Kartik
Kartik: Me..irritate..hmm..seems like hunger is eating you up
Naira: Haan..you won't know how it feels
Kartik: Then don't fast
Naira: Are you mad..Naira will face anything including hunger but  nothing can stop her from fasting for her mendak
Kartik: By the way you can't say that I won't know..I know it too
Naira: Don't say that you are fasting
Kartik: For you
Naira: Kartik….
Kartik: Why should women alone show their love like this..even men can show
Naira blushes and: Kartik..what is the use you won't be coming here anyway
Kartik : You never know.
Kartik disconnects the call. Naira is confused
That night everyone is in the terrace for Karwa Chauth
Akshara and Naitik are looking gorgeous and as usual Naitik is fasting for Akshara.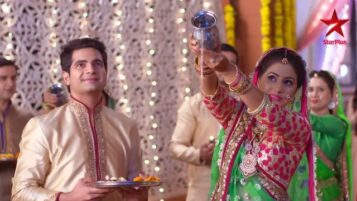 Naksh is busy with Mehendi function work. Keerthi is missing him but decides to break the fast in front of his photo.
Mishti too takes Abir's picture for breaking her fast.
Naira comes there dressed in a beautiful saree.On her way someone blindfolds her. She gets afraid thinking that he may the attacker of Vikram but before she could shout
Kartik: Naira…it's me…
Kartik takes Naira to the garden.
There Naira and Kartik perform the rasam.
Kartik and Naira give water to each other and break their fasts.
As Mishti knows about Kartik's arrival she manages saying something to the others. But in the corner Mishti misses Abir who has gone with Naksh. But her phone clings as soon as she breaks her fast,
Message: A gift for you in the place where we confessed.
Mishti runs to the hall to find a big box wrapped in a gift wrapper. She opens it..there is another box wrapped..then inside it is another box..then inside it there is small box..she opens it to see a beautiful ring inside.
Mishti is overjoyed. The scene freezes.
It's Vadhera house. Jeevika is getting ready for the rasam when Sara comes there crying
Jeevika: Sara beta what happened..why are you crying
Sara: Muma…Muma…..papa…papa fell down
Jeevika: What..
Sara: Haan…he was decorating the hall and fell down
Jeevika holds her and runs downstairs
Jeevika: Where is papa
Sara points outside.
Jeevika: You go and stay with Dadi..I'll come
Jeevika goes out..suddenly she is hugged from behind. It's Viren
Jeevika: Virenji..you
Viren: It was a prank..
Jeevika gets angry
Jeevika: How dare you play such pranks..do you know how scared I was till I ….
Viren: Arrey..it's for the reason that we can do the rasam here without disturbance
Jeevika: What Will Maa think
Viren: Sara will manage her..
Virika have few romantic moments as Jeevika breaks her fast.
Meanwhile Anurag and Prerna perform the rasam as Anurag is fasting for Prerna . The scene freezes.
Its Kaira's mehendi function. Everyone is at Singhania house again
Kartik looks dapper in his blue sherwani
Abir accompanied him dressed in a red kurta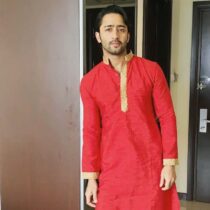 Both the brothers become speechless when Naira and Mishti come down the stairs
Mishti looks beautiful in a pink lehenga
While Naira tops the function with her green lehenga.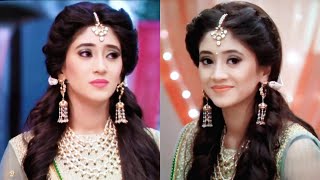 PRECAP: OTHERS ARRIVE AT THE FUNCTION AND MEHENDI FUNCTION IS GOING ON IN FULL JOSH MEANWHILE NAMAN: HEY IDIOT ..WHAT DID I ASK YOU TO DO AND WHAT DID YPU DO..ATLEAST THIS TIME DO IT PROPERLY.
HEY GUYS DONT FORGET TO TELL YOUR VIEWS IN THE COMMENTS BELOW.