Hai friends here is the next episode.
During the Godh bharai function Akash gets a phone call.
Few minutes later everyone is gathered in the living hall of Goenka house
Akash: Guys I need to tell something important to you people. After years of investigation we have found out something about Komolika
Prerna: Whats that bhai
Akash: Anurag do you remember her saying that her dad died and she came in search of Job to your company
Anurag: Haan yes
Akash: Hmm..so the person behind her dad's death and she thinking that you had a forced marriage is MR.BAJAJ
Anurag and Prerna are stunned
Anurag: What..but he is in jail nah
Akash: He has so much influence my brother. It was his plan to break your relationship as he felt that it is the best way to take revenge after seeing how much Prerna cared for you and after her being the reason behind his arrest that's why he gave the gun to Komolika. What he didn't expect was Komolika bringing Sid into it and Sid giving his life for Prerna
Prerna starts to cry
Naira runs to her and: Didi..don't cry on such a good day. Sid hasn't gone anywhere. And moreover he won't like us crying and remembering him because his death was to save you
Anurag: Initially I hated him so much but ……should he prove him only by death..huh
Anruag too cries and Kartik consoles him.
Akash: This truth was found out from Samarth who turned out to be an approver.
Kartik: Akash bhai that Mr.Bajaj seems like …
Abir: He can't do anything to us bhai..until we are all together and that's how we defeated him earlier
The youngsters share a group hug. The scene freezes.
It's Kaira Sagaai today. Naira is getting ready while Mishti and Keerthi are pulling her leg and teasing her.
Keerthi: Naira…don't get too beautiful
Mishti: Haan didi or else BFF will get unconscious seeing you
Naira blushes and Mishti and Keerthi hug her.
Just then Akshara comes there
Akshara: Naira..get ready soon Kartik and family have come
Mishti is dressed in a beautiful red gown.
She runs to the function hall to see
Kartik in a golden Kurta looking so handsome
Her eyes are searching for Abir but they spot a handsome Anurag in a red kurta
Yet she is still searching for her man and her heart beat races as she spots Abir is white kurta looking at her.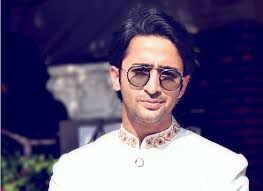 As their eyes meet Abir winks at her and Mishti blushes. She is suddenly brought to reality as Viren Jeevika Sara and Prerna come there. Virika look awesome together while Akash and Naina too come there with Vansh.
Prerna is dazzling in her green dress.

Kartik's eyes are searching for Naira but he sees Keerthi and Naksh coming down with Krish in their arms.
Kartik gets disappointed but it lasts only for few seconds as Naira is brought down by Akshara and Karishma. Naira is looking like a princess in her pink dress.
Kartik: Hayee…
Everyone including Naira look at him as his Hayee was so loud and others burst into laughter while Naira is getting redder in blush.
Keerthi: Do you need a mask or oxygen cylinder Kartik
Kartik: Keerthi di those won't be enough get an ambulance
Prerna goes to him and twists his ears
Prerna: See because of you Naira is getting red..don't make her blush a lot
Anurag: She is saying this because before marriage your bhabhi used to be a shy baby
Abir: And now
Anurag: She is making me a cry baby
All burst into laughter. The episode freezes.
PRECAP: KAIRA GET ENGAGED.