Hai friends I'm back with another episode. Thank you for your support.Keep supporting.
Kartik and Naira are meeting at the entrance of their college after the class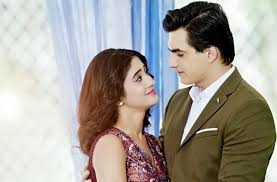 Naira: Kartik…where do you want to take me
Kartik: To a place where we can be alone for sometime my jaan..it's been so long since we were alone
Naira: Acha…ok let's go
Kartik and Naira hop onto his bike and leave. The scene freezes
Scene shifts to AKASH's house
Naina is in the kitchen cooking something when Akash comes and hugs her from behind
Naina: Akash…
Akash: Naina…do you even know how much I'll miss you once I leave for Delhi
Naina: Not more than how much I'll miss you
Akash: Acha..toh Chalna mere saath
Naina: But..
Just then doorbell rings.
Akash goes to the door with a frown and is shocked to see Mishti and Abir
Akash: Arrey tum dono new love birds come inside. ..what's up
Abir: Bhai it's something serious
Mishti tells him the happenings.
Naina: This sounds serious..Mishti can you guess who it is
Mishti: Woh.bhabhi…actually
Flashback runs
Mishti is singing in a music competition in Dehradun. She wins the first prize. Suddenly the lights go off and she feels that someone has kissed her on her cheek. Once the lights are back she finds a paper in her hand with a note written for her
Note: Hey…your voice is as sweet as honey…I love your voice and you…- Your loveable crazy fan
Flashback ends
Mishti: I didn't hear of him anymore..but now he is the only guy I could think of and I felt the same presence one day when I felt being followed.
Abir: I was so foolish that when she told I didn't care much
Akash: Don't worry Abir..I'll take care..I'll ask my friend to trace the number out.
Akash dials the number on the phone. Mishti is fidgeting her skirt in tension Abir senses it and holds her hand tight to comfort her.

Few minutes later
Akash: Mishti don't worry the number will be traced within tonight..from now on switch on your location and keep sharing live location to Naina and Abir. We will not let him do anything to you.
Mishti has a faint smile on her face while Abir is tensed for her safety yet he has a huge smile to make Mishti happy. The scene freezes.
Scene shifts to Anurag's office. Prerna rushes to his cabin. Anurag is surprised to see her.
Anurag: Prerna…
Prerna: Anurag I need to tell something important to you
Anurag: What's it
Prerna tells him everything from the letter to bouquet and Jeevika meeting Sid and Sid telling about Komolika
Anurag: What…Komolika brought Sid to us…but Prerna you are actually right Komolika was there in the same resort where we stayed I saw her name in the entry list so Sid can't be bluffing…and if she had brought him..and thinks that we had a forced marriage..we must think and act…we must know her motive
Prerna: Anurag..but…
Anurag: I understand your feelings…see Sid can't do anything…we love each other and we know that too..so don't worry..from now I'll keep an eye on her…she was my college friend that's why I didn't want her to suffer for money but if she thinks this as something else we have to teach her in her way
Prerna is tensed.
Prerna: No one will come between us na
Anurag goes to her and gives her a tight hug.
Anurag: Is there any gap for someone to come between us
Prerna smiles
Anurag : You keep smiling like this..don't worry about anything I'll take care of it.
The scene shifts to a roadside shop. Kartik and Naira are enjoying cold drink there.
Kartik accidentally spills the drink on his shirt. Naira gets closer to clean it. Kartik holds her by the waist and pulls her much closer
Naira: Kartik..what are you doing…it's public place
Kartik: Let it be..am I fearing anyone
Naira pushes him away. Kartik turns away in fake anger
Naira: Knock knock
Kartik: Who is it
Naira: Sherni
Kartik: What do you want
Naira: A grumpy guy went by this side
Kartik: Am I Grumpy
Naira: Haan
Kartik: Whatever it may be I'm yours..you are  it gonna get any exchange offer
Aashi who stops her car on seeing them comes nearby to eavesdrop their conversation. She gets jealous on hearing Kartik's words
Naira: Who wants an exchange offer
Kartik pulls her closer
Kartik: Acha ji
Naira gives him a peck on his cheek
.  Kartik turns red with surprise while Aashi turns red with jealousy. The episode freezes.
HEY FRIENDS PLEASE DO MENTION YOUR VIEW ON THIS EPISODE IN THE COMMENTS BELOW. THE IDENTITY OF THE STRANGER FOLLOWING MISHTI WILL BE REVEALED IN NEXT EPISODE.