Hai friends I'm back with next episode. Thank you so much for understanding and for your support.please keep supporting.
The families reach their destination. Naira and Kartik go in search of a cab to go down.Naira is surprised to see a familiar guy there and runs to him
Naira: Hey…Rishabh….
Rishabh: Aap…hey..Naira…
Naira: How are you man…
Rishabh: I'm good..(in his mind..I knew that destiny wouldn't separate us for long Naira…my childhood love..I knew that you will come back to me but I never guessed that today was the day)
Naira: Rishabh…where did you disappear after class 10
Rishabh: Woh..we shifted to Cape Town
Kartik comes there
Naira: Rishabh..he is Kartik my boyfriend
Kartik extends his hand for a shake Rishabh too responds but his eyes show a ray of hatred towards Kartik
Naira: Rishabh what are you doing here
Rishabh: I came with friends and you
Naira: All families came for a stay in the resort and then we came for a hike
Kartik: Naira..The cab is here..it's getting late let's go
Naira: Bye Rishabh..we are in the same address if you are staying back in India do visit..bhai will be delighted to see you
Rishabh: Sure
Kartik takes Naira with him.
Rishabh in mind: Kartik…you are taking my Naira away from me..the reason for my return to India is you Naira..I myself wanted to meet you after this trip but…haha destiny plays…I won't leave you hereafter..I will woo you this time for sure my babe….
The scene shifts to the resort. At the reception a flower bouquet  is awaiting Prerna. Prerna gets it and It has a card on it
Card: Hey Prerna…I know that you were surprised to see the letter in the morning..it was sent by me..I heard that you still remember be and I know that your marriage is forced….I'm here to get you back my love…if not why do you still remember the love letter given by me years ago. SK…don't you know still…..
Prerna is shocked..Komolika enjoys her shock from the first floor.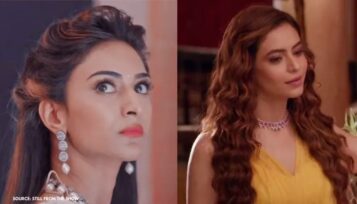 Prerna rushes to Jeevika.
Jeevika: Prerna..what happened
Prerna: Jeevika this is insane..
She shows her the card and the letter. Jeevika is shocked
Prerna: The letter actually confused me but this card has made it clear that SK is
Jeevika: Sid..I mean Siddharth Khurana
Prena: How did he know about the truth or dare game where I told about his letter
Jeevika: Prerna this sounds serious but don't tell Anurag he will get tensed..I'll handle Sid and make him understand
The scene freezes on their confused  faces.
Scene shifts to the garden area where Kartik and Naira are seated. Aashi comes there. Naira is irritated on seeing her
Aashi: Kartik..I'm really sorry for the mishap…sorry Naira..it's because of me that you drank beyond control..that you created so much drama
Kartik: Aashi mind the sentence…you sound like Naira is a regular drinker and drank more than usual because of the mishap..it's that
Naira: Kartik..leave it..no problem she is here for apology Hena Aashi
Aashi: Haan..yeah yeah
Kartik: Okay Aashi it's you who had so much trouble because of it..it's your heart which was broken…we were actually not affected but came close after it so it's us who have to apologise and thank you
Aashi has a frown but she hides it with a huge fake smile..she turns away in a reflex and walks.
The episode freezes.
HEY GUYS AS EPISODES WILL BE SHORT FOR SOMETIME..PRECAPS WONT BE THERE. (SORRY FOR NO ROMANTIC SCENES TODAY..NEXT EPISODES WILL HAVE ROMANCE SCENES)
PLEASE DO TELL YOUR VIEWS ON THIS EPISODE IN THE COMMENTS BELOW