Hai friends..my exam dates have been announced so I won't be able to post lengthy episodes .Please do bear with it. Please keep supporting and commenting. Let's go to episode.
Everyone is getting ready to go for their hike when the room boy comes to Prerna
Room boy:  Mam.. you have a letter on your name
Prerna gets the letter..there is no from address..she opens it and is surprised  to see a Shayari written for her ..she is surprised to see I LOVE YOU PRERNA written in it..
Prerna: Yeh Anurag bhi nah..
But she is shocked to see intials of SK in it.
Prerna: SK…who is it..
Anurag: Prerna…what happened it's getting late let's go
Prerna keeps the letter in her bag and hurriedly joins Anurag.
The scene freezes.
Scene shifts to the mountains where the families are hiking. Viren has a baby carry bag and Sara is wrapped in it. Viren holds Jeevika's hands and guides her through the way.
Meanwhile Naina and Akash are pulling each other's legs on the way
Kartik is shocked to not find Naira in the surrounding.
Kartik: Nairaaa…,Naira……
He starts to search for her frantically suddenly he hears the brushing sound of leaves behind a bush
Kartik:jaan.,I know that you are here..please don't play like this
He goes near and is shocked to see Aashi
Kartik: Aashi…
Aashi: Who is playing Kartik…you said you love me..and yesterday that Naira was in your arms..what's all this
Kartik: Aashi..you were mistaken..I just said I had a crush on you during high school..it's just a teenage hormone issue..nothing else..I love only one girl and it's Naira..sorry if I had given you hopes though I never intended that
Aashi is about to say anything but Kartik turns away as Naira's voice is heard away.
Naira: Kaarrttikk….kaarrtikkk….
Kartik rushes to see Naira  coming to the walking path from the opposite side
Kartik: Naira..where were you
Naira: Arrey I saw a beautiful butterfly so I was behind it
Kartik: You scared me to death..what if you had lost the way..
Naira: Acha…sorry nah..I came back right then why are you worrying
Kartik: Next time wherever you go..you must take me with you or atleast inform me
Naira: Okay sir.
She giggles..Kartik brushes off Aashi's presence there as he grabs Naira by her waist and pulls her close
Naira: Kartik…
Kartik: Everyone is walking in their pace and no one is around now..so don't say anything
He bends down to kiss her.
Aashi is still there watching them and is burning with jealousy.
Scene shifts to the spot where Mishbir are walking.
Mishti : Abir…I'm thirsty…I need water
Abir frowns at an empty water bottle.
Abir: Mishti..be here Huh..I heard a flowing stream nearby I'll get you water
Saying so Abir runs towards the stream.
Mishti feels that someone is behind the tree behind her and turns but sees no one..she turns back in relief but within seconds she sees a shadow and is shocked..
Just then Abir  comes there
Mishti hugs him in a reflex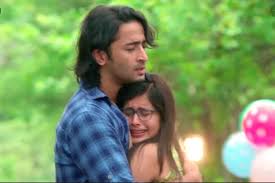 Mishti: Abir..I feel that someone is here..I….I..just saw a shadow….
Abir: Mishti..it will some small creature…Don't worry
Abir pulls Mishti to her feet as they start walking.
PRECAP: WHO IS SK…DOES KOMOLIKA HAS ANY PART IN HIS ARRIVAL. NAIRA IS SURPRISED TO SEE HER CHILDHOOD FRIEND RISHAB AFTER SO LONG. AASHI's APOLOGY..IS IT FAKE OR IS SHE REALLY SORRY.
HEY GUYS SORRY FOR A SMALL EPISODE..PLEASE DO TELL YOUR VIEWS IN COMMENTS BELOW.