Love Makes Life Beautiful Episode 41
Hai friends..so sorry for the delay.There was a haevy rainfall and powercut. Lets go to the episode now.
Mr.Bajaj is in his room. He is sipping his glass of alcohol. His phone rings.
Mr.Bajaj: Anurag Goenka has done a great mistake. I need to teach him a lesson bring Mr.X to me tomorrow
The voice on the phone: Sure sir
The call disconnects.
Mr.Bajaj : Anurag…you are going to repent for your mistake
He laughs and its devilish. The scene freezes.
Scene shifts to Naira's room. She is getting ready. Keerthi comes in and smiles at Naira
Keerthi: Naira..you look gorgeous. I'm sure Kartik will never be able to take his eyes from you throughout the date
Naira gets shy
Keerthi: Naira I know how it feels to go for a proper date and how conscious we would be.
Just then Naira's phone rings. Its kartik. Keerthi giggles
Keerthi: Your Rajkumar has come. Go go
Naira runs down the stairs. Kartik is there outside the door on his bike. Akshara , Naksh and Naitik laugh at a running Naira. Naira stops a second and waves to them.
Then she sits with him on his bike. Kartik and Naira leave for their date. The scene freezes.
The scene shifts to Goenka house. Prerna goes to her. She is surprised to see the room lit by candles. Suddenly music starts to play
Tere bin, tere bin
Tere bin, tere bin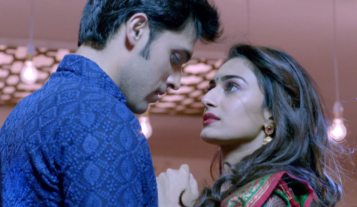 Tera bina marna nahi
Jeena nahi tere bin
Jeena nahi tere bin
Anurag comes to Prerna and holds her hand. They start dancing to the song
Tere bin, tere bin..
Bawre piya laage na jiya
Dekho mera mann jalta diya
Jalta diya bujhe na piya
Bujhe na piya jalta diya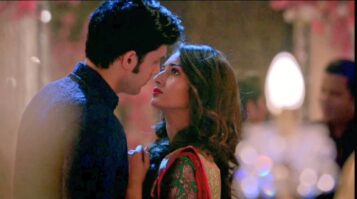 Tera bina marna nahi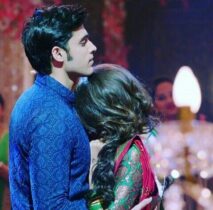 Jeena nahi tere bin
Tere bin, tere bin
Bawre piya laage na jiya
Dekho mera mann jalta diya
Jalta diya bujhe na piya
Bujhe na piya jalta diya
Tera bina marna nahi
Jeena nahi tere bin
Tere bin, tere bin
Tere bin, tere bin..
Tera bina marna nahi
Jeena nahi tere bin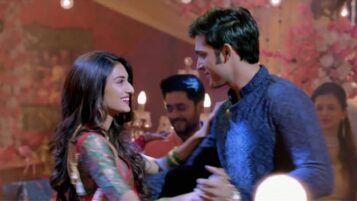 Tere bin, tere bin..
Suddenly Anurag goes on his knees and gives her a box.
Prerna: Anurag…
Anurag: Open it
Prerna opens it to see a paper
She makes a puppy face.
Anurag chuckles
Anurag: Read it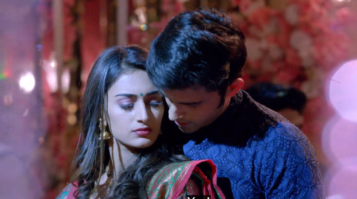 Prerna reads : My dear your gift is  inside our cupboard
Prerna rushes to the cupboard and opens it. She sees a big box and opens it. There is a saree in it.
Anurag comes behind her and hugs her
Anurag: Do you like it?
Prerna: Yes a lot
Anurag: You will look gorgeous when you wear it
Prerna: Acha?
Anurag: Haan of course. Please wear it.
Prerna blushes and gets into the restroom to wear it. Anurag sits on the couch waiting for Prerna. The scene freezes.
The scene shifts to the restaurant.
Naira and Kartik are having a candle light dinner.
Kartik: Naira this dinner is for our victory
Naira: Not only for that its for our chemistry
Kartik: Haan..janeman you look gorgeous now
Naira: Meri mendak bhi kam nahi hai
Kartik: Kya baat hai sherni is getting romantic is love overflowing?
Naira: Overflowing love is always there Kartik
Naira hugs Kartik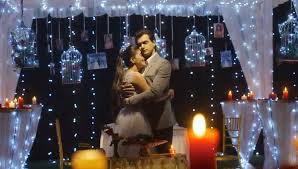 Kartik: Naira you are the best thing ever happened to me. I am really lucky to have you in my life.
Naira: I'm lucky too to have you in my life Kartik
Kartik: Will you give me a promise?
Naira: Do you need to ask this..ask me anything
Kartik: Promise me that you not leave me I can't live without you
Naira: I will never leave you Kartik..do you think I can live without you?
Kartik: No..I too know that..but every happy moment gives me a fear of losing you
Naira: Don't fear like that Kartik…nothing will happen to us
Kartik: I won't let anything to happen too
They hold each others' hand and get lost into each other. The scene freezes.
Scene shifts to Akash and Naina's house. They reach the house in the car.
Akash: Naina just wait a minute
He makes her wait outside. Opens the house and runs inside. He comes outside to her after 5 minutes.
Akash: Please come inside my queen
He lifts Naina in his hands
Naina: Akash…
Akash: Naina you are  entering this house for the first time..you deserve a grand welcome
He takes Naina inside. She is surprised to see many photos on the wall
Naina: Whats all this?
Akash: Memories my dear wifey
Naina: Memories?
Akash: You know something these memories kept me alive for the past 2 years. That time I used to think that the day you get alright I'll visit the same memories with you. So only I have arranged them.
Naina: Lets do it..but please let me down
Akash: Your wish is my command.
He lets her down and takes her to the first photo
Akash: Do you remember this pic?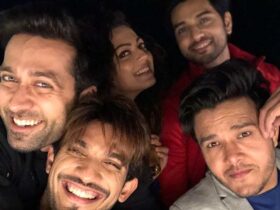 Naina: Our first meet …your joining party and before starting the drug case
Akash: Wow so you remember
Naina: I even remember your first talk to me
Akash: Really?
Naina: Yes..Hai I'm Akash joined here as DSP [she imitates him]
Akash laughs loud. He takes her to the next pic
Akash: Tell me this now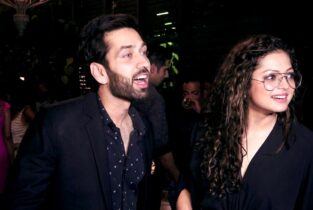 Naina: This was a new years party..after cracking the case and I
Akash: Tied friendship band to me chashmish
Akash holds her hand tightly. He takes her to the next photo
Naina: Now you tell this
She has a smirk on her face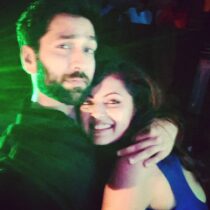 Akash blinks and: Yeah..lets go to next pic
Naina: No..tell now
Akash: Yeah yeah..accidentally I consumed alcohol in Kishan's brithday party and started flirting with you
Naina: Not just flirting you proposed me that time..
Akash: What?? I proposed on your birthday on the next month right?
Naina: Thats what you remember
Flashback runs: Akash under the influence of alchol : Naaiinnnaa…yooouuu tieed friendship baannnddd bbbuuttt I'm not true to it..yoioouu areee more than that to mee. ..I llloovvee yooouuu
Naina is stunned to know that as she also feels the same
Flash back end
Akash: Criminal
Naina: What?
Akash: Knowing that I love you , you waited for me to propose..but i was delaying my proposal fearing your reaction
Akash turns away in anger Naina kisses him on his cheek
Naina: Sorry
Akash smiles and takes her to next pic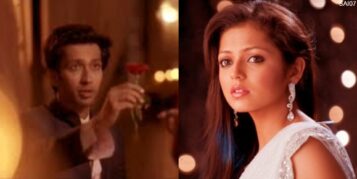 Both of them smile and say together: The day we confessed our feelings
Akash kisses her hand and takes her to next pic
Naina: Our wedding functions
Akash: Haan teri mehendi
Naina: You took so long to find my name in it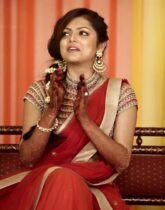 Akash: It was so complicated
They break into laughter
Naina: Lets go to next picture
Akash takes her there
Akash: Our sangeet
Naina: Our friends enjoyed more than us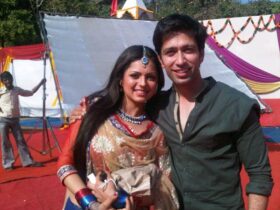 Akash: True
Naina: That Shivani broke her legs by dancing
Akash: Bechari
Naina: Ha..ha…
They move to next picture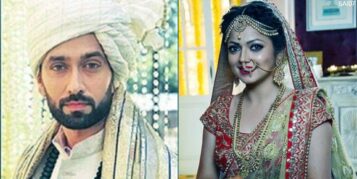 Akash: The day you became Mrs. Naina Akash
Naina: The day we were married to each other
They recollect the memories of their wedding day. The remember taking pheras and Akash filling her hairline with sindoor
Akash holds her hand as she shed happy tears. He wipes her tears and: Naina not even happy tears are allowed
He takes her to next pic
Akash: Our honeymoon
Naina: Happiest moments of us
Akash: Thats the last happy memory of us together.
He cries remembering the days when she was in coma
Naina: Akash…please don't make me guilty
Akash wipes his tears in a reflex and holds her hand.
Akash: Arrey nahi nahi yaar..sorry I was just
Naina: I really love you
The scene freezes in their happy face
Its next day morning The scene shifts to Singhania house, a car comes to the door.
Prerna gets out from the car
Naira sees her and runs to her
Naira: Prerna di..
She hugs her
Prerna: Naira.. I have come to take you to the market
Naira: I'm ready di..Dadi's birthday is coming we need to pack..bhabhi too would have come but case proceedings are going on
Prerna: Its ok lets go
Naira and Prerna take the leave of Akshara and get into the car
Kartik calls Naira
Kartik: Naira stay safe
Naira: Kartik I'm just going to market
Kartik: I know that..but I would have accompanied you both but this football game
Naira: Kartik you enjoy your game I'll take care.
The scene shifts to Mr. Bajaj's office
Mr.Bajaj: Mr.X I need her
Mr.X: Sure sir the boys are on spot you will get her. I sometime Mrs. Anurag will be in your custody
PRECAP: WILL PRERNA BE SAFE?
HEY GUYS DO TELL YOUR VIEW ON THIS EPISODE IN THE COMMENTS BELOW. I'LL MEET YOU WITH NEXT EPISODE TOMORROW