Love Makes Life Beautiful Episode 40
Hai friends i'm back with today's episode. Kaira and Anupre fans [Shreya and Saya]sorry for very few romantic scenes in the previous episodes. Future updates will have more romantic scenes. Thank you Jasmine for such a cute couple name Naikash. Alfiya there will be more twists in the upcoming episodes. Lets go to the episode now
Anurag gets tensed as Prerna's phone is switched off. Then he remembers that she has gone to the court for Aditya's case hearing. He calls Akash
Akash: Hai Anurag
Anurag: Akash is Prerna there?
Akash: Don't worry she is in my view only and today you are gonna sign that deal right?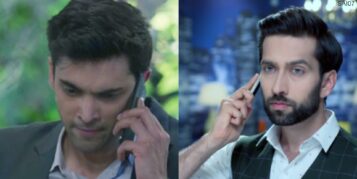 Anurag: Yeah but…her phone is switched off
Akash: Don't let him win. Prerna is all safe and its me who asked her to switch her  mobile off as I found that Mr. Bajaj is locating her through her phone. Currently she is inside the court with Keerthi and Naksh . My two colleagues are there near her. You sign the deal confidently.
Anurag: Thank you so much Akash
Akash: Arrey yaar its my duty to protect my sister
Anurag: Thats nice of you
The call cuts and Anurag signs the Jindal deal.
The scene shifts to Mr.Bajaj's office. He gets to know that Anurag has signed the deal
Mr.Bajaj: Anurag…you have not done the right thing…you will definitely pay for this….
Saying this he calls someone on phone. The scene freezes.
The court is shown. Anurag reaches in time for the hearing and joins Prerna , Naksh and Keerthi.
Viren wins the argument and Geethanjali and Mihir's case is reopened for investigation and Aditya is taken into custody by Akash. Everyone get happy and come out.
Viren hugs Akash
Viren: Akash ball is in your court now. I know you will find all clues to prove that what Aditya blurted in that audio is true. Hope you team up with a good forensic expert to crack 5 yr old evidences.
Akash: Haa I forgot to tell you something. I have my best forensic expert with me now
Viren: What?
Akash chuckles and hugs Viren
Viren: You mean Naina is alright now
Akash: Yeah
All get happy hearing it .
Aditya is brought out with his hands cuffed
Akash: I guess its time for me to take care of Dr.Aditya
Anurag: Doctor…you are a shame to this proffession
Akash takes Aditya with him. Naksh and Keerthi get to their car and leave.
Viren: Prerna Anurag I have some work at office. You both go home.
Viren takes their leave. Anurag holds Prerna's hand.
Prerna: Anurag from yesterday you seem tensed…what happened?
Anurag lets talk while going.
They get into the car. Anurag tells Prerna about Mr.Bajaj and his threats.
Anurag: Prerna I still signed the deal,did I do the right thing or
Prerna holds his arm and leans on his shoulder
Prerna: Anurag…you havedone the right thing
Anurag: Don't you feel that I put you in danger
Prerna: Danger?? If that danger is for the success of my husband I'm ready to face anything
Anurag kisses her on her forehead
Anurag: Im lucky to have such a wife
Prerna: Not luckier than me
Dil se sun piya ye dil ki daastaan
Jo lafzon mein nahi ho bayaan [x2]
Ab jaisa bhi raasta
Tootega naa vaasta
Na rahega faasla darmiyaan…
Naino ne baandhi kaisi dor re
Naino ne baandhi kaisi dor re
Ho… munsif hi mera, mera chor re
Dil pe chale na koi zor re
Haan… dil pe chale na koi zor re
O… khincha chala jaye teri ore re
Plays in the background as Anurag and Prerna enjoy their happy moments in the car ride. The scene freezes
The scene shifts to Kaira's college.
Naira is sitting in the dressing room. Megha is forcing her to eat something but she refuses. Kartik comes there with her favourite Noodles from her favourite restaurant. He gestures Megha to leave and he clears his throat. Naira looks up at him
Kartik: Kya baat hai Sherni dar rahi hai
Naira: I'm not afraid
Kartik: Naira..your face clearly shows it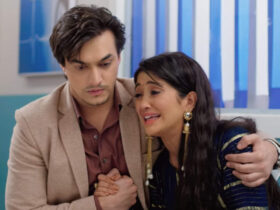 Naira: Kartik…what if we lose?
Kartik sits near her and puts his arm around her shoulder and brings her into his embrace
Kartik: Naira..winning or losing is secondary our ultimate aim to participate in this is to enjoy our passion dance and to show our chemistry to all the conspires. I will be happy if we lose too
Naira: What? We won't lose. We will win because we are very good dancers, how dare you say you are happy with losing
Kartik laughs
Kartik: Haay My sherni is back. Now come on eat and you have to get ready with your costumes
Naira: I won't eat
Kartik: Naira….
Naira: You feed me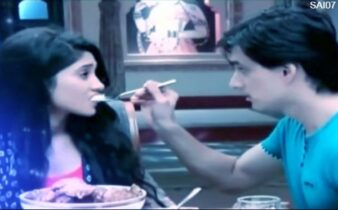 Kartik: Okay [he smiles broadly]
He takes the noodles and starts feeding Naira. Naira stops him after few spoons and gets the spoon from him and feeds him.
Like this they finish the meal by feeding each other. Tara who happens to be nearby sees this and gets jealous. Vikram and Varun come in and see Kartik and Naira having some good time leave from there with a huge smile on their face.
Naira's phone buzzes and its a message from Naksh.
She sees the message and gets excited
Naira: Heyyyy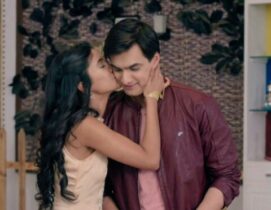 She kisses Kartik on his cheek in happiness. Kartik blinks in surprise
Naira: Kartik I have two sweet news for you
Kartik keeps his hand on his cheek and: They can't be sweeter than this
Naira: Oh shut up and listen to what I say
Kartik: When did I refuse to listen to you
Naira stares at him teasingly
Naira: Aditya is into custody and the murder case is reopened and the next one is Naina bhabhi is alright now
Kartik: What?? Really?
Naira: Yes Kartik she woke up from coma
Kartik: Thats awesome Naira
They hug each other in happiness. Just then they hear that the competition will begin after 2 hours.
Kartik: Naira…just 2 hours more. We must
Naira: Get ready OMG….
They rush to get ready the scene freezes.
The scene shifts to a cafenear Mishti's college.  Its assignment due date
Mishti and her friends are arguing about something
Neha: Mishti how can you be so careless?
Mishti stays silent
Kiran: You must rectify the mistake made by you..we can't suffer for your mistake. Submission is at 5 pm. Its 3 now. Get it ready and come. Or else accept your mistake to the HOD and get our marks
Mishti cries and her friends leave. Abir who has come to the same cafe with his friends notices a gloomy Mishti and comes to her
Abir: Mishti..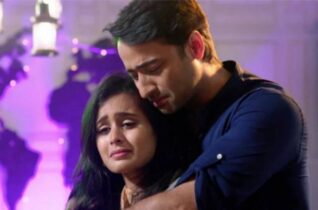 He keeps his hand on her head. She looks up.
Abir: What happened? Why are you crying ?
Mishti wipes her tears and: Nothing Abir
Abir: Mishti.. don't try to hide your tears from me. If you share your problem you will feel light and if possible I can help you out
Mishti shares her problem
Abir pats her hand comfortingly
Abir: Don't cry. Everyone commits a mistake but the important thing we must realise what the mistake is. Now you have realised your mistake. Thats great. I'll help you out now. I don't know your subject but I'll do all random errands to help you.
Abir and Mishti work on her assignment and the scene freezes.
Kaira's college is shown. The stage is lit. Kartik and Naira are called to perform on stage.
Zameen-o-aasmaan ne kya baat ki hai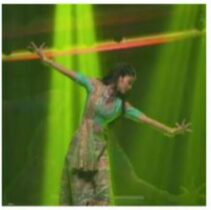 Giraake parda koi baat ki hai
Jhuka ke aankh se
Din mein raat ki hai aa.
Saajan aayo re
Saawan layo re
Saajan aayo re


Saawan layo re
Main poori bheegi re
Mann behkaayo re
Na-dhir-da-na dhoom ta-na-na
Saajan. saajan.
Saajan aayo re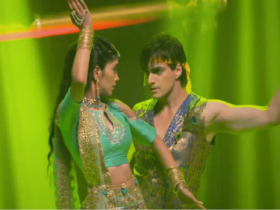 Saawan layo re
Main poori bheegi re
Mann behkayo re
Rimjhim rimjhim badra re
Tere nain kyun kajra re
Rimjhim rimjhim.
Rimjhim rimjhim rimjhim badra re
Sajan aayo re sawan layo re
Sajan aayo re sawan layo re
Na-dhir-da-na dhoom ta-na-na 

Sajan. sajan.
Saajan aayo re
Saawan layo re
Main poori bheegi re
Mann behkayo re
Rimjhim rimjhim badra re
Tere nain kyun kajra re
Rimjhim rimjhim
Rimjhim rimjhim rimjhim badra re
Sajan aayo re
Sawan layo re
Main poori bheegi re
Mann behkayo re.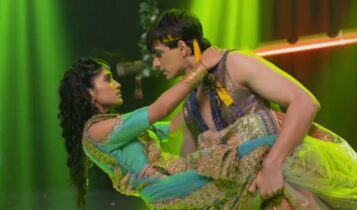 Na-dhir-da-na dhoom ta-na-na
Saajan. saajan.
Saajan aayo re
Sawan laayo re
Kaira's chemistry sizzles on stage. They are surrounded by a huge round of applause.  Naira gets happy and holds Kartik's hand tightly in excitement.
Kartik [in a whisper]: I told you na..we are gonna rock
Naira: I love you Kartik
Kartik: I love you too
The screen closes.
After all perfomances Kaira win the competition. They hug each other in happiness and the scene freezes.
Scene shifts to the hospital. Akash is sitting with Naina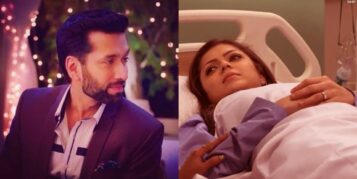 Naina: Akash when are we going home?
Akash: Doctor will tell us when he comes to check you
Just then the doctor arrives. He checks Naina.
Doctor: Mr.Akash your wife is alright. Her reports are satisfactory too. She will need a physiotherapy but that can be done at home too as she is able to walk around
Akash: That means I can take her home with me
Doctor: Yes
Akash jumps in joy. Seeing him everyone laugh.
Doctor: Just complete the discharge formalities
Akash: Sure doctor i love you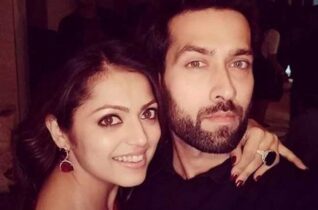 Doctor: Huh?
Akash: Thank you for giving my life back to me..thats what I meant
Doctor smiles and leaves. Akash goes to Naina and hugs her. She smiles.
The scene freezes.
Jeevika delivers a baby girl but after hours of birth the baby goes missing. Jeevika frantically searches for her baby but she could not find the baby.
Suddenly she wakes up from sleep. She sweats profusely and she touches her abdomen. Viren wakes up sensing her movement and switches the lights on.
Viren: Jeevika..What happened?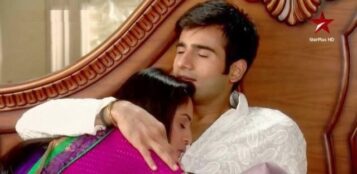 Jeevika hugs him in fear.
Jeevika: Virenji…
He gives her water and wipes her seat from her face.
Jeevika tells him about her dream
Viren: Jeevika don't worry its just a dream. I think you are overthinking regarding our baby's arrival. Nothing wrong will happen. Sleep now.
He makes her lie down and carcasses her head comfortingly. The scene freezes
PRECAP: WHAT IS MR.BAJAJ PLANNING? KARTIK AND NAIRA GO ON A DINNER DATE. MISHTI THANKS ABIR. ANURAG HAS A GIFT FOR PRERNA.  AKASH AND NAINA GO DOWN THE MEMORY LANE.
HEY FRIENDS DO TELL ME YOUR VIEWS ON THIS EPISODE IN THE COMMENTS BELOW. I'LL MEET YOU WITH NEXT EPISODE TOMORROW.