Hai friends here is the next episode. Thank you so much for your feedback on previous episodes. The mehendi function continues now.
Kartik pulls Naira closer . Their heartbeats rise. The scene freezes.
Kartik keeps Naira's hand on his left chest
Kartik: Naira feel my heartbeat..it will be saying your name
Naira: Kartik…
There is a moment of silence as their eyes are locked. Love has filled the air around them and they feel the bliss in their hearts.
Naira kisses Kartik on his cheek. He blinks in surprise.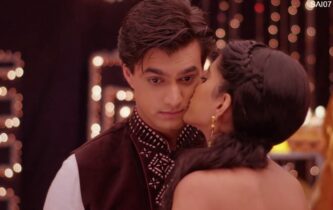 Naira pushes him and runs away giggling.
Kartik: Naaira…
Kartik goes behind Naira but he stops abruptly as Naira bumbs into Naksh.
Naksh: Naira, what happened?
Naira: Nothing bhai…
Naksh: Tum bhi naa
Naksh chuckles as Naira runs towards Akshara and hugs her from behind
Akshara: Naira what happened?
Naira: Nothing maa.
Naira looks for Kartik who was following her but he is seen nowhere. Disappointed Naira gets a puja taali from Akshara and goes towards the pooja room. She walks faster and does not notice the oil spilt on the floor.
She steps on the oil and slips and she closes her eyes in fright.
Suddenly she feels a hand holding her back and supporting her.
In a reflex she clings onto the person's shirt for support and opens her eyes to see Kartik holding her.
Naira: Kartik…..
Kartik: Naira cant you be careful?
Naira: Woh…I didn't know that someone spilt oil here
Kartik: If I had not come you would have got hurt
Naira: I didn't nah
Kartik: Naira grow up.. you should be careful in your every move
Suddenly Anurag comes there with Prerna . Anurag chuckles seeing Kartik holding Naira. Prerna clears her throat to grab their attention. Kartik and Naira realise the surroundings . Naira manages herself and gets away from Kartik's hold.
Anurag: Waah..Kartik our mehendi function and your romance is going on
Kartik: Bhai kuch bhi.. (Naira blushes)
Anurag: Naira dont get so awkward, I was just pulling his leg. Kind of tit for tat .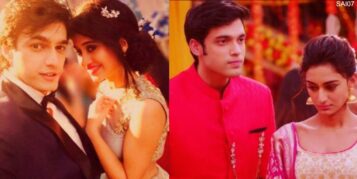 Kartik: Achaa..ab hogaya na aapka mazak. Did you come for that or any other work is there too
Prerna: Kartik everyone is searching for Naira downstairs so I came in search of her
Anurag: Papa was calling you so I came to call you and we both found you her
Naira: I'll go down at once di
She runs down.
Kartik: I'll go to papa
Kartik too follows Naira.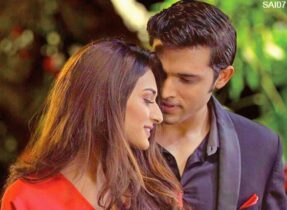 Prerna turns to leave but Anurag holds her hand and stops her.
He moves closer to her such that his chest touches her shoulder.
Prerna's heart beat gets faster as she could hear his breath.
Anurag: Prerna I'm so lucky
Prerna: Kkkkyuuuu
Anurag: To have my name written on the hands of an angel like you
Prerna blushes.
Anurag turns her towards him and kisses her cheek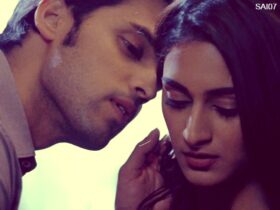 Prerna turns red with shy. Anurag smiles at her.
Anurag: I really really really Love you Prerna.. I cant express how much I love you through words..you make…you make me…feel..
Prerna keeps her finger on his lips and: Shsh.. I know..you need not tell me anything
They both share an eye lock just then they hear Prerna's name being called.
Prerna: I think we should go now.
She turns to leave and Anurag makes a sad face. Prerna walks down smiling to herself. The scene freezes.
The function hall is shown where the families are seeing off the guests. Keerthi swtiches her mobile on to see 150 missed calls from an unknown number. She rushes to Naksh
Keerthi: Nn..aksh
Naksh: Haan Keerthi
She shows the phone to him.
Naksh: 150 missed calls..is it someone you know?
Keerthi nods her head in affirmation
Naksh: Then dont worry Keerthi..many people do time pass like that by dialing unknown number. Just block that number and don't get stressed about it.
Keerthi: Naksh are you sure? Isnt this serious issue
Naksh: Okay for your sake I'll check with the service provider.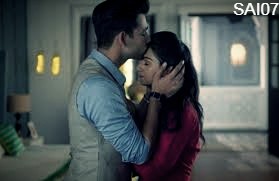 He gets the number from her and kisses her on her forehead.
Naksh: Dont worry Keerthi I'll take care.
Keerthi blocks the number and joins Akshara in seeing the guest off. Prerna and family get ready to leave.
Dadi: Aaj ke baad Anurag and Prerna can meet only at the shaadi mandap
Anurag and Prerna look at each other without blinking. Within moments Kartik and Naira notice this and take Anurag and Prerna with them outside to the porch thus helping them to get to say bye to each other.
They leave Anurag and Prerna near a pillar in the porch
Prerna: Anurag…I'm going home

Anurag: Just for few days right
Prerna: Yeah..aap please take care of your health. I know its an important work at office but…
Anurag (in his mind): Im working extra hours to complete work before marriage and. to..
Prerna: Anurag…
Anurag:huhmm… Prerna dont worry I'll take care. I heard that girls do extra efforts to increase their beauty for their wedding but you dont stress yourself with anything like that.
Prerna: You care that much for me
Anurag: Its actually selfish..
Prerna: What?
Anurag: Your current looks are enough to mesmerise me and if you do extra efforts and increase your beauty then you will surely kill me with your looks
Prerna smiles in shy. Anurag looks at her…until Naira comes to take her back.
In sometime Prerna and family leave. Now Dadi tells that it is time for the Goenkas to get back home and take their leave.
Kartik goes to Naira and: Naira bye I'm going home
Naira: Bye Kartik
Kartik: Bye Naira (Kartik walks backwards towards the door with his eyes fixed on Naira)
Naira: Bye Kartik
Kartik bumps on Anurag.
Anurag: Kartik janaab its me and Prerna who cant meet till wedding, why are you behaving like you both cant meet for next 11 days?
Kartik smiles sheepishly. Anurag : Naira take care bye
Naira:Bye Jiju
Anurag puts his hand over Kartik's shoulder and takes him with him.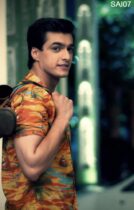 Kartik turns back to see Naira who stands there smiling at him.
The scene freezes.
Its night 10:30 pm. Viren and Jeevika's room is shown
Viren: Jeevika have your medicines.
He brings her medicines and water while Jeevika is lying on the bed.
He keeps the medicine on the side table and helps her to sit and feed her the medicines.
Jeevika: Virenji you forgot something
Viren: What is that?
Jeevika: You didn't see my mehendi design yet.
Viren: Oh! sorry Jeevika. Nowadays your health doen't let me think of other things
Jeevika: But Virenji baby is a good occasion to celebrate and not worry about
Viren: I know Jeevika but you are not healthy. Your Hb levels are less, you need to rest but on the contrary you do lot of works
Jeevika: Virenji Prerna's marriage and our baby have given us lot of reasons to celebrate. Lets enjoy it to its core and about my health I promise you that I'll have medicines on time and eat healthy
Viren smiles.
Jeevika:Happy now.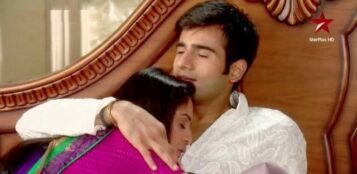 Viren sits near her and puts his arm around her and brings her in his embrace.
Meanwhile Naira is in her room lying down on her bed and admiring her mehendi and Kartik's name written on it. She opens the chat to message him and types something but decides against it and erases it. Again she types something but erases it too. Suddenly her phone rings and it is Kartik.
Kartik: Naira…what is it?
Naira: What?
Kartik: Your typing something and rasing it and you are repeating it again
Naira: Woh… were you spying me
Kartik: Not like that.. I came to message something but I saw you typing so I was waiting for your message bu you …leave it tell me what it was
Naira: First you tell me what you wanted to message
KArtik: You should say first
Naira: Nahi tum bolo
Kartik: No you
Naira; TUm tum tum
Kartik: Acha acha I'll say..it was about telling about us to family
Naira: Kartik even I wanted to talk to you about it…I know its me who told you not tell anyone till Anurag Jiju and Prerna di's shaadi gets over but its very hard to hide things…
Kartik: Naira..one word from you is enough for me..you need not explain. Its good for us tell them. If they find out themselves then we might be in trouble. They will lose their trust on us.
Naira: Kartik.I'm sorry..lets not delay it anymore.tomorrow our families are visitng the temple for some pooja. I think that
Kartik: We should tell them about us. Naira you need not apologise to me. That day you said considering bhai and bhabhi's marriage but now with us being uncomfortable
Naira: If Prerna di and Anurag Jiju dont have an issue
Kartik: Just wait on call I'll go and ask them.
He goes to Anurag's room and knocks. Anurag who is with his laptop gets up to open the door and lets Kartik in.
Kartik puts the call on speaker and : Bhai do you have any problem if Naira and I tell about us to our families tomorrow
Anurag: Kartik,what sort of question is this..I always wanted this..why will I have any problem and Naira you are not stealing any limelight from us. Every love and love story is unique. No one can outshow the other so dont worry and even if you ask Prerna her answer will be the same if you worry about families' reaction they will say yes only to your love.
Kartik: Thank you bhai..I love you.
Kartik hugs Anurag and goes back to his room. Anurag smiles at him. The scene freezes.
Its the next morning . Goenkas and Singhanias reach the temple.
Kartik: Maa Papa I need to tell you something
Swarna: What is it Kartik?
Naira: Maa actually we need to tell you something
Naitik: Beta tell us
Kartik: Uncle..Myself and Naira…
Dadi: Tum aur Naira..baat kya hai Kartik
Kartik: Dadi I love Naira..
Akshara: We know that Kartik…(Kartik and Naira are puzzled) you love and care for your friend
Naira: Maa..We love each other..the way bhai and bhabi love each other..the way..you and Papa love each other.
Everyone starts to laugh. Kartik and Naira are totally confused
Manish: You both are scared to say this like you have committed a murder
Swarna: Sach Manish ji..Arrey KArtik Naira you are in love that is something good but you both
Naksh: Im so happy to hear this from you
Naksh goes to hug Kartik.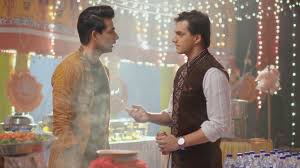 Naksh: Kartik my sister is lucky to have you. No other guy could love and protect her like you.
Kartik: Am I dreaming ?
Manish: Why?
Kartik: I thought you will be having lot of questions..because..we we were friends in your point of view
Naitik: Beta when you guys know the difference between love and friendship and have really understood what you feel about each other do we have any need to ask questions?
Manish: When the parents of a daughter have no questions to you us being the luckiest parents to have such a bahu have no rights to question
Swarna: Kartik every mother has dreams of finding a daughter in law who will take care of her son like she does, when you already played a motherly role and changed Kartik will we find someone else better for him other than you?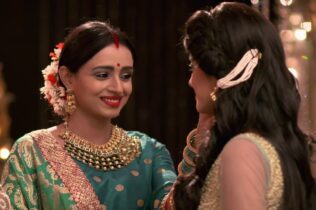 Swarna hugs Naira. Kartik is so happy to see their bonding
Kartik (in his mind): Thank you Krishnaji .. The scene freezes on their happy faces.
GUYS PLEASE DO MENTION HOW YOU LIKED THE EPISODE IN THE COMMENTS BELOW. I'LL MEET YOU WITH THE HALDI CEREMONY SOON.