Love is Pure and Beautiful Episode 2
Starting an episode with Naira slowly regains his consciousness
Naitik: How are you Naira now
Naira in a weak voice: I'm fine .. Papa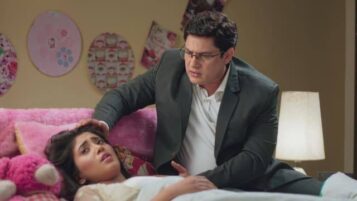 Naira recalled Kartik's words
Naira: Where is Kartik I want to go to him.
She tries to get up
Naitik: Naira please don't get up The doctor told you to rest
Naira feels pain in her abdomen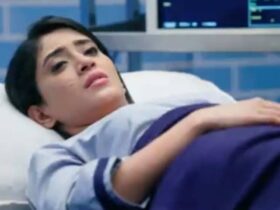 Naira: What happened to me
Naitik Rajasekar looks at each other and does not know how to say that she lost her child
At that moment the doctor came inside
Doctor: How are you feeling now?
Naira: Better doctor
The doctor examined her
Doctor: mrs naira Is there any pain in your stomach?
Naira nods yes
Doctor: This pain is normal and you will be fine
Naira was confused by the doctor's words
Naira: But what happened to me, Doctor?
Doctor: Mrs. Naira you had a miscarriage
Naira is shocked
Naira: miscarriage I didn't understand
Doctor: So you did not know you were pregnant
Naira nods that no
Doctor: the fetus was only a week old. So only You did not know that you were pregnant  Your abdomen hit you hard on the ground when you fell down from the terrace, that's why you had a miscarriage, now you need to rest, do not take the stress. The doctor left from there.
Naira couldn't take the shock tear are continuously felling her eyes
Naitik:  Naira Please don't cry Doctor told you to rest Please don't stress yourself This is not good for your health
Naira : I killed my baby she cries
Naitik : Naira don't cry beta
Naira: I want to go to Kartik and see him Please call him papa
Naitik call Kartik phone but his phone is still switch app
Naitik: Naira his Phone is switched off, you relax first he will
Naira wants her Kartik to be near her. Naksh calls Natick and he picks up the phone
Naitik: Hello Naksh where are you?
Naksh: I have just come to Udaipur and I am now going to gv home Where are you papa
(Note: Naksh went to Delhi for business purposes for a one week Keerthi stays in Udaipur only)
Naitik: Naksh I am with Naira in the hospital
Naksh: Papa What happened to Naira
Naitik told him the whole incident and Naksh was shocked
Naksh: How is Naira now?
Naitik: She's fine now. Naksh do one thing you Go to gv home and tell Kartik the matter and bring him here Naira will be feel better if he comes
Naksh: Of course Papa I will come with Kartik
Episode freeze
Hello friends I have come up with another Love is Pure and beautiful story I am sorry for the previous episode title mistake this is only my story, this story is also on wattpad, I think to write a short story based on manish track, I'm disappointed with the YRKKH team, how Karthik blames Naira, what she did wrong in that accident, how he criticizes Naira, so I thought I would write this story differently from the serial story in which Naira will not be silently listening to Kartik's blame Naira will speak for herself I hope you all like this story please tell your suggestions Thankyou 🤗