Love Is In The Air Episode 55
Hello all here is next episode. Hope you like it
Recap: Its Keesh Engagement.Jia and Tanvi find a hand at their doorstep. Polo is dead. Aditya plans to cause troubles in Keesh engagement 
Episode starts
Everyone is happy with Keesh getting engaged. But the tension of Polo's death disturbs everyone. Kartik wants to cheer everyone. He whispers something in Abir's ear and grabs the microphone 
Kartik: Guys..what is a function without a performance. As we have our famous singer lets not wait for anything else now..Abir mera bhai..start 
Abir takes to  the stage with his guitar
Maahi ve maahi ve, that's the way maahi ve
Tere maathe jhumar damke
Tere kaanon baali chamke hai re
Maahi ve
Naira takes Keerthi to the centre of the stage and dances with her.
Tere haathon kangna khanke
Tere pairon paayal chhanke hai re
Maahi ve
Prerna and Mishti join them. Naina gets a call and walks away while Ishani dances with Naksh. 
Nainon se bole rabba rabba
Mann mein dole rabba rabba
Amrit ghole rabba rabba tu soniye
Jind maahi ve soni soni aaja maahi ve
Everybody say soni soni aaja maahi ve 
 Abir takes the mic to Naksh and he …..(sings):
O teri aankhen kaali kaali
Tera gora gora mukhda hai re
Maahi ve
Keerthi blushes as she hears the lyrics
Teri rangat jaise sona
Tu chaand ka jaise tukda hai re
Maahi ve
Kartik Kunal and Anurag start dancing and singing along while Akash and Rahul silently leave without anyone noticing 
Tere gaal gulaabi rabba rabba
Chaal sharaabi rabba rabba
Dil ki kharaabi rabba rabba tu soniye
Jind maahi ve soni soni aaja maahi ve
Everybody say soni soni aaja maahi ve
With everyone singing and dancing..Abir pulls Mishti out of the crowd to a corner. He takes her into his embrace and gets romantic with her.
Akshara gets emotional and starts to sing:
Barse rangini kaliyaan hai maheki bheeni bheeni
Baje mann mein halke halke shehnaai re
Jitne hain taarein aanchal mein aa gaye saare
Dil ne jaise hi li angdaayi re
Naina gets back from the call and worries of not finding Akash there while Mishti pushes Abir away he notices Naina and jumps to her (managing his fall due to Mishti's push)singing….
Hey, tu jo aayi sajke mehndi rachke
Chal bachke o soniye
Dil kitno ka khaaye dhajke o soniye
Jind maahi ve soni soni aaja maahi ve
Everybody say soni soni aaja maahi ve
Mohini gets emotional, she hugs Keerthi and sings
Chanda meri chanda tujhe kaise main yeh samjhaaoon
Mujhe lagti hai tu kitni pyaari re
Mujhe lagti hai tu kitni pyaari re
O khushiyaan jitni hain, sab dhoond dhoondke laaoon
Teri doli ke sang kar doon saari re
Teri doli ke sang kar doon saari re
Everyone sing and dance around them to console them
Hey, tu jo aayi sajke mehndi rachke
Chal bachke o soniye
Dil kitno ka khaaye dhajke o soniye
Jind maahi ve soni soni aaja maahi ve
Everybody say soni soni aaja maahi ve 
Naira: Aaahh…ooucchhh
The dancing and singing comes to still hearing her shout. They see her holding her foot. Kartik runs to her and holds her
Kartik: What happened Naira?
Naira points a box near her
Naira: This fell on my leg
Kartik: Are you a child? Cant you be careful 
Naira: Woh..dancing mein..
Prerna comes to her
Prerna: Madam will not mind anything while dancing. Is it paining a lot Naira?
Naira: Haan Prerna..the box was too heavy
Anurag picks the box but its too heavy he drops it
Anurag: Its very heavy Kartik..better to check Naira's leg..this can even break her leg
Keerthi rushes to Naira..she makes her sit and examines her leg
Abir: Lets open the box and see whats inside it. This doesn't look like a gift
Kunal: What if it has bomb?
Everyone get shocked 
Kuhu: Oho shut up Kunal..you will give everyone a heart attack
Naina: But we need to be cautious with everything happening around..where is Akash?
Ishani: Even Rahul isn't seen here
Abir: Everyone got distracted..lets break the news now
Kartik: Right
Anurag: Woh..Polo is dead..Jia and Tanvi found a finger infront of their house..so Akash and Rahul have gone there
Naksh: What? Polo is dead?
Manish: Polo? Who ?
Kartik: Praveen papa..
Manish is shocked to hear his name
Kartik: Papa..I know everything now…that he killed maa…and …and…
Kartik breaks down…Manish runs him and hugs him
Kartik: I…I …was blaming…Swarna….maa….for that….Im sorry papa….
Manish: Kartik…I hid all this as I did not want to see you like this …that Praveen….bastard..good for him he is dead….
Mohini too cries remembering her late husband 
Kartik gathers himself up and gets up..he walks to Swarna
Kartik: Im..Im….sorry..sorry maa
Hearing maa from him Swarna starts to shed tears..Kartik hugs her
Everyone get happy to see this reunion. With everyone distracted Abir takes the box in his hands…Naksh sees it
Naksh: Abir..drop it…
Abir: Ill throw it out now…
Naksh: Are you mad?
Mishti: Abir..please..lets see whats in it atleast
Abir: What if it has bomb as Kunal said..If opening itself costs our lives..I cant allow it.All of you stay here..Ill throw this away and come
He runs out..Kunal and Naksh chase him…
Abir gets away from the house and reaches an abandoned site..he throws the parcel with all his might..with the force the parcel opens and something huge falls out. Abir stands there catching his breath while Kunal and Naksh reach there
Abir: Its…its..not a bomb…
Kunal peeps closer and is shocked 
Kunal..It…it…is a dead body….packed in this box
Abir: What??
The scene freezes 
Meanwhile  Tanvi and Jia's house
Akash and Rahul rush to find the police team enquiring Tanvi and Jia
Akash: Inspector any findings?
Inspector: Yes..sir this is Polo's hand…but finger prints are not Rohit or Kabir..it doesn't belong to Mr.Mehta even..in fact its not in our list at all
Rahul: Other than these..what if it Aditya's or Aryan's
Inspector: Not of theirs too sir..we have them with us. 
Just then Akash's phone rings. Its Abir
Akash: Abir?? What happened?
Abir: Bhai..here is a dead body of ..of…Aditya
Akash is shocked 
Akash: Aditya…?
Abir narrates the happenings
Akash: Gosh…whats happening here? All of you come to my office at once..I want everyone please..
Abir: Sure
The call disconnects. The scene freezes 
Akash's house
Everyone is gathered there 
Akash: Guys..I don't know what's actually happening. Its all complicated..let us break it down now
Kartik: Like?
Akash: Like…wait…lets start from the main villain of our lives..Rajdeep Mehta. He has gathered our individual enemies into one
Kartik: Kabir ie., Naira's enemy, Rohit ie., Mishti's enemy, Komolika and Aryan Anurag Prerna and Keerthi's enemies , Aditya Keerthi's enemy and finally Polo the enemy of Goenkas and Basus on the whole
Akash: I don't think he is doing all this just to revenge his arrest by us
Kunal: Definitely..the effect is much bigger than the cause
Akash: Yes..now in this Polo was found dead in a dungeon, Aditya's body was found in a parcel in the engagement house. This is actually a gift right..because Keerthi and Naksh's wellwhishers will want Aditya out of their lives
Naitik: But Akash beta…
Akash: Papa..I don't say we did it..but I say that their motive is opposite to that of Mr.Mehta
Ishani: Well said Akash..same with Polo right
Kartik: But why does his finger go to Jia and Tanvi's house?
Naira: I have a hypothesis…shall I say?
Jia: Of course Naira
Naira: Just to show their power…the killer wants to reach out to us saying that I know your details to the extent of reaching your footsteps. 
Tanvi: Its possible..maybe the killer wants to contact us..what if its Mithali..she got to know his release and she
Jia: Very much possible 
Akash: Then find her first..soon..
Jia and Tanvi nod
Akash: Now all of you..please be careful..we will find the truth of their murders soon and about Aryan and Kabir dont worry..they cant get bail that soon..even Rajdeep cant do it.
Everyone leave with a dull mood. The scene freezes 
Kaira's college- Ramp walk day
Anjali and her friends are waiting in the hall entrance. Naira and Prerna enter
Anjali: Kartik will walk with me
Prerna: Inside the premises he is KG sir dont forget it Anjali
Anjali: Tell this to your friend too
Naira is about to say something. Anurag comes there
Anurag: Whats up girls?
Anjali: Nothing sir
Anurag: It doesn't look like that..Naira what happened?
Naira: My chappal got stuck with dirt sir..Prerna was helping me to clear it
A smile slips out for Anurag,he understands what she means and 
Anurag: Ill ask the cleaners to clean the corridor well. Be careful Naira you are walking the ramp right..care is needed
Naira: Sure sir
Anurag leaves from there. Naira and Prerna follow him. 
Sometime later
The ramp starts 
Announcement: First is Anjali and Kartik…come to the stage please
Anjali is still searching for Kartik but he is nowhere to be found
Anjali to herself: I challenged Naira..but couldn't get Kartik to say yes…and today..Ill be insulted 
Announcement: Second call..and last call..Anjali and Kartik..come to the stage 
Anjali enters the stage alone. Everyone shout : Oooooo
Announcement: Where is your partner? If you don't have a partner please leave. 
Anjali storms into the dressing room. Naira and Prerna smile to themselves. Anjali fumes in anger
Few walks later
Announcement: Naira Singhania and Kartik….Goenka
The audience are shocked to hear it…even the announcer is shocked 
Announcement: Are you guys kidding? Whose work is..
Before they could finish Naira and Kartik enter the ramp. They start walking with full confidence.
The crowd initially is shocked but later they start to cheer for this jodi. Kaira walk and get to the centre of the stage. Kartik goes on his knees and holds Naira's hand. He gently kisses it
thus confirming his love for her..his relationship with her to everyone gathered around without a single word uttered. Naira gets teary eyed. Kartik gets up and pulls her closer as they pose for the final picture.
Everyone is astonished to know that KG sir..has fallen for a student. That KG sir who will not even look at their faces without a frown is going on knees for a student. Kartik doesn't pay heed to anyone. He justs bends to Naira and in a whisper: I Love you
The scene freezes with Anurag and Prerna sharing their happiness for their friends through eyes as they await their day of going public.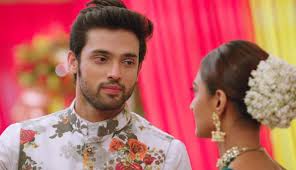 A hill is shown and there is an abandoned house there.
A lady is lying on the cot and near her a girl is crying. She is revealed to be Rupali. She hugs the lady and breaks down. The episode freezes 
Precap
Jia and Tanvi are shocked, why?

Naira is teased

 

Komolika in Basu house?

Fire at Krishna

Rohit meets Abir