Love Is In The Air Episode 34
The game proceeds for some time. Thats when the staff blow the whistle.
Staff: Its recess time. Leave the game as it is and come for the snacks
Everyone go to the garden area for the snack. Keerthi and Naira are missing 
Naksh: Kartik did you see Naira and Keerthi?
Kartik : No..woh Naira and I went in opposite ways for the clues then I did not see her
Anurag: Prerna did you see her?
Prerna nods in affirmation 
Akash: How can they just disappear? Lets search. But be in pairs. Dont get lost
Kartik and Naksh pair and search for Naira and Keerthi
Kartik: Naaaaaiiiiraaaaaaaa
The sound echoes in the woods
Thats when Kartik sees an unconscious Keerthi and runs to her. Naksh follows him
Naksh takes Keerthi in his arms 
Naksh: Keerthi…keerthi
They take her to the garden and Mishti gives her first aid. Keerthi slowly regains consciousness. Naksh hugs her
Naksh: Keerthi are you alright?
Keerthi: Naira…save Naira
Kartik: What happened to her
FB
Keerthi and Naira are searching for the clues. They sense some movements around them and bump into each other. 
Naira: Keerthi bhabhi did you feel something strange?
Keerthi: Haan Naira…did you too?
Naira nods
Keerthi: Ab chal we are deep into woods I think we should move away to the main spot
As the turn they see a guy with the mask and black outfit. Naira holds Keerthi closer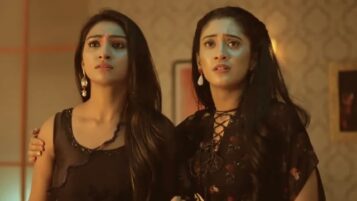 . The guy moves towards them. Naira and Keerthi move across the safety zone into the deeper woods. Naira pushes the guy and they both turn to move. The guy throws a rope around Naira's neck and pulls her
. Keerthi tries to stop him when he hits her on her head making her fall
Reality
Kartik: This is serious
Akash: Girls be here. Keerthi can you show us the spot?
Keerthi : Haan
Anurag Keerthi Naksh Kartik Abir and Kunal leave for the woods
They reach the spot
Akash: Naira must be somewhere here. We have to find Naira first
They spilt and search for Naira. Thats when Naksh sees an iron lid closing a chamber in the direction towards the resort. He doubts it and goes nearby to open it. Naksh sees a water chamber beneath it. Kartik too comes there. He sees water bubbles and jumps in. And there is Naira inside water losing her consciousness slowly
Kartik  holds her closer
Kartik: Naksh Naira is here ..call others
Kartik removes the ropes from her neck and pulls her up
but is unable to climb to the land.
Akash : Kartik tie the rope around you and give us the other end. We will pull you
Kartik follows it and finally Kartik and Naira are pulled out
Kartik carries Naira to the resort
Akash : Are you guys kidding. Someone has hurt two of us here. Are you showing us the cctv footage or not
Akash gets the footages and finds the guy with a mask and black outfit
Anurag: Who is he?
Akash: Mr.Mehta's worker maybe. Mr.Mehta…I will not leave you now
Mishti: Do something bhaiya
Akash calls Lallu and tells him something 
Naina: Ill make steps to cancel his bail
Naira is lying in the bed and has gained consciousness. Kartik holds her hand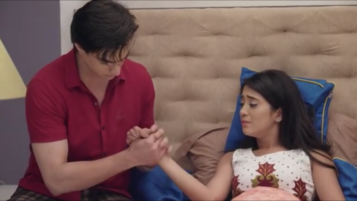 Kartik: Thank God you are alright 
Naira: When you are nearby how can I not be alright?
Kartik: Im sorry Naira woh
Naira: Shut up Kartik. You have no mistake in it. 
Kartik: Are you feeling alright?
Naira: Haan..woh bas..my head is paining a lot as he hurt my head while pushing me down. I remember his face well. Tomorrow
Kartik: Lets talk this tomorrow. Now you need rest.
Kartik carcasses her head and the scene freezes 
Its next morning. Kartik comes to visit Naira in her room. She is still sleeping 
Prerna: Ill wake her up Kartik
Kartik: Prerna..let her sleep
Kartik is about to go when Naira wakes up. She has a childish smile on her face
Kartik: Naira…good morning 
Naira frowns at him
Prerna: You both talk Ill get you chai
Naira in a childish tone: Mujhe dhoodh chahiye
Kartik and Prerna are shocked
Kartik: Naira dont play like this
He holds her close. Naira spats his hand
Naira: Meine kaha na mujhe dhoodh chahiye…
Prerna runs to Keerthi and Naksh. Everyone rush in. Kartik is weeping in a corner when Naira is behaving in a weird way
PRECAP: WHAT HAPPENED TO NAIRA❓ROHIT MEETS MISHTI