Love Is In The Air Episode 19
Episode starts
Krishna Cafe , Next morning
Naksh is busy preparing the cafe for the day. Shweta comes there
Shweta: Naksh
Naksh turns to see her
Naksh: Arrey Shweta…
Shweta : Can I share something with you. Actually woh
Naksh: Why not?
They seat themselves
Shweta: Woh Aditya kidnapped me…to bring Keerthi there
Naksh: I know it
Shweta: Actually Im the reason for all the trouble
Naksh: I did not get you
Shweta: Actually I gave him the ideas that Keerthi loves him
Naksh is shocked
Shweta: I did it to prank Keerthi. I logged into her account and had a romantic chat with him and later deleted it. She never knew it. As you helped us a lot and your friend is handling the case I thought to tell you. I never thought this will get this much serious
Naksh: A prank? Seriously? Oh come on Shweta….damn it
He bangs the table and gets up with his face red with anger.
Cafe outside college
Samar and gang are having a good time. Naira walks to them
Naira: Samar
Samar: Hai Miss slip..missing Mr.KG?
Naira: I very well know you did it
Samar: Oh great. You are brilliant. Yes I caused the accident.I wanted to take revenge for suspending me. Enough?
Naira slaps him hard
Samar: How dare you…
The other guys try to attack Naira and she bashes them
. Anurag comes to her aid. Once he enters the guys run away.
Samar: Oh AB you are with her…but whats the use?
Anurag: Do you want to know it? You will be dismissed
Samar: How will you prove it. Dont joke sir. KG is at home. He wont believe you guys.
Anurag: Kartik…..
Kartik walks there from behind a tree
Kartik: I heard everything crisp and clear. Not only me even the committee will believe them as
Anurag: Naira
Naira takes off the pin microphone from her dress and gives it to Anurag
Anurag: Your confession.
Kartik: Thank you Naira and Anurag sir
Flashback
Naira and Anurag plan to expose Samar infront of Kartik and call him to the cafe in the evening. Kartik is confused but as they insist he too comes.
Reality
Anurag: All credits to Naira. She overcame her fear and approached them alone to gather…
Naira: Dont exaggerate it sir. Its my duty. Im equally responsible
Kartik: How are you responsible?
Naira: Woh,,,for me..you entered
Kartik: Oh come on Naira…this bastard gets into my way always even without you. Please dont stay guilty like this. And a nice slap and fight Sherni.
Kartik goes inside the college to take care of the dismiss procedures
Anurag: Sherni that sounds apt. Okay Naira I guess you have an appointment at the hospital. Shall I drop you
Naira: No thanks sir. Prerna will be waiting for me.
His face changes on hearing Prerna's name. Naira notices the changes and confirms her suspicion and plan.
Kartik's room night 
Kartik is in his room. He sees Naira sitting near with a plate of food
Naira: Kartik..its time for food. Ill feed you
Naira feeds Kartik
. Kartik opens his mouth for food but no one is there except a food plate on his cot and a photo album with a photomof his mother feeding him. He realises that it was a dream.
Kartik: Why did I dream like this? I feel Maa in Naira . For the first time I feel like this towards someone. Swarna Goenka tried hard to take her place but could not. Naira suddenly took her place in my heart.I do care for her so much. If not …and even she seems to care for me. But is this care love? Kartik beta if not why would her message alone bring a smile to you?  I am I love…wow….this feels strange but..yeah
He remembers Their first meet and him holding her,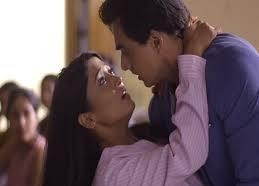 Holding Naira in the library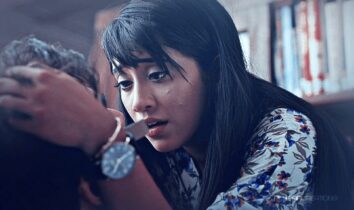 , he remembers being dumbstruck on seeing her dance.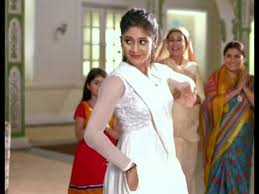 the smile on his face turns into a blush
Abir's room
He is playing with his guitar when his mobile rings. It is Mishti
Abir: Mishti..
Mishti: Abir do you know something?
Abir: Whats it?
Mishti: I love you
Abir blushes by her sudden confession
Abir: You called to tell this? I was busy with practice
Mishti: Oops sorry
She is about to disconnect the call
Abir: I love you too
Mishti: What? I did not hear properly
Abir: I love you too
Mishti: Werent you busy?
Abir: Anything is after you my dear. I was just pulling your leg
Mishti: But you were practising. Ill call later. Bye
Abir: I said na I was kidding then what? You called at this time to have a romantic conversation then why are you leaving me?
Mishti giggles
Mishti: Is pulling leg patented on your name?
Abir: Mishti ki bachi
They both laugh out loud.
College Library. Next evening 
Naira notices that Anurag is inside the documents section of the library. She decides to work her plan out and has a huge smile. Naira runs to Prerna
Naira: Prerna …prerna I need your help
Prerna : Haan tell me
Naira: I need to get some documents but whats it na Kartik sir is here too. I want to meet him ..you know na..he will leave soon and library will be closed soon too so…
Prerna: Tell me the name of the document I will get it for you.
Naira tells the name and : Thanks
Prerna: Stupid A friend's duty is to help a friend in love . Im doing my duty .
Prerna walks inside the documents section. Naira secretly locks the door from outside
Naira : You are right Prerna A friend's duty is to help a friend in love . Im doing my duty .Librarian  Bhaiya will come in half an hour. Till then we have time. Once they have a good talk Ill open it before bhaiya comes
Suddenly There is loud thunder and lightning. The lights go off and the windows start to rattle. Naira is afraid as she feels a presence behind her. She turns to see Kartik , there is a loud thunder and hugs Kartik in fright.
The two hearts which have realised the love are beating close to each other. Waiting for the feelings to be shared
Meanwhile Prerna and Anurag bump into each other.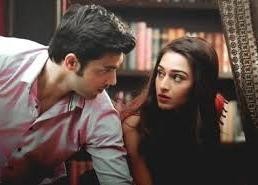 They find it hard to suppress their feelings in the presence of the other. Prerna grabs the document and rushes to the door. To her dismay the door is locked. She struggles with the door as the lights go off. Anurag comes there.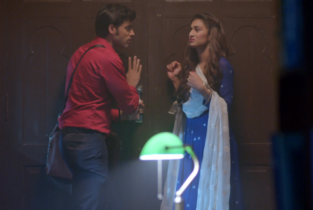 Prerna: Its locked
Anurag: What? I told that fool that Im in here . He locked us. I left my phone in my cabin
Prerna: Mine has no signal. Lights are off too
They both look into each other's eyes. The thunder is heard. Prerna closes her ears in fright . She yearns to hug Anurag but something stops her.
HEY GUYS DO YOU WANT BOTH THE CONFESSIONS IN NEXT EPISODE AS PARALLEL SCENES ❓OR DO YOU WANT ONE CONFESSION TO BE POSTPONED. IF SO WHICH SHOULD BE POSTPONED❓DO TELL ME IN THE COMMENTS BELOW. MOST ASKED VERSION WILL BE POSTED.