Love Is In The Air Episode 17
Hello everyone here is next episode
Episode starts
Prerna is sulking as she misses Anurag but she doesn't know the reason for missing him. Naira tries to persuade her to accompany her to the canteen but Prerna is adamant so Naira walks alone to the canteen
Naira: Bhaiya one kachori please
She is waiting for the kachoris when she hears Samar's friend on phone
Guy: Hey Samar great job man , he suspended you but now he is unable to come to college
Naira is angered by it yet she listens patiently
Guy: What? You caused the accident…dude awesome yaar
On hearing this Naira is enraged and is about to attack him when she realises what is she is about to do
Naira in mind: No Naira..this is not wise. Let me punish him in a proper way
She decides something and leaves from there.
Hospital
Kuhu and Kunal panic on not finding Mishti from the previous night. Abir approaches them
Abir: Hey guys where is Mishti? Doesn't she know about me being here with bhai…she did not come and even I cant find her. Where is she?
Kuhu: Even we are searching for her. She seemed to be upset from last night
Abir: Acha..so is there any place where she visits when she is upset and wants to be lonely?
Kunal: Haan I know it. There is a lake park where she goes.
Abir: Then lets go
Kunal: Duty ….Keerthi mam will kill us
Abir: No issues I will go
Lake park
Mishti is sobbing as she is crouched on a bench in the park. She feels broken as her love failed within a day.
Idiotic thoughts disturb her mind and she decides something. Mishti speeds up to the lake and jumps into it. Fortunately Abir reaches the park at that moment
Abir : Mishti…..
He jumps into the lake and lifts her in his arms. Their eyes lock. Mishti sees pain and care in his eyes and her heart aches more.
Abir takes her to the bench and gives his jacket to her
Abir: Are you mad or what? What do you think you were doing?
Mishti: I fell by mistake
Abir: Dont lie Mishti. I saw you jump on your own. Dont call yourself a doctor. Doctors know the value of life better than anyone else. Then hiw dare you decided to end yours huh? Did you think of your family ?
Mishti: Sorry Abir woh
Abir: If something had happened to you then mera kya hoga?
Mishti is shocked as he breaks down
Abir: Mishti I dont know what you think of me but I really love you.
He pulls her close and holds her face in his hands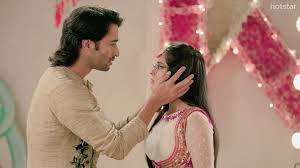 Abir: I planned to propose in a magical way once bhai recovers but now you forced me into this. From the day I met you I felt so comfortable with you. I was able to share anything and everything with you. You became so special for me.  I realised that I have fallen head over heels for you. Now atleast tell me the reason for this decision as I dont expect a sudden reply for my love
Mishti: If you had told this earlier I would not have done what I did
Abir: What?
Mishti: Woh…I jumped because of love failure. I too love you Abir
Abir is surprised and shocked
Abir: Then what love failure? I did not say no…oh I never knew that you felt the same for me. Then how did you jump into conclusions?
Mishti: I saw a girl hugging you yesterday night…
Abir: Oh fo she is my cousin Mansi. We were consoling each other for bhai's accident. My chachu's daughter…and you thought her as
Mishti: Your lover
Abir hits himself on his head
Abir: Pagal ladki..you could have at least asked me na…you decided to end your life stupid. What if I had not come huh?
Mishti: Sorry Abir..woh
He pulls her into a tight hug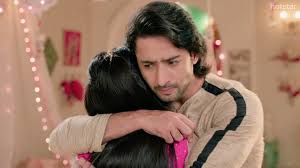 Abir: Dont dare to do this again. You have no rights for it.
Mishti: I wont do. Sorry
Rain starts to pour soaking them.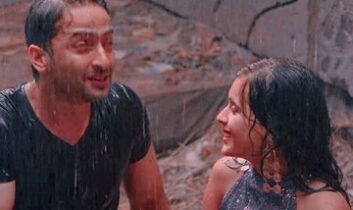 They have a romantic moment.
Krishna Cafe
Akash is there to see Naina. On seeing him she runs to him and hugs him
Akash: Hey Naina..whats the emergency that you wanted me immediately here
Naina: Akash Mr.Mehta sent another note asking him me to withdraw from this case. He also mentioned about hurting my loved ones including you
Akash: Arrey he is just blackmailing. Dont worry
Naina: If im hurt I have no issues but if you…maa..
Akash: None of us will be hurt. You dont panic
Ishani comes there
Ishani: Hey love birds how are you
Akash: Your friend is becoming a coward do something for it
Ishani cheers up Naina
when Akash sees someone watching them. He alerts the staffs and they finally catch the guy
Naira's room 
Naira is in her room studying when her thoughts fly to Kartik as she rests her head on the table and enters the dream world
Dream
Kartik who is hurt is in the bed when Naira goes near him.
Naira: Is it very painful
Kartik holds her closer and
Kartik: Until you are here with me nothing is painful for me
She gently kisses his forehead and tends to him.
Reality
She is brought to reality when Naksh enters with her dinner. They have a brother sister moment by feeding each other
Prerna's home terrace
Prerna is watching stars when Anurag's thoughts strike her along with the chill after rain breeze
Prerna: Why am I thinking of him? This is also so wrong Prerna. He is a professor and I am a student. The best way to get rid of his thoughts and these feelings is to engage in other activities .
She runs to her room and grabs her drawing board and starts to draw something not knowing that the more she tries to runaway from the feelings the more stronger they become
PRECAP: PRERNA's DRAWING IS …..KEEP GUESSING. NAIRA APPROACHES ANURAG. ABIR AND MISHTI ON A DATE. NAINA WARNS MR.MEHTA