Love Is In The Air Episode 15
Hey guys I know you are all really angry for my irregularity in posting. Sorry guys. Practical exams are very near so was busy. Just few days more. Then it will not repeat. Thank you for bearing with me and my irregular nature.
Episode starts
Mishti reaches the play theatre. It is not much crowded and there was a strange scent over the place. She slowly walks through the door after her ticket was checked by a guard. As she enters the theatre she finds that many people have already gone inside and the theatre was almost full. She managed her way to the middle row and seated herself comfortably.
Her eyes started to scan every inch of the theatre. It was centuries old one but has been renovated according to the modern technology. The curtains were still down
before Mishti could finish her scanning the initial music began and the crowd started to cheer.
Kaira's college
Prerna was called by the student secretary for some work and is walking on the corridor which passes through Anurag's cabin.
Anurag walks out and bumps into Prerna.
On seeing her He walks away avoiding her eye contact. Prerna is confused about his sudden change in behaviour. Yet she walks on her way shrugging her shoulder.
In the meantime Naira is walking towards the train station.
She is surrounded by Samar and gang
Samar: Hey Miss slip..how are you? Whats it between you and KG? He seems so worried for you
Naira: That is not your problem
Samar: Acha…okay but we have other problems our problems with you. Shall we deal it.
They get closer to Naira.
Kartik who is going by his car gets shocked ,slows down and is about get out
when Naira gives a nice kick to Samar.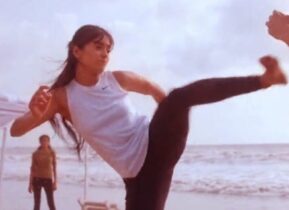 He falls down with a thud
Naira: What are you thinking of urself?
She beats the other guys while Kartik is thoroughly impressed by her sherni avatar
Naira: If you come near me again I will break your bones.
Prerna runs to her and hugs her
Prerna: Naira..my Naira is back. All thanks to your KG sir
On hearing his name Naira blushes. Kartik walks to her.  Both the girls are shocked
Kartik: Well done Naira. You were as fierce as a Sherni.This is how you should fight your own battles. Im impressed
He lets out a small smile
and the girls are happy and shocked to see him smile. Kartik walks off
Prerna in a whisper: I never knew he could smile
Naira stares at her. Prerna holds her ears in apology.
Play theatre
The play progresses. Juliet is going through the same confusion and feelings which Mishti had the previous night. Finally Juliet realises that it is love when Romeo meets her at her balcony
.  The truth hits Mishti that the feelings for Abir are not random ones but they are the purest feelings called Love. As she realises her love tears drip down her cheeks. She feels that she will never be able to watch the play as she did not want anyone including her to lose her love. So she walks off from the theatre in midway. Finally Romeo and Juliet made her realise her feelings.
Ghat Road
Naksh and Keerthi get down the road into the dry area and walk in search of Shweta. On the way Keerthi gets her leg sprained
Keerthi: Ouch..
Naksh: What happened?
Keerthi: Nothing Naksh just a small sprain.
Naksh holds her hand and takes her with him adjusting his pace according to hers. Both of them feel that there is strange connection between the two but at that moment their concern for Shweta makes them divert their thoughts. Naksh messages his location and details to Akash on the way
Yards later they sense some presence around and find a car left unattended.
Keerthi: There is…
Naksh: She may be there
They go slowly with lot of precautions and find an unconscious Shweta there. While Keerthi opens the door and tries to wake shweta up Naksh suspects a foul play and starts to look around. As Naksh walks away a figure approaches Keerthi and Shweta and is about to attack them when Naksh stops him and throws him on the floor.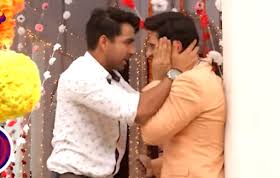 Keerthi turns to see
Keerthi: Aditya
Aditya: Hey Keerthi…how is my surprise to you both?
Keerthi: Why did you do this?
Aditya: What else can I do to bring you here. You know right I love you but you wont
Keerthi: Oh shut up Aditya. You were my brother's college mate thats why I chatted with you. If you think that as love I cant do anything.
Naksh: Whats going on?
Aditya: Who are you?
Keerthi: He is my friend. Naksh I will tell you in detail later. Lets first get Shweta back
Aditya:  Not until Im there
Akash: You wont be there anyway. Im here na how can you be there
Keerthi is shocked
Naksh: Dont worry he is a cop and my dear friend
Akash: Dr.Keerthi right. Heard a lot from Naksh. Nice to meet you but wrong circumstances i guess
Keerthi:  Thank god you called him Naksh
Akash holds Aditya by his collar and : Not much worthy dude. Your gym body could have done it
Naksh and Akash laugh while Shweta gains consciousness. Keerthi hugs her
Mishti's room Night
Mishti is dancing around in her room
Mishti: Im in love ..im in love woohoo Im in love
Just then she hears a knock and runs to the door to open it
Prerna hugs her
Prerna: Mishti a good news
Mishti: Whats it didi?
Prerna tells her the happenings
Mishti: Wow…That KG sir is a magician indeed. What we all tried to do and failed was atlast done successfully by him
Prerna in mind : Its not just KG magic it is love magic. Kaash I get my love soon
Mishti: Didi..
Prerna jerks and : Huh..so I thought of giving you a treat. I made pasta for you
Mishti: Really..wow
Mishti in mind: Its a treat for Naira didi's return to form and my love. Sorry didi I cant tell you now.
Both sisters have a wonderful time.
Akash's home
He is working on Mr.Mehta's case when he feels someone peeping though the window and walks out. Akash is relieved that no one was there but his police mind refuses to believe that it was just a hallucination. His heart over takes it and he is involved in work again. Unfortunately his police mind was right. The stranger is still peeping through the window.
Hospital veranda
Kuhu and Kunal are in their night duties. Kunal drags Kuhu to a lonely spot
Kuhu: Kunal..what are you doing?
Kunal: I am curious
Kuhu: About what?
Kunal: Why did Mishti suddenly go to a romantic play.
Kuhu: Because she is in love
Kunal: I never knew it
Kuhu: As you are a fool. She loves Abir and I knew it before her thats why I did the crush wedding trick to make her realise. Hope she has now realised
Kunal: Brilliant huh
Kuhu: Thank you
Kunal kisses Kuhu and she goes blank. As Keerthi is on her way there Kunal runs away muttering Pyar ka dushman
PRECAP: 
KEERTHI AND ADITYA's PAST. KARTIK SHARES HIS SORROWS.MISHTI IS SHATTERED. PRERNA MISSES ANURAG