Love heals everything (KaiRa FF) chapter 16
Hi guys here I am with the next episode. Thankyou to each person who are supporting me. I love you all guys… So without further delay let's go to the episode..
The episode starts with flashback running*
Flashback
Naira called Kartik inside the Cabin.
Kartik: what's the matter why did you need my help?
Naira: You are living in our house since one week right?
Kartik: Haan, why?
Naira: I can't ask this to any family member so I'm asking you, have you noticed anything weird in Naman chachu's behaviour?
Kartik: I wanted to tell you about the same but then thought that it have been just few days since I am here so…
Naira: come to the point don't hesitate to it, because he is my chachu.
Kartik: I think uncle does gambling I once heard his phone conversation mistakenly….. and
Naira: So that's the matter it's my mistake these days I was busy in myself. He always flows money like money that's why I limited his account balance. But now he started stealing from his own house.
Kartik: what do you mean by this.
She tells him the whole thing and her conversation with Mr Tiwari.
Kartik: do you think that he will accept this?
Naira: Not at all, I know him well he will not accept this. We need to collect some proofs wait… Let me call Akshay he will help us.
Kartik: No no need I know well about this gambling teams, they bet on cricket or football matches and nowadays it's usual. I'll help you.
Naira: Okay but take assistance from Akshay I don't want you to put yourself in danger okay?
Kartik:(smiling sheepishly) okay.
Flashback ends*
Naira: thankyou Kartik for helping.
Kartik: pls don't say thankyou I am happy to help you.
Gayu(pov):- he is caring for all my family like his family now I love him now more than before 💖
Kartik (pov):- In this way I got to spend some time with you that's all what I want 😉
Naman: So what?? I also have right in this money. This business was of my father so as his son I have every right in his every single penny.
Karishma: what are you doing Naman instead of asking for forgiveness you are…
Naira: No chachi let me also k ow what is in his mind.
Naman: toh suno!! You are keeping all us in your control. We are afraid of you. Now you are handling the business that doesn't means you have any right to control us. I will do gambling and what will you do haan?
Naira: Are you done with yours ?
Naman: don't take your lecture now!
Naira: No, Mr Singhania. I take lecture to those who are close to me. And about your complaints….. You are talking about rights haan! Of they are rights then they are duties also. Have you done any of your duties.. when papa suffered from heart attack instead of helping him you escaped from the scene. Right? Do you have any contribution to the business then what the hell are you saying about the money earned from that. And when I got the company it was running through losses and now it's when stable you are demanding rights.. waahhh. And about controlling, I am not controlling anyone I just want everyone safe and secure. And about money you don't have any right in these.
Naman stays numb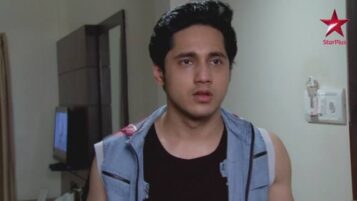 Akshara: Nairaaa…. Forg…ive…
Naira: not at all mumma I can't forgive him
Naman: I am sorry Naira I should not have told you these. Five me any punishment I will bear it.
Naira: if you have done the mistake you should pay for it
Naitik: you can give him any punishment princess we won't stop you
Devyani: haan beta.
Naira: you spent 25 lakhs in gambling right no,no 25 lakhs 15 thousands rupees. Within next fifteen days you should return the whole money without leaving a single penny. Wanna you will be out of this house. Don't worry about chachi and Mishti they will be my responsibility.
Karishma: 25 lakhs!!! From where he will bring it in 15 days beta..
Naira: I don't know chachi. He spent 25 lakhs in 15 hours I am giving him 15 days. And don't dare anyone to help him with. And till then chachu your expenses that I give you will not be given and for food, that I will give you.
Naman: par beta pls…
Naira: my decision is final Everyone can leave for their rooms and Akshay..
Akshay: Yess
Naira: Block the debit card of all family.
Akshay: ji
Kartik: Let's leave Naira we are getting late for conference.
Naira: Yeah okay and to you all don't let Mishti know this.
Everyone: okay.
Episode freezes
---
---
Precap:- Romantic dreams, KaiRa becomes friends.