hello guys!!
hope you all are doing well?
ep.3
last precap: Is Aliya planning a Part2 of this plan? Pragya has a secret motive to go to India, what is it?
Purab is sitting near Disha, holding her hand crying.
Purab: when will you wake up, I MISS YOU SO MUCH.
Purab thinks of all his moments with Disha.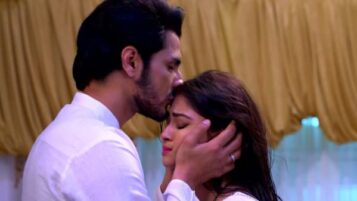 Alia is watching Purab and Disha at the door fuming with jealousy.
Alia(in mind): Purab I will kill Disha and win your heart.
Alia: Purab dinner is ready, come down fast.
Purab goes downstairs,
Abhi: Purab, what do you want to have?
Purab: I am not hungry, I am going to sleep.
Without waiting for a reply he goes to his room.
Alia: Bhai, I will take some food for Purab to his room.
Abhi: Ok, and make sure he eats it.
Alia: Ok Bhai.
The scene freezes
Pragya and others have reached Tandon Mansion(Delhi). They were in the living room, talking about what they planned to do the next day.
Pragya: So, what all do you plan to do tomorrow.
Preeta: I have to go to the hospital tomorrow, to check where I have got my posting.
King: We all are planning to go to a mall tomorrow.
Preeta: Bhai, who do you mean by 'we'?
King: Meera, Kiana, Mishika, Prachi, Kiara, Abhigya, and Shreya. Shrishti, Pragya, and Aunty if you are free do you want to join us?
Shrishti: I would have come if I didn't have an audition for a drama.
Sushma: I am free, I will love to join you guys… Pragya do you have any plans tomorrow or are you free to join us?
Pragya(in mind): I have to meet Rhea and ask my ex-husband 'WHY HE TRIED TO KILL ME?'
Pragya: I am going to a temple tomorrow. So I won't be able to join you.
Preeta: Didi and her temple.
Pragya: I feel calm when I talk to god.
Preeta(in mind): Let her go, she will be happy and fresh which is good for her health.
The scene freezes
Precap: Preeta gets her posting in another city, Which is that city? She meets someone and is shocked to know that person is alive, who is that person?
Answer these questions in the comment section
Love you guys… ❤
Bye stay tuned for the next update