Love Bytes (Divided By Professions, United By Love) – KHKT,YHC – Episode 16
Hi all!!!
The episode starts with sona giving instructions to the workmen…
Preesha calls sona…
Preesha: Sona, do you remember, we have a parlour appointment today..
Sona: Yeah, i do remember….but the works are heavy..
Preesha: Here also…does your relatives has arrived?
Sona: Will be coming anytime today…
Preesha: That's great…I'm excited to meet them…
Sona: That's good…ok i'll see you in parlour…bye…
Preesha: Bye..
Pulkit comes …
Pulkit: Di, Dev bhai called..they reached mumbai…
IShwari: We also reached here…
Sona and pulkit turn back and sees ishwari's family…
Sona: Bua…
Sona hugs ishwari, then sonakshi and atlast dev,niki,rhea,neha,pulkit,sona share a group hug…
Ishwari: Chutki, you are the bride…why are you doing these works? You will become dull…so go and rest…we all are here nah, we'll take care…
Sona: Bua, i feel relaxed seeing you here..
Suman comes and hugs ishwari…
All goes inside…
Ishwari sees saras and danny…
Suman introduces them…
Saras and danny seek blessings…but ishwari does not bless them…
Suman: Ishwari, these kids are really good…They know about good sanskar and they are lovely…for elders mistake, we should not punish kids…accept them…
Ishwari then blesses saras,danny,kumud and kusum…
Suman introduces dev, niki, rhea, neha to saras and danny…
Kumud take care of the guests belongings…Ishwari feels good seeing kumud…
She then sees lakshminandan…
Lakshmi: Kachori..
Ishwari does not respond…
Dev: Mamaji, ma will not accept you untill mami accepts you…
LAkshmi feels bad…
IShwari also feels bad and goes with suman…
Oberoi family also comes…they too hug and share bond…
Avantika family comes…
Avantika sees lakshmi…
Avantika: Jiju…
Lakshmi: Avantika, how are you? Atleast, you spoke with me..
Avantika: Jiju, how can i avoid you…you are my favourite..
Lakshmi: I know that, you are our little princess…
Avantika then talks with lakshmi a lot….
Suman sees that from far…She then sees ishwari who misses her brother….She thinks!!!!
Dadi: All the relatives have come…now only wedding vibes has started…
All smiles…
The girls have a talk in sona's room…
The girls are: Sona, sonakshi, niki, rhea, neha, kumud, kusum, pankhuri,priyanka, gauri and anika…


The boys sneak peak into the room but nikki closes the door…
The boys think…
Dev: What will they speak?
Adi: About jwellery…
Shivaay: Exactly, about dress and jwellery..
Om: that too our family girls are more talkative…
The boys laugh and goes to do work…
At evening….
Sona gets ready to go to parlour…
Rudy: Di, shall i drop you?
Sona: No worries my loving bro, i'll go by myself…
Rudy: Di, pls i miss her…
Sona: MA, your son is telling something…
Ishwari: Rudy, till wedding you both should not see each other…understood…now go in..
Suman: Sona, we are going to rohit's house…
Sona: But for what?
Suman: To introduce our relatives…
Sona: Ok…go safely…i'll leave…
She leaves to parlour…
Preesha waits for her…
Sona: Yeah, i came…come lets go…
Meanwhile,suman and other ladies reach sippy mansion…
Veena welcomes them…
Tanya hugs suman…
Suman: Veena jii…this is my family…She is my sister's sasu ma..
Both dadi's greet each other…
Suman: She is jhanvi, my elder sister…she is avantika, my younger sis…She is ishwari, lakshmi's sister and she is pinky, my bestest friend and jhanvi di's co-sister…
Veena: So good to see you all…
Pooja comes and greets all…
Rohit comes there…
Rohit greets everyone…
Jhanvi: Rohit, i have heard many good things about you..our sona is so lucky…
Veena: No jhanvi ji, we are so lucky to have sona in our lives…
All smiles..
Rudy messages rohit that sona and preesha went to parlour and they can also go there without telling everyone…
Rohit: Ma, i have work, so i need to leave…
Veena: But rohit, it is evening already…you take rest…tomorrow is your haldi..
Rohit: Ma, its bit urgent…
Veena: Rohit…
Suman: Its ok veena jii…allow him, he is a doctor, maybe any urgency…
Rohit: You are the best saas anyone can have…
Rohit hugs suman and goes..
All gets confused of rohit's behaviour…
Tanya and pooja smiles as they know rohit is going to meet sona…
The ladies continue to talk…
In parlour, sona and preesha does get their facial done…
Their eyes are closed…
Sona: These boys are really naughty and without them also we feel good…
Preesha: Yes sona, without their disturbance…it is so peacefull…
Rohit and Rudy hears this sitting behind them…They signs the work girls to go and these two massage the girls…
Sona: such a good massage…
PReesha: YEs…so relaxing…Thank god, rudy is not here, i'm bit free…
Suddenly rudy and rohit massage so heavily…Girls feel pain…they open their eyes and sees these boys…they shout…Rudy and Rohit follows them to beat…They runs…Suddenly veena and suman come there with pooja…
Suman and veena holds the boys ears and drags them..
Sona: Thank god, you both came here…
Rohit: Ma, you know what these two are culprits…they'll be happy itseems if we both are not with them…
Suman: Rudy and Rohit, you are instructed not to meet the girls…See them they are good girls, they are not urging like you to meet…
Rohit: But, ma how you both knew that we are here…
Pooja: That's because of your over act bhai, they found that you are going here..
Veena: Sona, preesha get your work done and go home quickly…You both come with us…
Suman and veena drag the boys out…
Sona and preesha laughs…They give flying kiss to the boys…They go…
After sometime, girls go to home and rests….
The next day!!!!
Ishwari, Jhanvi grinds the haldi…
Pinky asks anika to make sona ready…
All are asking and telling only about sona..
Rudy seeing this..
Rudy: Even i'm here…My haldi also today only..
Avantika smiles and hugs him..
Avantika: You are our loving and pet boy rudy…You are ready and even relatives have come but where is our princess….
Then sona comes there in a yellow lehenga…The girls bring sona there…
Ishwari wards the bad sight for sona…
Pinky: Sona, you look beautiful…
Sona: Thanks chachi…
Jhanvi: Sona, rudy take elders blessings and sit in this place..
Rudy and sona see their haldi mandap and thanks the boys for this setup…


Sona and rudy seek blessings from dadi and all men including lakshmi…Suman sees this and thinks…
Then they sit in the places…


Sona imagines rohit being there and applying haldi to her…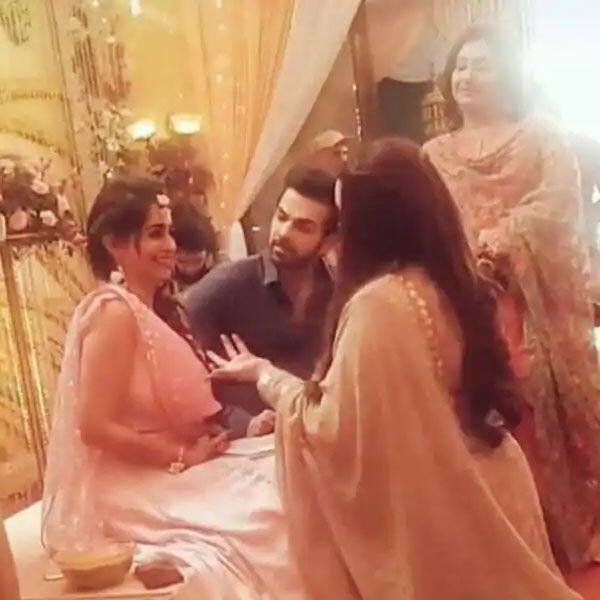 All apply to rudy first and priyanka takes haldi and goes to preesha's house…
in preeha's house , she is beautifully dressed in florals…
PRiyanka comes with pulkit there…
She hugs preesha..
Priyanka: Bhabi, you look great today..
Preesha blushes…
All apply haldi to preesha…
MEanwhile..in sippy house, rohit gets his haldi done…Pooja takes haldi and goes to sona's home…
Pooja gives the haldi and sona's ceremony starts…
Girls apply to her…
All the couples have a cute moment applying haldi each other…
Pooja takes leave and goes out…she gets slipped and pulkit holds her…He holds pooja's uncovered waist…they both have a passionate eyelock…Priyanka then coughs…
Pulkit: Are you ok pooja…
Pooja: Yes, bye…
Pooja then goes to car and thinks of pulkit holding her…she blushes and smiles…even pulkit think of pooja…
Rudy then goes without knowing to anyone to preesha's home…
Amma: Preesha, you go and change..
Preesha goes inside her room…She finds rudy there…
Preesha: What are you doing here???


Rudy: What can i do? My lady love is not interested in making love…
Preesha: Rudy leave me…
Rudy hugs preesha and applies haldi to her…
she too applies for him…
They have a cute lovely moment…


Then rudy leaves telling "I LOVE YOU"…
Preesha blushes….
To be continued!!!!