Living our life together episode-2

Warning: A non-numeric value encountered in /home/ftpusers/tellyu/public_html/wp-content/themes/publisher/includes/func-review-rating.php on line 212

Warning: A non-numeric value encountered in /home/ftpusers/tellyu/public_html/wp-content/themes/publisher/includes/func-review-rating.php on line 213

Its starts with Meera making her way to the stage followed by her friends and family..
And Akshat is shown waiting in the stage for her..On seeing Meera Akshat helps Meera to get on the stage..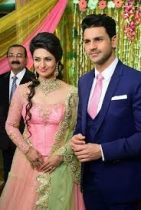 Meera and Akshat..
AKSHAT CHOPRA : A self made businessman . Sucessful.. Loves his family.. Respects women and supportive …
Pandit ji Announces Meera and Akshat to exchange ther rings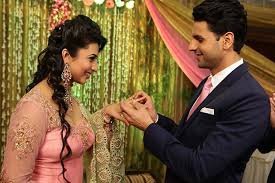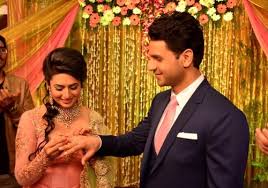 After that it was photo section . Meera and akshat takes photos with famiky and all..
Just then an announcement..
Tanya : Listen all.. as today is our besties big day.. someone who was stranger is now becoming someone who is so close … I hope that your life may glow with love and happiness
Ann : Meera.. my darling.. i haven't ever thought that i would have to witness your engagement and that too an arranged one.. But i am happy that you are happy..
Tanya : Add we have a beautiful gift for you..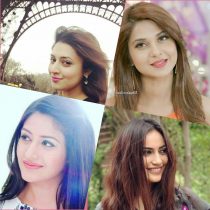 A photo frame with the collage of 4 friends..
Tanya : I know you guys are expecting much bigger … but for us this is our life..
Akshat smiles.. Meera slo smiles with a teary eye.. Akshat notices this and holds her close..
Akshat : You know guys i liked your friendship
Meera : Don't be jelouse , Akshat..
Akshat : I am not jealouse.. i am happy .. and won't you introduce us..
Meera introduces eachone..
Akshat : Sameera …
Sam : Sam.. call me sam..
Akshat : Don't you have any message for you friend..
Sam : Actually i have an advice for you..
All looks at sam confused..
Sam : If you make her cry.. i am gonna kill you..
Akshat : Don't worry.. i will treat her as a queen..
Ann : Okay enough of this.. Akshat , Meera could you poss for my camera .. actually i want to upload your photos in Social media..
Akshat : Why not??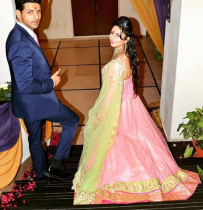 Ann uploads it her social media account..
SHARMA HOUSE..
Pooja : Thank god.. Engagement took place nicely..
Just then Ann comes there
A relative of meera looks at her awfully.. Ann goes to upstairs..
Relative : Who is this??
Mahira : That's di's friend Ann..
Relative : Christian.. And what kind of dress is she wearing .. i can't belive todays girls are so exposive..
Mahira : Its not that exoosive and its new fashion chachiji and if she is comfortable in dress like these then there is no problem..
Relative : But still.. i hope Meera does not wears dress like that..
Pooja : No di.. we have such sanskarr to her .. she won't ever..
UPSTAIRS..
BALCONY..
Meera, Tanya,Sam, Ann are sitting at the balcony enjoying there drink
Tanya : I am so angry at you..sam
Meea : Ha… why did you threaten my wouldbe
Sam : I was just making clear that you are so important to me and what's wrong in that..
Meera : You will never change.. once a rebel always a rebel
Tanya : That proverb is not like that..
Meera : But this is correct in her case..
They laughs and sees Ann silent..
Tanya : Now what happened to you.
Sam : I don't think she can't still belive Meera is getting married..
Ann : Shut up.. its just that..
Meera : What!!
Ann : lets go for a trip.
Sam, Meera and tanya : What!!!
Ann : Just imagine only for of us .. lots of fun… we could create new memorries .. After we all are getting married its not gonna happen.. but now we still have time.. We can leave our life together..
Sam : Its awesome .. i am ready…
Tanya : Me too.. but i have to take mom's permission
The three looks at Meera..
Meera : I also have to take..
Sam : We know.. mom's permission dad's permission… right
Meera : Right and also akshat's..
Sam : Wow..
They talks about lot more things and sleeps at the balcony..

Warning: A non-numeric value encountered in /home/ftpusers/tellyu/public_html/wp-content/themes/publisher/includes/func-review-rating.php on line 212

Warning: A non-numeric value encountered in /home/ftpusers/tellyu/public_html/wp-content/themes/publisher/includes/func-review-rating.php on line 213