heya ..so let's start with the new episode..without any delay…
Cabin
[vansh returns after 15 mins..]
Vansh: gaura done!!!
Riddhima: hmm…but vansh how could i???
Vansh: take deep breaths..calm down…everything is ok…now come on..
Riddhima: umm..hmm…[she holds vansh's wrist tightly..vansh too reciprocated ]
[seeing the grabbed hands all the employees were shocked…]
[the meeting was over and vansh cracked the deal]
Vansh: [after everybody leaves..]soo, MS;riddhima chakraborty…you are appointed as my personal assistant..
Ridhima : what???
Vansh: hmm..but if you don't wanna then you can say no..
Ridhima: nah…i'm ready..[in happiness she hughes vansh and he to reciprocate it..][after they broke their hug…so when should i join..
Vansh: today..now itself…
Riddhima: what???
Vansh: haaaa…be in my cabin..with mishra's file..
Riddhima: ok
[entering the cabin]
Riddhima: vansh ,this was the file you said but there are some mistakes..[she was reading the file while vansh was adoring her..][she bumped into vansh she lost and balance the files fell…and vansh held riddhima by waist]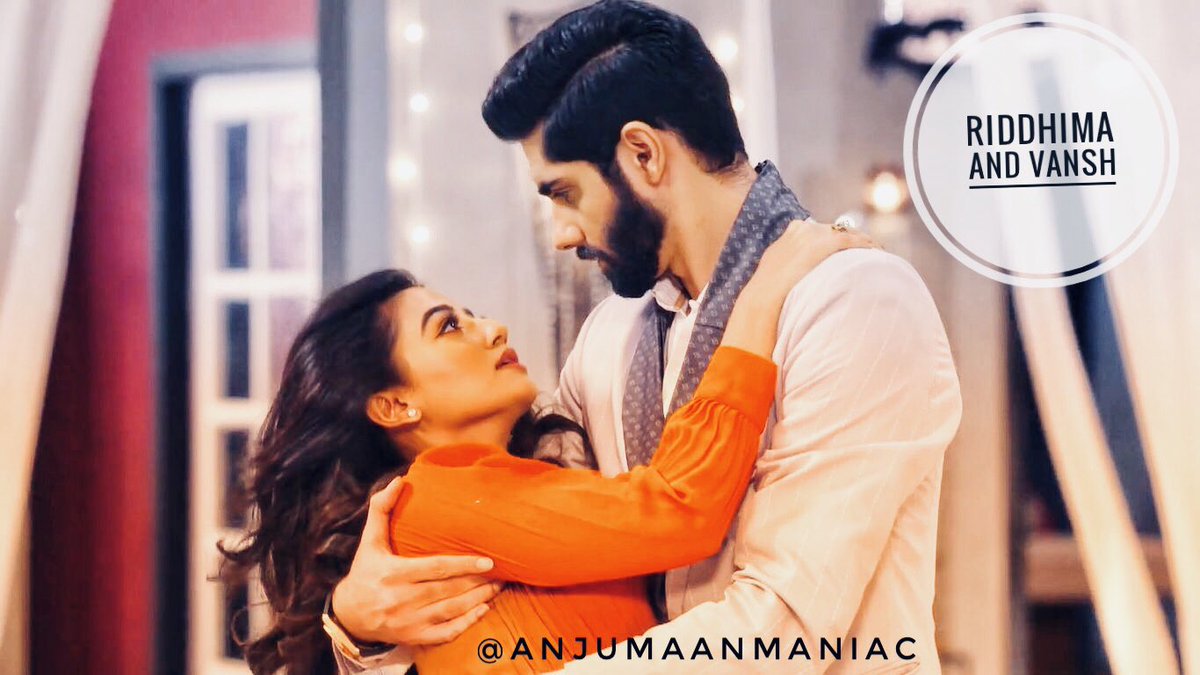 [suddenly an employee knocks ]
Tells the person to enter..
Vansh: are yaar the moment was so amazing..
Haa yes ajay..
Ajay : Sir you riddhima mam to bring mishra's file but she left one..
Ridhima ; ohh..thanks
[riddhima starts explaining vansh..[she starts]
Riddhima : so vansh…………………………………..[quiet big..]
Ajay heard that she didn't call him sir..
[vansh didn't find odd cause he is used to hear soo]
Raishinghania's house…[everyone is done with dinner]
Ayan: hey everybody..i'm bored let's play something i have a game to play…
Shivangi: ok baby..
Siddharth: ohk champ..
Dadi: prr beta mai kaha bhag paungi??..[how can i play dear??]
Ayan; dadi baith ke khelna hai…[we have to sit and play don't worry]
dadi : ha ok..
Vansh: sor..
Ayan; no bhai today no excuses i'm bored naa..plzzz for mee[making puppy face]
Vansh: umm…ohkkk
Riddhima; i'm ready..
Ayan: So let me explain the game…[in this game we had made chit's of each person and mixed in the bowl.. there will be turns..you have to pick the chit and see the name of the person and then you have to reveal 3 secret's of that person you know…
Siddharth; wow..loved it..
Shivangi: hmmm..so aaj koi ek markhake hi soee ga…[today anyone of you will have to be beaten ,means]
Ayan: chalo na let's start..
Shivangi goes…she gets dadi's name..
Shivangi: mummyji. So first..She eats a full piece of cake whenever brought..
She has also pranked an old man saying..love you…
She has also tried taking selfies making pout…
Vansh /riddhima/ ayan /sidd: what???dadi???
Riddhima: dadi..selfie is ok…even the cake is ok..but..love uuuu….[laughing]
Vansh: dadi…cake..ufff and what's that???love uu seriously…
Dadi: [was ashamed]umm..hmm..next kon hai..[who's the next]
Aryan: sidd bhai..
Siddharth : owwwww, just waiting..
[Riddhima crossing her fingers saying noooo..noooo]
Siddharth; it's….
Riddhima: it's..
siddharth : you gaura…
Riddhiam was fake laughing…
siddharth ;so,first…riddhima..actually one day in college gaura was instructed by the seniors to go and propose a guy she went and she even did soo….but the next day when that boy came to flirt with her she slapped him hard and even kicked him… second: gaura is nest champ is playing football..and she is a good belly dancer..
And the last one is….
Riddhima: [murmuring]no no please..no siddd
Siddharth: [in one go without waiting he spoke in one breath ]next is.. riddhima has a tattoo on her wrist which is not known due to bracelet.
Ayan ran to her and removed the bracelet from her hand..
Ayan: it's written as….V…….R…
Shivangi: enough i wanna know the reason behind the tattoo..
Siddharth: one day all friends were playing truth and dare…that day riddhima choosed dare and they were knowing vansh our vansh and they said that you have made a permanent tattoo of vr..and that was the dare so..this is how the tattoo's here…
Riddhima; [got up]sorry vansh/dadi/shivangi…it..ittt…it was a dare…actually..
Shivangi: got up….[are beta humne kuch kaha kya …it's ok mujhe pata hai college ki friends and all…]it's ok did i said anything no naa leave it…i know that college friends..]and yes you never told us you are a belly dancer….
Riddhima: gave a small smile…
[everybody went to their room's /riddhima want to sidd's room]
Riddhima: sidd……you fool..throwing pillow…idiot throwing whatever she got in her hand…you could have said anything but you doffer..revealed about the tattoo….
Sidd: just listen to me..
Riddhima: [without listening…she went…]
[in vansh's room..]
vansh:[thinking] how did she accepted to make a tatoo… does she has the same feeling as mine…does she love me…but the vr tatoo is amazing…should i make tatoo for her..no she would feel awkward..but who will tell her..i can make near my chest..haa..but if she get's to know about itt…ufff what should i do???
Precap:CONFESSION..
riddhima: does he love me…?Does he feel as if I feel for him…should I confess to him that i…[blushes a bit….] but what if it goes wrong…if he does not accept it then….
Now your turn to comment and give predictions…
Be happy……
🥰🥰🥰🥰🥰