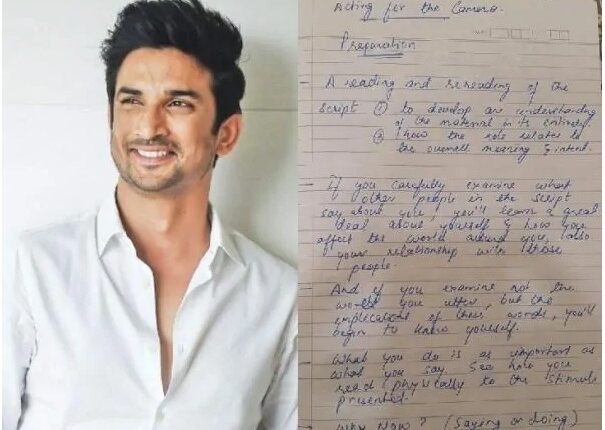 Sushant Singh Rajput's untimely death has left everyone sad and mourning. The fans, friends and family of Sushant are seeking closure as they try to find the people who are behind his murder. An investigation in under way by the Mumbai Police currently and the CBI is soon expected to step in take over the case.  The actor left for heavenly abode on June 14, 2020 and it has been 2 months now that everyone has been seeking answers as to why he had to leave so soon.
So far it is unclear whether the actor died by suicide or someone killed him and at the moment the prime suspects are, Rhea Chakraborty, her brother Showik Chakraborty and some evidences also claim Sushant's flatmate Siddharth Pithani too was involved to some extent. But, so far nothing has been confirmed.
Those who knew SSR, knew how devoted he was in writing almost everything in his diary. He had tremendous goals and he was a keen organiser too. He believed in organizing his thoughts so that he could make the most of his time. He was very particular about his work, analyzing characters that he played in his films in detail and listing his goals by the year. And now, pages from his personal diary have been leaked online and it reflects that he was equally ambitions and committed to his craft!
In the leaked pages, we can see a brief glimpse of the 34-year-old's life that ended two months ago. He made lengthy notes for his roles and listed things he wanted to achieve by the end of 2020.
"If you expect the audience to suspend disbelief, then you must do it first. How? Find the things the character likes, loves has sympathy for or at least understands. Every person must be striving for some goal that is positive for him," reads one of the notes about his acting.
The "Kai Po Che" fame included the name of her sister Priyanka Singh and wrote that he loves her from the "immense width of my [Sushant's] soul." He added that Priyanka would be the perfect team manager.
Look at the glimpses of his diary.
(Note: The diary pages are not in any particular order and are not complete but only parts of the diary have been shared due to confidential reasons and a few excerpts about the diary have been taken from NDTV)
He aspired to be in Hollywood by 2020 and was working on improving his acting skills. He was in  association with a top agency in Hollywood, connections with the top players, "upgrades for cinema, education and environment". These are some of the things he listed along with noting the need for meetings with his teams for achieving these goals.
Also among his goals, under a section titled "asset creation", the actor listed "Rs 50 crore", limiting his expenditure to his fixed income and a pad in Los Angeles. Under a section called "vision", he listed a fully functional presence in Hollywood by this year.