Lamp Of Love Episode-48:VIBHIR gets engaged.
The episode starts with Kabir says but Badimamma we haven't done Chandlo Vidhi and directly jumped to Gold Dhana. Badimamma smiles and says we have completed that and taps his cheeks. Kabir looks puzzled and asks but when did I not in a sense when that ritual happened. Vibha smiles and looks at his innocence, the first time he is admiring her in front of all family members. Badimamma says, we did that ritual for Vibha and looks at Thakumaa.
(Flashback)
Thakumaa dials Badimamma's number and waits for her to pick it up. Badimamma picks up the call and asks who this calling at this night, Thakumaa greets her and introduces herself to Badimamma, and she gets happy and asks if everything is fine. Thakumaa tells everything is fine, I called up for something important. Badimamma asks her to tell, Thakumaa tells about Kabir and Vibha love. Badimamma listens carefully and tells what the problem in this is? I am ready to accept Vibha then? Thakumaa says about villagers and Vidya who is the huge hurdle between them. Badimamma thinks for a while and tells Thakumaa that she will come to Tulsipur by tomorrow. Badimamma says, first we will do Chandlo Vidhi for Vibha, I have to welcome my bahu right, I will introduce color to her, usually Chandlo Vidhi is done for the groom but I will do for my bahu. Thakumaa feels relieved and says tomorrow my Jamai babu will pick you up and we will do Chandlo Vidhi by evening. Badimamma says fine Kalindi we will meet tomorrow and hangs up the call. Trilochan who was tense looks at Thakumaa coming back. Kalindi is everything fine? Asks Trilochan. Thakumaa smiles and says, all good tomorrow Badimamma is going to come. Trilochan sighs relief and calls Tapur and asks her to call Chandrachur. Tapur calls and passes the phone to Chandrachur and informs him about everything, he assures that he will take of everything and asks them to calm down. Thakumaa goes to Vibha's room and informs her that Badimamma is coming tomorrow and they have to go to the temple for ritual. Vibha gets happy and tells her she will be ready. Thakumaa asks her to be careful as this plan should not know by Vidya. Vibha nods her head.
Badimamma reaches Tulsipur, Chandrachur takes her to his haveli. Bondita gets excited seeing Badimamma and comes to know the plan Thakumaa has drafted. Chandrachur and Tupur accompany Badimamma to the temple and wait for Vibha, Ksj, and Thakumaa. Ksj and Thakumaa comes along with Vibha. Badimamma gets teary eyes seeing Vibha. Vibha gets her blessing, Badimamma blesses her by saying be happy always and hugs her, she plants a kiss on Vibha's forehead. Badimamma asks Pandit ji to start the ritual, Pandit does the puja and asks Badimamma to offer a saree for Vibha, and she gets that. Thakumaa asks Tupur to help her. Vibha comes wearing the saree, Badimamma applies tika on her forehead and gifts her money as part of the blessing and says, welcome to Dalal Parivar Putar. Vibha folds her hand and thanks to her for accepting. Badimamma says, My Kabir always chooses the right thing and this time also he proved that.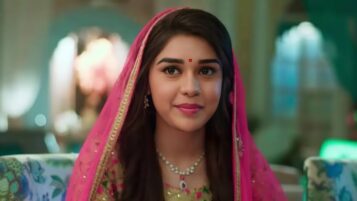 (Flashback ends)
Kabir hugs Badimamma and cries, Badimamma you are the best. Badimamma wipes his tears and says the groom shouldn't cry and asks him to keep his bahu happy. Kabir nods his head and looks at Vibha. Trilochan says, everything went well from today Kabir will stay here and Vibha will stay with us. Kabir asks why? Anirudh says, arrey same rules bride shouldn't see the groom and laughs. Everyone laughs. They have a grand fest and Vibha along with others leave to RC haveli. Bondita and Kabir look at their partners and say, mithi who found all these rituals and say how I am going to survive without seeing Vibha. Arrey dada you can do as same as Anirudh babu. Kabir and Bondita tap their palm and laugh.
Thakumaa asks Vibha to be careful with Vidya and asks her to not remove her ring, they reach home before Vidya and everyone goes to their respective rooms. Anirudh sits in his study room and thinks about the case that Bondita said to him. Anirudh speaks to himself and says Bondita hasn't said in which field she applied the case, he decides to call her. Batuk comes there and asks Anirudh to come for dinner. Anirudh says I'll be there in 10minutes. Batuk says, dada can I ask you something? Anirudh turns to him and smiles at him. Batuk any problem asks Anirudh. No dada, don't mind why Vidya is staying here? Anirudh says, she is helping in some case details by collecting where some issues are still taking place, Batuk, she is a good person, but she became insane in her love, she wants to bring change in our society and have fought for that too, we checked everything about her. Batuk says, dada but her aggressiveness can cause problems, moreover, Kabir dada doesn't love her, and how can someone force love. Batuk, I don't know how she become stubborn, and to be honest, I and your Boudi don't have an idea when she fell for Kabir. You don't worry everything will be fine and Anirudh says come let us have dinner and they both head to the dining area.
Kabir and Bondita sit and discuss the upcoming cases and their high court appeal.  Bondita shares about that woman's case, Kabir says you are right mithi but you said you applied for the case but under which category you applied. When Bondita was about to answer, Badimamma knocks at the door. Bondita asks her to come inside and not to be formal. Bondita says, Badimamma you are really so cool and I was surprised you accepted Kabir dada's marriage. He is m everything, how can I deny his happiness. Sumati maa comes there and says  Badimamma arrangement has been done. Bondita asks what arrangement maa? Badimamma says, Bondita Putar we have Ganesh Matli it's a ritual were we pray to Lord Ganesh for prosperity and happy marriage.
Anirudh and others have their dinner, Vidya comes from her work and says, and sorry Anirudh it was important I couldn't attend your Ashirbaad. No problem Vidya, everything went smoothly. Sampoorna thinks if she wasn't there everything will be smooth only. Vidya's eyes search for Kabir and enquire about him to Tapur. Tapur says Kabir dada is staying in Tupur didi's haveli as Bondita didi needs help in her upcoming cases. But Bondita doesn't have any case till marriage right? Asks Vidya. Tapur looks confused and looks at Sampoorna. Sampoorna says, yes Vidya but they are preparing for that. Where is Vibha? Thakumaa looks at her furiously for digging everything, before someone could answer she heads towards Vibha's room.
To be continued…
Hey Fam, I hope you all like today's episode. Don't forget to comment with your views.
Much love,
Kritisha.