Lady don "Ridhima" #Riansh (immj2) last part
I was sick and even admitted in the hospital…..that is why late update….i hope you can understand me
_________________________________________
Thuudddd
Ridhima turned back and siya, Ishani running came to her.
Siya: Bhai is missing…
Ishani: from yesterday night he is not seen in the house…
Siya: I think someone has kidnapped him….
" Aareee!! I am here" a voice came from the bathroom. Siya and Ishani looked here and there….
Siya: Bhai!!! Where are you come out…..maa is worried for you.
Ishani: Bhai what are you doing in the bathroom??
Vansh: wo…wo…you don't know what people do in the bathroom…
Ishani: but what are you doing in Ridhima's bathroom…
Vansh: making Maggie….wanna eat…(imitating Ishani) what are you doing in Ridhima's bathroom.
Siya and Ridhima clutching thier stomach they rolled on the floor….Ishani was hell embarrassed and said " shut up!!! You eat your Maggie" Ridhima and siya again rolled on the floor laughing….After sometime controlling her laugh siya asked vansh to come out as Uma is calling him..
Ridhima: come out vansh…maa is calling you…..
Vansh: you all go….I am coming…
Ridhima: come with us Nah…maa is worried for you…
Siya: yes Bhai!!
Vansh: I will take more time…
Ridhima: siya you go…I am coming…. I have to check one file here…
Siya goes out and Ishani was already gone…." Vansh come out…."
Vansh: Ridhima…sorry!!!
Ridhima: if you come out then I will give simple death otherwise I will torture you to this core that you will beg for death.
Vansh: Ridhima can be do settlement…..I mean I will follow your all order….and I will do your " pooja" daily…
Ridhima: come out…
Vansh: 2 rupee ka prasad bhi chadaya kruga….gareeb hu Nah..to jada paise nhi hai…
Ridhima ( anger): VANSH!!!
Vansh: achha thkk hai 5 rupees.
Ridhima: now no one can save you from me…..
Saying this she kicked the door in anger and vansh opened the door so she fell in the bathroom…..she glared at vansh like an injured lioness.
Vansh: sorry I didn't do it intentionally.
Ridhima get up and pinned vansh's head to the wall…
Vansh( with pain): sorry Ridhima…leave me…my head is paining….
Ridhima: you have to think this before your action….
Vansh: why are you angry this much…..Ridhima this is not the first time we kissed…..but different is that this time I initiated and you defended…..I don't want to die before playing with Vanya and Riansh
Ridhima with coldness: you are on verge of death and you want to play with kids…..
Vansh: why you don't want to play with them…Ridhima thora lose krdo grip mera sir fatt jayega….mai bol bhi nhi pa rha mera jaw dard krne laga hai.
He said with a struggling and painfully voice.
Ridhima left his head and glared at him……vansh " thank you…"
Ridhima: get lost from my sight. Go and play with Vanya and Riansh.
Vansh smiled shyly at her…"why are you shying like a newly wedded bride…who are they"
Vansh: they will be our children….
Ridhima: in your dreams…
Vansh: Ridhima I know I was wrong that time but please give one chance to our relation.
Ridhima with pain and anger shouted "which relation….."
Vansh with pain full voice and helpless in his eyes murmured: " Ridhima I really love you…."
Ridhima (with rough tone): so!!
Vansh(politely and with tears): please accept me and give little place in your life.
Ridhima: I can't because I have given that place to someone else.
Vansh with hope: but…but you love me.
Ridhima: I don't…I only have one thing for you that is hate…only hate.
Vansh: you do love me and I can see that in your eyes…
Ridhima laughed and said " when I loved you truly at that time you were saying that I am caging you in my golden cage. Now when I hate you from bottom of my heart so you so found love in my eye….where were these eyes when I was running behind you like mad…."
Vansh murmured "sorry!!"
Ridhima with anger: sorry…what I do with this sorry!!
How many times I said vansh I am believing you don't break my trust….never betray me….do you even know what is love…love is trust for your partner….love means loyalty to your partner….love means understanding your partner even when he/she is silent. Tell me one thing that you showed for me….emotions and feelings that I was dying to see in your eyes for me…… I have witnessed those feelings in you but for Ragini…..
Vansh (crying): now I realised my mistake and want to correct it…
He came on his knees.. " please Ridhima give me one chance to prove my love"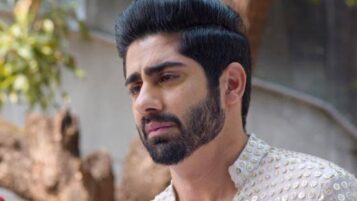 Ridhima: you want to prove your love for me…( vansh nodded like a child wiping his tears and looked at her face with hope) then you and your family leaving for India tomorrow.
Vansh: and you…
Ridhima: I will not….you go and live your life peacefully. I will be happy
Vansh: without you, there is no peace in my life.
Ridhima: vansh we are not meant for each other….if you live with me then you will just receive pain and hate…that's it.
Vansh eyes filled with tears and said with a breaking voice " I am ready to bear that hate but I want you in my life…."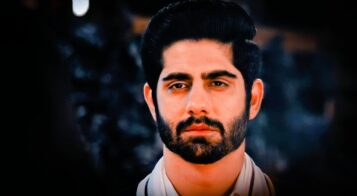 Ridhima chuckled and said, " I would have been given you a chance if I have seen love in your eyes instead of hate, disgust, betrayal and after knowing the truth you showed sympathy to me but not love….by saying I love you..you can't develop those feeling in your heart that beats for someone else."
Vansh: I really love you Ridhima….yes I accept that a month ago I don't have any feelings for you…but today this Vansh Raisinghania is totally different and loves you most…..yes!!! I married you because you were ready to feed my family but your love and care made a place in my heart….today I have pure love for you…..
Ridhima: but now I don't want you because the pain that you gave me is unavoidable and it will costly for you and your life.
Moreover, you are a shining ray of light and I am darkness. Have you ever seen the sun in the night like that we also can't together……this dark world gave me life if I am alive today because of it only and now I can't leave this for anyone…..I am a murderer and Mafia….this is only my identity.
Vansh: so you are ready to leave me but not this world…..Ridhima we can start our new life with trust and love.
Ridhima: vansh just go….I don't want to argue with you….I don't like it when you jump around me……this is my life and I accepted thi….you also accept it and move on in your life.
Vansh: Ridhima I…..
Ridhima without listening anything left the room….." Why are you doing this to yourself….why are you giving pain to yourself. I know you still love me because your lips can lie but your eyes can't."
_________________________________________
Two men are tied in the darkroom and suddenly all the bulbs lit up. " what you thought…you can escape from me after hurting vansh." Ridhima shouted at both captives.
Person 1: what are you thinking you can save vansh from dyin….
Before he could complete his sentence Ridhima hit his mouth with the rod. Blood started coming out and even his teeth get broken…
Ridhima: dare you to say anything about him…..and you kabeer how could you thought that you will hurt my vansh and I will not come to know about it….
Kabeer: Ridhima I didn't….we are getting marry tomorrow and why will I do so.
Ridhima: it was a trap for you so that you stop attacking on vansh…..
Flashback…
Ridhima was doing work in her office…" Ridhima someone attacked vansh…but the bodyguard that you appointed for him….saved him…" Sejal informed Ridhima.
Ridhima became worried and get up chair and shouted in her bossy voice " who's death is calling so he/she attacked him."
Sejal: my team is working on it…
Ridhima: I want the name of the attacker in 24 hours. (fury was visible in her eyes.)
Sejal: according to my source there is someone who is stalking the Raisinghania family…but not able to do anything because of your security.
Ridhima: this means their life is in danger….do one thing call them in London.
Sejal: they will going to ask the reason then…and why are so protective towards them…
Ridhima: what sort of this question..
Sejal: Do you still love vansh?
Ridhima: you know sejal what is the worst thing about falling in love..(sejal nodded in negative) if you are truly in love with someone then your love will not get over in just one night….you can't stop yourself thinking about him…caring about and loving him. How can I unlove the person whom I love like mad?……it's not like that one day I get up and forget my all love for him….
Sejal: if you love this much then why are you not accepting his apology and giving one chance to your marriage…he also started loving you….
Ridhima: seju he don't love me…it is his guilt which is making him accept the marriage and me as his wife….I already forced him into this marriage hoping that one day my love will win and he will also start loving me….I know for him accepting me as his wife was hard but he could consider me as his friend and could show some respect and care instead of fear.
He lived two months with me still he believed Ragini that I killed his father for money…he accused me for many things but he never tried to know the reason behind my action….he accused be as murderer but never asked why I became murderer…you also knew no one learn these things from mother's womb.
Uma maa hide his father's truth so that she can protect them from this mafia word and staying with them is pulling them in this world where on each step their life in danger…..vansh also don't like this world.
So there is no match between him and me….
Now he gets to know about the truth so he is showing his sympathy for me and his guilt is making him weak to accept me so that he can repent his deed….sejal I don't want anyone's sympathy I am not that weak….
Ridhima eyes were holding tears and sejal hugged her tightly and rubbed her back…" I am always with you ridhu and I will always support you in your all decision.
The next day sejal informed Ridhima that the attack was done by kabeer as she rejected his proposal saying this she still love vansh so he thought to remove vansh from his path…..to stop his attacks she accepted his proposal….acceptance also gave the reason by which she can bring him and his family to London so that she can find stalker too.
Flashback ends…
Kabeer: I will not leave you and your vansh…
Ridhima: for this you should be alive first…
Saying this she shooted him on his head….
She continued" now you tell me to change that
Why were you stalking them?….otherwise be ready to go hell"
Chang: we want diamond that they have…..
Ridhima: we??
Chang: all who are from underworld…even you also behind that diamond….
Ridhima: you mean tear of Laila…they don't have any diamond.
Chang: they have but they don't know about that…..they think diamond as a simple stone.
Ridhima: now I get to know it belongs to them then no one can snatch from them…..
Chang: these attacks will continue until it is with them…
Ridhima: no one can do anything to them…I will protect both….. give him some food and then medicine for his action…..
_________________________________________
All were sitting and doing lunch…
Uma: vansh how your lower lip got hurt…how badly it is injured…
Siya: mom see his back how many bruises are there(on the neck)…
Vansh looked at Ridhima who was eating her food like she did not know what is going on…
Ishani: I don't what happen to Bhai…yesterday his foot was injured and someday before he had a fight with some people….how he became nowadays….
Vansh was irritated by all their talks so he left the place. " what happened to him…." Said uma….
Siya: mom don't you think that bhai should get marry…
Ridhima looked at siya with a surprised face…." I am thinking the same….I will talk to him about this.." Replied uma to siya.
Ridhima to left the table and as she was feeling suffocated with the scenario.
She goes to her room and started throwing all the things…..she cried hard…
Ridhima: vansh!!!!
Collapsed on the floor and hugged her knees…started crying…
"Vansh….v.a.n.s.h…. I l…love y.o….youu..(sobing) but I…i…i.. d…do…don't….wa
…want y…y..you…..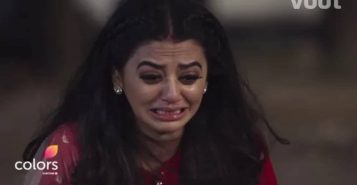 She started hitting the floor with fist…." Why you didn't trust me….why…why vansh….(crying). …why you didn't kept faith on me….why….you…you betrayed me….and it is hard for me to forget…I can't….I can't forgive you…."
Screaming hardly again she hit the ground with her first….
You don't know how much I love you…but…but whenever I see your face….your betrayal…your cheat come in front of my eyes and….(sobbing)and… I lose my anger….and…and…start hurting you….I am still not able to forget your words and your actions….
Your presence triggers my anger…..that is why I want to stay away from you….(crying) because…because I can't control my anger and end up hurting you….
" vansh tumhra diya hua dard saha bhi nhi jaata or tumhe dard diya bhi nhi jaata…"
What I had asked from you that just a little love and trust only then why did you gave me imminence pain and hurt….you said my presence makes you suffocate am I that bad….now your presence refreshes my wound…tell me what I do…
Vansh I can't live with but I can't live without you…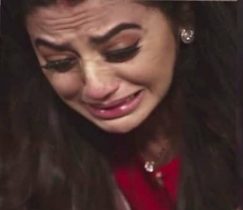 Why I can't forget either you or your deeds….(sobbing) I am dying with each passing each either for hurting you or for staying away from you….
She cried all night and complaint to God….In the morning she again plastered coldness and fake smile…she goes down and started eating breakfast silently. When vansh came there..
Uma: vansh we want you should get marry.
Vansh: I am already married and I don't want to remarry.
Siya: but you both are parted Nah…
Vansh : it doesn't matter to me…..you all should pack your bags we are going back….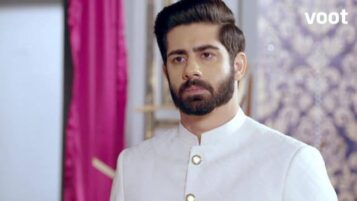 Ishani: Bhai we came here for the first time so we want to make some memories and what to visit places and enjoy…
Siya: haa Bhai!!!
Uma: let them enjoy…
Vansh: okay!!!! You all stay here I am leaving today.
_________________________________________
Ridhima was sitting in her room holding vansh's photo. " vansh!!! Three years are passed….I still love you but I have to stay away for you otherwise in my anger I will hurt you." Wiped her tears and continued " sejal told that you changed yourself and became careless….you don't know vansh if something happens to you then how I will going to live…."
Sejal came to there and said " again our dear is taken by new mafia…"
Ridhima: who is he and why is he behind me…
Sejal: no one has seen him…if anyone has seen then he/she is not alive to tell.
Ridhima: I don't know anything…fix a meeting with him…
Sejal: okay I will try to contact his PA Angre…
In another place
Room was dark with one spotlight and two-man are talking…
Man: did we again snatched her deal.
Man 2: yes boss!!
Man : Angre now she will ask sejal to fix meeting with me…so be ready
Angre: Mai sabhal luga boss.
Man turns his chair and the spotlight falls on him who was holding the gun.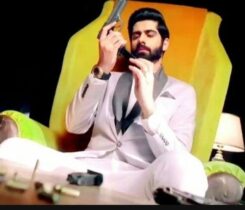 Vansh: now you will pay what you had done with me……you refused The great Vansh Raisinghania's proposal….just wait and watch.
Angre: what are you planning and why are you behind Lady Don…..
Vansh: Angre accept her meeting proposal and fix the meeting as soon you can..
Time skips…..
Meeting point….
Ridhima shouted : you know I don't like waiting…..if he don't know the value of time then who made him no.1 mafia.
Angre: boss is here….
Ridhima looked at vansh….her eyes get teary seeing him after so many days….she want to take him in a bone crushing hug…but she composed her poker look.
Ridhima: you here….ooh!!! So you are the new don of the underworld.
Vansh with a smirk: how is my surprise sweetheart.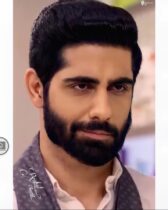 Ridhima ignoring him : why are you behind me….
Vansh: why you refused my proposal….
Ridhima: what are you thinking… by doing this drama you can get me…
Vansh: mind your tongue otherwise it will costly for you….
Ridhima: I think you…
Before she could complete her world vansh sniffed her chloroform and she fainted in his arms….
Sejal pointed gun at vansh head and Angre at sejal. " you will regret this vansh….she will not leave you."
Vansh: sejal I don't have other choice…..
Vansh took her in his arms and stepped out " we will meet tomorrow guys…Agr mai zinda rha to…."
_________________________________________
Ridhima was lying on bed and vansh was beside her and adoring his sleeping beauty.
Vansh: soote hui kitni cute….aur masoos lagti ho….or jab jag jaati to ek dum chudai or Dayan ban jaati ho…
Soon vansh received a heavy rain of slaps.
Grabbing his collar "to mai aisi lgti hu jagate time….chudail aur dayan…"
Vansh gupsed because he knew that no one can save him from her anger now….
Vansh " sweetheart I was just checking that are you sleeping or not"
Now Ridhima clutched his neck and said with a dangerous tone" how dare you…."
Vansh with struggling voice " don't….me..ss….with…i…a..m….don….and…dan..ger..ous…..to.o.."
Ridhima gave him a death glare and vansh said " I..me..an…not…more…than…y.o.u…please…leave me…"
Ridhima left her hold on his neck….he started coughing…" Ridhima please give some water…"
Ridhima gave dangerous look instead of water.
Vansh: it's okay Sweetheart you don't stress yourself…I will take myself….you look weak sweetheart you take rest….
Saying this he grabbed the glass and drank water…
Ridhima: why are you doing this…
Vansh: Ridhima I love you….I can't live without….please accept me.
Ridhima: I told you…
Vansh: you were not ready to leave this so I came into this world….once I called you criminal now I became same so that I can match with your status….please accept me, sweetheart, I love you…tell me what I do so that you accept me…please give me a chance.
Ridhima: vansh!!!
Vansh: Ridhima please one chance….if you feel I am cheating on you then shoot me on the spot….I will happily die by your hand….if you can't accept me then kill me I live without you….
Ridhima: don't talk about death vansh!!
Vansh: will you give me a chance…..
Ridhima nodded her head and vansh hugged her tightly. " I love you Ridhima"
Ridhima: I love you vansh.
Breaking the hug he kissed all over her face like there is no tomorrow.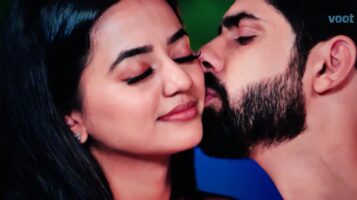 Ridhima: vansh leave me or I shoot you….
Vansh showed his thirty-two and said " now I don't fear with your toy….I too use that"
Saying this he smashed his lips with her and started kissing her passionately. Ridhima too Reciprocated the kiss….but she remembered that he kissed Ragini too nibbling, chewing and buying his lip in anger…..but when she realised that she is hurting him so she left him….
Ridhima(panting): you have to bear my anger.
Vansh (panting): one can guess by seeing my swollen lip.
Ridhima touched his lips and said "sorry." She softly pecked his lips….
Vansh: still you are holding those things….
Ridhima: I don't want to talk about them….you want then I will change my decision at last…
Vansh: sorry!!! Please forgive me….and I am ready to bear your anger….
Tu safar mera
Hai tu hi meri manzil
Tere bina guzara
Ae dil hai mushkil
Tu mera khuda
Tu hi duaa mein shaamil
Tere bina guzara
Ae dil hai mushkil
Mujhe aazmaati hai teri kami
Meri har kami ko hai tu laazmi
Junoon hai mera
Banoon main tere qaabil
Tere bina guzaara
Ae Dil Hai Mushkil
Yeh rooh bhi meri
Yeh jism bhi mera
Utna mera nahi
Jitna hua tera
Tune diya hai jo
Woh dard hi sahi
Tujhse mila hai toh
Inaam hai mera
Mera aasmaan dhoondhe teri zameen
Meri har kami ko hai tu laazmi
Zameen pe na sahi
Toh aasmaan mein aa mil
Tere bina guzara
Ae dil hai mushkil
                 End