Kyy season 3 and Ishq Mein Marjawan (6~Truth, Question, Pain And Friendship)

Warning: A non-numeric value encountered in /mnt/nfs/home/ftpusers/tellyu/public_html/wp-content/themes/publisher/includes/func-review-rating.php on line 212

Warning: A non-numeric value encountered in /mnt/nfs/home/ftpusers/tellyu/public_html/wp-content/themes/publisher/includes/func-review-rating.php on line 213

Tara was shocked seeing her face. She hugged her. "You.. you're alive? But how? They killed you, didn't they?" Tara asked breaking the hug. "Actually no, they just paralyzed me and tore my clothes to give me and you both the punishment of the betrayal we did with those bastards and they're still here," Aarohi said trying to keep her voice as low as possible. "Don't worry, I m always there for you," Tara asked.
Flashback:
Shaurya, Tarun, Rishi and Karan were the goons of who everyone were scared and wherever they went, all they gave people was torment. They looted girls, young girls. Their enmity with Tara and Soha started by them only.
Tara and Soha's family were very rich and the duo were always together outdoors. They were childhood friends, but they loved each other like sisters. One day they were coming back to their house from theatre after watching movie and having a great time and they were in jeep when suddenly another jeep stopped in front of them and they looked at each other in worry. "Shoot, they're coming for us," Soha said. "No no they won't do anything, I will reverse and we will leave from here," Tara said and was about to reverse the jeep.
Suddenly Shaurya came and held her arm stopping her. "Aeyy! Chhoro mujhe!" Tara shouted struggling to make him leave her and it continued until he pulled her out pinning her to the jeep. Soha got down the jeep seeing that she is in trouble. Tarun, Rishi and Karan too got down the jeep. "Chhoro mujhe!" Tara shouted as now all four of them held her in place and Karan shut her mouth, others held her tight touching her here and there. Soha got a pocket knife out of her jeans as they all were circling around her trying to harrass her.
"Leave her you idiots," Soha said and injured Karan's hand which was on Tara's mouth and he moved it away from her mouth and came to Soha and got into a fight with her. "Tum ne mujhpe chhuri chalayi?" Karan shouted. "Tumne meri best friend haath lagaya? Tum mere hotay huay us par aankh utha kar dekhogay? Am I not so tempting enough for you?" Soha asked trying to attract him towards her and trying to get Tara out of trouble. "Tu uske jaisi smart to nahi lekin mujhe koi masla nahi," he replied looking at her lustfully. Soha smirked as he leaned his face closer to hers.
She lingered her arms around him and grabbed the hem of his tshirt and somehow cut if off from between and then she tore his tshirt apart. Karan got shocked as he heard her tearing his shirt and moved away from him. "Tum jaiso ko bewakoof banana kitna aasan hai," Soha said and smirked. He laughed and took off his shirt and she torn his vest as well. "Ja nanga patanga aya bara mujhe haath laganay wala," she said and laughed at him and she was about to go towards Tara.
He held her back holding her arms. This time she punched him on his face and then she even tore his pants and laughed. "Ab agar kachcha bachana hai to bhaag le nangu," she said and went to Tara. She did the same to the trio and left all of them in their boxers. She snatched Tara's jewelry from them and gave it to Tara. "Ainda haath lagaya na isay to jan lelungi!" Soha shouted and they drove off from there. "Thanks Soha, if you wouldn't have been there, I would've gotten into serious trouble," Tara said.
"What are friends for? When you take my brother as your own brother and I also take your brother as my brother, then we are a family, and every problem first has to go through me before you," Soha said and Tara smiled and as they reached Soha's house, they both took a cute selfie. "Bye, and thank you once again, take care," Tara said and Soha stepped down the car. "You too take care, you are ok na?" Soha asked. "Hmm m okay," Tara said and they shared a hug.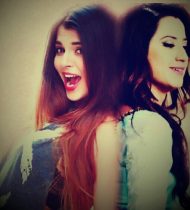 Shaurya, Karan, Tarun and Rishi sat in their jeep. "Ye to sherni nikli, humaray kapray phaar ke chali gayi," Karan said totally annoyed. "In ke bhi kapray phatengay mere bhai, lagi 5500 5500 ki shart? Main aisa kar ke rahoonga," Shaurya said. "Han lagi shart," Karan said and Tarun and Rishi too gave in.
Flashback to be continued in next chapter.
"Tara, you should remember that you're Tara only for the world, I m the real Tara and you're Soha, you're living with my Deep, my mother, my brother leaving behind your family but please try not getting too close to Deep," Aarohi said. (ok so let's break the ice, Aarohi is the real Tara and Soha is her best friend, but why she took Soha's face and why Tara took Aarohi's face will be revealed later)
"I won't," Tara (now revealed to be Soha who is Impersonator of Tara) said and they shared a hug. "Let's get out of here," Aarohi (now revealed to be Tara) said. She wore her mask. "Listen Tara, if I tell Virat bhaiya about you then?" Tara asked. "Tell him but if you tell him it will be a total injustice with mom and Deep, unfortunately."
"But he is really saddened by your death," Tara said. "And what about Aryaman bhaiya? He's also sad about you, first we will have to get you your face back, and for that we will need time, your skin from your left thigh isn't there for now, it's on your face and plastic surgery is done that way, let the skin grow then it will happen, we will tell them later let's go, hide your face," Aarohi said and she hid her face and together they went out. Manik and Nandini came back to Space Academy smilingly holding hands.
"Manik, our marriage is one year far and you decided the venue now only?" Nandini asked. "So what if some problem comes at that time? So I decided now itself, don't forget Soha is alive and she can still do anything to harm you," he reminded. "What will happen to me in your presence? Even if she's alive, she's not found yet, I think she might be in coma because her face was badly burnt," she said. "Plastic surgery, she might've got fine till now, didn't you heard Avinash uncle that someone took her, means she is alive, maybe she's inside the college only."
They walked around and went towards the fab5 practice room with slow steps. Inside, Aarohi and Tara were there. They heard footsteps and hid in the cupboard. Manik and Nandini came inside. "You found her here last time where she was talking to my guitar madly, right?" Manik asked and she nodded. "So she will come here again to do all that?" Nandini asked and he chuckled. "Oh really? She would be totally mad if she comes here, she will be handed to police if she does because she was the criminal and not me, psychopath."
They went out of there. Aarohi and Tara came out of the cupboard slowly and they closed it and stood leaning against it. They both were boiling in anger. "He called me a psychopath? How dare he? Idiot! Ugghhh!" Tara said shouting madly. "It will be okay dear, it will be okay, did you have your medicines? You have IED, Intermittent Explosive Disorder, you shouldn't get angry," Aarohi reminded. "No I didn't, I was on antidepressants when I thought you were dead, Virat bhaiya stopped me," Tara told her. "Hmm it's ok, even I took them, but now take your real medicines."
"You also have anger issues," Tara said. "They are because of blood pressure, but you need to take your medicines," Aarohi said and after a lot of drama she finally got successful in making her have her medicines and they got out of there in a hurry. Navya was sitting on the staircase holding her tummy. "Sorry baby that your father is such that he doesn't cares about us, I will be your mother and father together," she said emotionally. "Jeeya Jaye na Jaye na Jaye na o re piya re," Cabir came there singing and sat near her.
"Why are you tensed? You shouldn't be tensed in this state," he said. "Because no one is with me when I need everyone the most," she said. "So what? When Cabir is here what's the fear?" he said. "That's good, I m grateful for it, but I hate how ma left me when I needed her the most claiming me as dead for her," she said and he hugged her as she cried. "I understand, even my mom left me like that, and only we remember them but they don't, if we show them we don't need them, maybe then they will come back."
"But how?" she asked. "For that, we will have to enjoy our lives to the fullest," he said and took her from there. Aalia came out of the hospital after seeing the doctor and finally her tummy had no fat at all. She touched her tummy and smiled. "Finally I got rid of it," she said and smiled. Suddenly Dhruv came in front of her. "What are you doing here?" he asked. "What am I doing here? I should be the one to ask that, why are you following me everywhere? I decided to come back in fab5 and not in your life."
She went to her car and unlocked it and sat inside. Dhruv too sat inside. "Get lost Dhruv!" she said angrily. "Till when will you keep ignoring me?" he asked. "And what's the guarantee that you aren't going to say all that again?" she asked and he got quiet and she started driving the car as she knew he won't go out. She stopped at Space Academy and they parted ways. Aalia collided with Mukti and Abhimanyu. "Aalia what happened?" she asked. "Nothing," she replied. "Abhimanyu can you excuse me for sometime?" she asked. "Sure," Abhimanyu said and went from there.
"Mukti I just went to doctor to get rid of my tummy fat, Dhruv came there, he doesn't understands that I don't want him in my life, when he took his decision himself, why can't I? I hate him so much," Aalia said and Mukti hugged her. "Please don't stress yourself, let's spend some time together," Mukti suggested breaking the hug and they went to cafeteria and sat together. Everyone else of fab5 too came there. Dhruv and Aalia maintained distance. They all had a drink cheering together. That really made Aalia feel better. They shared a group hug.

Warning: A non-numeric value encountered in /mnt/nfs/home/ftpusers/tellyu/public_html/wp-content/themes/publisher/includes/func-review-rating.php on line 212

Warning: A non-numeric value encountered in /mnt/nfs/home/ftpusers/tellyu/public_html/wp-content/themes/publisher/includes/func-review-rating.php on line 213