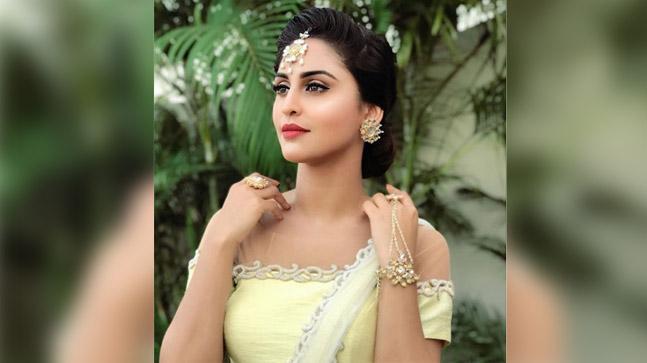 Krystle D'souza confirms being part of Naagin 4

Warning: A non-numeric value encountered in /home/ftpusers/tellyu/public_html/wp-content/themes/publisher/includes/func-review-rating.php on line 212

Warning: A non-numeric value encountered in /home/ftpusers/tellyu/public_html/wp-content/themes/publisher/includes/func-review-rating.php on line 213

The hunt for Naagins has made its very first step because The Makers have completed the first part of their search! In the last Update, 5 names of actresses were given out. Including Nia, Aalisha, Krystle and the Two Pujas. One of them has finally given the nod. Or should I say failed to keep the beans to herself!
It is no other than Krystle Dsouza! Yes!! You read it right. When Krystle won the award for Style icon of Year, she was questioned about her future projects and the rumours of her being part of Naagin 4. 
She replied saying that she was also going to be part of Naagin 1,2 and 3  seasons as well! Can you imagine those seasons without Mouni or Surbhi?  Anyway, when Krystle added 'as well' She Indirectly gave us the Nod! Although the actress didn't give anything away concerning the rest of the Cast. But the Naagin Hunt isn't all over yet! This is only the beginning.. We have our first Nagin in, and the Four remaining are still being anonymous. So The Makers continue their Hunt, but still want Nia and Aalisha as goals. Nia was Buzzed but she didn't give a direct answer. The indecisive actress said she might, she might not. And on the other hand, Aalisha chose not to respond at all. But When Miss Panwar was asked about her future plans, the actress said she enjoyed her long break, and think it's a good time to start something new! Hmm… Who knows? Maybe even Naagin? 
What's on Your Mind? Will Nia and Aalisha give the Nod? Do you want Krystle as one of the nagins? Who do you want in the New cast? Who is the Male lead? Keep reading to find out.
#Naagin4 #KrystleDsouza #Behir #ColorsTv #NiaSharma #Nagin

Warning: A non-numeric value encountered in /home/ftpusers/tellyu/public_html/wp-content/themes/publisher/includes/func-review-rating.php on line 212

Warning: A non-numeric value encountered in /home/ftpusers/tellyu/public_html/wp-content/themes/publisher/includes/func-review-rating.php on line 213