Kkb (Love of Life) Episode 11
The engagement is going to start, Abhi made Ranbir and Rhea sit together. And the pandit was going to start the rituals suddenly Rhea gets up and asks Abhi to stop it. Everyone gets tensed.
Rhea – Dad stop it.
Abhi – What happened princess?
Everyone gets tensed , Ranbir thinks that Rhea will stop this engagement but his dream was broken as Rhea says something which he didn't expect.
Rhea- I love u Ranbir, I didn't say u this before but I am saying now. U are my childhood love, do you love me?
Ranbir looked shocked, Pallavi goes near him and aks him to say what Rhea asked him. While Prachi expects Ranbir to speak the truth.
Ranbir ( with tears) – I also love u Rhea, u are my first love and I hv loved u since my childhood
.
Simultaneous scene
Prachi and Shahana get shocked on hearing this. Prachi feels betrayed. Whereas Rhea hugs Ranbir and the engagement begins.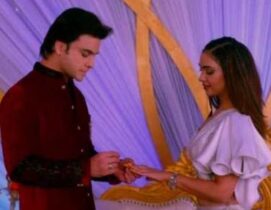 Prachi runs away from the Hall, Alia goes after her, while Shahana also goes but is stopped by Aryan.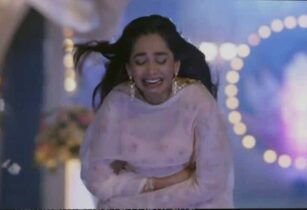 Prachi rushes to a corner and cries bitterly and shouts- Why Ranbir, why did u do this to me? U said that u love me then what is this? Why…
Alia ( fakes her concern towards Prachi) – What! Ranbir loves u?
Prachi – Yes, he loved me then why is he marrying Rhea?
Alia- Prachi do u know what type of boy Ranbir is, he loves to trick middle class girls and play with their feeling and after using them he leaves them. I can't believe that he did this with u, I guess he was not knowing that u are bhai's daughter that's why he tricked u.He and Rhea were best of friends since childhood and they had feeling for each other. In fact he only asked for Rhea's hand for marriage.
Prachi is shocked on hearing this, she  feels chilled down her spine and runs away from there to confront Ranbir.
Alia POV
Wow another great shot, I was knowing that it will be easy for me to fool u after all u are Pragya's daughter. Now u see dear, ur life will be not less than hell. She laughs.
While Aryan stops Shahana
Shahana (angrily) -Leave me Aryan.
Aryan- Listen Shahana, I know u are angry but u don't know the whole truth.
Shahana – Aryan listen I don't want to hear anything, I only know this that ur best friend cheated my sister. And now I won't spare him..
Aryan- Shahana but first listen me…
Shahana runs away to find Prachi and Aryan is helpless 😔 he runs to stop Shahana.
Aryan – Shahana listen… Shahana
Shahana doesn't stop so he pulls her hand and pins her to the wall.
Shahana – Leave me Aryan… U are hurting me…
Aryan- Shahana just stop ur nonsense,do u know the whole truth behind this engagement… I am sure that u don't then how can u judge Ranbir's love for Prachi…
Shahana ( angrily) – Okay then u tell me the truth. Let me also listen what happened suddenly that Ranbir wants to marry Rhea.
Aryan explains her the whole incident, Shahana gets tears in her eyes and is left stunned. She feels bad for misunderstanding Ranbir.
Shahana ( crying) – I… I am sorry Aryan, I was not knowing …. I am sorry.
Aryan hugs her without thinking anything and she also hugs him back. Both share an emotional moment. Which was broken by Shahana.
Shahana – Aryan… Prachi, I need to find her..
Saying this she leaves from there, Aryan feels something different which he never felt after hugging Shahana.
He feels shy 😳 and leaves from there.
Aryan's POV
Oh my god I don't know what happens to me whenever this girl touches me now a days. She has some magical effect on me, I feel nice whenever she touches me. But for now Aryan just stop thinking about her and focus on Pranbir.
While Shahana searches for Prachi and finds her sitting in a corner. Prachi's mind was full of the words spoken by Alia she was very much frustrated😫 .
Shahana- Prachi….
Prachi (emotionally) – Shahana … Did u just see what Ranbir did with me, he cheated me. He doesn't love me he was just doing time pass because I am a middle class girl…..
Shahana interrupts Prachi in between
Shahana- Prachi listen me , Ranbir is not like that…. U are misunderstanding him.
Prachi- Shahana pls stop supporting him now…. U just saw what he did with me, but still….
Saying this she leaves from there angrily while Shahana is left in tears 😢. She starts crying, Aryan rushes towards her and tries to console her.
Aryan- What happened Shahana, why are you crying?
Shahana (crying ) -Now everything will be over… everything….
Aryan – What! … How everything will be over?
Shahana – Prachi…. I don't know what she was speaking…said that Ranbir played with her feeling, and was doing timepass with her….
Aryan – What…… Who said this to her?
Shahana- I don't know… But we need to stop her before anything happens..
Aryan and Shahana rush to stop  Prachi..
While on other side Ranbir & Rhea's engagement gets over. Alia tells Rhea everything about what she told Prachi. Rhea gets happy that Prachi will agree to her deal now…
On the other side the engagement gets over and everyone leave for their homes after having the lunch. While the Kohli family also leave.
Prachi comes to the corridor where Rhea was also standing.
Rhea- So Prachi, how was the surprise?
Prachi – Which surprise….
Rhea- Oh my god … I guess  u hv a very weak memory, but don't you worry  … The surprise I am talking about is the surprise of my and Ranbir's engagement.
Prachi – Rhea u are my sister though u don't consider me…I am telling you don't marry Ranbir he is not a good guy..
Rhea – U don't need to tell me whom should I marry . .. And I know why you don't want me to marry him becoz he broke ur heart💔, Right?
Dear Prachi you know it was ur mistake that u trusted Ranbir… Ranbir never loved you he was in love with me… In fact he said that he will first use u then break ur heart because he wanted to take revenge from u for insulting me. You became fool that's ur mistake. And u know before he proposed u ,he had already proposed me and it was his plan to play with ur feeling.
Prachi was already angry and Rhea did the work exactly that of putting more fuel in the fire. Prachi eyes turned red with anger and tears start rolling from her eyes.
On the other hand Aryan and Shahana were finding Prachi, Aryan insists Shahana to take Pragya home and he will find Prachi to which she agrees reluctantly.
On the other hand Prachi goes to confront Ranbir.