(KKB) LOVE in the Air- Episode 4
Episode-4
---
At Mishti's Room:
Misti was sitting on her study table and Aryan was sitting on her bed
(Mishti and Aryan finished her assignment)
Mishti: Thank u so much dude
Aryan: No problem…. can u do me a favor?
Mishti: Of course… U help so anything
Aryan: Can u bring me a glass of water?
Mishti: Sure
Mishti brings water
Few water droplets fall from glass due to which Mishti slips and fall over Aryan on the bed. They share an intense eye lock…….. Aryan breaks the eye lock…. Mishti blushes whereas Aryan feels guilty….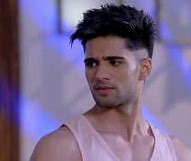 Aryan (Thinks): why am I feeling guilty??? Do I like someone. No…….Noo…no… no… it must because I feel Mishti is like my younger sister??
Aryan: Bye!!
Mishti: Thank u!! Take care.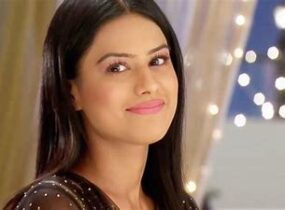 Next Day
(Prachi, Rhea and Ranbir are in same class whereas Aryan and Sahana are in same class…… let the class of Prachi, Rhea and Ranbir be A and class of Aryan and Sahana be B😅😁)
In Collage
(Everyone reaches collage and entered their respective class A and B)
In Class A:
Teacher: Hello class!!! Good to see you after such a long break… and ya…let me introduce you to our new admission… Master Rohit Gill (Sanju's Official name).
Teacher asks Prachi to give Rohit a collage tour and to also help him to cover his previous work…as Prachi is the class representative……
(This shocks Prachi and Ranbir)
Teacher even asks her to collect the assignments after the class and keep them on her table in her staff room./Prachi (in shock): S-SURE MA'AM
Teacher: Good! Rohit go and sit beside Prachi.
(Sanju goes to sits beside Prachi happily).
Prachi regrets informing Sanju about her collage and thinks Sahana was right.
Sanju was about to sit next to Prachi but immediately Ranbir stands up and sees Prachi and Sanju. Rhea sitting next to Ranbir get angry.
Teacher: What happen Mr. Kohli?? Everything alright??
Ranbir (realizes what he was doing and says): M-ma-ma'am may I go to washroom?
Whole class laugh except for RANBIR AND PRACHI. Sanju sits beside Prachi and makes her uncomfortable, which was clearly seen by Ranbir. Ranbir becomes sad.
Teacher: No. The class just started. You can go after the class.
Ranbir: Okay mam (thinks) Sanju how dare you to sit beside my Prachi😡😡💢👿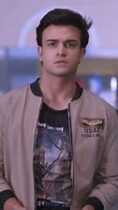 (Ranbir breaks a pencil. Suddenly realizes) W-w-wa–ait my Prachi… do I love her? No way. Ew… I don't even like her. I like Rhea. (sees towards Rhea and smile and Rhea sees it and smiles back).
Sanju: I know you did not except me to come in this collage. I did not come here after asking you. I took admission here during the break. Please don't misunderstood me.
Prachi: Of course, bro. (God where am I stuck!)
Sanju gets hurt by hearing bro and then concentrate on class.
In Class B: 
Sahana is quiet today as she is lost in the thoughts of Prachi and Sanju because she saw Sanju entering in the collage. Aryan enters the class. All the seats all full so Aryan reluctantly sits next to Sahana. Sahana does not realize that Aryan was sitting beside her. Sahana is super busy in daydreaming.
Aryan (thinks): Yaar!! Sahana is sitting beside me. She will eat my brain now by talking rubbish. Let me just greet her [just to show manners].
Aryan: Hi Sahana!
Sahana (doesn't realize that it was Aryan) in an uninterested voice: Hi
Aryan(wonders): what happened to her. Is she unwell?
Aryan checks Sahana's temperature by touching her forehead which eventually breaks Sahana's daydream.
Sahana: what are u doing? And why are you sitting next to me??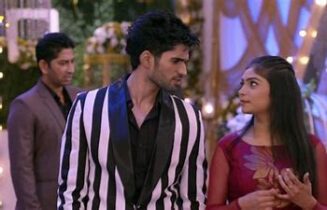 Aryan: I am just checking whether you have fever or not.
Sahana: Fever?? Mujhe?? Think before you do anything. How could I have fever!!
Aryan: Actually, you did not speak from so long..so I thought
Sahana: that I have fever. Like seriously
Aryan: yes seriously
(There was silence from both side… then they start looking into each other's eye and have an intense eye lock.)
Teacher enters. Whole class greets her this breaks the moment between Arhana.
Teacher: Hello class!!! Sorry for being late today. Good to see you after such a long break. I have a special announcement to be made "Manish Malhotra India's top fashion designer is coming to our collage after 2 weeks"
Whole class starts murmuring
Sahana: MANISH MALHOTRA… really?
Aryan: You are behaving like u never met him.
Sahana: Of course. I never met him. You are acting like you met him many times.
Aryan: of course. I met him once. He designs Chucks costume whenever there is a concert.
Sahana(surprised): Will u please introduce me to him??
Teacher: Kindly pay attention. I am not done yet. (everyone gets silenced) So… there is a fashion show in Delhi… and Manish Malhotra for the event by seeing your assignments will choose his assistance for the event. If he loves yours design then you may go to Mumbai for 6 months practice and the whole expense will be fulfilled by Manish Malhotra. Then for next 3 months you will work as an intern in his office. Everyone understood?
Everyone: yes ma'am
Teacher: Good! Kindly submit your assignment. Best of Luck!
Everyone smiles
---
So who will be selected for the event?
What is Sanju's plan
Next week Precap: Sahana is crying bitterly in girl's washroom. Aryan is heartbroken. Prachi in drunken state. Sanju trying to kiss Prachi.