While Ishaan and Rhea leave for the party, Kiara goes to get ready… Sunny was busy using his mobile so as to pass his time..
After one hour.
Rhea and Ishaan reach their destination.. It was a big mansion which was beautifully decorated, both of them get out of the cars and head
towards the mansion.. The scene inside was completely different from the outside.. As soon as they entered it was just like a club. There was a lots of noise .
"Club? " says a confused Rhea.
"It's all done by Mishka she is mad, it's her birthday party you see I am sure uncle -aunty are not at home and external decoration is done with simple flowers and light so that no neighbour come to know about the party happening inside. " says Ishaan.
"She looks crazy indeed. " says Rhea while chuckling.
"So let's go. " says Ishaan.
"Okay." says Rhea with a smile.
They both enter in.. Ishaan meets all his friends while Rhea just smiles at them as they were unknown to her. Just then Sahil enters there. He hugs Ishaan and then greets him. He then looks at Rhea with a confused look.
"Meet her, my friend Rhea. " says Ishaan while introducing Rhea to Sahil.
Sahil forwards his hand, Rhea also does the same.
"Myself Sahil Malhotra, Ishaan's close friend. " says Sahil while shaking his hand with Rhea.
"Nice meeting you. " says Rhea with a  smile.
€
"Where is the birthday girl?" asks Ishaan while looking all around the Hall.
"Ohh she.. he leaves his statement incomplete as someone starts speaking on the mic. The girl picks the mic she wasn't visible as there was complete darkness at the place she was standing.
" Hello Everyone, I know you are searching for me. " says the girl while climbing the table. She stands on the table, and all the lights fall on her. A tall girl wearing a short dress, with high heels and jewelery dripping all over her hands and neck.
Everyone cheers for her.
"Its Mishka . So today is my birthday you know if today amma-appa would be here it would be boring. It's my last party that I can enjoy as a bachelor and carefree girl as very soon I have to find a  job, open a bank account, get married and have babies and then just ahh.. Don't even want to speak. I am growing older day by day and today I subtracted one year of my life. So let's not waste time, get on the dance floor and enjoy this day to the fullest , make this day special and boys drink is that side. And thanks for joining me on this special day and making it more special, so now just don't waste time and enjoy. " says Mishka while holding a glass of drink in her hand. She drinks it in one shot and then looks around seeing all the people present over there and on finding Ishaan, a broad smile appears on her face and she jumps down the table, perfectly balancing herself .
She goes near them, she first meets Sahil and hugs him and then breaks the hug, she meets Rhea who greets her with a smile on her face.She then goes to Ishaan.
"Ishaan, how are you? You totally forgot me after that day. " says Mishka while walking towards Ishaan.
"Nothing like that, and you are in my heart don't worry, till my last breathe I won't forget you. " says Ishaan with a smile.
Sahil smiles on hearing this while Rhea also tries to give  smile but wasn't able to smile, she was feeling angry or sad, the emotions not known to her but somehow she didn't want to hear this from Ishaan's mouth for some other girl. Her emotions were not yet deciphered by her but she understood that she can't see any girl with Ishaan. Her this emotion turned to complete jealousy when Mishka hugs Ishaan tightly and Ishaan also reciprocates doing the same. This time she understood that she was feeling jealous. The little smile which she somehow managed to present on her face also faded on seeing them together. Her face expression was showing that she was jealous which was noticed by Mishka.
"Poor she, she doesn't even know that Ishaan considers me as his akka (elder sister) . Just look how cute she looks when she is jealous. Ishaan's choice is very nice but I won't let this chance to just go.Let me make her more cute. " thinks Mishka with a smirk on her face.
Mishka hugs Ishaan more tightly, Ishaan was totally confused but he also hugs her back, Sahil chuckles on seeing Miska's behavior while Rhea was completely fuming in jealousy, she closes her fist tightly and just makes an excuse to get out of such awkward situation where she herself wasn't able to comprehend her emotions.
"Excuse me. " says Rhea.
"Rhea where are you going. " asks Ishaan.
"Ishaan washroom. " says Rhea while completely getting out of sight.
After Rhea leaves from there, Mishka lightly punches Ishaan in his stomach.
"Ouchh.. Mishka what is this, first you hugged me and now you are punching me? " says Ishaan while rubbing his hand on his stomach.
"Did you propose her? " asks Mishka.
"To whom" asks a confused Ishaan.
"Of course Rhea. " says Sahil.
"What are you guys crazy! " says Ishaan.
" What crazy dude, you both look nice together and now you should propose her before anyone else does it. " says Mishka while placing her hand on Ishaan's shoulder.
Just then her eyes fall on his hand and she notices engagement ring in his hand.
"When did this happen, you didn't even invite me. " says Mishka while holding Ishaan's hand.
"You saw it today!" says a surprised Ishaan.
"Ohh now I got it, man already grabbed the chance and proposed her. " says Sahil while passing a teasing smile.
"Smart one. " says Mishka while giving him a slight push.
"No you are misunderstanding, we are just friends, I am engaged to her twin. " says Ishaan while presenting a fake smile.
"What? " says Mishka and Sahil in a unison.
While on the other side.
Rhea was in washroom, continuously moving to and from biting her nails, she was all alone over there.
"Is there any glue stick to Ishaan, that Mishka was just sticking to him and hugged him for so long, to Sahil she just hugged and then immediately broke then why to Ishaan for so long? And that Ishaan also hugged her, what was he saying that she is in his heart, she is so sticky, chipkali. Wait wait, Rhea just wait what are you saying chipkali, but no I am right she is chipkali only, jab dekho chipakti rhti hai . " mummers Rhea while moving .
She stops mumering when someone knocks the door and this catches her attention.
"Rhea are you okay? " asks Ishaan worriedly as it has been long since she went.
Rhea suddenly realises that all this while she was here in the washroom, she immediately rushes out. As soon as she comes out, Ishaan hugs her while Rhea also reciprocates doing the same.
"I am okay. " says Rhea while breaking the hug.
"I am sorry, actually I was worried. " says Ishaan while stammering.
"Where is chipkali? " asks Rhea without realising what she said.
"Chipkali? " asks a confused Ishaan while frowning.
Rhea realises what she said and hits herself lightly on her head.
"Woh actually when I was coming I saw a lizard so it just came out of my mouth, I was asking about Mishka. " says Rhea while stuttering.
"Ohh Mishka is here only actually I was worried for you so I came to see you." says Ishaan to which Rhea smiles.
They both leave from there after that and meet their friends who were eagerly waiting for them.. While on the other side .
In the Mehra Mansion.
Exactly after one and the half hour, Kiara comes out wearing a knee length red coloured dress with her long tresses left open which were making her look perfect in every sense. She comes out dressing her hairs and examining her look her heels sound caught Sunny's attention as soon as he saw her, he was all lost in her.. She was looking beautiful but the word beautiful wasn't sufficient for Sunny to express her beauty.She was looking damn hot and somehow it came out of his mouth.
"Hot." says Sunny feebly.
Kiara was coming from a distance couldn't hear this, she was still dressing her hairs and setting up properly her ornaments. She reaches close to the place where Sunny was standing.
"Hmm, is it okay? " asks Kiara.
"Yeh kya ban kr aa gyi. " says Sunny intentionally while giving an awkward look.
"Isn't it okay? " asks Kiara while dressing herself and looking at her ornaments.
"Not at all. " says Sunny intentionally.
"Are you saying the truth? " says Kiara.
"Would I lie to you? , I am saying the truth bilkul achhi nhi lag rhi. " says Sunny.
"Wait I will just go and wear something else. " says Kiara while giving a tensed look.
Saying this she turns and was about to leave when Sunny pulls her back and falls on her hard chest. Kiara was little surprised.
"You are looking beautiful, I was just saying like that, I wanted to see your reaction but you took it seriously. This dress your ornaments and tresses just look perfect on you. " says Sunny while dressing her tresses with his fingers gently and passing a cool breeze to her hairs.
Kiara blushes a little and it was becoming hard for her to hide her emotions but this time something else came in her mind. She pushes away Sunny and then gives a fake anger look.
"Samjhte kya ho tum apne aap ko?, whenever you wish you make fun of me, kabhi dumbo, monkey, donkey… Har baar kuch naya, jab jo maan krta hai wo bula lete ho, and I forgive you every time but now this time, go alone I am not talking to you. " says Kiara while faking her anger.
And after saying this she starts moving while Sunny was completely confused..
"Did I say a lot, waise bhi sahi toh khe rhi hai, jab dekho uska mazak udata rhta hun, kabhi serious hokar baat hi nhi ki. She is right in these many days I always teased her, pulled her leg and she always forgave me and toady also I did the same thing, her anger is valid.. So what are you doing Sunny, just go and apologize to her, convince her.. " thinks Sunny… He follows Kiara.
"Why is he not coming, I spoke too much but it had no effect on him. Because of you Kiara, today our plan to go to the club will be spoilt, what was the need to speak so much.. Now he not even here to convince me, what will I do?" thinks Kiara while biting her nails.
She just covers a little distance more when she heard foot steps of someone. She slightly turns back to see who it was and was surprised to see Sunny. A smile creeps on her face  and she continues walking further ignoring Sunny. Sunny tries to talk to her but she didn't pay any heed to him and continues walking further.
Sunny increases his pace and manages to come in front of Kiara and blocks her way.
"Sunny get aside, let me go. " says Kiara while faking her anger.
"Kiara listen to me, I am really sorry and I promise that I will never ever pull your leg from now onwards. " says Sunny while trying really hard to convince Kiara.
"No not this time. " says Kiara sternly while faking anger.
Sunny holds his ear and makes a cute pout, Kiara was admiring him in her mind while presenting a fake angry look on her face.
"This time I won't melt so just don't try it. " says Kiara while folding her hands and looking in other direction.
"Kiara, maan jaon na. " says Sunny while pleading.
Disha who just came out of her room was amazed to see the sight as she never saw Sunny apologizing to anyone except her. She goes near Kiara and Sunny with her eyes wide opened.
"Kya kr rhe ho Sunny?" asks Disha intentionally.
"Mom just see I am apologizing to Kiara and she is not paying any heed to me. " says Sunny.
"What did you do? " asks Disha calmly.
"Woh.. Mom, actually… " says Sunny while stuttering.
"Speak Sunny , let Disha aunty also know what did you do. " says Kiara while turning towards Kiara.
"If Kiara is saying then there must be something which you did wrong, Kiara I have a solution. " says Disha.
"Solution, what solution? " asks Kiara curiously.
"Give him punishment. " says Disha, hearing this Kiara bangs her head.
"Aunty that's exactly what I am doing by not talking to him. " says Kiara.
"So are you enjoying it? " asks Disha.
"Not at all, he doesn't even know how to convince a girl. " says Kiara expressing her sadness.
"Sunny do 50 up and downs holding your ears, that's your punishment, and we can easily enjoy, what say Kiara? " asks Disha with a smile.
"Mom you are my mom stop supporting Kiara and I won't do this punishment, I am not a child. " says Sunny while making face.
"Do it. " says Kiara.
"No I won't. " says Sunny sternly.
"Then forget that I will forgive me and I won't talk you. " says Kiara while making an innocent face.
"Kiara are you trying to black mail me ? " asks Sunny.
"Well you are so intelligent ,you are right Sunny so better do it." says Kiara with a smirk on her face.
"You I will see you afterwards ." says Sunny while expressing his mixed emotions of anger and helplessness.
"When will you start." says Disha and Kiara in a unison.
"Starting ." says a helpless Sunny in an anger and helplessness tone .
He starts doing ups and downs holding his ears…Kiara and Disha were having a hard time in controlling their laughter. As soon as Sunny finishes fifty ups and downs , Kiara and Disha burst out laughing holding their stomach and trying to control their laughter on seeing Sunny.
"Sorry ..sorry actually I can't believe that you just did it." says Kiara while holding her stomach.
"Lets leave now." says Sunny while trying to divert the topic.
" Ohh I completely forgot about it. " says Kiara recalling her tonight plan.
"Where are both of you going? " asks a confused Disha .
"Aunty actually we planned to have a night out " says Kiara.
"Okay then leave, you people are already late." says Disha while looking at her wrist watch.
"Yes aunty I also think the same. " says Kiara while holding Sunny's hand and dragging him with her.
Saying this they both leave from there while Disha smiles on seeing both of them. Aliya who was secretly having a look on them , gets inside her room and smirks.
"Jitna enjoy krna hai kr lo, waise bhi in this can be your last party with your dear friend, Kiara because after that she won't be there with you to enjoy the parties. Now I will take revenge of every insult, every answer and everything. " says Aliya to herself while smirking.
While on the other side.
After sometimes Kiara and Sunny reach the club where Kiara called her friend, they both enter the club, Kiara's friend waves her hand to which Kiara also waves and holds Sunny and takes her along with her to the place where  her friend was standing. Kiara hugs her friend and greets her.
"Sunny, meet her my friend Pragati, she was my co-singer in the concert. " says Kiara while introducing Pragati to Sunny.
Sunny smiles at Pragati and shakes his hand with hers.
"And Pragati he is my childhood friend Sunny. " says Kiara while introducing Sunny to Pragati.
"Okay I got it that's why you didn't even call me once in these many days. " says Pragati while passing a teasing smile to Kiara.
"Pragati you na, means kuch bhi. " says Kiara while blushing.
"When did I say anything. " says Pragati.
"Smart one, let your prince charming come then I will see you. " says Kiara on which Pragati blushes.
Sunny just smiles at both of them. After that someone approaches Sunny, as soon as Kiara looks at the person she gets surprised to see them, she immediately hugs him which shocks Sunny and jealousy hits him hard.
"Hey, where were you? After such a long time I am seeing you and when did you come from London? " says Kiara to the person while still hugging him.
"Actually I should ask you, you came to India only for one month but you settled here forever not done at all. " says the guy while breaking the hug and caressing her face.
"There is a long story, I will tell you afterwards but when did you come? " asks Kiara.
"It's been one month. " says the guy surprising Kiara.
"And you are meeting me now. " says Kiara while placing her hand on her waist.
"I was finding you baby all this while, I thought you are in Delhi. " says the guy.
"Hmm I was in Delhi only, but came to Mumbai for some work." says Kiara.
"Did you come alone? " asks the guy.
"No, me and my friend came, (she looks for Sunny and points at him). He is my friend Sunny meet him. " says Kiara.
The guy meets Sunny and gives him a friendly hug.
"Kiara who is he? " asks Sunny while presenting a fake smile on his face.
"He is my friend, Vansh, he lives next to my house in London and he was the only one who helped me to elope from the house. " says Kiara with a smile on her face.
Sunny was about to speak something when Vansh interrupts him in between.
"Kiara, did King uncle fix your alliance? Last time when I called you, then you told me this and after that you ended it and never called me back, I had so much to share with you and also to tell that I am India but you just ended it. " says Vansh while remembering the last phone call with Kiara.
Kiara remembers the day when she called him and made the same excuse as she did with Sunny. Sunny and Vansh were glaring at her while Kiara feels caught.
"No he didn't actually I convinced him. " says Kiara while stammering.
"Don't worry if he would do that I won't let this wedding happen. " says Vansh with a smile .
"Why won't you let this wedding happen? " asks a confused Sunny as he doubted Vansh to be the one whom Kiara loves.
"She is my sweetheart. " says Vansh while hugging Kiara.
Sunny was feeling jealous on seeing both of them together .
"Kiara we should leave now. " says Sunny as he could not bear it anymore.
"So early? " asks a confused Kiara.
"Yaa" says Sunny.
"No Sunny just now we came let's enjoy a little. " says Kiara while dragging him to the dance floor.
Then the music starts and everyone was enjoying themselves to the fullest, Kiara takes Sunny's hand and starts dancing with him.. They both were dancing together and enjoying themselves without caring about anything or anyone around them. There was a broad smile on their faces and no one was there to come between them.. This was the night both of them had always dreamt for, everything was complete but only one thing was missing that was their confession which they were very shy to confess. This was how things went that night for Sunny and Kiara, dancing in the embrace of each other and cherishing the very moment.
The next morning.
In the Mehra Mansion.
In the kitchen someone was working really hard to cook the food, a girl was making tea beside him. The boy was trying really hard but all his efforts were in vain.
"Shahana yaar mujhse nhi hota yeh sab, kitna difficult hai, tum khud kr lo. " says the boy while expressing his inability to do the work.
"Aryan just get side, you don't know anything, I said you to take rest but you only said that you want to help me, but you are increasing my work. Get side. " says Shahana.
Shahana quickly makes a dish which was the only one known to her. After making it she asks Aryan to taste it .
Aryan gives an awkward look which makes Shahana tensed.
"How's it? asks a tensed Shahana.
"Superb." says Aryan while changing his face expression.
He then kisses on her cheek.
"Stop buttering me, you need to learn all these dishes as I won't cook everyday. " says Shahana intentionally.
"It's not a great deal I know how to cook. " says an over confident Aryan .
"Okay tell me what's it? " asks Shahana while pointing towards the cardamom packet.
"It's a vegetable, I am not getting it's name.. It's lady fingers sister.. " says Aryan while stammering.
"You idiot you don't even know it's cardamom, and it's a spice not a vegetable. " says Shahana while banging her head.
"I was knowing that it's cardamom, I was just testing you. " says Aryan on realising his mistake and in order to escape from the situation.
"I got to know how much you know about cooking. " says Shahana while handling a bowl to Aryan.
"Come and take this to the table. " says Shahana.
They both serve the dish to the family members sitting on the dinning table, everyone tastes the food and were all lost in its taste.
"It's so yummy Shahana. " says Kiara while having a bite of food.
"Really amazing. " says everyone in a unison except Aliya.. Everyone was praising their hardwork.
After sometimes.
After having the breakfast, King brings his language downstairs.
"Dada are you going somewhere" asks a confused Prachi and Rhea.
"Yes princess. " says King with a smile .
"Dadaa where are you going? " asks a confused Kiara who just entered the scene.
"Actually yes princess, I urgently need to leave for London, there is some important work. " says King.
"So I am also coming with you. " says Kiara.
"No princesses you stay here only and I promise I will be back very soon. " says King while caressing her face.
"Promise me. " says Kiara.
"Okay promise. " says King happily.
Saying this King hugs Kiara, the twins also join the hug. Everyone was smiling on seeing their bond and even Aliya also but with a different reason.
Aliya's POV.
How cute do they look together, poor Kiara meet your so called dad for the last time because till the time he will return you will not be alive. And this time no one will be there to save you, not even your dad or dadaa , not even this Sunny. Enjoy the last moments of your life freely.
POV ends.
After this King leaves for London and Sunny and Disha also bid farewell and leave for their house.
Precap – Realisation.. Deadly attack.
************************************************************************************
•Mishka Shrinivasan
Ishaan's friend, he considers her as his elder sister.
Cute -bubbly girl.
Loves to annoy people.
•Sahil Malhotra
Ishaan's best friend.
Frank and supportive in nature.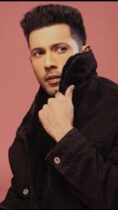 •Vansh Malhotra
Kiara's best friend.
Has feelings for her but hasn't confessed yet.
Overprotective.
Owner of VM industries.
Sahil and Vansh are not related to each other so please don't misunderstand them as brothers.