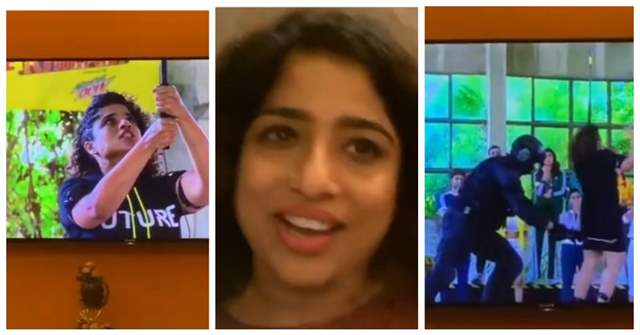 Khatron ke Khiladi 10: RJ Malishka's mom REACTS as she gets ELECTROCUTED

Warning: A non-numeric value encountered in /home/ftpusers/tellyu/public_html/wp-content/themes/publisher/includes/func-review-rating.php on line 212

Warning: A non-numeric value encountered in /home/ftpusers/tellyu/public_html/wp-content/themes/publisher/includes/func-review-rating.php on line 213

The 10th season of Colors reality show Khatron Ke Khiladi has finally begun and as we know the show already holds a great fan following because of its stunt based concept.
Many several celebrity contestants will perform various tasks and overcome their fear this season too and it's all going to be a nail biting season for the fans too. In yesterday's episode, contestant Malishka along with Tejasswi and Rani Chatterjee were given an interesting task to perform.
In the task, Malishka was electrocuted by a stuntman and she posted a video on her Instagram account with her mother's reaction to the same.
Malishka posted the video wherein she was sitting with her friends watching herself perform the daring task. She captioned the post as,
" Did you watch this weekend? What did you think? This video is only up to show you mom's Priceless reaction @lilymendonsa in the end to this stunt on seeing her daughter's vyatha! #aboutlastnight #khatronkekhiladi10 #KKK10 @colorstv @meiyangchang @karishmakram @slimshetty Thanks for all the handholding and words of encouragement and for helping me slink into my blanket while watching @bakshipranav @kieranathaide @sheetalgoklaney_official and all the rest who aren't on SM enough but were by my side watching. I 'Awwwww' you."
https://www.instagram.com/p/B873v8qAU6U/?igshid=bal31huh7ati
What do you think of the above incident?

Warning: A non-numeric value encountered in /home/ftpusers/tellyu/public_html/wp-content/themes/publisher/includes/func-review-rating.php on line 212

Warning: A non-numeric value encountered in /home/ftpusers/tellyu/public_html/wp-content/themes/publisher/includes/func-review-rating.php on line 213