Kaun Hai Woh Qaatil: Avneil Horror SS – Episode 8 (Special Episode)
[Disclaimer: 
1) Previous episode was numbered wrongly. Sorry for that. This is the new epsiode – Epsiode 8
2) This is a special episode that gives many revelations which is a bit longer. Do read it and let me know your views in comments.
2) The mythical legends created in this episode are completely based on my imaginations. I may receive criticisms for it, but please pardon me if it didn't satiate you.]
8. Broken Souls
Aman smirks at Neil and Avni but they are completely broken by this betrayal. They didn't expect such revelation from their siblings and the one who trusted the most.
Aman – "We attacked Nayantara as we thought she is the reincarnation of Avni as Neil proposed her valiantly. But, after the accident, we were actually wrong and Ananya (Avni's previous birth) is Avni. We were surprised to see Alice's face post plastic surgery. Then, we thought to leave Nayantara aside and focussed on Yuvraj and Ananya."
Roshni – "We were the one who created an illusion for Neil that he and Nayantara were shape-shifting serpents in their previous life. We felt, through Nayantara we can kill Neil and Avni. About, Avni's flashes, it is about their past that happened in the 15th century and 17th century."
Nayantara slaps Roshni who is standing near her. She strangulated Roshni's neck and says, "Why did you use me for your revenge? I am innocent and what sin did I commit? Why this betrayal?"
Nayantara cries leaving her neck, which melts Avni and Neil. Goraknath stops them who is patiently watching all these revelations. Avni look at Goraknath and asks, "Why are you looking blank, Gurudev? What sin did we commit and why are we suffering much from the one we trusted much?"
Gurudev – "Avni, I know the reason for revenge, but what confuses the most is, Aman and Roshni's revenge were completed in their second birth itself. I don't know still why are they behind you?"
Aman and Roshni looks at him, surprised by his words.
Roshni – "No Gurudev, Revenge is not completed. They were betraying us since three births. If you're supporting them even knowing our story, then your head will not stay in your body." (She threatens)
Neil – "You can decide it by hearing the remaining part of the story which Avni doesn't know. Then, you can understand that we are really innocent but you were the culprits. You didn't even repent for what you did for Nayantara."
Gurudev recites the mantra and Neil goes to his subconscious state as Roshni-Aman refuses to believe Neil's words in his conscious state. Neil recites the complete story from all the perspectives.
*****FB Starts*****
As soon as Nayantara was admitted in the hospital, Manyata and Keshav come to the hospital along with Tara, Yuvraj and Mayank. Mayank confessed that a thief came to steal and tried to misbehave with Nayantara. Manyata and Keshav were devastated, seeing Nayantara's severe condition and doctor's didn't give any hopes of survival. So, they decided to move her to the other hospital.
During that time, Manyata, Keshav and Nayantara (she is unconscious and her face was covered by cloth as it was destroyed completely) were in a separate ambulance. Others followed them in a car. Manyata takes a magical powder from her saree Pallu and throws on Keshav and he falls unconscious. The driver of the ambulance was Manyata's friend Jaskaran. He drove eccentrically to confuse the people who were following them and takes a turn and the vehicle go the forest. Yuvraj, Tara and Mayank were confused where was the ambulance. They tried to contact her, but in vain. They were left confused.
Manyata and Jaskaran reached the cave in the middle of the Takshak Vann forest. The cave is magical and Manyata recites some phrases so that Shiva idol becomes visible along with water falls.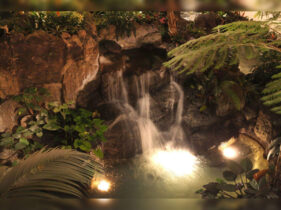 The cave smells and looks divine due to presence of idol and herbs kept for ritual.
Manyata recited few slogans closing her eyes. Jaskaran went to bring some magical plants from the cave's waterfall. A few snakes creeps from the top of the wall and comes down and the snakes become into humans. Among them, Jaskaran's wife Mridula is also there.
Mridula came near the crying Manyata and asked concernedly, "Manyata, you are here? What happened dear? Why are you crying? What happened to your daughter? Her face is full of blood."
Manyata falls on her knees, "Please save my daughter Nayantara. As a mom, I could not see my baby dying. She was definitely planned by someone to kill her intentionally."
Mridula wipes her tears, "Your daughter would be saved definitely, Manyata. We, the people of Naaglok, will always stand by you in your happiness and your sadness."
Mridula and Manyata hugged emotionally.
Jaskaran and Mridula applied the magical herbs on Nayantara's body to make her soul stay on the body for some more time. Manyata and other people from the Naaglok recites the mantra heading towards the left side of the cave where an empty wall was present.
Mridula says, "Farishta is not pleased by your requests, Manyata. Whatever is the situation, we must take her help to get face for Nayantara."
Manyata and others start to do tandav (Devotional dance) to please the Angel.
A divine light from the top of Shiv ling reflects on the empty wall from down to up. A mud structure of snake starts to form from the bottom of the wall. It was the tail of the snake as a statue form. Then the human body starts to appear above the mud tail. The lady wore a yellow dress and she opens her eyes. Manyata smiles emotionally for bringing her. She is Apsara, Farishta (Angel) of Naaglok.
[Her look is exactly like the pic.]
Apsara – "What a surprise! You have left Naaglok 25 years ago for your soulmate Keshav, who is a mere human. Now, you are coming here for your selfish wish of saving your daughter."
Manyata – "Huzur (master), please save my daughter. I know what I did was wrong. Though I born as a Naagin, I sacrificed all my powers for him thus I didn't break any rules. Please, save my daughter Nayantara. I didn't come as a former shape-shifting serpent, but as a mom of my child."
The people of Naaglok supported Manyata and they too requested Apsara to help Manyata.
Apsara – "Since you were the most devotional Naagin once and dedicated to your Naaglok, I decided to give you this boon, but I will ask for a favor later which you must return to me. That must be fulfilled by you otherwise, you need to meet the cruel fate."
Manyata nods and promises her. Naags and Naagin bring Nayantara's body where Apsara is there. Apsara recited a mantra and a lady's face (something like a realistic mask for better understanding) appears in her hand.  The mask gets into the body of Nayantara and a new face was given to Nayantara. Jaskaran takes Naag Jad (Root from the special tree of Naaglok) from the Naaglok and with the help of it, Nayantara's wounds were healed and the face sticks to her skin thus, that becomes her permanent face. She is still unconscious due to sleep medicine.
Manyata cries happily – "Thank you so much, Huzur. I never forget your favour for me. But why did you give a new face instead of giving her original face."
Apsara becomes invisible after smiling at Manyata without answering her questions. Manyata didn't care about the rest as she is very much happy as her daughter survived.
Manyata used her Naaglok friends and fooled other family members easily saying Nayantara's plastic surgery was done in a hospital. As they don't have much knowledge about surgery, they easily believed the same. Manyata decided to shift the residence from Mumbai to Manali because many witnessed Nayantara's accident and to avoid suspicions from them. She convinced everyone dramatically and to do the same. Yuvraj and Mayank to go Manali for their lady love for a temporary stay. Yuvraj and Mayank stayed at Yuvraj's friend's house.
Nayantara didn't reveal to Manyata and Keshav what happened at Mayank's house that happened on that day night.
After fifteen days,
Yuvraj looks at Nayantara, post face surgery for the first time. Her face is completely changed into a beautiful one which he didn't expect. He feels uneasy and weird seeing her face. Tara provoked Nayantara against Yuvraj that he spelled black magic on them secretly. When Nayantara confronted Yuvraj, he proved his innocence by giving some logical points. Thus, Tara and Mayank's plan of using Nayantara, was flopped.
From then onwards, due to some weird feelings, Yuvi stayed away from Nayantara. Seeing her face, his mind starts imagining some things which are difficult to put into the words. It was black if he closes his eyes after seeing or thinking about Nayantara.
Nayantara too didn't feel much attraction towards Yuvraj as her full focus is on her family.
After two days,
Yuvraj visits Goa for his friend's wedding. As he loves Goa immensely, he decided to round the town. He visits a park and he is relaxing. There, he looks at a girl screaming for help in the swimming pool. The girl is Ananya. Yuvraj was shocked and jumped into the pool, but Ananya resist him and she tries to speak something.
But Yuvraj shut her mouth and he hold Ananya tightly and made her come out of the pool. Ananya slaps Yuvraj, "I know to save myself, please save the little girl. I came to save her, but she goes too deep inside." Saying this, she breath in and breath out.
Yuvraj gets into the pool again and goes deep, and then, saved the little girl. Ananya takes the girl from him and made her spill the water out and handed her over the parents of the little girl. The girl thanked Yuvraj innocently. The girl and their parents go.
Yuvraj looks at Ananya and he is clueless why she had slapped him. Ananya didn't give any attention to him and about to leave but intervenes her.
Yuvraj – "Why did you slap me when I saved you?"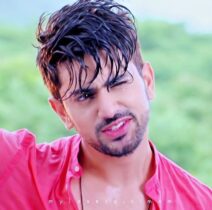 Ananya – " I am trying to say that the girl is in danger, but you shut my mouth and what if something happened to the girl."
Yuvraj – "Come on! I saved the girl right. Why are you snobbish?"
Ananya – "Who is snobbish here! I speak normally to you."
Saying this she steps backward and fell into the pool again. Yuvraj forwards his hands to come up. She holds his hand reluctantly and Yuvraj pulls Ananya to his hold. She fell on his chest and Yuvraj steps backward along with Ananya. They had an intense eye lock and Yuvraj feels a weird connection with Ananya. Ananya moves from him, but her pendant was stuck into Yuvraj's shirt.
Yuvraj gestured – "Wait! I'll take it from my shirt"
As soon as Yuvraj touched the pendant, an electrical shock like thing passed into Neil's body and he shivers. Ananya looks at him, shocked. She holds his hand to get rid of the pendant. He leaves the pendant.
Yuvraj – "What is happening to me?"
Ananya – "I too don't know, it is just a chain I brought from a local shop. I never knew it was electrical appliance." (Laughs)
Yuvraj – "I am feeling dizzy after touching it."
He is about to fall down, but Ananya held him and take him to a private room at the park.
Ananya – "You will be all fine. Take a rest. Bye!"
Yuvraj stops her saying, "I want to be with you only twice in the lifetime. That is, now and forever."
Yuvraj holds his head tightly and Ananya is stumbled to hear what he said. She had heard the exact word of his sentence somewhere else. But she doesn't know what to do further seeing Yuvraj's situation. Yuvraj is holding his head and shouts. Ananya is about to call someone for help but he holds her hand tightly and he hugs her tightly.
She felt disgusted at the beginning, but later on, she too feels a tight headache along with Yuvraj. She could think nothing except a sentence, "Every moment I spend with you is like a beautiful dream come true." Ananya and Yuvraj both hugged each other tightly. The headache seems like, it was the last day in their life and they lost all hopes of survival after this agony.
Suddenly, both breaks the hugs and falls unconscious and lies opposite side. Twenty minutes passed, Yuvraj wakes up and he wakes Ananya too up.  Ananya looks at Yuvraj, "You're my…" Before she could complete the sentence, Yuvi hugs her tightly and cries. Ananya too cries.
Ananya – "You are Yuvraj in this birth."
Yuvraj – "You are Ananya in this birth. We were united despite all the odds."
Ananya – "We were betrayed, Yuvi."
Yuvraj – "Alice betrayed us, Ananya. She is Nayantara in this birth and betraying us."
Ananya – "Yuvi, let us not involve in this matter. We can run away from Nayantara and we can live a happy life here, Yuvi. We can have a perfect happy family, Yuvi."
Yuvraj – "She need to pay for her deeds. Wait for the right time."
Ananya reluctantly nods as she too fell Yuvraj is right.
One month passed by,
Yuvraj is in his hometown Mumbai with Ananya whereas Mayank and the Parekhs are in Manali. Nayantara, Manyata and Keshav went to mall wheras Tara is in her house. Mayank entered the house and asked Tara to come private as he wanted to talk something. Tara assured him that there is no one in the house.
Tara – "Okay, Mayank. You tell me what you wanted to confess."
Mayank kneels down and cries. He beats the floor with his fist and it bleeds miserably. Tara is about to stop him, but in vain.
Mayank – "What mistake did we do? We are taking revenge for the cruelty happened to us. Why is God making our life miserable? The sinners always winning but we were always losing at all the point. What mistake did we do, Tara… What mistake did we do?"
He cries louder. Tara wipes his tears and make his head rest on her shoulder. She applies band aid to his injured fist.
Mayank – "That b*st*rd killed my father and my mother mercilessly by shoving their heads off. What did my parents do, Tara? Is it their mistake of adopting to me as their own son? I didn't find anyone call as a my parent nor I recieved the love.When I was 15, they adopted me wholeheartedly and I respected more than god, but that Yuvraj killed them also."
Tara – "What are you saying, Mayank?"
Mayank uses his powers and touched Tara's temples and the incident how Mayank's parents begged, but Yuvraj and Ananya took a sword and shoved each of the couple's heads, is clearly visioned by her.
Tara cries horrified, "Mayank, this is too cruel. We cannot let our family members die miserably due to this Yuvraj and Ananya. This Ananya is an actual lover of Yuvi not my sister Nayan."
Mayank – "He is in Mumbai. He killed my parents. Let us tackle him directly if he come here and threaten your parents."
The day ends.
Tara, Nayantara, Manyta and Keshav came back to Mumbai for buying some documentation issues in December. They stayed at their old house for a few days and they leave the house as mentioned in Nayantara's diary. In this due time, Samar (he is also Yuvi and Mayank's friend) came for having an alliance with Tara but they refused as they knew Tara loves Mayank. They left hopeless.
Samar, out of ego, he parcelled  a chocolate where he mixed a drug, that can cause epilepsy. The sender of the parcel is written as her childhood friend. Tara ate the chocolate before travelling by flight. Due to high dosage and epilepsy (CNS disorder), Tara suffered seizures in the flight. Tara suspected it was Yuvraj's foul play.
The doctors treated Tara and assured her she would be fine and she would get no more seizures.
But to the contradictory, Tara's condition deteriorates as her face is turning ugly and behaves weird due to many unknown reasons. Mayank is highly devastated by this incident and he took care of Tara more than her family did. He would speak about their sweet memories to make Tara smile. He dances weirdly to make her laugh. But nothing worked in.
He had many sleepless nights due to caring Tara. But her condition goes worst day by day and hour by hour. Nayantara is scared to come Tara's room. Manyata and Keshav were helpless.
Yuvraj and Ananya visited Manali, to the house, to see Tara's condition. Nayantara is shocked to see Ananya is Yuvraj's girlfriend. When she confronted Ananya and Yuvi, Yuvraj badly lashed out at her which confused Nayantara too much that leaves her devastated.
Then one day, Tara wakes up as a beautiful girl, regained her face and behaviors, Nayantara is the one who saw it first, but Mayank is not there in the house.
Tara calls Nayantara – "Please save me, Nayan. I am sorry for all I did. May god forgive all my sins! Please save me, Nayan"
Nayantara gets happy due to her improvement, but tensed, "Hey, don't worry. You'll be alright. Don't worry about anything."
She goes to call Manyata and Keshav but she leaves her last breathe in the bed helplessly.
Her last rites were done. Mayank was completely devastated, seeing Tara's state. He wants Yuvraj to be punished for this cruel thing.
He came to know about the chocolate thing by Samar. He broke his hands as a punishment for him by causing an accident.
But he knew, Tara's further external abnormalities are not due the drug but by a magic and he suspected someone's involvement in this and found some star shaped blue shells in Tara's room which was spelled magic. He had seen Yuvraj having these kinds of star shaped blue shells and he came on that day to visit Tara. He confirmed Yuvraj's involvement in Tara's death.
Mayank visited Yuvraj's house where Ananya is also present. He confronted them regarding the same. Yuvraj and Ananya didn't expect this from Mayank and equally confused.
The fight goes ruthlessly. As Mayank possesses the power of Demi-Jinn, he defeated Yuvraj and Ananya easily.
When he is about to shove Yuvi's head with a sword, his hands shiver as he could see his old friend Yuvraj in his eyes. He threw the sword and kneel down and cries. He could not kill his best friend for almost 2 births and even this birth. But whatever he did is wrong.
Before he could take up the sword, a rod was hit on Mayank's head and he falls unconscious. Yuvraj and Ananya were in a pool of blood as they were beaten before Mayank was beaten by the HOODED PERSON.
The HOODED PERSON comes out of the house. He caused a fire accident in the house so that three of them died.
The same hooded person entered Nayantara's house. The person beats Manyata with a rod and she falls unconscious. He removed the hoodie and he looked exactly like Yuvraj but not Yuvraj which was not known to  the people of the house.
He hit Keshav and he died instantly. When Naynatnara is about to call police,  Yuvi's lookalike grabbed her and pinned her to the wall and got very close to her and began to assault her, she tried to escape.
That's when he knocked her out with a vase, she fell on the floor and then he strangled her, her soul left her body but still the guy fulfilled his lust and then went."
*****Flashback End*****
Aman strangulated Neil's neck and says, "You might not killed me i.e Mayank, but you're the reason of mine and Roshni's death in my first birth in 15th century, our second birth in 17th century, Roshni's death in previous birth and my parents death. In subsconscious state, you revealed that you killed my parents."
Neil leaves the hold of his and slapped Aman. Aman looks at them sternly.
To be continued….