5. What is disturbing Avni?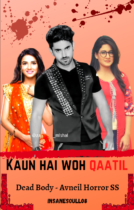 Avni took a step forward and held Nayantara's arms furiously. "I don't know about that guy Mayank, All I know is, Neil is trustworthy not a backstabber. He's a human and not a black magician. You can't say all this against my Neil, understood? He would've been yours in previous birth but now he's mine and you can't change the fate," Avni said angrily and Twinkle pushed her away.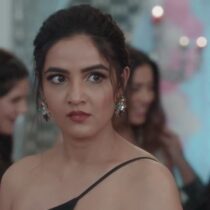 "I don't even want that black magician, keep him to yourself," Twinkle shot back. "Twinkle! Not a word more! I won't tolerate it!" Avni said. "You won't be able to hide from the truth for long, the truth will come to you anyway, smile as much as you want to, go, live your life, because I will come very soon," Twinkle said. "You can't take anyone's life okay? You're a helpless soul and not some a divine creature, so just stop it!" Avni said. "I am not a God, but God is actually God, right? And he will do what he wants to," Twinkle said.
"Exactly, that's what I'm saying," Avni said. "God punishes the sinners, and your Neil is one of them," Twinkle said and disappeared. Avni hugged Neil. "I know you aren't a sinner and I will prove it," Avni said, he hugged her back with a shock. Later that evening, Neil and Avni both had slept on the bed unknowingly. Avni was sleeping with her back with the support of the wooden bed and Neil had his head in her lap. Suddenly he got disturbed in his sleep and stirred a lot and then suddenly woke up. Avni too woke up.
"What happen Neil?" she asked. "The dream, it was like someone in my avatar went to a black magician, I can tell it wasn't me by the voice, he said to the black magician to do something by which harm can be easily done with Tara, and he was given some shells and black magician asked him to do something by which Tara keeps the shells with her for 24/7, he said that I will give her such a gift which she will keep it with her forever, and then he went to their house and rung the doorbell keeping the gift there, and on it was written, To Tara, from Mayank, actually the person wanted to destroy both mine and Tara's image, that's why he take my form and wrote Tara's name, so when the gift was received, it was unwrapped and inside it was a mirror with the same shells around it, so Tara placed it in her room, after that you know what happened. Second thing was that the guy even went to Mayank's house and killed him, Mayank thought I killed him, and when he came to me, he is in the form of  Mayank and killed me. And I thought, Mayank killed me, thus, we both were dead. Then he went to Nayan in my form as me, and told her everything, of course he mimicked my voice, when she said that she will tell everything to police, so he grabbed her and pinned her to the wall and got very close to her and began to assault her, she tried to escape and that's when he knocked her out with a vase, she fell on the floor and then he strangled her, her soul left her body but still the guy fulfilled his lust and then went," Neil said and Avni got shocked.
"We need to call Nayantara immediately," Avni said. "Will she believe me?" Neil said. "She has to," Avni said and then called out for Nayantara. She appeared. "Neil hasn't done anything Nayantara, it was someone else," she said.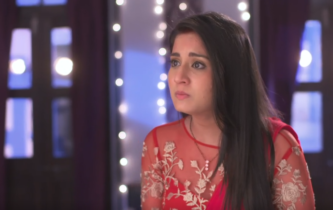 Neil told her everything. Nayantara came near him and pressed her thumb on both his dimples trying to see what dream he saw, she too saw exactly the same thing. She removed her fingers from Neil's dimples. "Now where to find this man?" Nayantara said. "It can be Samar," Avni said. Nayantara thinks something and says, "I have to find him out".
"Nayantara," said a sweet voice and Nayantara looked there and there only to see Tara, her sister standing before her. Nayantara smiles and Avni-Neil could able to recognize Tara. "Avni, I am sorry as I made the raspy voice to frighten you and helped you get in the house to kill both, but you were not at fault.."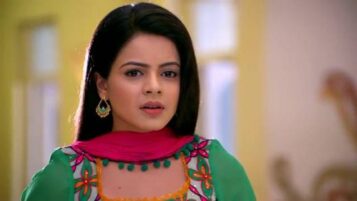 Without waiting for Avni's reply, Tara continues,  "Nayan, Samar might've taken rebirth or might be alive so we have to taste his blood." Tara said with hatred in her voice. "Let's go," Nayantara said and they both were about to disappear, but then Nayantara stopped all of a sudden.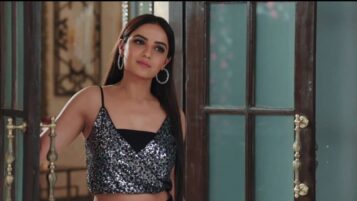 "Sorry Neil," Nayantara said and they they both disappeared.
Neil and Avni smiled.
Avni – "Thank god, we are safe now, Neil"
Neil – "So, let us celebrate our honeymoon. We haven't even enjoyed our night. I have to see my babies."
Neil gives a naughty smile, Avni takes pillow and threw at him. They had a pillow fight. While they are fighting busy,
Neil – "My grandma said, As many pillows, couples are spoiling, that many babies will be born to that couple. So, 4 pillows are spoiled now. So, four babies".
Avni – "Liar… Your grandma passed away before you born. Don't give your tales to me. I won't fall for that." She said with pouts.
Suddenly, Neil grabbed her hand and hold her in his arms and takes to the bathroom. He switches on the heater. Avni screams – "Leave me, you are cruel". Neil – "Today, I am going to be cruel to you, baby".
Neil lets her down and locks the bathroom and he stands at the door so that she could not get out.
Avni – "Neil, behave yourself. Just now, two ghosts come to our house and who knows, while we are in this position, if they come and see us means, what will they think …."
Before she could complete, Neil kissed her lips that makes her go silent.
Neil – "Talk less, kiss more…"
He gives a naughty smile again. Avni blushes and beats him lightly. Avni pressed the shower tap and the water sprinkled on them.  They got mesmerized by each other's eyes.
Screen freezes.
Avni gets out after bathing and changes her dress. Neil comes out without a shirt. He comes near her and she moves back in shy.
Neil – "Avni, you are standing in front of the cupboard. If you move, I could take my clothes."
Neil smirks and Avni get embarrassed. She moves and looks at him wearing the shirt, but suddenly her mind imagines something…
Neil and she are dancing in the garden in traditional clothes…
Two snakes crawled and gets back into a human form. One was Avni and another was Neil…
A burning temple..
A woman whose face is not blurred is shouting something.
A small house in the middle of the water area with heavy rain…
Another couple was looking at each other passionately and a sharp long arrow gets into male's throat and passes through female's throat.
While everything gets blurred, a deep voice shouts – "Woh Anth Nahi… Iss Aarambh Hai…" (It's not the end, It's the beginning)
The words are repeatedly heard in her ears that made her press her ears and closed her eyes tightly. Neil looks at her as he she behaving weird. He goes near her. She takes a vase and throws at him shouting. Neil kneels down in a nick of seconds, the vase breaks the mirror.
Avni comes back to her senses and stops screaming. Neil looks at her in shock.
To be continued…