Kaun Hai Woh Qaatil – AvNeil Horror SS – Chapter 14
14. Blind Love
Narrator's POV
17th century
The royal palace of Pataliputra has been decorated majestically since it is the wedding day of Neil's uncle Prince Pawan. After completing the wedding rituals in the temple, it is time for welcoming the Prince Pawan and his Princess to the castle.
All the felicitation procedures are done.
Pawan (Siddarth Shukla) and his wife (covered her face with saree) are standing at the doorstep of palace. The elders of Royal Family took Arti (pooja) for the newly married couple. Pawan was extremely happy for his marriage.
Rajamata to the bride – "Avni, remove your veil. Kick the Kalash and enter the palace."
Hearing that Avni removed the veil and smiles at her husband Pawan.
She kicked the kalash. Placed her legs in the sindoor plate and walked inside the palace followed by others.
Avni thinks, "Walking with sindoor footprints indicates that Goddess Lakshmi has blessed the household,  but no one know Goddess Lakshmi blessed destruction in the form of Alaksmi(opposite of Goddess Lakshmi)"
She smirked
*****
Neil's room,
Udayveer is looking at his friend in a depressed state, consuming alcohol continuously, breaking the things out of rage. He is trying to figure out the problem of his, but in vain. Neil's eyes are red, burning with rage.
In movement, Neil mumbles randomly, "She is a betrayer in the form of angel. I had given my heart to her but she broke it all."
Udayveer holds Neil when he is about to fall down. Neil is inebriated highly. Udayveer pours cold water on Neil to revive him.
Neil – "What are you doing, Veer?"
Udayveer didn't respond him, but wet him in the cold water. Neil is brought to reality. When Neil takes excuse to drink alcohol, Uday refuses.
Uday – "Neil, if you drink more, you lose yourself. Sleep for a while. Whatever it is, we can deal after a few hours."
Uday made him lie on the bed, wrapped a bed sheet on him. He removed the alcohol containers and tumblers from there.
Uday moves out of the room and ordered the soldier no to allow anyone in his room for a few hours. Udayveer comes out of the palace and takes his horse and moves out of the palace.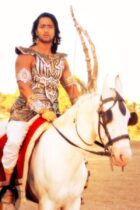 He travelled some distance and comes to his house. Nandini is waiting for his arrival, since long time.
Nandini, being the Princess of Pataliputra opted to live in Udayveer's house post her marriage.
Nandini – "Uday, is everything alright? Why is Neil angry with Avni?"
Udayveer – "Still now, I cannot get any information about that. He is highly intoxicated.  Only we know Avni and Neil are soul mates. Neil is under our supervision since childhood and he never met Avni, but when did he get introduced to Avni? And now he hates her for some reason."
Nandini – "Uday, we need to meet Neil and must bring the truth out. If it takes more time, it can be dangerous for us. Also, they are our enemies."
Udayveer – "You have cursed them, Nandini. They will die if they recognize that they were soulmates. So its enough. They are not really our enemies too. Neil's look-alike killed us not Neil."
Nandini – "Then what is the cost of torturing you and me? They were our friends, but did they trust us? They trusted that liar Swastika only."
Udayveer – "But, we need to identify the real killer also. And how can Avni marry an old guy? He already had two wives and she is the third wife of him. There is some motive behind it so. Only Neil can give us the answer."
*****
Dancing Hall in Palace,
Every royal family member and commoners gather at the hall. It is arranged in order to celebrate the occasion. Neil is present at the ceremony. He is standing beside his uncle Pawan. His face is grim.
Alice (Jasmin Bhasin) enters inside while the singer sings. Everyone inside are smitten by her beauty.
(Song plays)

Male:
Nabhatun aali apsara
Nabhatun aali apsara
Asi sundara saaj sazpunna
Aali aali aali
Aali ga aali..
Kesa madhi maandla gajra
Lokachya nazra khilya tichyavar
Aali aali aali..
Duniyachi pyaari tu
Agrani harni ga
Agrani sundaraa ha ha..
Aali ga aali
Aali ga aali
Aali ga aali
Oh maharani aali..
Aga ga ga ga…
Alice starts dancing while other co dancers joined with her. Pawan is staring at Alice's dance moves.
Though Avni gets uncomfortable seeing his stare, she smirked.
Female:
Nazar jo teri laagi main deewani ho gayi
Deewani haan deewani, deewani ho gayi
Mash'hoor mere ishq ki kahaani ho gayi
Jo jag ne na maani toh maine bhi thaani
Kahaan thi main dekho kahaan chali aayi..
Kehte hain ye deewani mastani ho gayi
Udayveer and Nandini entered the venue and looks at Neil standing besides his uncle.

Mash'hoor mere ishq ki ye kahani ho gayi
Jo jag ne na maani toh maine bhi thaani
Kahaan thi main dekho kahaan chali aayi..
Kehte hain ye deewani mastani ho gayi
Deewani haan deewani, deewani ho gayi
 Udayveer and Nandini were surprised to see his action and found something fishy and go near him. Neil slowly takes a dagger from his cloth. Udayveer was shocked and doubted if he kill his uncle. Slowly he moved from his uncle's side to Avni's side.
Zakham aisa tune lagaya
Deewani, deewani, deewani, deewani ho gayi
Marham aisa tune lagaya
Ruhaani, ruhaani, ruhaani, ruhaani ho gayi
Pehchaan mere ishq ki ab toh
Pehchaan mere ishq ki ab toh
Rawaani, rawaani, rawaani, rawaani ho gayi
Ho.. mash'hoor mere ishq ki kahani ho gayi
Kehte hai yeh deewani, mastani ho gayi
Haan deewani, haan deewani, deewani ho gayi
Mash'hoor mere ishq ki kahani ho gayi
Jo jag ne na maani toh maine bhi thaani
Kahaan thi main dekho kahaan chali aayi
Everyone is busy watching the dance ceremony. While Neil is about to stab Avni, Udayveer and Nandini holded his hands and controlled him and took him away from the place.
Kehte hain ye deewani, Mastani ho gayi
Deewani haan deewani, deewani ho gayi
Avni, who had noticed everything that Neil do, just smirked.
Sab noor noor sa bikhra hai
Ek tu hi khayalon mein utra hai
Bas jhoom jhoom jhoom jhoom jaata hai dil
Tu mastani hai..
Tu deewani hai..
Paakeza hasti hain teri, tu noorani hai..
Sab noor noor sa bikhra hai
Ek tu hi khayaalon mein utra hai (Bajirao Mastani)
Alice completes her dancing. Everyone clapped her for the performance. Suddenly, Pawan sneezed loudly with a high force. Since it was audible, everyone look at him. He sits again in a normal position but doesn't move.
Avni gestured him asking, "Are you okay?"
Pawan slides momentarily and fell down from the sitting area. Avni was shocked and shouts. Everyone comes near him and checked to see what happened. But he is dead.
*****
Few Kilometres away from the Palace
Udayveer slapped Neil hard and stares at him.
Udayveer – "Do you know what you try to do?"
Nandini – "Bhai, what is your problem with Chachi?"
Neil – "Don't you dare to call her Chachi? She is a gold-digger. She married Chachu to get hold of the treasury of this kingdom."
Udayveer – "Your allegations are meaningless, Neil. If she want to lure the money, her target would be you. Why should a young and beautiful girl marry a old man instead of a Crown Prince?"
Neil – "Because I know everything about her, Veer."
Nandini – "What do you know about Chachi?"
Neil – "Don't dare to call her chachi…"
Udayveer – "Its okay, Neil. What do you know about Avni?"
Flashback – Six years ago (Both their ages is 19)
When Neil came to the forest for hunting, he saw Avni for the first time who is plucking flowers for the ritual. He came to know that Avni was the daughter of a temple priest. He was smitten by his beauty. He visited the forest in order to gaze at Avni. Slowly he fall in love with Avni. Sooner, he confessed his feelings to Neil. Avni didn't accept it soon, but after few days, she accepted his proposal and they had romantic involvement. Neil and Avni kept this as a secret from their friends and family.
After ten months, Neil had a war against the rival king 'Rana' in the battle ground. They had severe fight.  It was Neil's dream to defeat Rana and to capture his kingdom. But Rana tricked Neil and escaped. Neil was hell-bent to kill Rana and searched him in all nearby areas. He got to see a small tent which is located in a unusual location and decides to check it.
Inside the tent, Avni is dressing the wounds of Rana by making him sit on her laps. On seeing this, Neil's blood boiled.  Avni caressed his face affectionately and gave hope to him that he would win the war. Rana took the blood and filled Avni's maang, "We shall be for forever." Neil shouts, "Avni…." Avni and Rana are stunned to see him.
 Neil brings the sword inside and is about to kill Rana but Avni comes in between and begged him to spare his life.
But Neil pushed her and looked her angrily. 
Neil – "Traitor…. You have not only betrayed me, but you loved someone who is the enemy of our kingdom."
Before Avni could reply, Neil shoved the head of Rana and blood splashed all over the place. He moved out of the quickly out of rage.
Neil completes the flashback while Udayveer and Nandini are shocked.
Udayveer – "You could have waited for Avni's confession. You have the pride that you defeated our arch enemy in a very young age. But you didn't win your love."
Nandini – "Neil…"
Nandini was interrupted when a guy was shouting about Pawan's death. Three of them are shocked and look at each other cluelessly. The three ran towards the palace.
The physician has checked Pawan and says, "He died as his heart stopped suddenly. Its a natural death. Violent sneezing might have such effect too."
Neil whispers to Udayveer – "There is something fishy. This gold-digger might have played her game."
Udayveer ignores him and like others, he joins the mouning.
*****
Alice comes to her hut and looks at the money she gained from today's dance. She kissed the money bag and hid the bag in the hut so that her abusive husband never see that.
Suddenly, a guy broke the already broken door of the hut and barged inside. Alice gets shocked seeing the look-alike of Neil.
Alice – "Neil…"
Neil – "Not Neil, yours lovely hubby my dear Indumati."
Alice starts to shiver…
Alice – "Why are you in Neil's form, S….Surya?"
Surya laughs and changes his form from Neil to his ORIGINAL FORM.
Surya smirks and pinned Alice to the wall. Alice suffocates as he is holding his neck.
Surya – "For this world, I am a common blacksmith. The truth is, I am Suryaprakash, the Kaatil (killer) everyone unaware of…  Now, you say… What happened to Pawan? How did he die?"
Alice (in a trembled voice) – "His heart stopped beating so…"
Surya – "Lie. He cannot die that easily.  You must be knowing what happened to him… Tell me the truth…"
Alice – "I don't know."
Surya slapped Alice and she fell on bed. Surya transforms into shape-shifting serpent and holds her body with his tail and tighten the grip. Alice screams, "I don't know anything. Please leave me."
He further tightens the grip but the Alice didn't say anything expect the previous dialogue so Surya felt she might be saying the truth and leaves her.
He transforms into a snake and leaves the hut through the window. Alice stands up and screams in pain. She cries a lot for doing sins. She was remembered of the Flashback.
Flashback – 15th century
After the gandhak starts to burn the temple, a dance was heard from Sanctum Sanctorum of the temple. The dance is so powerful that the building gets shaken by the dance. Because of the dance, a shield encircles Suryaprakash's body which no one noticed. The temple and others are getting burnt completely. The dance was stopped. The dancer opened the door of the Sanctum Sanctorum and her face is revealed.
She comes out of the temple and looks at the completely burnt temple. She looks at the shield covering Suryaprakash's body and smiles. She goes near him. She nullify the shield and make Suryaprakash lie on her lap. She caressed his face and transmits her powers from her eyes to his body.
Suryaprakash slowly opened his eyes and looks at the ladylove of his. He smiles at her. He stand up and hugged her. 
Suryaprakash – "Without your help, I cannot have proceeded the game. The game is still not over, Indu"
Indu (Prebirth of Alice, also a NAAGIN) – "Is it necessary, Surya? How many deaths? Why can't we live a peaceful life?"
Suryaprakash – "It is important, Indu."
Suryaprakash transforms into a serpent and moves from there. He takes Neil's form and killed Rudra and Shivanya by aiming the arrow to their throat. Then he disappeared from there.
Neil and Avni are shocked seeing that. Swastika was also extremely shocked. Swastika has planned to kill Rudra and Shivanya by her hands.
Neil – "He is my look-alike. Who is he? Why did he kill Rudra and Shivanya? Come on, Avni. He might not have reached so far. Let us catch him."
Neil and Avni started searching for him. Swastika also helped them.  But they could not find anything regarding the killer. Only then Neil and Avni noticed a thing.
Neil – "You are blind but you're walking really well in fact you didn't slip anywhere and even helping us."
Swastika – "Ahh… Neil…"
Avni – "Swastika! Are you lying to us that you were a blind girl?"
Swastika – "I am blind but I can vision through my powers."
Avni – "Your powers! You said that you are a helpless human."
Swastika bows her head down. Avni and Neil looked at each other with fear if whatever Swastika said to them is a BIG LIE. 
Neil – "Whatever you said to us was a lie!"
Swastika smirked and nods positively.
Avni slapped her and Neil repeated the same. Swastika fell down. Neil managed to control her and tied Swastika through a magical rope. 
Neil – "Tell us the truth. Do you know anything about the killer? Why did you want us to kill our innocent friends?"
Swastika confessed all the truth to them from her black magic to her lover Vikramaditya.
Swastika – "Vikram and I planned to kill you and Avni by bringing out of the temple. We don't know how to execute it but suddenly I caught Rudra and Shivanya. I succeed in the plan of killing them and still the leftover is you both. Then Vikram and I enjoy the power of Gandhak."
Neil – "Do you know that your lover Vikram died in the temple?"
Swastika – "What!"
"Are you thinking that Vikram and you lead a happy life after obtaining Gandhak? Never!" said a voice and the owner of the voice appears who was hiding behind the tree. It was Indhu.
Neil and Avni – "Who are you?"
Indu – "I am Swastika's friend. I can give some answers regarding Swastika and can make Swastika realise something also."
Neil and Avni are puzzled. 
Indu – "Swastika is an Icchadari Naagin, Just a normal naagin. She found her love in Vikramaditya. She came to know about her lover's motives. She decided to help him so that Vikram could achieve his goal. For that, she sacrificed her eyes in a yagna. She learnt black magic to identify alternate ways to achieve gandhak. She informed everything to Vikram and he appreciate with lot of flattering. But he never loved her. He had always been using her. Only when she revealed the secrets of Naaglok to Vikram, he accepted her love. For him, she is just a material."
Indu takes a small dagger from her cloth's fabric.
Indu – "Do you know what it was, Swastika? It is dagger which can act against black magicians. If it touch them, they would burn within a second. He made this with his powers and some powers from you to kill you after obtaining the gandhak."
Swastika was shocked. 
Swastika – "You are provoking me against Vikram."
Indu – "You know why Vikram asked you to kill Bhairavnath. For his powers! No… Definitely no… Vikram asked the help from Bhairavnath how to kill YOU and gain your powers after gaining gandhak. Bhairavnath made this dagger and gave it to Vikram. After gaining his thing, he asked you to kill him so that he would not say about this to you. Such a graceless person he is! But you tortured two innocent people now."
Swastika used her powers and released her from the rope. She touched Indu's temples and confirmed that whatever Indu said was true. There is no foul play in that. 
Swastika knelt down and is about to cry for her cruel fate and how she is blind by love. 
Before the first drop of tear escape from the eyes and fall on the ground, her head was shoved and fall down on the ground. The one who shoved her was in Neil's form.
Neil and Avni are shocked and angry seeing him. Before they could fight, he threw a stone on them that hit their head. Then, Indu used her powers and sucked their powers completely.
Then, Neil's lookalike shoved their heads from their body.
Indu was sad seeing them in such situation. Neil's lookalike turns into his original form i.e Suryaprakash. 
He laughed louder, "I am the king of the game. The game didn't end but would continue until my revenge and goal is attained."
Flashback ends.
Alice cries reminiscing the Flashback. Someone entered the small hut and caressed her face.
Alice hugged her saying, "Nandini…"
To be continued…
Author's note: 
Hello everyone, hope you're doing well. Now the killer is revealed finally. Do give your views about the killer in the comments. Also many of the mysteries are answered though many are pending. Thankyou so much for keeping up the patience. Kahani Ab Tak will be uploaded in comment section since the length is too long. I'll meet you in the next chapter.
You might get doubt that Alice was said as British General's daughter but here she is a courtesan. Soon, it will be explained.